Golden Yellow Lentil Dal with Curry
This easy and delicious yellow lentil dal is full of protein and bright flavors!  It's great on its own or served over fragrant Basmati rice for a quick and healthy mid-week meal!
I am one of those freaks who can whip up a huge elaborate dinner for the family but when it comes to me eating on my own…I am perfectly fine with random scraps from the fridge.  Sometimes it's a ton of fruit or little pieces of smoked salmon with some random tomatoes and finished of with a good piece of dark chocolate.  I believe this is all due to being a part of the food industry…you get so bombarded with food images all day and food in general that when you get home…unless you are feeling particularly inspired or are running late for a post deadline…you are perfectly fine with munching on practically anything…including smoked salmon and possibly some ramen…which actually sounds pretty darn good…recipe in the making.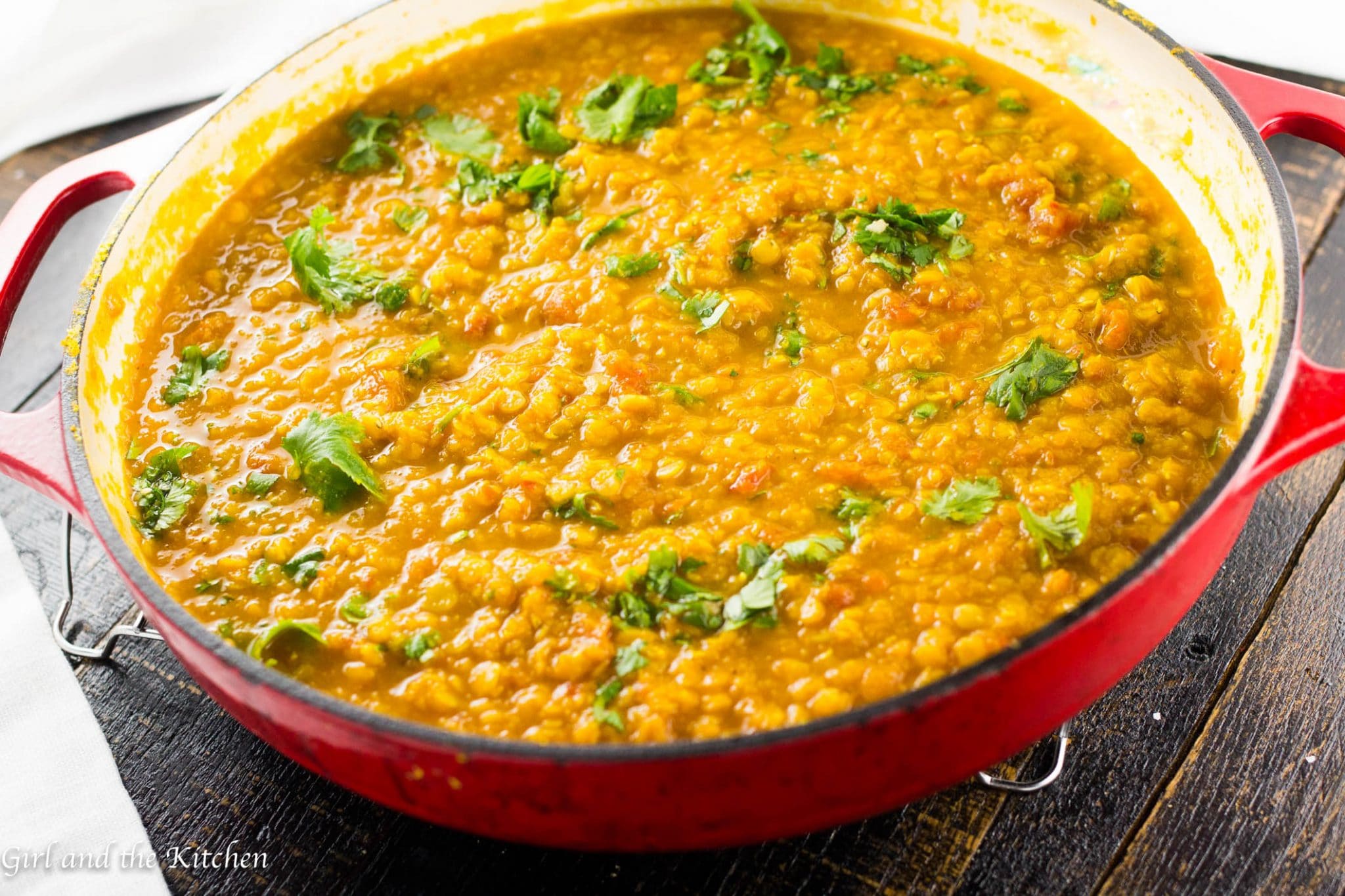 On those days when I am actually feeling inspired and refrain from foraging the pantry for cereal leftovers (one of my favorite pastimes) I come up with some pretty fancy stuff.  I typically get these inspirations for recipes somewhere between 3-5pm when my mind starts getting excited about the possibilities of cooking when I get home from an exhausting day at the office.  I have discovered that the key to this dream recipe actually happening is ensuring that whatever ingredients my fancy concoctions require are available to me in my fridge that day.  Otherwise by the time I pick-up the munchkin and get ready to cook I am ready to slather some peanut butter and jelly on a few slices of toast and call it a vegan panini…because it actually is 🙂
Oh crap I am rambling…sorry I was really distracted by that peanut butter and jelly sandwich possibility…
ANYHOW… On one such day…I came into the kitchen all excited to make what I hoped to be a fantastic new vegan meal…that I could trick my husband into eating…another one of my favorite pastimes.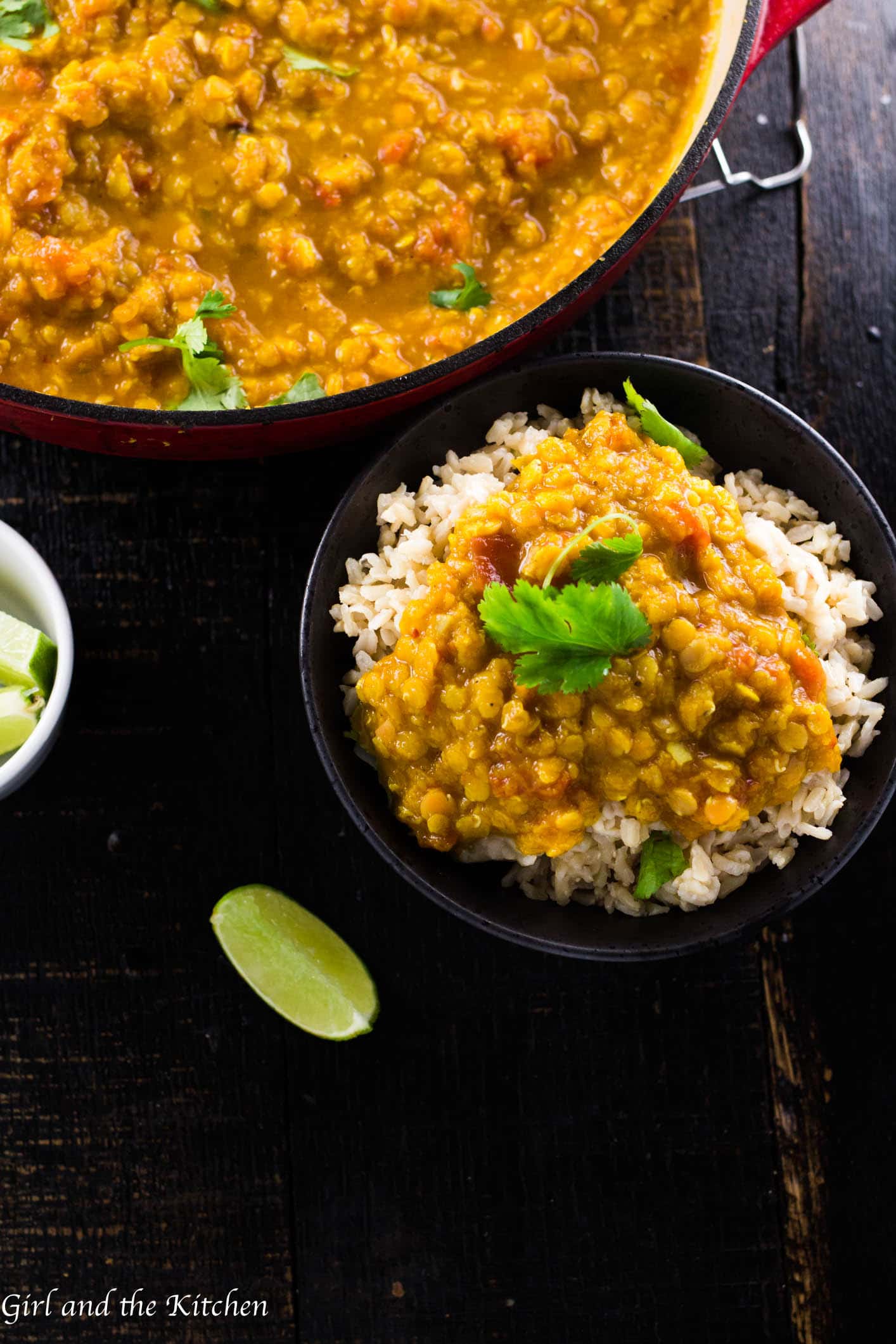 Once I got into the kitchen, I placed the munchkin in front of her Playdoh, turned on some G-d awful Russian cartoon and went on my merry way to cook.  (The munchkin only speaks Russian…hence the Russian cartoon…I intend to keep it this way for as long as possible so that A. she does not understand my profanities and B. so that she becomes a little bi-lingual genius)
I did rummage the pantry, but this time not for any other reason except to find my Indian spices.  Hubs had taken me to a vegetarian class the week before where we made several dishes but one of which was dal.  I wanted to whip out my Indian spices and recreate some of the flavor profiles I had tasted before they got all mish mashed up in my head and randomly misplaced.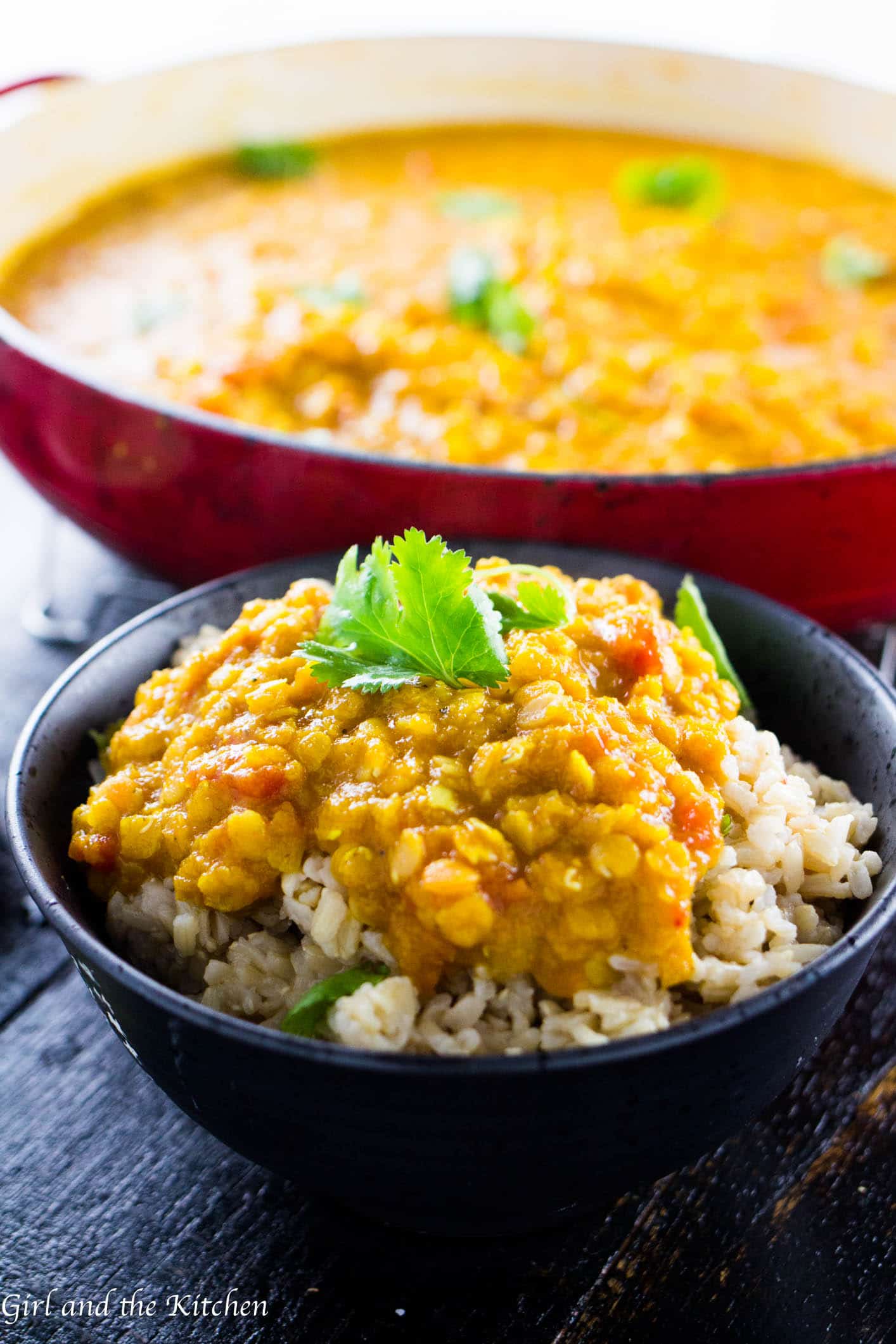 FYI dal just means split dry lentils, beans or peas.  Nothing fancy…that's it.  Congrats you now know an Indian word 🙂
A few knobs of ginger…a few cloves of garlic…several teaspoons of curry spice and a plethora of gorgeous yellow lentils went into this dal.  And I was a happy girl. Seriously, it was some great eats.  So savory…so simple…so good.
I suppose for one day I can give up on my pantry pillaging…
Print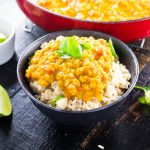 Yellow Lentil Dal with Curry
---
Author:

Total Time:

20 minutes

Yield:

4

people

1

x
Description
This easy and delicious golden yellow lentil dal with curry is full of protein and bright flavors!
---
2 tablespoons

coconut or olive oil

1

large onion (diced finely)

1

thai chili (diced finely)

4

garlic cloves (minced on a microplane)

2 tablespoons

ginger (grated on a microplane)

1.5 cups

yellow lentils

1 tbsp

ground turmeric

2 teaspoons

curry powder

1 tsp

garam masala

3

–

4

cups low-sodium vegetable broth

1

can diced tomatoes
juice of

half a

lime
salt and ground black pepper (to taste)
cilantro to garnish
lime wedges to garnish
cooked basmati rice
---
Instructions
Add olive oil to a large pan over medium heat.
Add onions, garlic, ginger and chilies and allow to sweat over medium heat. Do not allow any color to be achieved.
Add lentils, spices, tomatoes, 2 cups of broth and season with salt and pepper.
Bring to a simmer and reduce to low. Cook with a lid slightly open for 20 minutes. Stir frequently to avoid burning the bottom and to check for liquid. If the lentils have absorbed the liquid add in more broth. You want this thick but still have plenty of liquid.
Once the lentils have reached the desired doneness and texture add lime juice and adjust for seasoning and heat and serve over rice.
Garnish with cilantro
Notes
The potency of your curry powder of turmeric can effect the flavor of this recipe.  My turmeric tends to be pretty mellow BUT if you are using an extremely fresh turmeric it may be quite potent.  Always start with a smaller amount and increase as you go.
The nutritional information are just to be used as a guideline.
Prep Time:

5 minutes

Cook Time:

15 minutes

Category:

Entree, Vegan

Cuisine:

Indian