Greek Whole Roasted Branzino
This recipe for Greek roasted branzino is perfect for a simple and healthy weeknight meal that requires almost zero clean up!  Full of bright lemon and earthy oregano, this dish will transport you to a seaside taverna in Greece.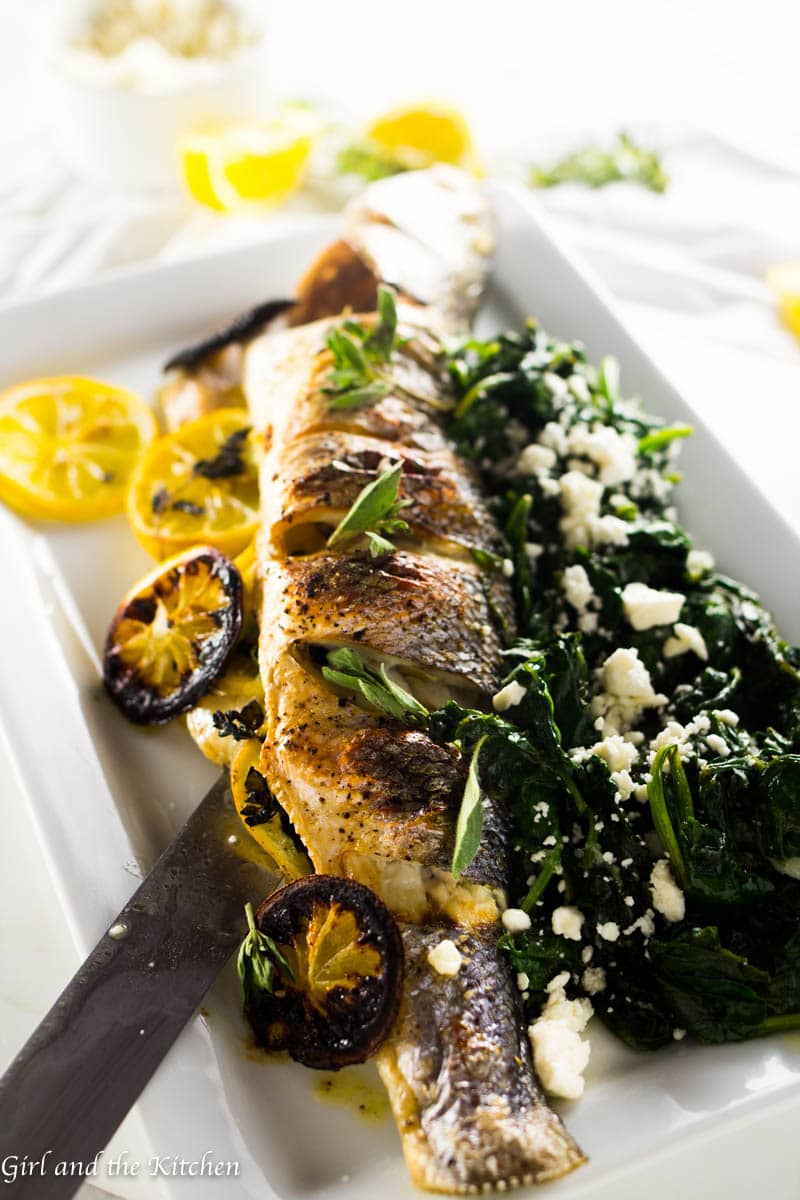 The best part about food is the story that it tells.  That of course is one of my reasons for blogging. Anyone can write up a recipe and tell a person how to make it…but the story… the story gives food heart.
We all connect with each other through the power of delicious food but the story…that story is what bonds us.  Whether it is a warm Italian red wine sipped along the Tuscan hillsides, fresh lobsters eaten oceanside of a Caribbean hut or classic New York style pizza eaten at one of many of the New York pizzerias; the stories make food nostalgic.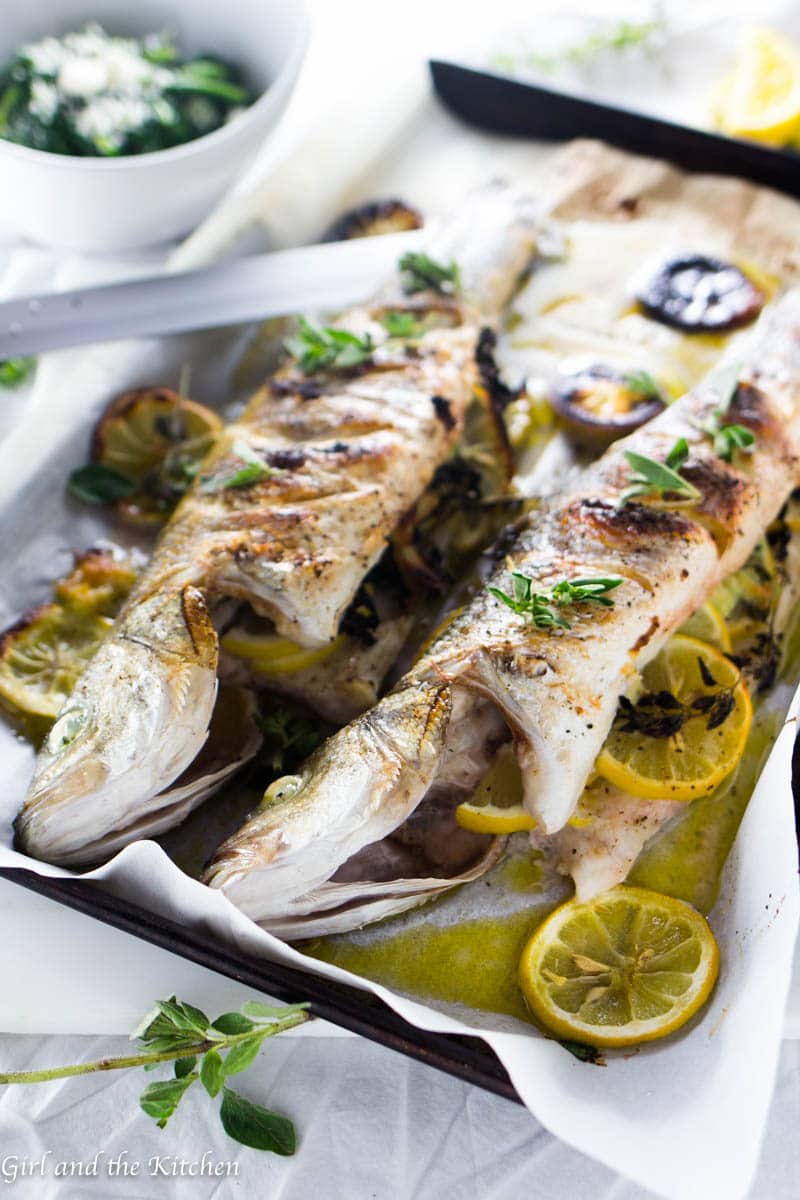 This particular roasted branzino has a great story.  It features a very good friend of mine, Chrissy.
Chrissy colors my hair.  We chat and catch-up for 2-3 hours at a time every 4-6 weeks and gab about everything from pop culture, to love, to politics and food.  One of those times, I came by and her mom fed me her delicious Greek chicken that inspired my very popular One Pot Greek Chicken and Potatoes.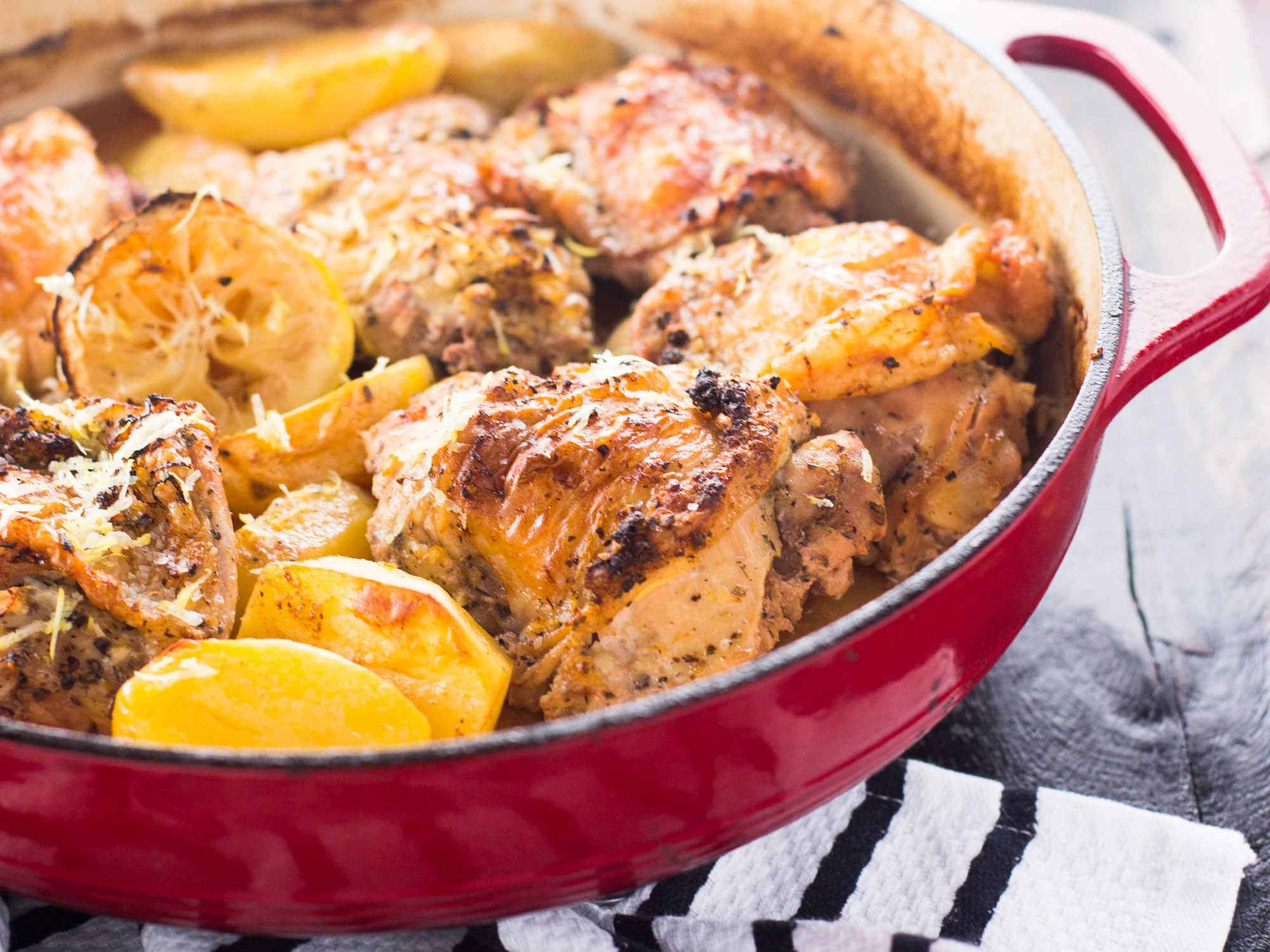 Chrissy happens to be Greek.  Born here in the states but as all first generation Greeks that I know, is fluent in Greek and travels to her home land at least once a year.  She is also extremely well travelled.  She has been all over Europe, Dubai and hit almost every part of North America there is.  Chrissy loves traveling on a whim.  One day she is expertly and lovingly blonding up my hair and the very next day she texts me that she is flying to Jamaica in 2 days and needs hotel recommendations.  After her travels Chrissy always comes back and tells me about the sites, the people and of course, the food.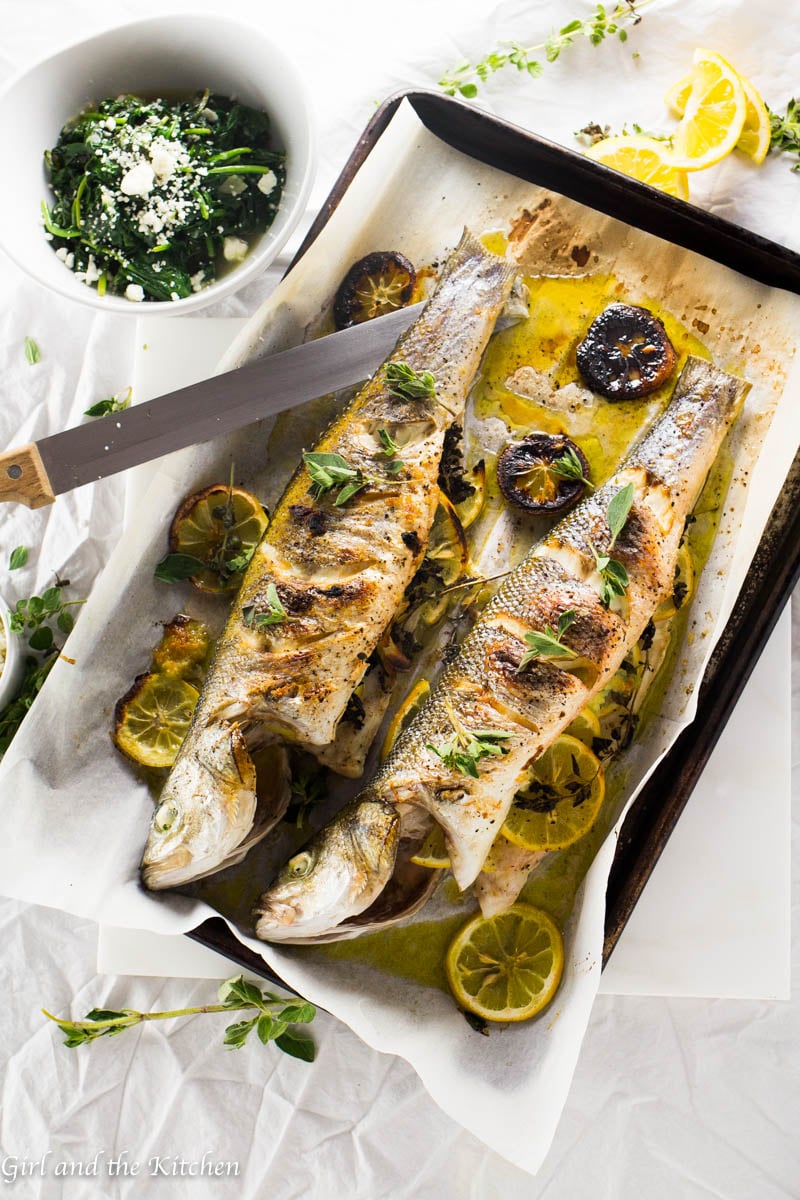 We were chatting up, waiting for the blond to take over my brunette roots and Chrissy started reminiscing about her trip to Greece last summer and as always we ended up talking about the food.
"We were sitting for hours in this little seaside restaurant for hours Mila, in Mykonos, just eating salads sipping wine and  inhaling the fish.  Oh the fish.  It was amazing Mila.  Lavraki…" She said "lavraki" in her typical Greek pronunciation pausing to reminisce the flavor that this fish must have left on her palette and forever ingrained her mind.
"Chrissy, what the hell is lavraki?  Is this a fish straight out of Zeus' pond or something?" I questioned her sarcastically.
"OMG you have never had "lavraki".  What?!? That's it we are going now.  It's in season and I know a little Greek place that serves it.  Get your bag we are getting Greek food."
Of course she knows a little Greek place that "happened" to be serving this fish.  The Greeks are similar to the Russians, we always know "someone".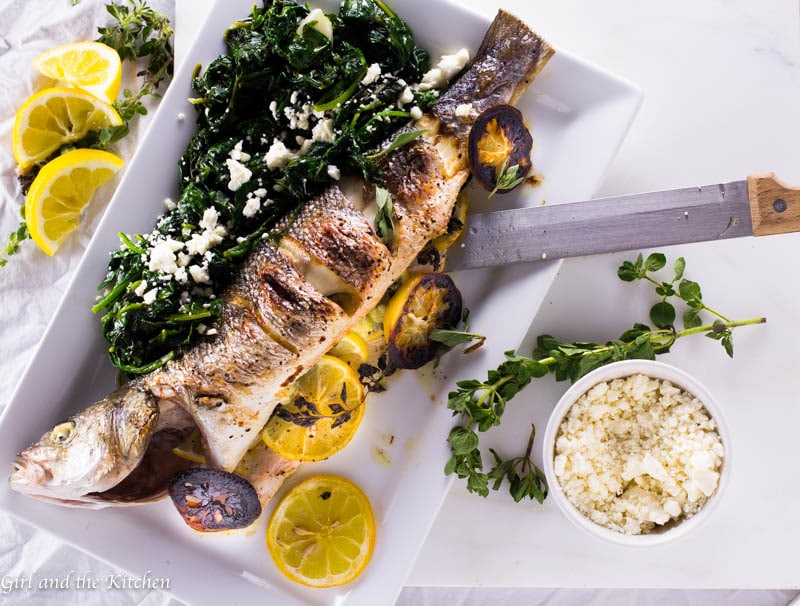 We showed up to a hole in the wall basically, that is the back of a fish warehouse.  Turned out this Greek "someone" was the someone that distributed fresh fish and seafood to most of the restaurants in Chicago.  And he happened to serve this exact same fish in this tiny restaurant with paper napkins, communal seating, chalkboard menus and free garlic aromas.
The place was packed.  It was 3 pm on a Saturday afternoon and there was a line out the door and not an empty seat to be seen.  Naturally, as soon as the owner saw that one of their "own" ahem a Greek (Chrissy) was standing in line, he came over greeted her in Greek, nodded at me and ushered us in to the front of the line, leaving us with evil glares being thrown like daggers at our backs.  Oh well…sometimes the early bird gets the worm…sometimes the Greek bird gets the fish.
Chrissy chatted with the owner and they both pointed to the menu, nodded in agreement and ordered.  I was not consulted in this decision making process and I was glad, because regardless how picky I am, I doubted there was anything on this menu I would not find enjoyable.  We sat down and were almost immediately greeted with Greek bread, fruity olive oil and a flaming order of saganaki, the Greek flaming cheese.  Next we were served a gigantic Greek salad and our entrees.  I sat and stared at the feast laid out in front of us.
"Chrissy!  This is roasted Branzino!" I exclaimed when I saw the gorgeous fish.
"No Mila, it's Lavraki.  It's Greek."
"Chrissy, it's a Mediterranean sea bass, it's not Greek.  The Italians call it Branzino and the Greeks clearly call it Lavraki…but it's all the same…it's sea bass."
"Whatever, Greek style is best Mila.  Greek Style or no Style!  Now eat!"  We both giggled and dug in.
I can still so clearly remember the sigh of enjoyment that escaped our bodies as we sat in this sun filled room full of incomprehensible chatter and for a moment I felt like I had escaped Chicago and was transported to the salt scented beaches of Greece.
I have found this Branzino (Lavraki) at a local supermarket and purchase it frequently for our weeknight dinners and dinner parties.  It is extremely mild in flavor and has a very sweet flesh due to the shrimp that it feeds on.  But the most important part about this fish is that it truly is best roasted whole.  Which, helllllllo?!? How great is that for clean-up?
Choosing Fresh Fish
When purchasing and preparing roasted branzino or any whole fish there are a few important things to remember:
When choosing fresh fish, it should smell like the seawater, anything "fishier" smelling and you do not want it.  Trust me.
The eyes should be clear, never foggy or falling our of the socket, yuck.
The flesh should be firm not slimy or super spongy.
Ask the fish monger to leave the head and tail on, clean the scales, trim the fins and completely clean the inside.
Before roasting the fish, slice into the skin a bit, careful not to go too deep into the flesh.  This will help the skin crisp up and it will allow for some seasoning to permeate the inside.
Keep it simple!  The best fish tastes pretty great on its own and just needs to be enhanced with simple and classic flavors.  Sometimes salt, pepper and lemon is all you will ever need.
Do NOT over cook the fish.  I typically broil these fish (about 1.5 pounds each) for 18 minutes and the bones pull away super easily from it and the flesh flakes just so perfectly.  When fish is cooked perfectly the bones peel away from it and there are minimal bones left behind in the flesh.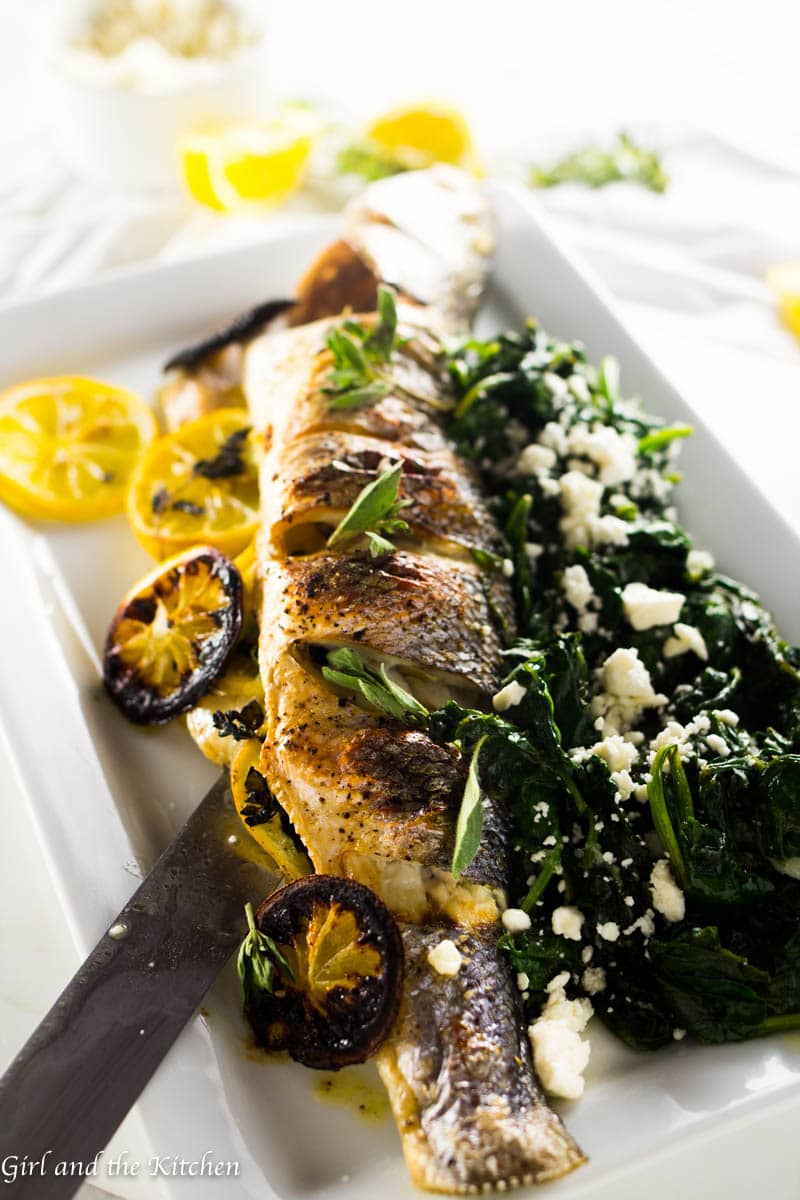 I made roasted branzino just last night and was compelled to finally share it.  I paired it with a super simple sautéed garlic and lemon spinach adorned with a few sprinkles of feta cheese…how Greek am I now huh Chrissy?
It honestly could not have been easier to prepare this roasted branzino.  It was all done on a sheet pan covered in parchment paper so the mess was practically non existent.  I quickly sliced the fish with little slits on the outside, drizzled both the sides and the inside with super fruity extra virgin olive oil*, stuffed the cavity with some oregano stems from my garden, a few cloves of minced garlic, plenty of salt and pepper and some lemon slices.  That's it!  Into the oven it went to broil for 18 minutes.  In the meantime I sautéed some garlic with lemon juice and olive oil and tossed in some baby spinach until it wilted.  Roasted branzino dinner was complete and utterly delicious in under 20 minutes.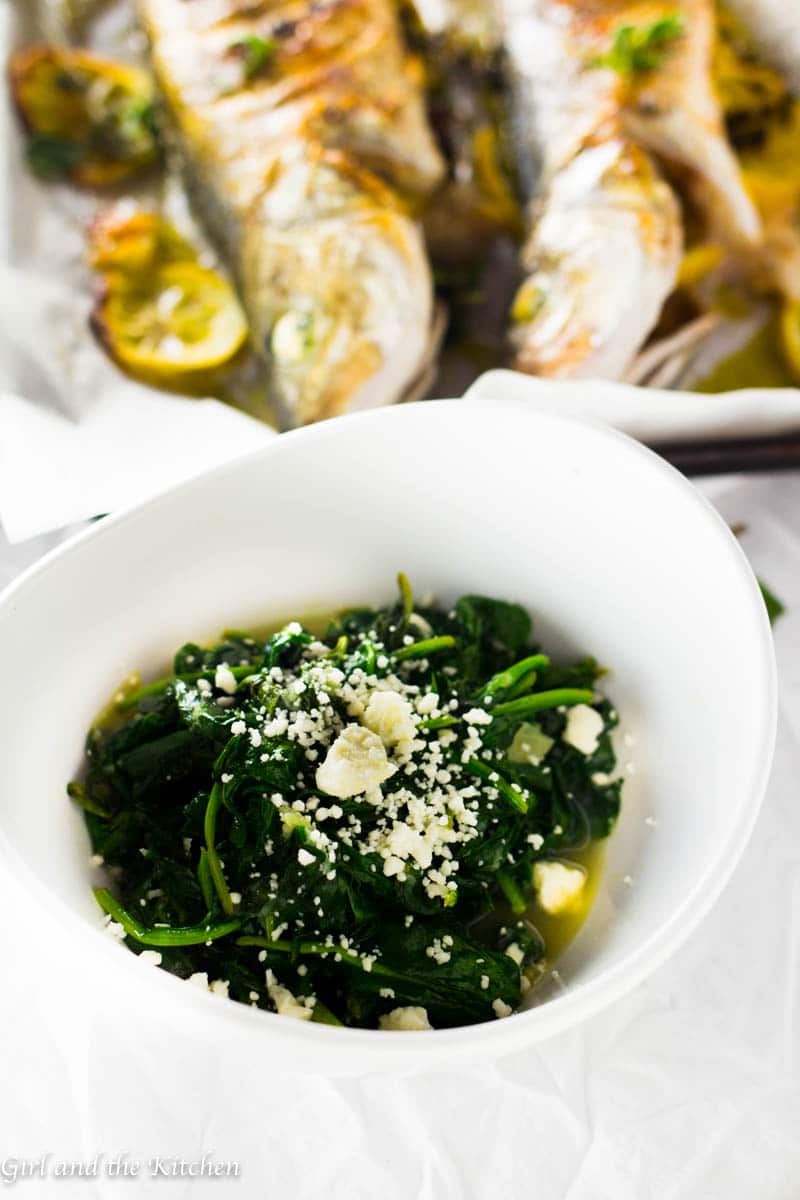 So my darling friend, Chrissy, thank you for reminding me of this wonderfully delicious fish, introducing me to an incredible hole in the wall and most importantly importantly being a dear friend.
Print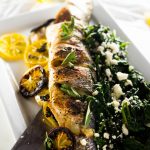 Greek Whole Roasted Branzino
---
Author:

Total Time:

17 minutes

Yield:

4

servings

1

x
Description
This recipe for Greek roasted branzino is perfect for a simple and healthy weeknight meal that requires almost zero clean up! Full of bright lemon and earthy oregano, this dish will transport you to a seaside taverna in Greece.
---
For the fish
2

branzino (about

3

pounds total, lavraki or sea bass)

3 tablespoons

extra virgin olive oil * (fruity kind)

4

garlic cloves (minced finely on a microplane)

4

sprigs of fresh oregano

1

lemon (you want the slices to be half moons so they fit into the fish easily, cut in half and sliced thinly)
salt and pepper to taste
For the spinach
1 tbsp

olive oil

1

bag of spinach (an

8 oz

package)

3

garlic cloves (minced on the microplane)
juice of

half a

lemon

1/2 cup

of water or chicken broth

3 tablespoons

feta cheese
salt and pepper to taste
---
Instructions
For the fish
Place the oven on highest broil setting
Place parchment paper onto a sheet pan large enough to fit the two fish.
Slice 3-4 slits into the fish, parallel to the fish's head, going with the direction of the scales.
Pour the olive oil all over the fish, ensuring both sides and the insides are covered.
Slather the garlic mixture into the cavity of the fish evenly.
Place the oregano stems into the cavities of the fish.
Place the lemon wedges into the cavity of the fish.*
Place the sheet pan into the preheated oven for 18-20 minutes or until the fish flesh is flaky and white. Serve with extra lemons
For the spinach
Right when the fish has come out of the oven, place a large pan over medium heat.
Add olive oil and garlic to the pan. Allow to sweat about 2 minutes, without getting any color on the garlic.
Add the spinach, water and lemon juice to the pan and toss with tongs until the spinach is wilted. This will take about 2 minutes.
Season with salt and pepper. Sprinkle with feta and serve alongside the fish.
Notes
When purchasing and preparing branzino or any whole fish there are a few important things to remember:
When choosing fresh fish, it should smell like the seawater, anything "fishier" smelling and you do not want it. Trust me.
The eyes should be clear, never foggy or falling our of the socket, yuck.
The flesh should be firm not slimy or super spongy.
Ask the fish monger to leave the head and tail on, clean the scales, trim the fins and completely clean the inside.
Before roasting the fish, slice into the skin a bit, careful not to go too deep into the flesh. This will help the skin crisp up and it will allow for some seasoning to permeate the inside.
Keep it simple! The best fish tastes pretty great on its own and just needs to be enhanced with simple and classic flavors. Sometimes salt, pepper and lemon is all you will ever need.
Do NOT over cook the fish. I typically broil these fish (about 1.5 pounds each) for 18 minutes and the bones pull away super easily from it and the flesh flakes just so perfectly. When fish is cooked perfectly the bones peel away from it and there are minimal bones left behind in the flesh.
I like using a very fruity and fragrant olive oil for this recipe. It just gives it an incredible flavor profile. Typically, Greek olive oils tend to be a bit more fruitier. But as long as you get an extra virgin olive oil that is first press, you should be golden.
As the garlic cooks inside the fish, a chemical reaction may occur and it may turn bluish green. This is totally normal and just a reaction of the sulphur compounds. Regardless of the color, it's delicious none the less.
Do not put the garlic or the lemons into the slits you have made on the fish. This may prevent the skin of the fish from crisping up.
If you want a truly crispy skin on both sides, feel free to roast this on a roasting rack. However I am perfectly fine with one side crispy without adding on a second pan for me to clean 🙂
Prep Time:

5 minutes

Cook Time:

12 minutes

Category:

Seafood

Cuisine:

Greek