One Pan Roasted Mushrooms with Lemon Butter Sauce
An easy and unbelievably flavorful one pan roasted mushroom dish in a delicious lemon butter sauce.  All made in one dish.  Packed with flavor and leaves everyone asking for more.  PLUS as a bonus they can be made VEGAN.

I think I have mentioned my distaste for mushrooms.  Eghk.  I am NOT a fan.  But practically all my friends are.  And hubs adores and devours them. So I have to cook the funghi.  I have had to get mighty creative with the shrooms because hubby literally likes all and every type.
And they are so good for you! Full of vitamin D and immune system boosters plus they are super low in calories.  No wonder they are a fan favorite!
Years ago we went to this Persian restaurant, Reza's.  I talked all about it here.  It was and still is an incredible Persian restaurant that has all my favorites.  The fragrant basmati rice, char broiled kebobs and these lemony shrooms.
They always smelled so good when they were brought to the table.  And so I would carefully dip my warm pita bread into the juices oozing out from the mushrooms, purposely avoiding all the actual mushroom caps.
I was told the secret was that they were grilled on the open flame. So I did that.  But it just was not the same.
Several different marinades and cooking methods later, I was dumbfounded.  Why could I not replicate this?
And then it came to me.  The simplest solution of all.  The usual solution.
Butter.
The first time I made these shrooms with butter I did it in the oven.  In one pan and 5 ingredients.  And it was perfection.  That's why the juices leaking out of the shrooms were always so lip smackingly good…BUTTER.
The reason these roasted mushrooms are so good because there is a type of magic that happens when the mushroom juices combine with butter and lemon.  It's such a natural and simple combination.  It's almost annoying to me that I never thought about it before this.
Every time I make this dish, it is literally devoured.  I serve it with plenty of bread to dip into the buttery lemon sauce at the bottom of the dish.  And I almost always serve it in the dish that I prepared it in…because I prefer to steer clear of extra dishes if I can.
By the way…while I may be mostly plant based…I still have my old school mentality come out…
Butter is NOT the devil.  If you are training for a bodybuilding competition then I do not recommend you load up on the butter.  But if you are learning to eat clean then butter is your friend.  You will also notice this recipe isn't loaded with butter, it's just enough to give that velvety sweetness that only butter can do.
I also made this recipe VEGAN.  That's right I used Earth Balance vegan butter and it was still incredible!
According to the hubs there was zero difference he gobbled them up all the same.
Regardless I can pretty much guarantee they will be a fan favorite!  If this mushroom hater can learn to enjoy them then the mushroom lovers will fawn all over them.
Print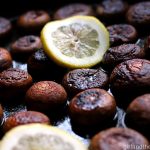 One Pot Lemony Shrooms
---
Description
An easy and unbelievably flavorful one pan roasted mushroom dish in a delicious lemon butter sauce. All made in one dish. Packed with flavor and leaves everyone asking for more. PLUS as a bonus they can be made VEGAN.
---
1

pound of cap mushrooms (cremini, portobellos or white button mushrooms all work)
juice of

half a

lemon

2

–

3

tbsp butter
salt (pepper and garlic powder to taste)
parsley to garnish
---
Instructions
Just wash and de-stem your shroomies first. Use any kind you like. Reza's always used classic white shroomies. So that's what I used.
Preheat oven to 450-degrees.
Take a large sautee pan or baking pan with edges and place two tablespoons of butter on it. Place in the oven and allow the butter to melt, about 2 minutes.
Place the mushrooms cap side down in the pan. Drizzle with lemon juice from half a lemon and season with salt and pepper. You can also add some garlic powder if you like.
Place in into the oven for 10 minutes.
Then flip over the shroomies and continue cooking for another five minutes.
Then just scoop them up and place into the bowl with plenty of bread for dipping into the yummy sauce! If you made this in a nice looking sautee pan just go ahead and serve it in that.
Notes
Note 1: These can be done on the stove top quite easily. Simply follow the same instructions over medium high heat. They won't get that roasted flavor but are delicious nonetheless.
Category:

Appetizer or Side

Cuisine:

Traditional