Healthy Italian Wedding Soup
 [wprm-recipe-jump] A warm and comforting bowl of classic Italian Wedding Soup that is healthy, filling and features a secret ingredient for the best tasting broth possible!

Wedding Soup that is healthy, filling and features a secret ingredient for the best tasting broth possible! #weddingsoup
Soup primarily, this delicious Italian Wedding soup always makes me crave foods that make me feel cozy and warm.
I honestly adore soup.  I am not sure if it's just been instilled in me as a child of an Eastern European family that you have to have soup in order to keep your digestion tract working properly (lies…all lies).  Or maybe it is just the need to be warmed from the inside with a healing broth…but I can remember eating soup as some of my first memories.
This week I was asked by one of my clients to cook a soup for her darling 11 year old Sophie…who is definitely one of my toughest clients.  She is brutally honest – as most 11 year olds are – and is incredibly picky.  Nonetheless, she is always one of my favorite people to cook for because getting her to scream in glee and proclaiming that this is THE BEST food she has ever had, is always music to my ears.
Knowing that Sophie loves meatballs of any kind I decided to do one of my favorites…Italian Wedding Soup.  Delicious mini chicken meatballs, a golden broth and tender orzo pasta create a luxurious bath of a soup.  Good enough to warm up anyone…even if they are in their skinny's.
First we start out with a glob of olive oil in a nice, large pot (6 quart will do).  Heat up your pot to medium heat.  Turn on your oven and heat up to 450-degrees.  Then grab a large onion, peel it, cut it in half,
cut slices into it vertically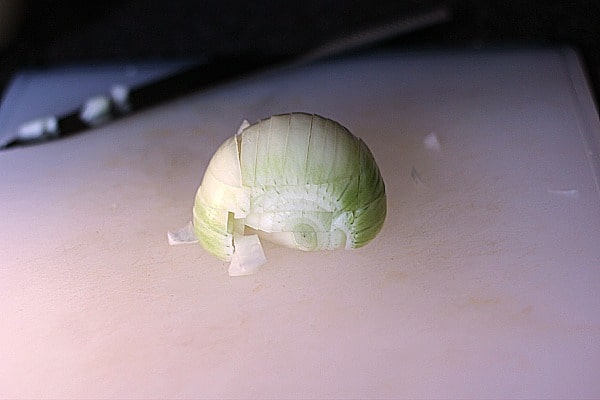 Sometimes this happens…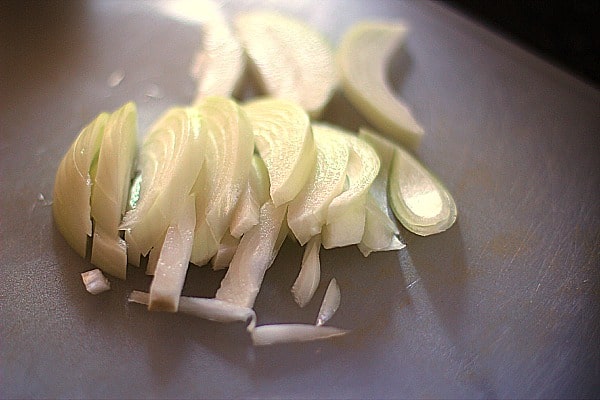 That's OK… no one knows the difference…cut slices horizontally and dice it up.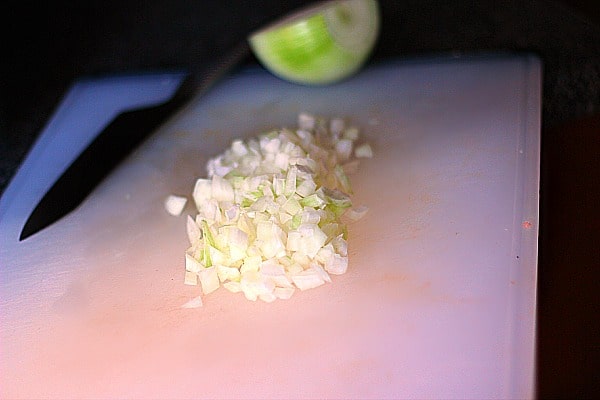 It's OK to cry.  But if you want to avoid the tears, stick your onions in the freezer for 20 minutes before cutting it.  Tears no more!
Add the onions to your pot with the olive oil and cover with lid, you want them to sweat in their little olive oil sweat lodge.  You do not want any color on them.
Go ahead and dice up the carrots next.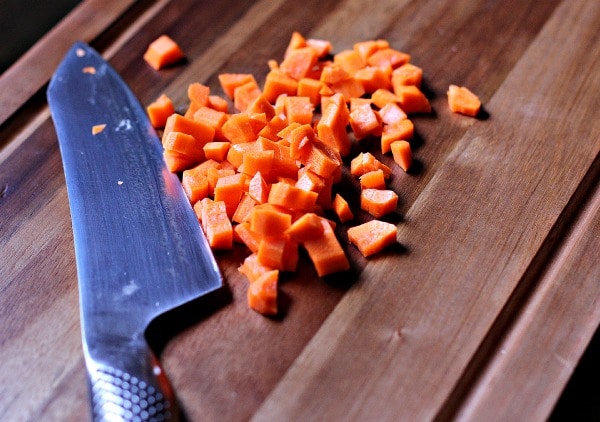 Throw them into the pot as well and toss everything around.  Let them sweat it out.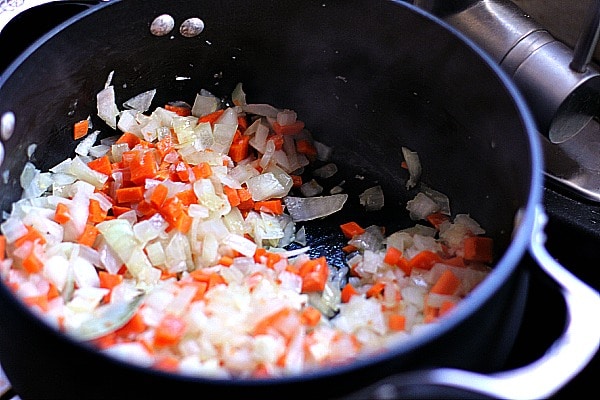 Oops, forgot about the celery, dice it up and invite it to the spa  party. Toss and close with lid, let all the veggies sweat together in their sauna. (the fancy chef's call this veggie combo mirepoix…or you can call it the holy trinity, it is the start of many sauces, soups and stews…)
Now go ahead and add in your chicken stock to the soup and let everything simmer and get happy.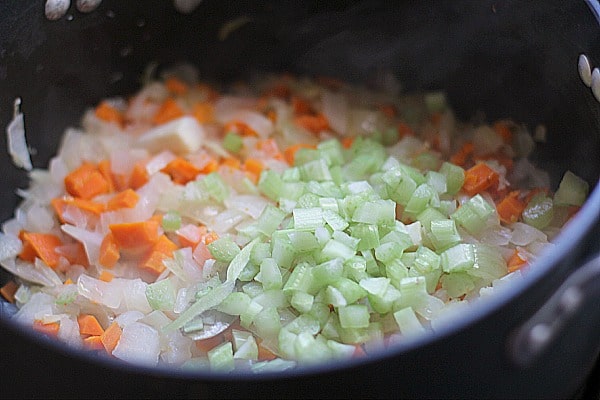 Now we start working on our mini meatballs.  I used ground chicken, but feel free to use whatever floats your boat…except fish… that would be weird…but hey whatever floats your boat.
Make sure you mix just until combined otherwise you will get dense and heavy meatballs (no bueno…)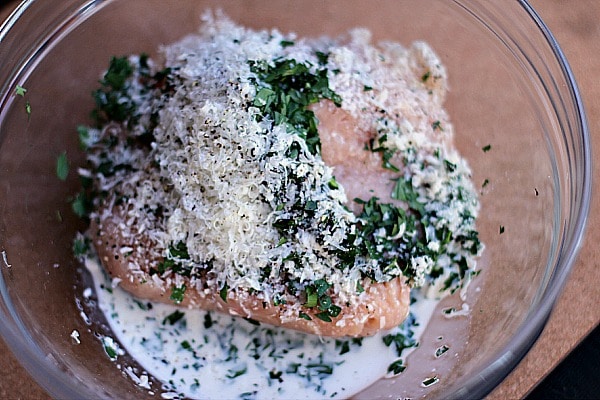 Prepare a sheet pan by spraying it with pan spray and THEN putting parchment on top.  Create a huge "X" on the sheet from one corner to the next.  This is a great trick to get your paper to stick onto the sheet pan.  I learned THAT in culinary school!  See how important education is!?!
X marks the spot isn't just for treasure maps.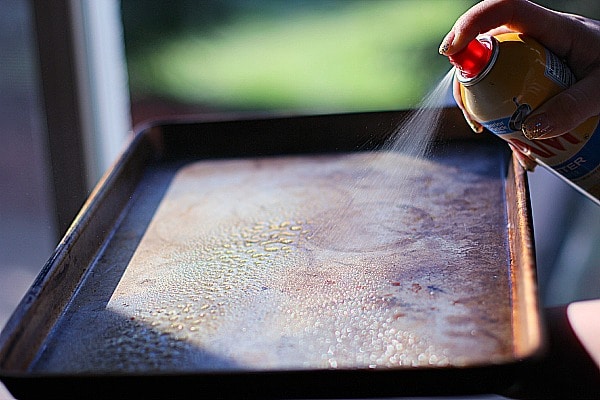 Take a melon baller, or a smaller ice cream scoop or a teaspoon and scoop out the meatballs onto the sheet pan.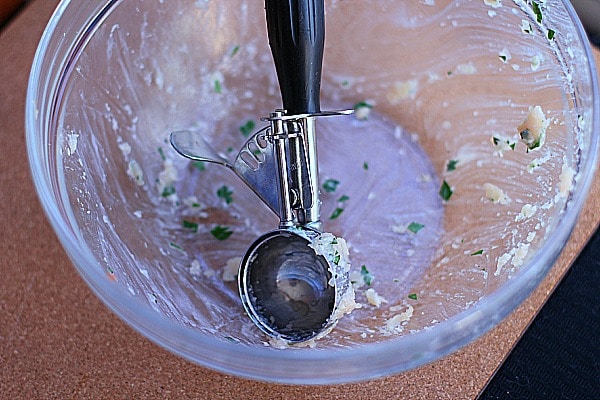 Leave the edges a little "rougher" do not smooth them out, you will get nice, crispy edges this way.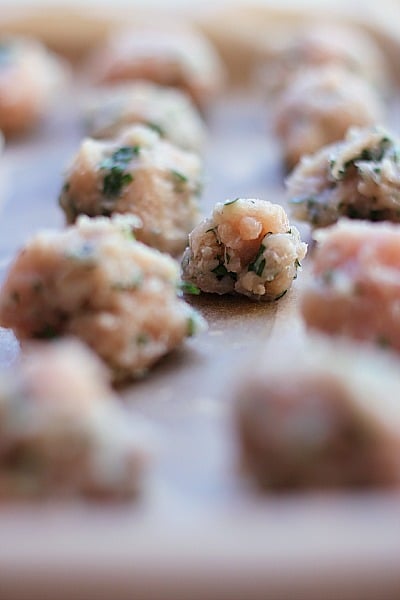 How cute are they?!?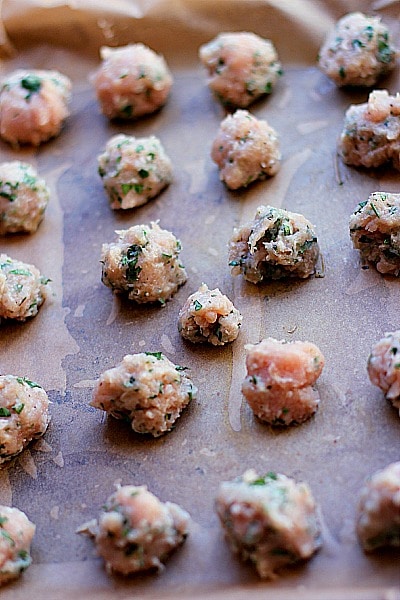 Place into the oven and let cook for 10 minutes.
Back to the soup.  Open the lid and add in your secret ingredient, the Parmesan rind.  You will notice, I do this with a lot of my Italian inspired soups.  I find it adds a salty background to the soup without overpowering it.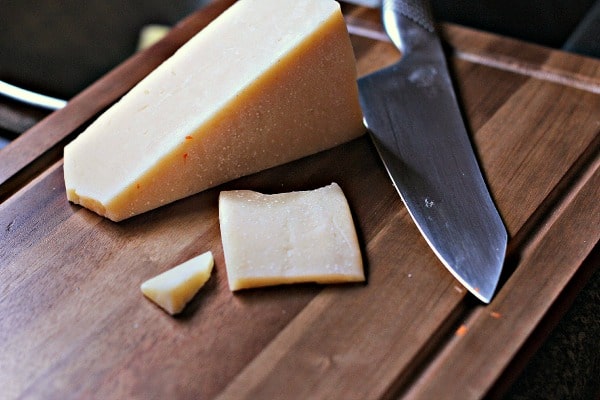 Add in the bay leaf and chicken stock and bring up to a boil, then reduce the heat and allow to cook for 15-20 minutes.
Once the meatballs are done take them out of the oven and set aside.  If they are not completely cooked, don't fret, they will finish cooking in the soup.  See how nicely those edges browned up?  While no one is looking, pop a couple in your mouth..they are scrumptious!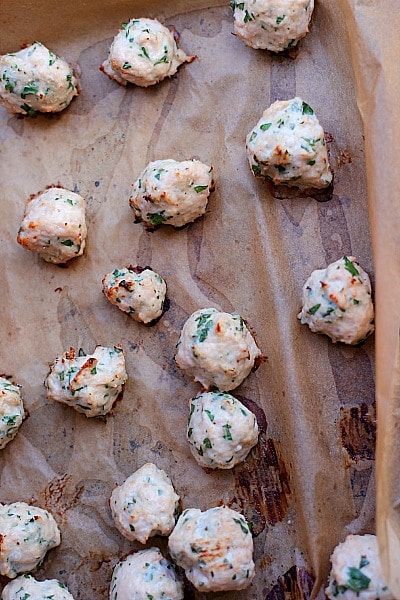 After the Italian Wedding soup has simmered for 15-20 minutes, add in your meatballs and let cook for another 15-20 minutes on a nice simmer.  Then add in your orzo and cook until al dente.
In the meantime, cut up your kale or spinach roughly and rinse it.  Typically I used spinach but hubby's new obsession with kale is overtaking all my recipes.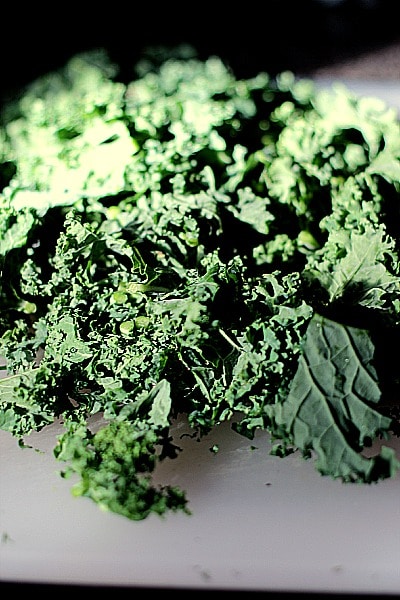 See there's that handy, dandy colander again.  It gets used ALL the time in my kitchen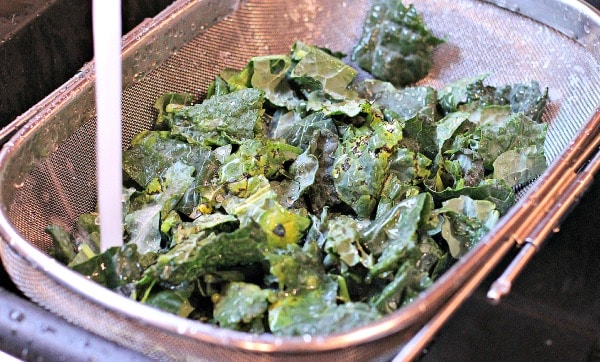 Go ahead and stir the kale or spinach into the soup.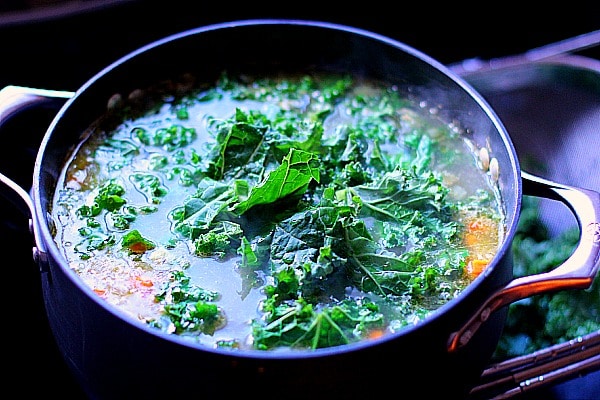 I have a little confession to make…you see how the Italian Wedding Soup has that gorgeous yellowish tint to it?  Well I am not entirely responsible for it.  Sometimes I do not have chicken stock on hand (I'm no Martha Stewart) and so I use the store bought kind.  Which is perfectly fine…except it sometimes lacks flavor…which is not fine.  So I add another secret ingredient… Better than Bouillion.
I have been using this stuff for years.  It's been a long time secret and now I am giving it up.  Costco finally started carrying it so obviously I bought 2 in case Costco stops carrying it.  You can buy this at most grocery stores now, but I like the jumbo size Costco offers.  I never add this to my Jewish chicken soup, but I do add it to my 30 minute chicken soup when I'm ailing from a cold and I need flavor fast.  Start with a little bit at a time with it until you get your desired flavor.  Make sure you buy the reduced sodium though.  (The beef version is really great too.)

Find that melty Parmesan rind and remove it.  That's it.  Let the Italian Wedding Soup come together, adjust for seasoning and finish it off with a squirt or two of lemon.  I always feel that it adds a pop of freshness.  And of course shred in some Parmesan as a nice topping 🙂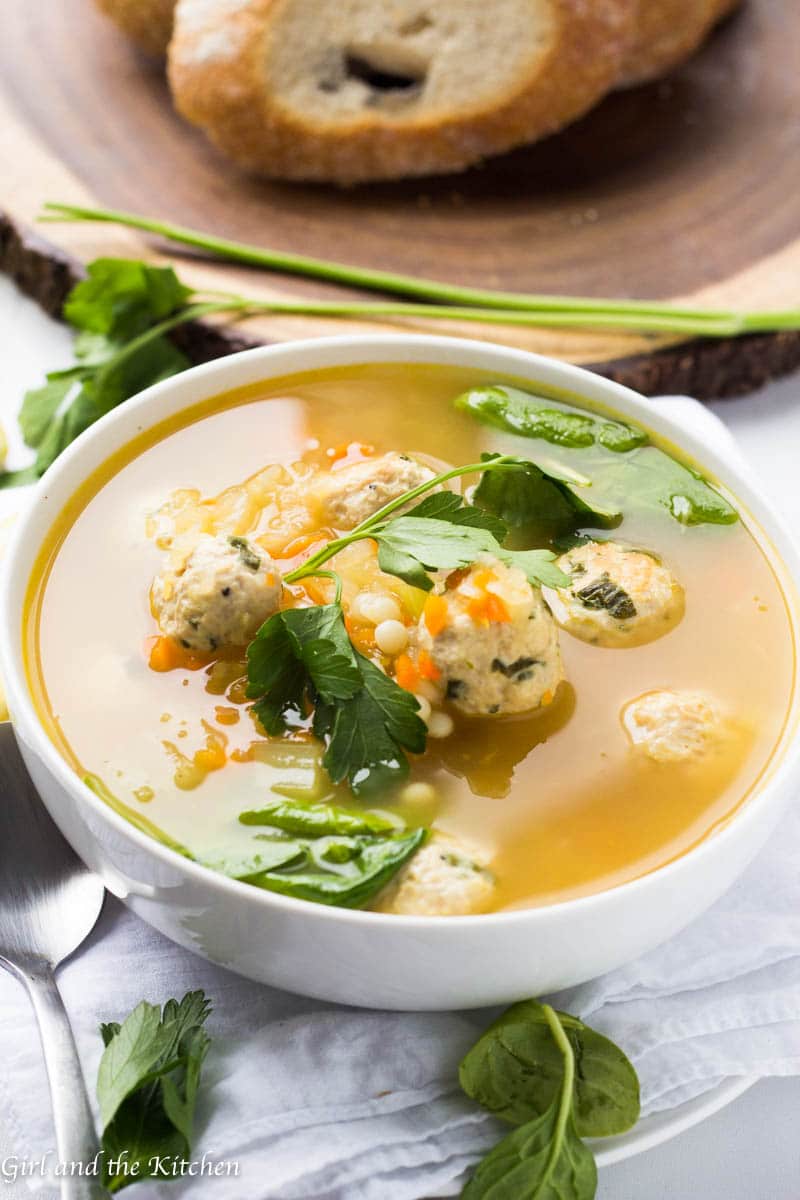 I served this with my delicious homemade Seriously Crispy No Knead Bread perfect for dipping into the Italian Wedding Soup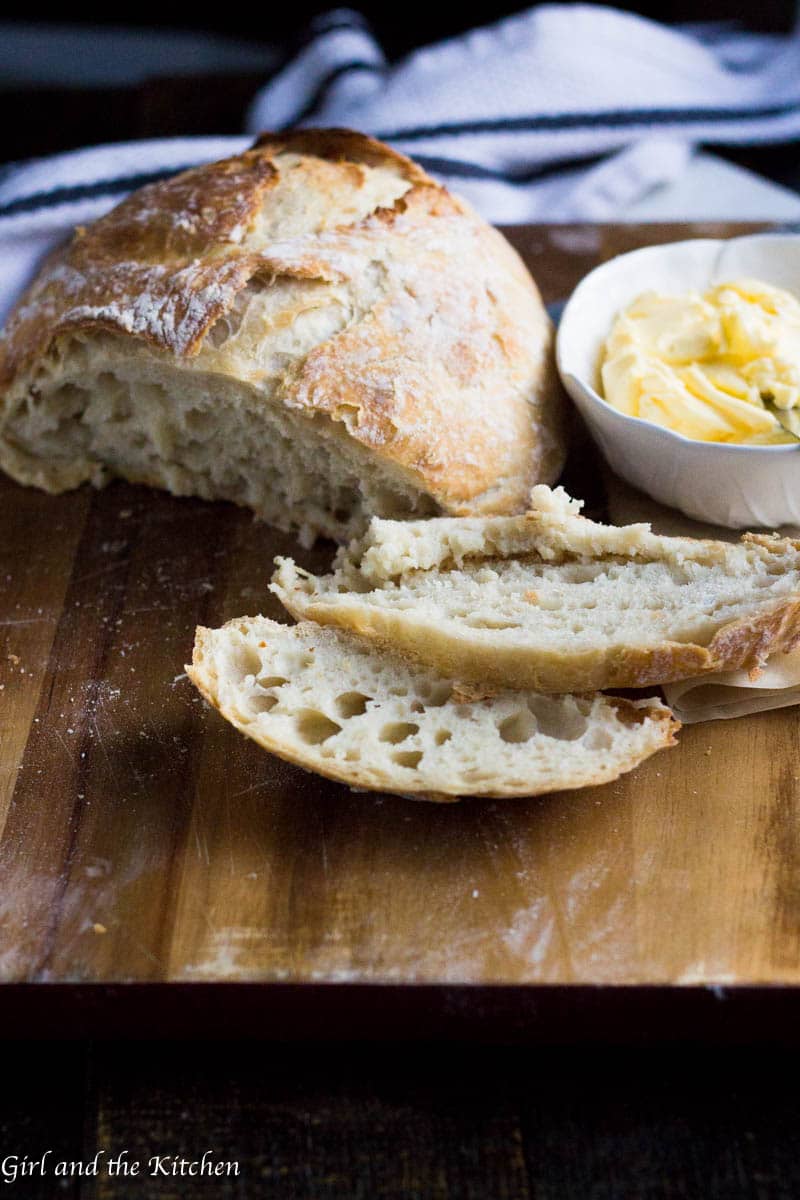 Print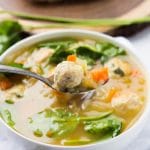 Healthy Italian Wedding Soup
---
Author:

Total Time:

40 minutes

Yield:

6

servings

1

x
Description
A warm and comforting bowl of classic Italian Wedding Soup that is healthy, filling and features a secret ingredient for the best tasting broth possible!
---
For the Soup
1

large onion (diced)

1

large carrot (diced)

2

small stalks of celery (diced)

2 cups

kale or spinach (roughly chopped)

8 cups

of home made or store bought chicken stock

1

rind from Parmesan cheese

1

bay leaf

1/4 cup

orzo or any other small pasta

1 tbsp

Better than Bouillion (start with

1 tablespoon

)
olive oil
salt and pepper
juice of

half a

lemon
Parmesan cheese as much as desired
For the Meatballs
1.5

pounds ground chicken

1/2 cup

freshly grated Parmesan

1/4 cup

milk (2%, whole, skim, all is fine)

3 tablespoons

freshly parsley (finely chopped)
salt and pepper to taste
---
Instructions
First we start out with a glob of olive oil in a nice, large pot (6 quart will do). Heat up your pot to medium heat. Turn on your oven and heat up to 450-degrees.
Grab a large onion, peel it, cut it in half, cut slices into it vertically then cut slices horizontally and dice it up.
Add the onions to your pot with the olive oil and cover with lid, you want them to sweat in their little olive oil sweat lodge. You do not want any color on them.
Go ahead and dice up the carrots and celery. Toss in with the onions and continue to sweat covered for 5-10 minutes.
Combine ground chicken, Parmesan cheese, parsley, milk, salt and pepper in a bowl. Combine mixture with your hands until just mixed, do not over mix or you will end up having dense meat balls.
Prepare a sheet pan by spraying it with pan spray and THEN putting parchment on top. Create a huge "X" on the sheet from one corner to the next. This is a great trick to get your paper to stick onto the sheet pan.
Use a tablespoon, melon baller, or small ice cream scoop to shape the meatballs. Do not make them too smooth, the rigid edges will allow for better browning in the oven.
Place meatballs into the oven and let cook for 10 minutes.
Back to the soup. Open the lid and add in your secret ingredient, the Parmesan rind. You will notice, I do this with a lot of my Italian inspired soups. I find it adds a salty background to the soup without overpowering it.
After the soup has simmered for 15-20 minutes, add in your meatballs and let cook for another 15-20 minutes on a nice simmer.
Add in orzo and stir to combine. Let simmer until orzo is al dente.
In the meantime, cut up your kale or spinach roughly and rinse it.
Add in the Better Than Bouillion a little bit at a time with it until you get your desired flavor start with 1 tablespoon..
Find that melty Parmesan rind and remove it. That's it. Let the soup come together, adjust for seasoning and finish it off with a squirt or two of lemon. I always feel that it adds a pop of freshness. And of course shred in some Parmesan as a nice topping 🙂
Prep Time:

10 minutes

Cook Time:

30 minutes

Category:

Soup

Cuisine:

Italian
[wprm-nutrition-label]