Persian Lentil Soup…A Chicago Restaurant Fave
A healthy and filling vegan lentil soup booming with Middle Eastern spices and flavors.  A great soup for those days when we all need a bit of soul warming.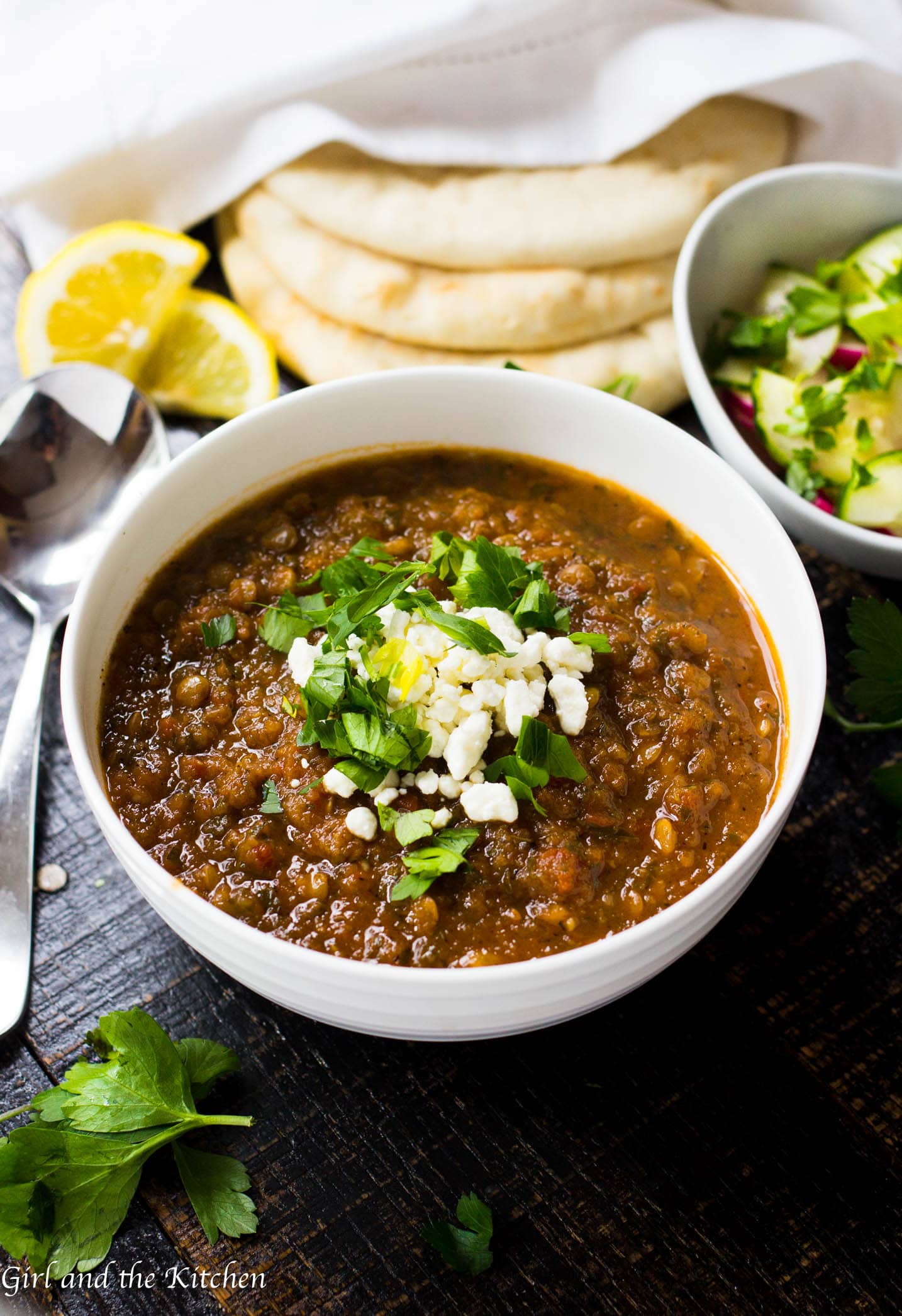 Most Chicagoans know of this wonderful Persian restaurant called "Reza's". Russians looove this Middle-Eastern cuisine. Partially because of the influence of the Georgians and the Armenians. But mostly because of the delicious char grilled meat and fragrant basmati rice.
For as long as I can remember my family went to Reza's. I always had this gitty feeling when I knew we were going there. I would day dream about it in school and look forward to it all day.  I know I am special…
They have HUGE portions…HUGE! Mostly everyone at our table always left most of the meal on their plates…except my dad, my uncle and my 70 pound self… we put away the entire meal! My mom warned me each time to stop…but in my typical stubborn fashion I never listened.   And every time I would slouch on the chair, slowly making my way under the table to take a much needed nap, growning from my full tummy.
My mom would say, "Why would you do that? Look at your stomach, look!! This is more food than you have eaten all month!"
I would look up at her, with a miserable smile and say, "But once I start, I cannot stop. I have to eat it all. How would dad and my uncle look at me if I didn't eat it all?" My mom would throw her hands in the air and say that one day I would learn.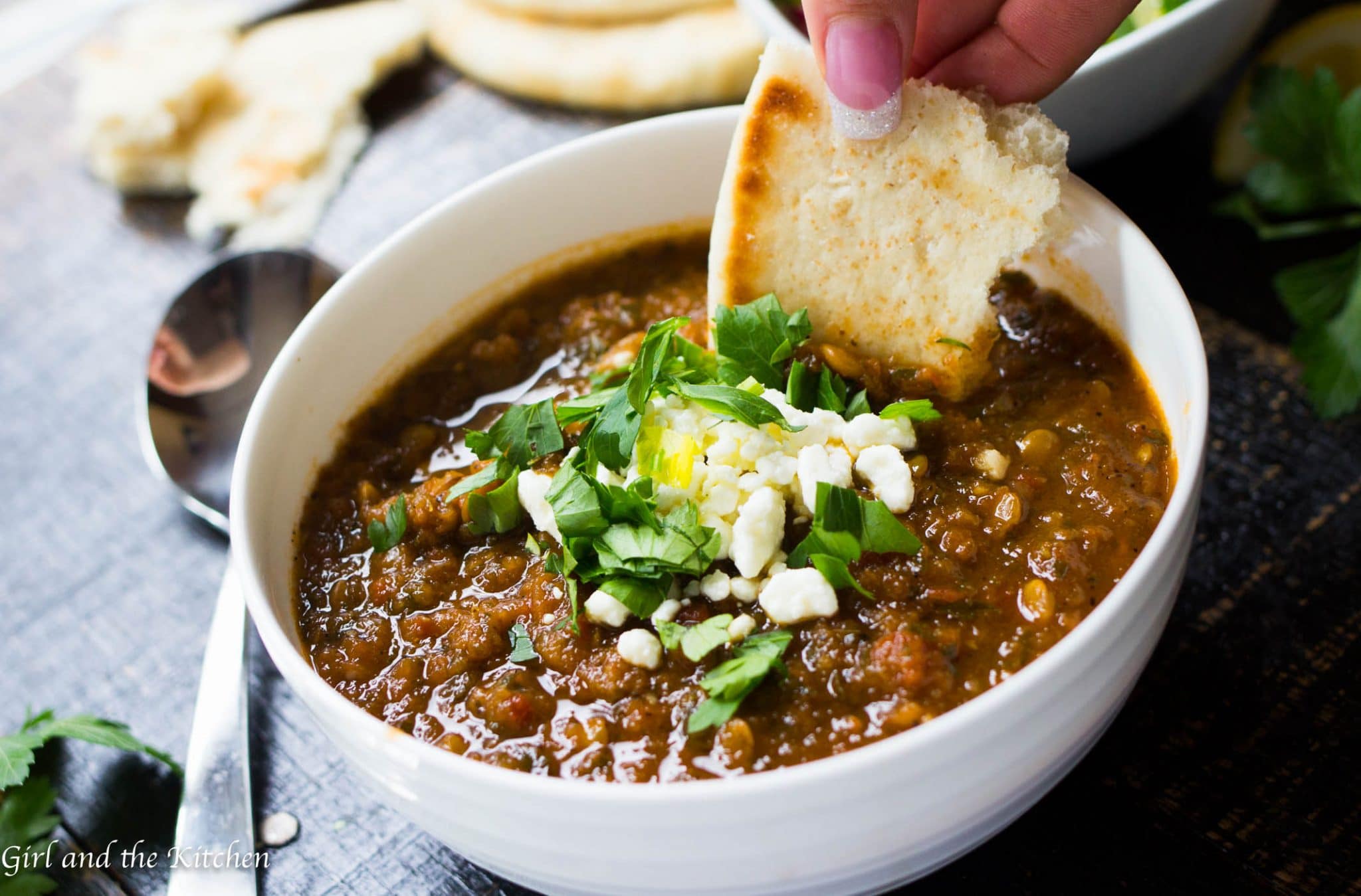 I have duplicated almost all of my favorite recipes they have at the restaurant.  These lemony mushrooms were a fan fave at the restaurant and I vowed to recreate them…naturally I succeeded 🙂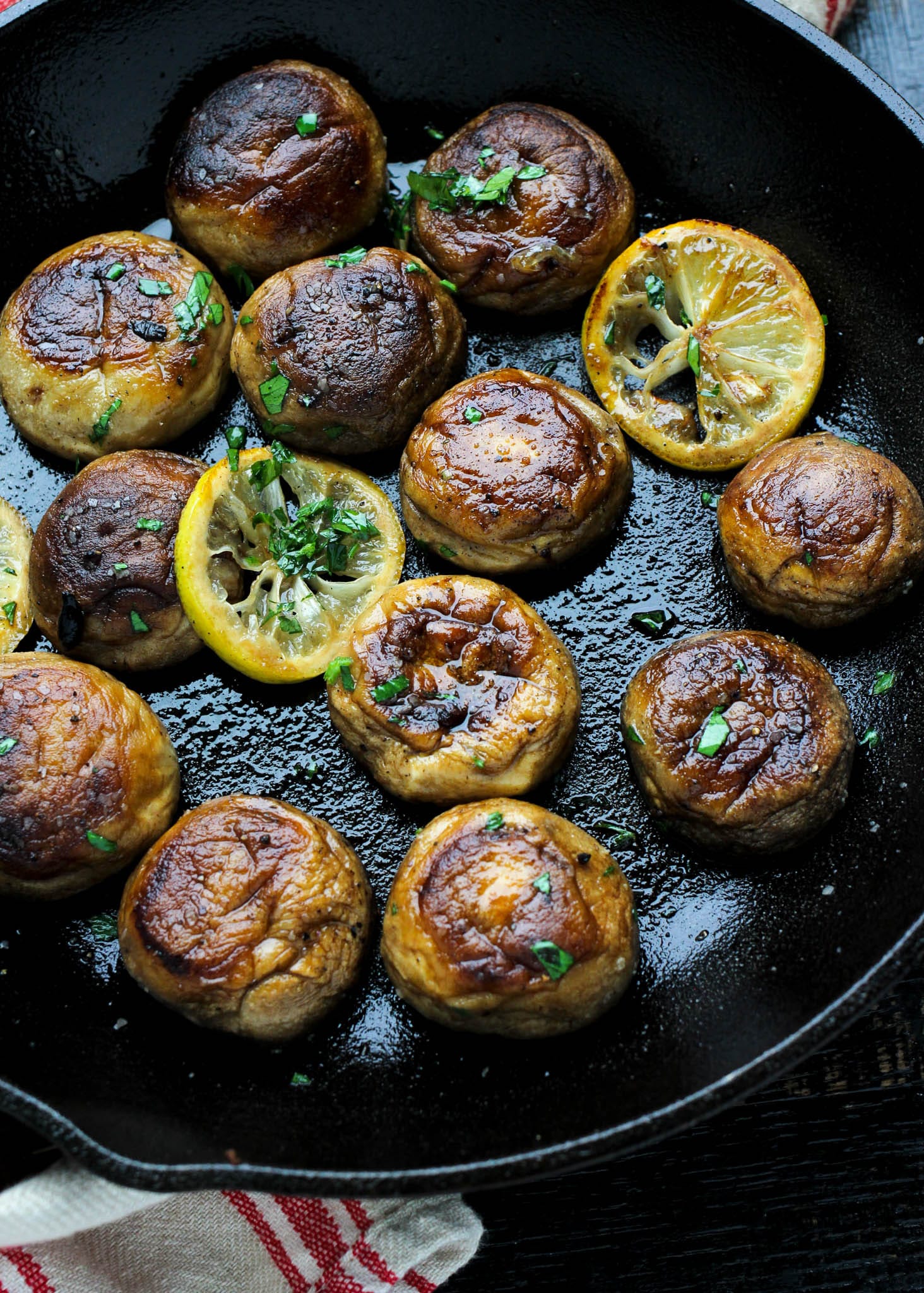 I made all the recipe…except one. Their soup. It's this delicious lentil and tomato soup that I absolutely love. It's completely vegan so it goes with my lifetyle and has a ton of flavor in it.  In the restaurant, they always served it with a huge platter of fresh parsley, radishes and feta.  It was such a great compliment to the salad.  So I placed some feta on my soup to finish it off and add some saltiness.
I made this on a whim last week and I was impressed.  As was the hubs.  I put it out for him when I went upstairs to blog last night. I came down…the bowl was licked clean.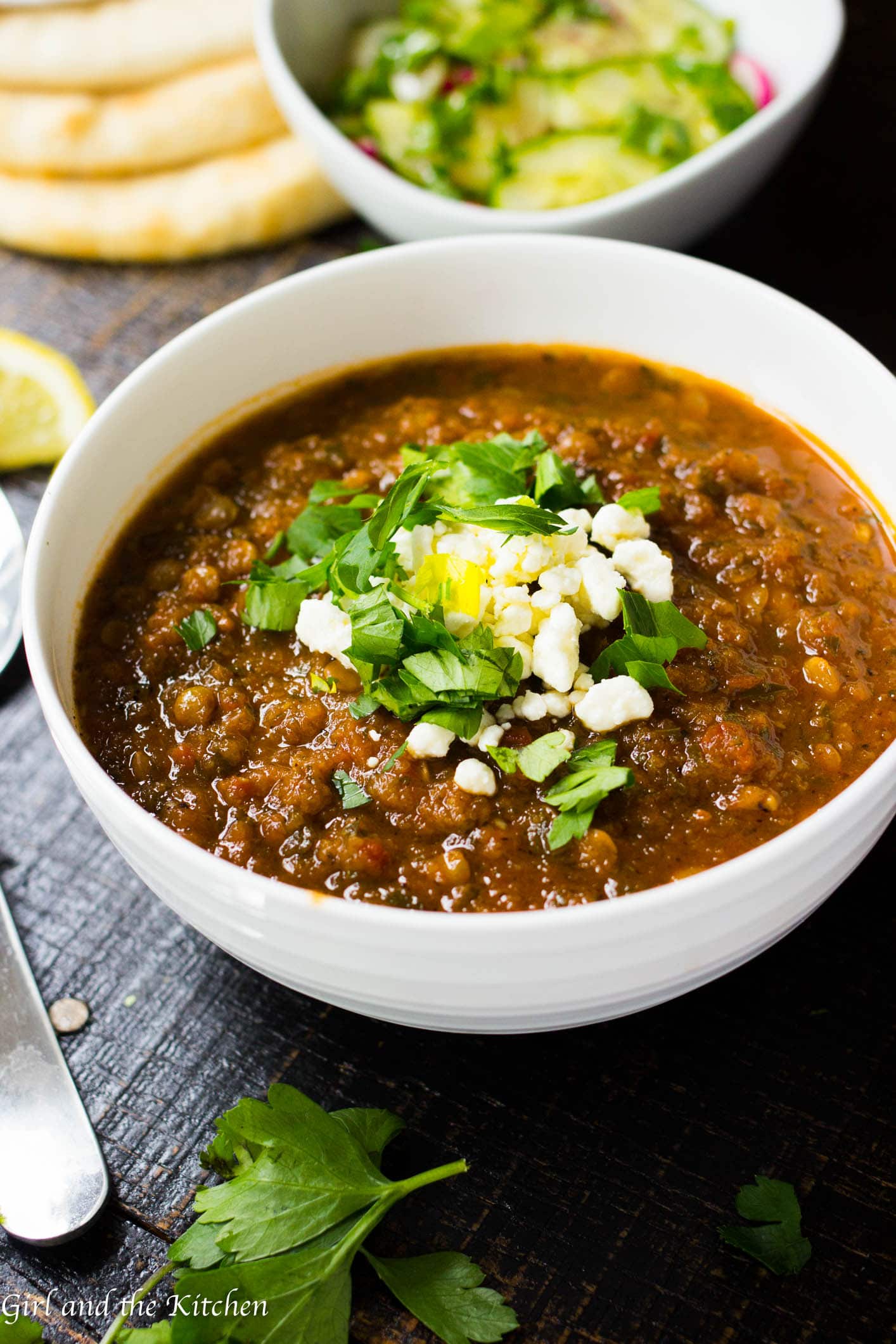 "I liked…even better than Reza's!" He said.
Ahhh music to my ears, my recipe is better than Reza's! Brilliant!  Someone is getting lucky tonight 🙂
*I based this off of a recipe I found on recipezaar.com, funnily enough a woman was looking for the same soup recipe. You can find the original recipe here.
The recipe definitely needed a bit of tweaking. I added a lot of my own spices that I know are traditionally used in Persian and middle eastern cuisine in general.  
One spice I knew it needed was sumac. You can check out all of the benefits of sumac in this post from the Dr. Axe website, and they chose to include this recipe! 😃*
Print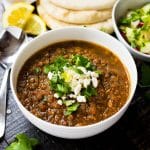 Persian Lentil Soup
---
Description
A healthy and filling vegan lentil soup booming with Middle Eastern spices and flavors. A great soup for those days when we all need a bit of soul warming.
---
1 cup

lentils (rinsed)

8 cups

vegetable stock (I used Trader Joes, which was very flavorful)

1 tablespoon

olive oil

1

large onion (finely chopped or put through a blender or food processor*)

4

garlic cloves (crushed)

1

can stewed tomatoes (

15oz

, crushed)

2 teaspoons

salt

1

bunch of parsley (finely chopped*)

1/2 teaspoon

pepper

1/4 teaspoon

cayenne

2 tsp

sumac*

3 tsp

7-spice

1/4 cup

brown basmati rice (optional, uncooked *)
juice of

1

lemon
---
Instructions
Add olive oil to a 5 qt pot and sautee onions and garlic together and let them sweat. You do not want any color.*
Add lentils and stock to this mixture and bring up to a boil. Reduce the heat, cover and continue simmering on medium low for 25 minutes•.
Add tomatoes, parsley and all seasoning and cook for 5 minutes.
Add the rice and turn down the heat and let it cook for about 25-30 minutes on medium heat, until the lentils and rice are tender. At this point, add lemon juice. Taste and season with additional salt, pepper and lemon as you see fit. I like mine very lemony.
Pour into a bowl and garnish with feta and chopped parsley.
Notes
It may seem like a ton of parsley, but the parsley adds a very authentic and delicious flavor to the soup.
I did not add in any rice as I really felt it was unnecessary. But please feel free to if you think you need it to make a complete meal.
I like to put the onions and garlic through the Vitamix with just a few tablespoons of water. I find this gives me a nice even soup and there are no chunks of onions in there.
Make sure that the lentils are tender. Depending on the lentils, sometimes this takes longer. If that is the case, just keep simmering until they are the doneness to you liking.
*If you have never seen sumac, I recommend that you try using it in all your middle eastern recipes. It is regularly used in that region of the world. It has a tart flavor to it and was originally used in food before the Romans introduced lemons. It goes well with chicken, beef, hummus almost anything. In fact, you will usually see it sitting on tables next to the salt in pepper in most good middle eastern restaurants. 7-Spice is also very popular and frequently used. It's a spice blend with cumin, ground coriander, paprika, nutmeg, cinnamon and cardamon. It really gives that middle eastern flare to the dish.*
Category:

Soup

Cuisine:

Persian
SaveSave