When chicken breast gets boring…this is my solution! A succulent and savory chicken breast marinated in yogurt, saffron and garlic. Tons of deliciousness wrapped up in one marinated chicken breast!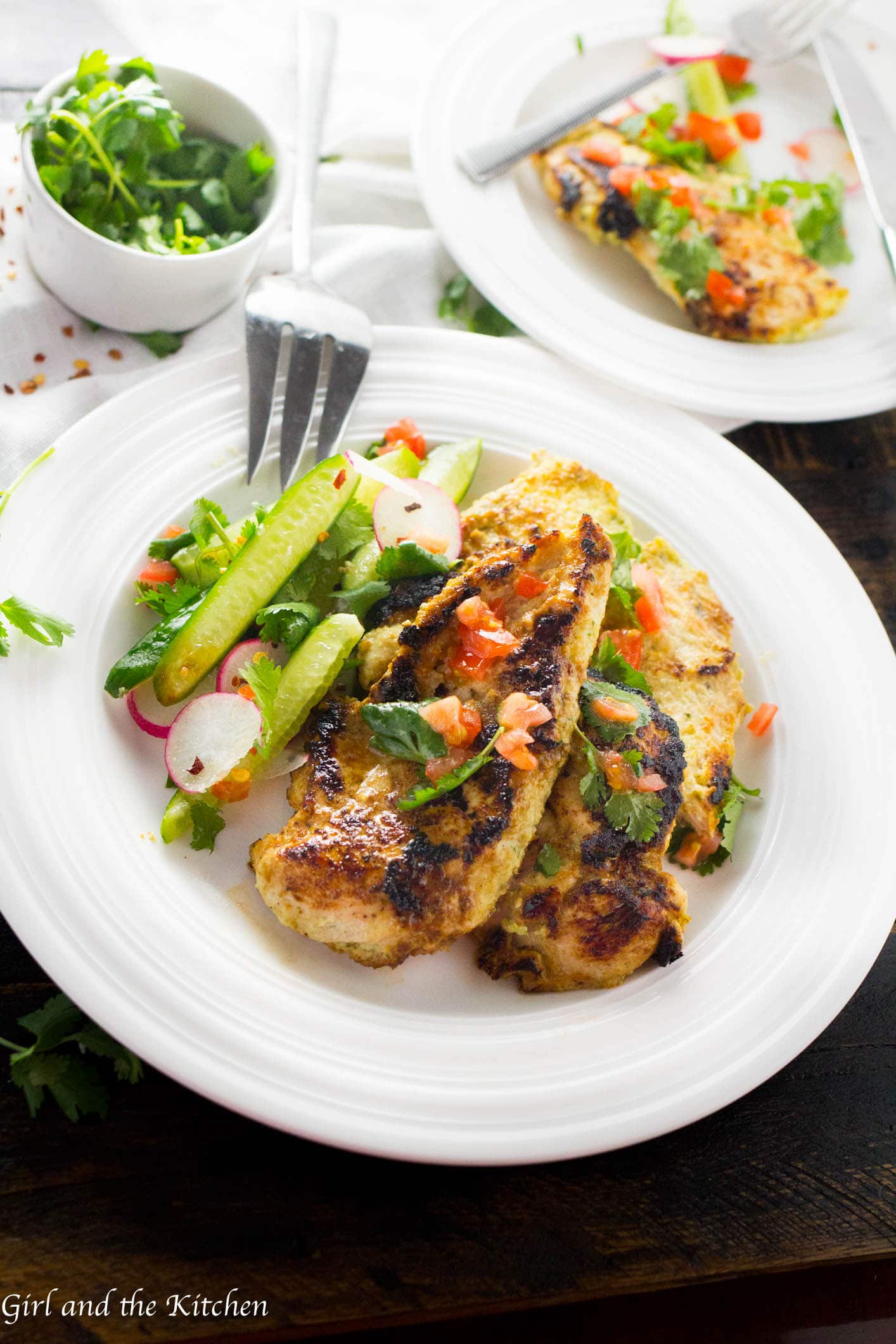 Jump to Recipe
Every Sunday morning, I sit down in front of my steaming cappuccino and plan my menu for the week.  It's a piece of my week that I look forward to.  Typically, I'm overwhelmed with ideas thanks to my daily Facebook feed of bloggers who I follow.  But every once in awhile I get stumped… and it is typically when I get to the word chicken.
Chicken breasts unfortunately can get quite blah after awhile.  Plus considering it is the only animal protein (other than fish and eggs) that I allow in the house, I have to be creative!
On one of those Sunday mornings, I chose to sip my cappuccino in front of the television as I watched a riveting episode of the Shahs of Sunset.  A personal favorite guilty pleasure of mine.  It just so happened that in the latest installment of the Shahs, they were sitting around an ornately decorated table in the reunion special.  And as they threw one jab after another at each other, I was distracted by the gorgeous food on the table.  Yellow rice, grilled meats, yogurt sauce.  This all reminded me how very much I love Persian cuisine.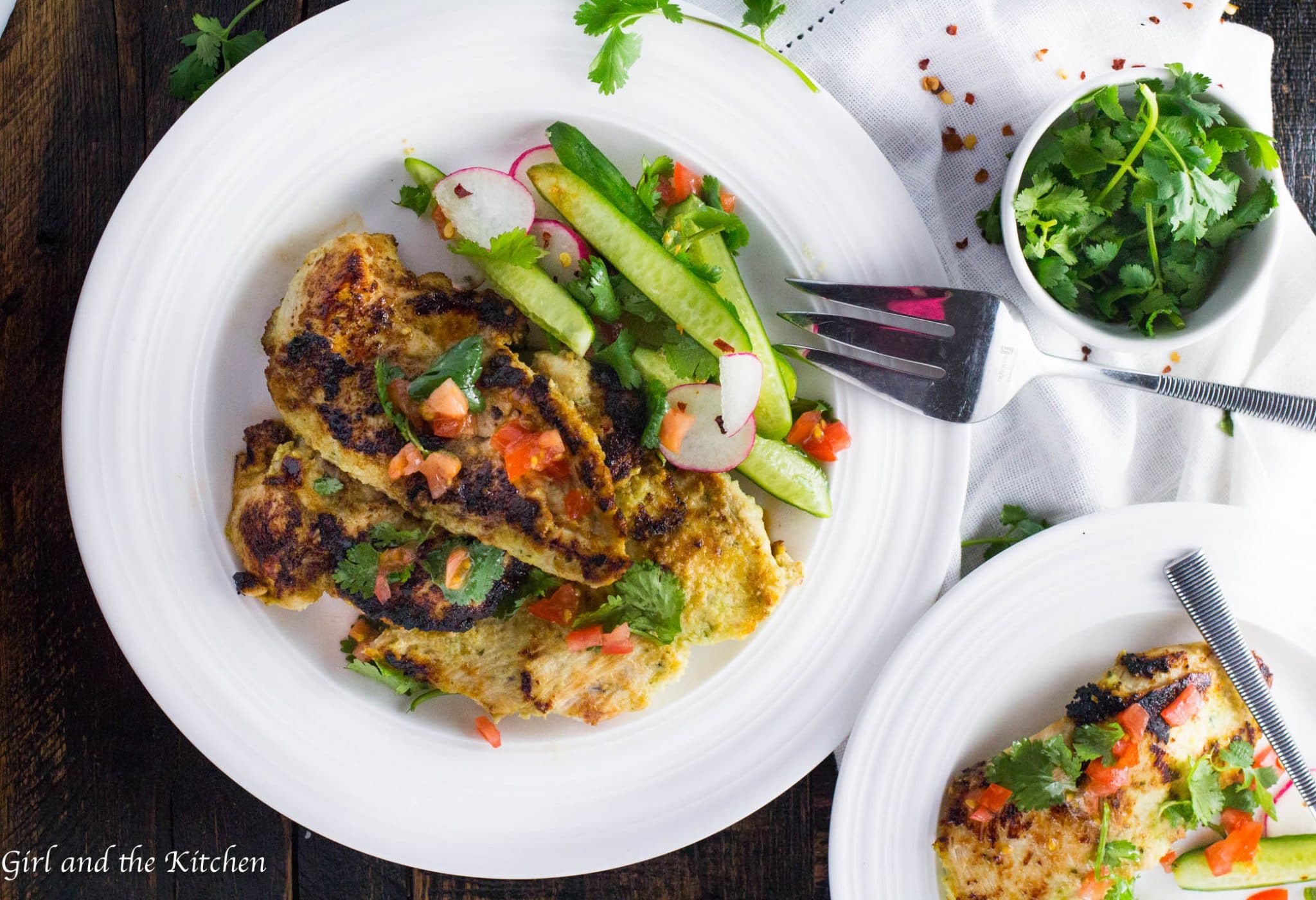 In the summer I frequently grill up chicken tawook very similar to Azita's joojeh kebob.  The yogurt gives the chicken a perfectly delicate texture and a slightly tangy flavor.  It's fantastic on the grill.
But of course I found a way to improve this.
I used a yogurt marinade along with lots of garlic, onions, cilantro, parsley, lemon juice and salt and pepper.  I also added some gorgeous saffron that give this dish its distinct yellow color.
Saffron is really pricey, but fortunately you will only need a few threads.  And Costco recently started carrying it for a nice price.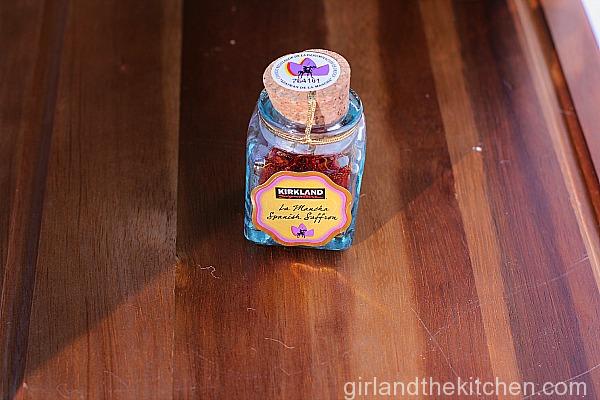 Before adding the saffron to the chicken, you have to steep it like a tea in hot water.  It will start to release it's beautiful golden color. You can definitely add more than I have…this is just sad looking.
IF you cannot find saffron.  You can cheat and add some turmeric to the mix instead to give it a nice color.  1tbsp or so will do.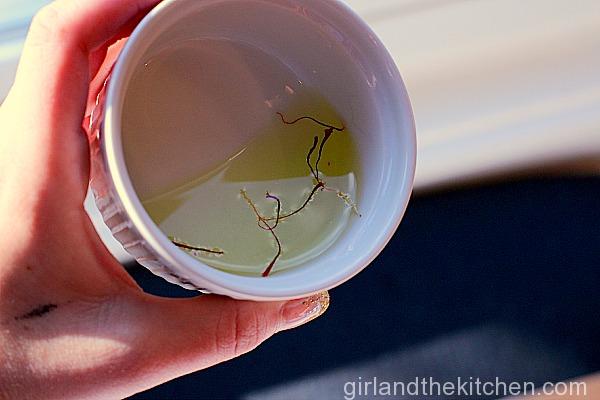 Once you have your saffron "tea".  You add the liquid to your yogurt, garlic, onions, cilantro and lemon juice.  Don't forget the salt and pepper.  Then just grind it all up in a Vitamix or a food processor.  Pour into a ziplock bag on top of some pieces of chicken breast.  I usually let it marinade overnight but at the very least let it marinade for an hour.
In the summers this is perfect over a hot grill.  In the winter, I pan fry this up on each side in a bit of butter and olive oil.  The butter will give it a super luxurious brown crust and an amazing flavor.  You can then finish it up in a hot 450-degree oven for 10 minutes or finish them up by pan frying.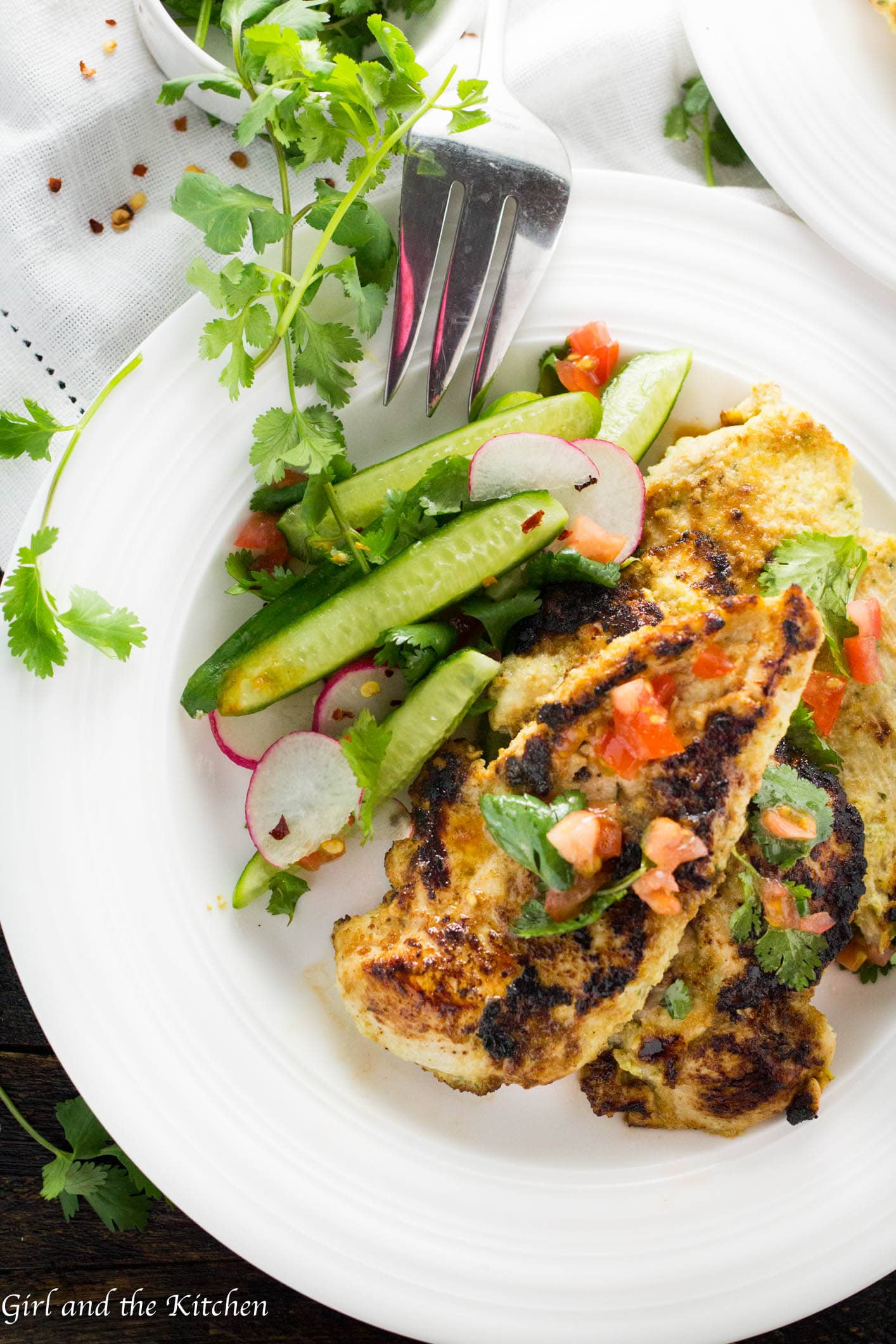 Either way this will be delicious.  And I promise it will be a go to for any quick dinner.  It's great over rice, or some nice simple veggies.  I love tossing Persian cucumbers with some radishes, cilantro and olive oil and lemon then adding some red chili flakes to it.  It's just perfection!
Just a fair warning!  It is super garlicky though.  However, the mix of the garlic and yogurt and butter somehow make the garlic mellow and sweet.
Just an FYI.  There is sometimes an enzyme reaction that will cause your garlic to turn blue or green.  The sulfur in the onions and garlic will react in an acid environment with natural amino acids to form the harmless colored blue and green pigments.  While it may be alarming it is perfectly harmless.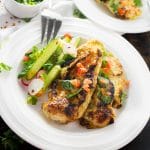 Saffron Yogurt and Garlic Marinated Chicken
When chicken breast gets boring...this is my solution! A succulent and savory chicken breast marinated in yogurt, saffron and garlic. Tons of deliciousness wrapped up in one marinated chicken breast!
Print Recipe
Ingredients
2

pounds

chicken breast

cut in half so they are thinner. You can also use boneless, skinless chicken thighs but use 3 pounds

1.5

cups

yogurt

8

garlic cloves

1

large onion peeled and cut in half

1/2

cup

water

8

threads of saffron steeped in a 1/4 cup of water or 1 tbsp of turmeric

a handful of cilantro

juice of one lemon

salt and pepper to taste

4

tablespoons

butter

more olive oil for frying
Instructions
Place yogurt, water, garlic, onion, saffron or turmeric, cilantro and lemon into a blender or a food processor and pulse until smooth. Taste for salt and pepper and add as necessary.

Place chicken cutlets into a ziplock bag and add yogurt mixture on top.

Close the bag and swish the mixture around so everything is evenly covered. Let stand for 60 minutes to 24 hours.

Place butter and olive oil into a pan, ensuring that the butter melts.

Over medium heat, fry the chicken on one side for about 5 minutes or until golden brown.

At this point, you can either turn the chicken over and cook on the other side or place into a 450-degree oven for 5 minutes.

**If grilling, cut the chicken into large cubes and marinade. Then place on skewers and allow for it to grill for 6 minutes on each on a high flame. **
Nutrition
Serving:
8
oz
|
Calories:
423
kcal
|
Carbohydrates:
6
g
|
Protein:
51
g
|
Fat:
20
g
|
Saturated Fat:
10
g
|
Cholesterol:
187
mg
|
Sodium:
407
mg
|
Potassium:
1005
mg
|
Sugar:
4
g
|
Vitamin A:
10.2
%
|
Vitamin C:
6.1
%
|
Calcium:
13.7
%
|
Iron:
5.5
%