Mexican Shrimp Soup (Caldo de Camarones)
My take on this class Mexican Shrimp Soup is extremely comforting and healthy!  It is filled with loads of plump shrimp and tender vegetables.  Best of all I will teach you how to make it taste like it has been cooking for hours when it in only takes 45 minutes!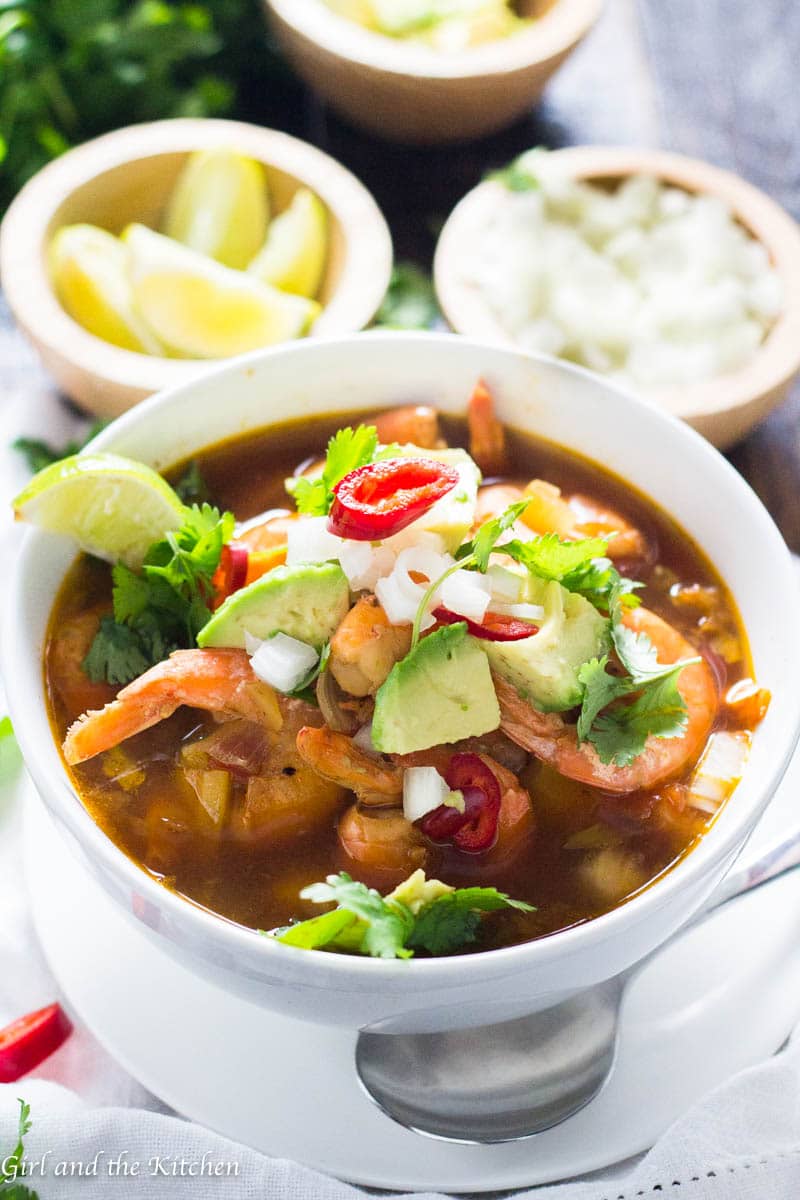 [wprm-recipe-jump]
When the hubby and I travel our favorite thing to enjoy is the food of the locals.  No matter where we are, whether its abroad or domestic, we try and find the dives that the locals gather at for their hometown faves and most popular food picks.
We have been to Mexico countless and COUNTLESS of times.  And while we both prefer the Gulf side because of the gorgeous beaches and crystal clear waters, there is something very special to hubs about Puerto Vallarta. It happened to be our very first vacation when we were oh so young and so very in love.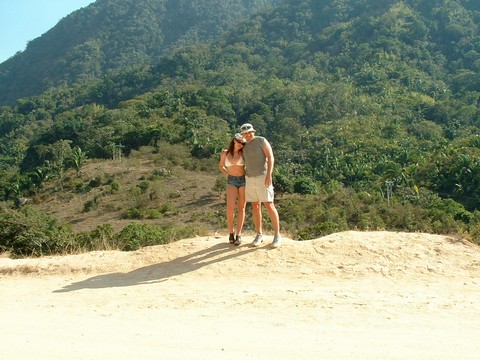 Aside from the fact that it was our very first vacation together 15 years ago…(holy lord I was practically a child!) there is this incredible flea market in the middle of Puerto Vallarta that hubs has always dragged me to.  We would wander the countless aisles and dig through  shell jewelry, handmade statues, cigars, refrigerator magnets, t-shirts with the obligatory "One Tequila, Two Tequila, Three Tequila, Floor" catch phrase, random nicknacks and other useless items we will never use and frankly nor will anyone we bring them to.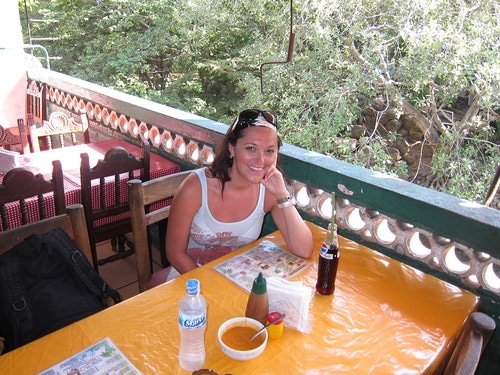 But you see, the hubs had other plans.  On top of this flea market, very well hidden, overlooking the city and a canal stood the shabbiest food court that I had ever laid eyes on.  The shabbiest food court included little abuelitas (grandmas) making homemade tortillas and guacamole.  Little kids coming to their parents restaurants after school still in uniforms and helping them with prep work and selling various Mexican sodas.  At 20, I was…a tad of a snob.  Alright, a BIG ONE.   And upon seeing these dingy little rickety tables with plastic tablecloths I wanted to run.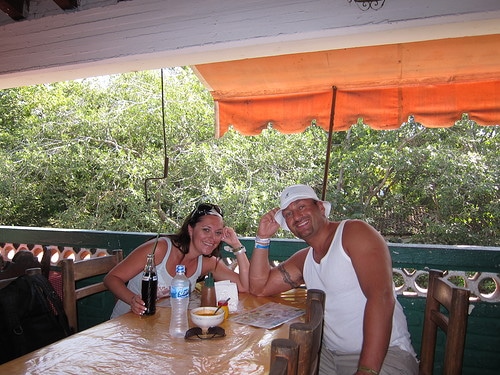 "Stop being a child.  You are willing to go ride into the mountains on a dingy little truck but you won't taste new foods?  Stop it," hubs being older than me occasionally scolded me like I was a child…but in this case it was well deserved.
I sat down and instantly noticed how ravished I was and dived into their "mild" salsa and chips.  So that was a mistake.  THEIR "mild" is the equivalent of my "burn my tongue off please."  I instantly pouted like a child until I was brought my bottle of "Pepsi Lite" (Mexican Diet Pepsi) which I chugged almost immediately in its entirety.  This glass bottle seemed to make me quite happy and I proceeded to give this place a shot and ordered a whole red snapper.  Hubs ordered away like a king pointing to every other item on the menu.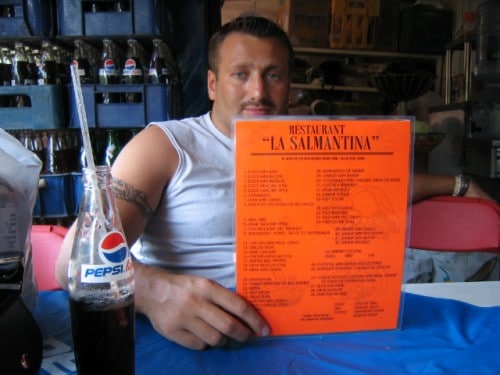 His first order arrived and his eyes practically swallowed it whole.  It was a HUGE margarita glass with their homemade ceviche in it.  But this ceviche was like no ceviche I had ever seen.  It was loaded with huge shrimp, calamari and copious amounts of avocado.  This made hubs very happy and he proceeded to devour the deliciousness while I happily sipped on my 2nd Pepsi Lite and looked out at the view.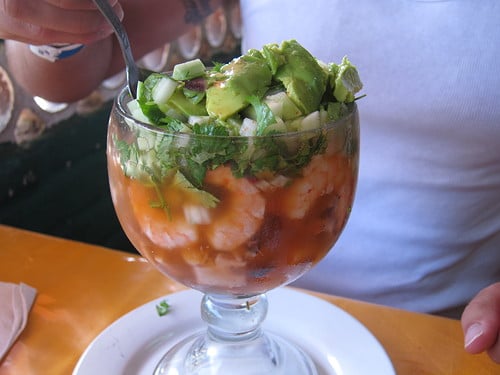 Shortly after my fried red snapper arrived and hub's main entree arrived as well.  Hubs lived for this entree.  On the menu it was called "Sopa de Camarones" translated to shrimp soup and it was a huge cauldron of spicy shrimp broth with all sorts of aromatics and shrimp in it.  We have been to Puerto Vallarta 3 times and each time we go I take a photo of him eating this soup.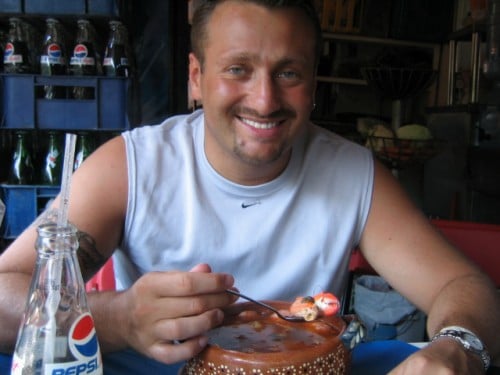 There is no greater look on this man's face than when he looks upon this shrimp soup.  (Alright I mean when it comes to food.  Clearly he stares at me and my munchkins with more adoration than this soup…one would hope.) Perhaps its the surroundings, or the humble restaurant or the freshness of the seafood or just the magic of it all…hubs' happiness is always THAT place to me.  And despite how dingy the place is (I now happen to think it's super authentic and nostalgic) I will keep coming back to that place because of the insane happiness it brings him.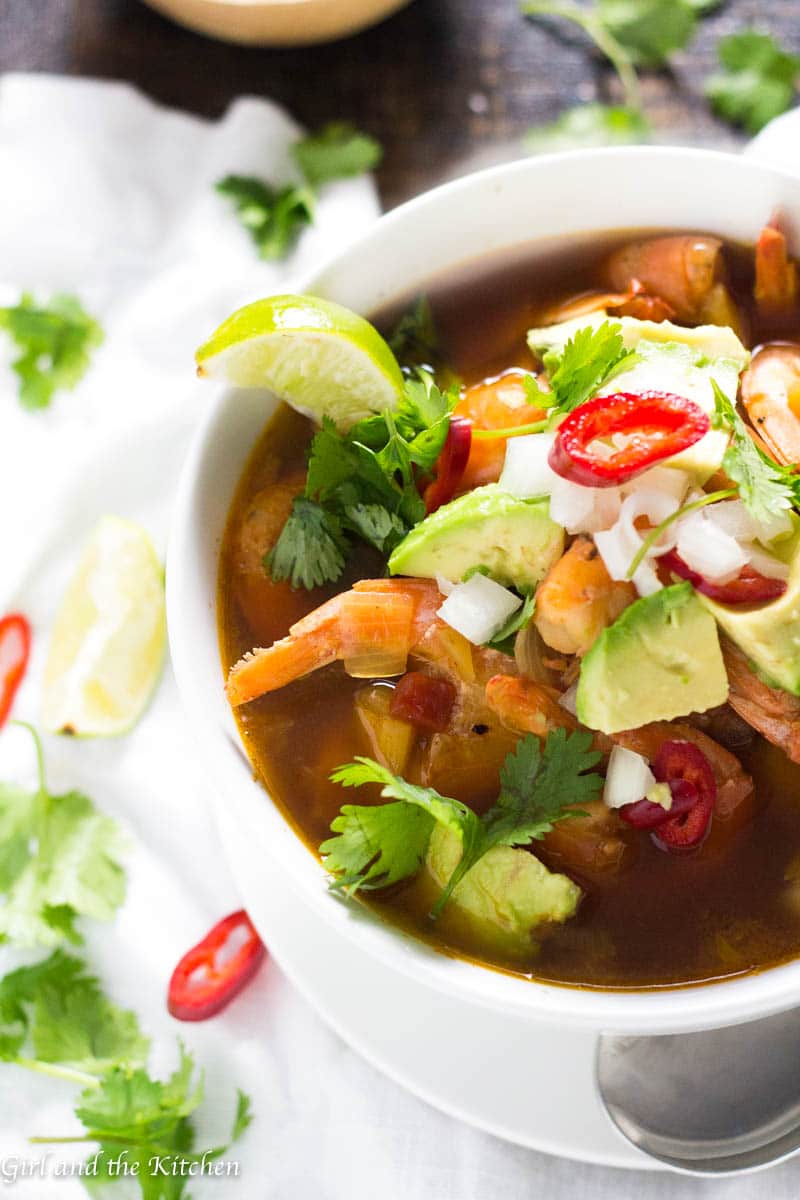 Years later, I felt it was my duty and responsibility to create this shrimp soup for him.  Sure I cannot provide the same views or dingy tables but I knew I would be able to get this soup just right.  After speaking to many of my "abuelitas" who I worked with and with many of the Mexican cooks in the kitchens I worked with, I learned the few very authentic traits of this soup that proved to be keys in recreating hubs favorite meal.
The Technique
Roasting Shrimp Shells: Contrary to popular beliefs most shrimp and lobster soups or bisques do not get their rich flavor from the meat of their crustacean counterparts but instead from the shells.  Similarly to how a great stock is made from bones, a true lobster bisque's rich flavor and color comes from the roasting of its shells.  The same plays here.  I buy whole shrimp with the shells and sometimes heads still on and peel them off of the shrimp.  I use the term roasting loosely here because this is all done ON the stove top.  In a heavy bottomed pot  with a bit of olive oil and water, I throw in the shells and let them roast with the lid on over medium heat.  This creates a toasty environment that brings out all the flavors of the shrimp shells.  Plus I add some good course salt so that it draws out even more moisture and flavor of the shells.  Once that is all done, I remove the shells and continue on with the soup.  This process gives you that all day flavor in less than 45 minutes from start to finish!
Seasoning: Everyone that I spoke to made me practically swear that I would include their favorite Goya seasoning packet.  This is the same seasoning packet that I use in so many of my favorite latin dishes such as my Arroz con Pollo. The Goya seasoning truly stands out in everything that I add it to.  It gives the food a perfect savory component that really stands out.
Cooking the Shrimp: While this soup may be called Mexican Shrimp Soup, it can very easily be made with the exact same technique using any sort of seafood.  That being said, the MOST important element to this soup is NOT to over cook the seafood.  The point of creating the uber rich base out of the shells is to extract as much flavor as possible.  The shrimp are added into the soup about the last 5 minutes of cooking.  There is minimal flavor extracted out of them in that time frame and that is just fine.  Because your flavor bomb is already in there from all those shells.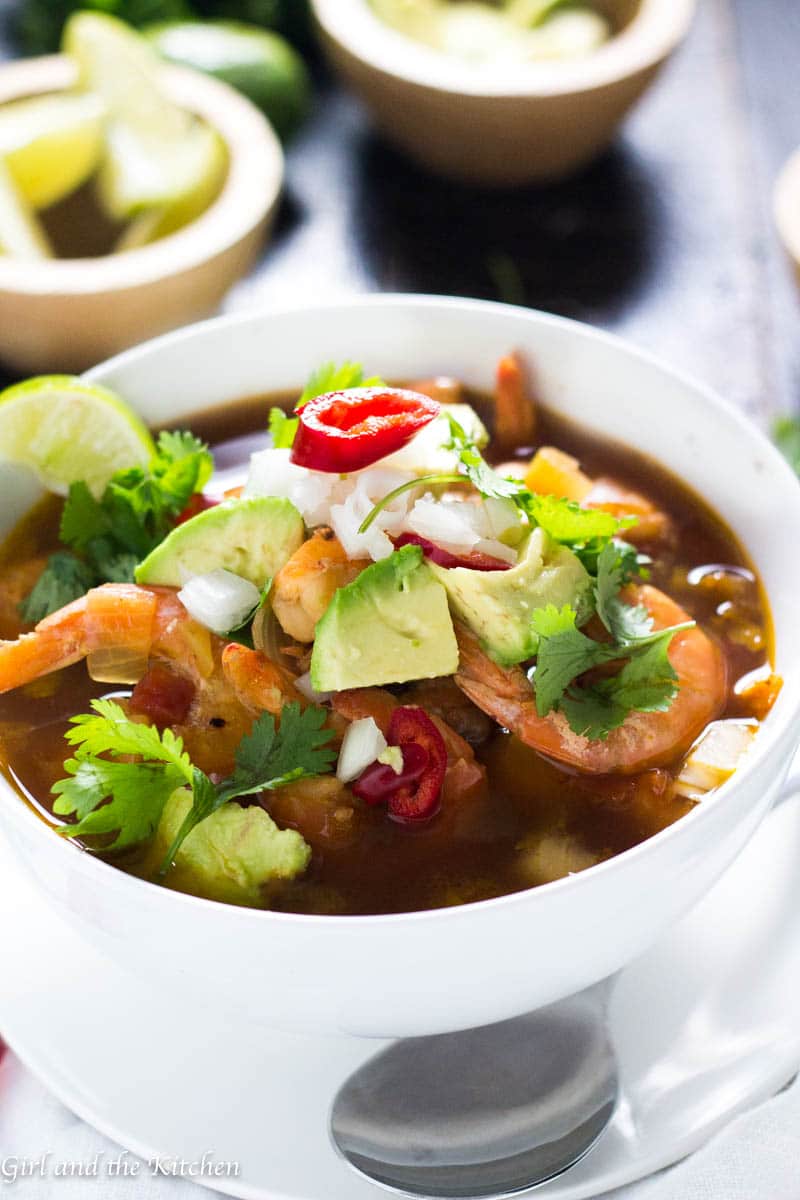 I love to garnish the Mexican shrimp soup with fresh finely diced onions, plenty of cilantro, red chillies (only cause I love the color), fresh cilantro and plenty of limes.  Feel free to buy some fresh tortillas  and toast them up right before serving for the ultimate experience.
When you serve this soup to your guests it will always looks super festive and colorful and no one will ever know that this flavorful of a broth only took 45 minutes.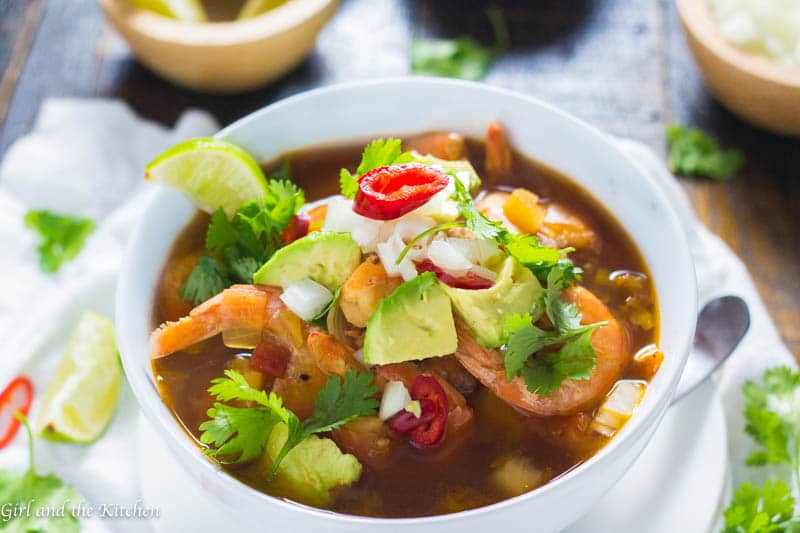 Print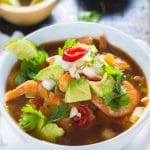 Mexican Shrimp Soup (Caldo de Camarones)
---
Author:

Total Time:

35 minutes

Yield:

6

1

x
Description
My take on this class Mexican Shrimp Soup is extremely comforting and healthy! It is filled with loads of plump shrimp and tender vegetables. Best of all I will teach you how to make it taste like it has been cooking for hours when it in only takes 45 minutes!
---
1/4 cup

olive oil

1

large yellow onion (chopped)

2

carrots (cut into half moons)

2

celery stalks (cut into half moons)

5

cloves garlic (finely chopped)

2 tbsp

tomato paste

1

15- ounce can diced tomatoes with chillies

1 teaspoon

black pepper

1 teaspoon

dried Mexican oregano

2

packets Goya Sazon with tomato and cilantro

1.5

–

2

pounds large shrimp (peeled and deveined, shrimp peels reserved)

8 cups

vegetable stock or broth
Garnish
Lime wedges
Cilantro
Diced onion
Diced Avocado
Thinly sliced jalapeños
---
Instructions
Add the olive oil and shrimp shells with a pinch of salt to a large, heavy bottomed pot. Allow to roast over medium heat while with the lid closed.
After five minutes add in about 1 cup of water and scrub the bottom of the pot to get all those bits up that have come out of the shrimp shells. Also, squeeze each shrimp shell as well making sure to squeeze all the flavor out.
With a slotted spoon or tongs, remove the shrimp shells and discard.
Add in onions, garlic, carrots, celery, garlic, jalapeno and tomato paste. Allow to sweat over medium heat covered for five minutes.
Add in black pepper, Goya seasoning, Mexican oregano, canned tomatoes and vegetable broth. Bring to a simmer and allow to simmer for 20 minutes.
Add in shrimp and allow to simmer for five minutes. Taste for seasoning and serve immediately with garnishes.
Notes
The nutritional information should be used for informational purposes only.
Prep Time:

5 minutes

Cook Time:

30 minutes

Category:

Soup

Cuisine:

Mexican