Arroz con Pollo…One Pot Mexican Rice and Chicken
Arroz con Pollo is literally translated to Rice and Chicken in Spanish.  Arroz con Pollo is popular among almost all Latin countries and it is a classic feel good meal for me.  Full of aromatics, tender rice and succulent chicken on the bone, this dish is my go-to comfort food.  Plus when it's a ONE POT and FREEZER FRIENDLY it's kind of hard not to love!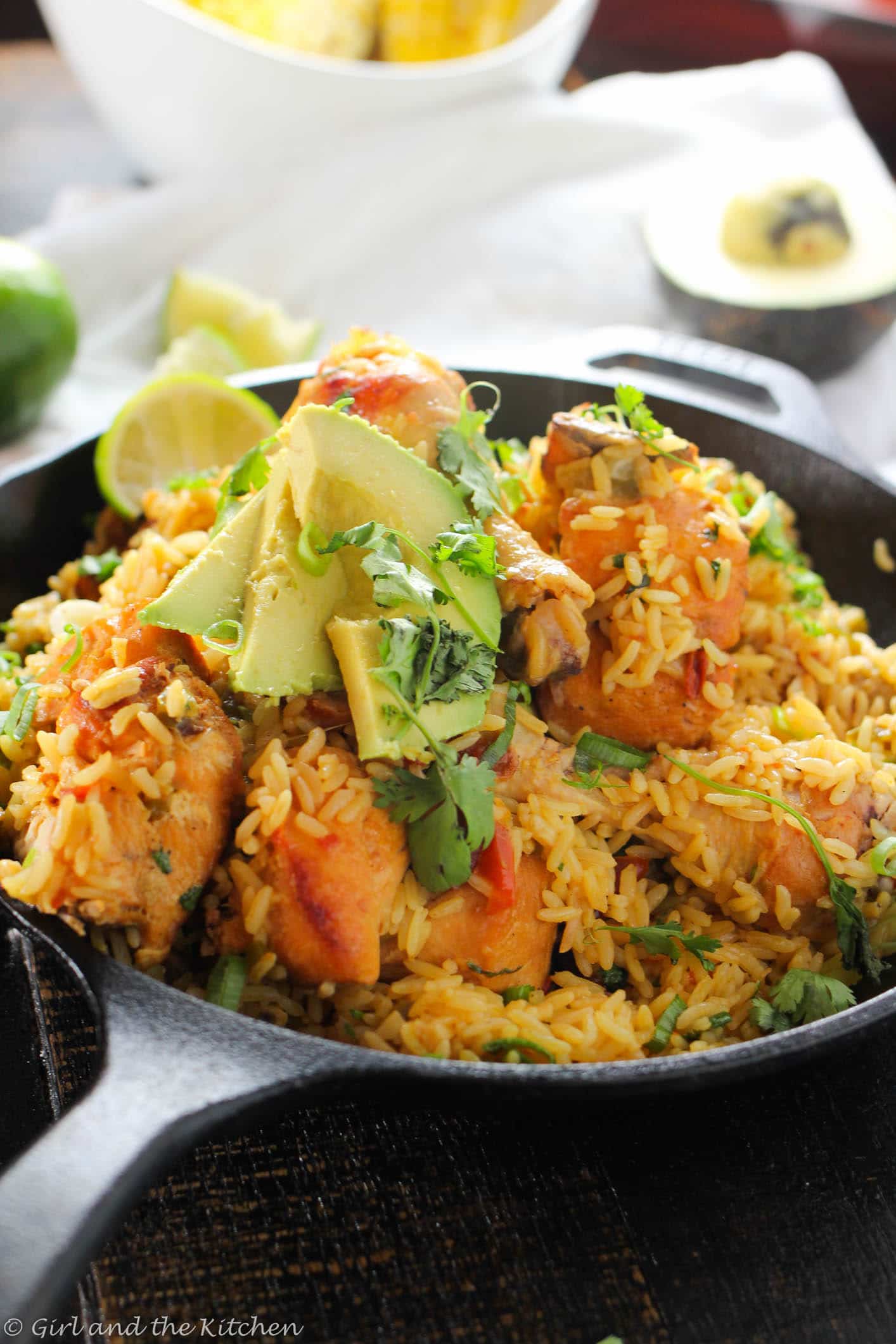 I have a confession: I love carbs! I don't discriminate either… Equal opportunity carbaholic over here!
Pasta, rice, baguettes, potatoes… What can be better or more comforting than a silky and buttery plate of creamy mashed potatoes? Or a crispy baguette straight from a hot oven? Perhaps a baguette with butter on it.
I hear the gasps and ahhhhs I get from carb restricting housewives everywhere! I'm sure the Real Housewives of Beverly Hills/Miami/Orange County have not had a carb in their silicone filled bodies since…well since a bloody long time! Why can't I hold out too?

Well I can't hold out because that's how I roll…and every once in awhile I want something that tastes incredible and heart warming and just plain scrumptious!  Every once in awhile if a craving hits I try and satisfy it so that it won't rear its ugly face at 2am when I suddenly find myself stuffing my face with two day old pizza and snickers bars.
This time I decided to turn to one of my favorite simple carbs: rice. A staple in several parts of the world, rice has always been one of my indulgences. Plov, a classic Russian favorite, is a slow cooked combination of rice, meat and spices and resides as one dish that when done correctly I simple cannot refuse.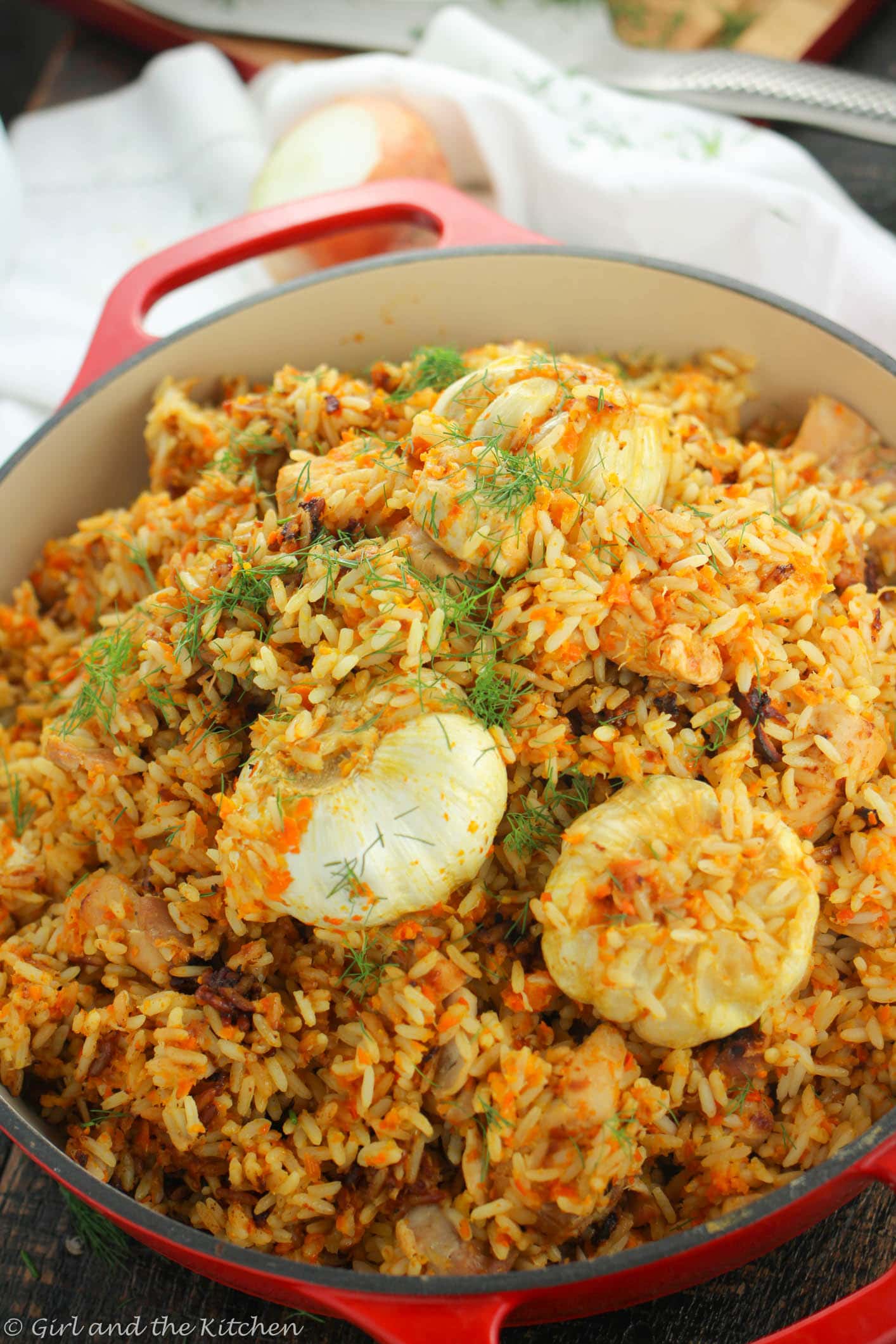 Dishes similar to plov exist all over the globe. One particular one that I have always loved yet never recreated at home is arroz con pollo, literally translated to rice with chicken. Notice that it is RICE with chicken, not the other way around. In this dish, rice is the star and the protein is secondary. Arroz con pollo is made in practically every Latin country, Mexico, Puerto Rico, Cuba and several others. Some regions make it spicier or saucier but they all have one special preparation in common: sofrito.  Sofrito is the flavor of this dish. It is a balance of flavors that comes from onions, garlic and green peppers. It gives an aromatic and powerful flavor to this dish.
Another specific flavor profile in this dish comes from a box in the store. It is a unique spice mix by Goya. It can be found in any major grocery store in the Latin foods aisle and is a must in this dish.
The rice in this dish is particular to each region as well. Some regions create a more sticky rice whereas others opt for rice that separates grain from grain. I chose the latter in my dish as I like a fluffier and more delicate rice.
Lastly the main component in this dish is the chicken. Traditionally, bone in and skin on chicken pieces are used. But you can use boneless if  you prefer.
Being a chef one of my favorite things to do is experimenting with tons of different flavor combinations and different cultures' foods.  I find that through this method some of my best recipes are born.  So after researching a number of different methods of cooking arroz con pollo I realized that many of the techniques were very similar to that in my plov recipe. So I figured why mess with perfection 🙂
I love this dish primarily because I can make a huge pot of it and then I can freeze half of it to enjoy later.
As I sat in front of my perfect dish of rice I counted down the minutes until it was cool enough to eat. I still burned my tongue and mouth scarfing it down because of my pesky impatience.    I picked out all the chicken and left it for the hubs and instead scarfed down all the rice.  After licking the bowl clean, I sat back and enjoyed my carbohydrate induced food coma. As I pondered how many hours this would require to burn off at the gym , I quietly whispered "it was so worth it…"
Print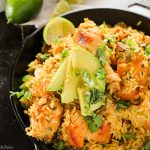 Arroz con Pollo…One Pot Mexican Rice and Chicken
---
Description
Arroz con Pollo is popular among almost all Latin countries. Full of aromatics, tender rice and succulent chicken this dish is my go-to comfort food.
---
5

Boneless or Bone in Skinless Chicken Thighs and or drumsticks (if using boneless cut into large bite size pieces,)

2

bone-in chicken breasts (if using boneless cut into large bite size pieces, cut in half)

2

large onions (medium dice)

1

large green pepper (medium dice)

3 cups

of Enriched Parboiled Long Grain Rice (steeped in water)

8

garlic cloves (minced)

1

large tomato (diced)

1/2

a bunch of cilantro (roughly chopped)

6

scallions (sliced)

1

can of mexican style diced and peeled tomatoes with chillies

2

packets of Goya Sauzon con cilantro y tomate seasoning mix
Goya Adobo Spice Mix for seasoning

1 tsp

red pepper flakes (add more depending on how spicy you want it)

3 tbsp

of turmeric (for color)
salt to taste
oil for frying
---
Instructions
In a heavy bottomed pot, pour in about 1/2 an inch of oil. Turn up the heat all the way.
Season the chicken on both sides with Goya Adobo seasoning.
When you see your pan smoking, add your meat. *Do not over crowd your pot. If you happen to do so and you accumulate a large amount of liquid from the meat, pour out the liquid and reserve it for later. Your meat will brown better if you remove the access liquid.*
Once the meat is browned, remove and set aside.
Turn the heat down to medium high. Add in the onions, green peppers, garlic and red pepper flakes. Cook until vegetables are translucent. You do not want the vegetables to caramelize.
Add in the meat, both tomatoes, turmeric and seasoning packets.
Take BOILING water and add it the mixture. Only add enough water to just cover the mixture. taste the liquid and ensure that there is enough salt and spice in there to compensate for the rice you will be putting in later. NOW you may turn your heat down to low. *You want to use boiling water because otherwise you would stop the cooking time. At this time, if you can also add any leftover liquid from the meat.*
GO AWAY. PLEASE PLEASE Please whatever you do DO NOT STIR! You will disrupt the wonderful magic that is about to happen! Go talk on the phone, watch half a movie, drink some wine…whatever you want…just do not touch this for 45 minutes.
Once this time has passed crank up the heat. Remember that rice you had steeping in the water? Now is the time to drain it and prepare for its final resting place. Once drained, lay the rice CAREFULLY over your sofrito and meat mixture. Pretend you are gently "blanketing" the mixture with your rice. Again, take BOILING water and SLOWLY cover the rice just about 1/2 of an inch above the rice. See all that beautiful goodness come up to the top? That's your flavor right there, that's what you did all that work for.
Let the rice cook on HIGH heat until there is no more liquid. If you see liquid still bubbling up from the top, it isn't done. If you see liquid bubbling up at the bottom, it isn't done. Only when it is completely dry is it done.
Once it is completely dry, turn off the heat and cover with the lid for about 30-60 minutes. Only after this time passes can you mix the mixture.
Add in the cilantro and scallions and enjoy!
Category:

Entree

Cuisine:

Latin