One Pot Chicken Fajitas and Rice
This one pot chicken and rice dinner is a new take on a classic Mexican dish.  My One Pot Chicken Fajitas and Rice is full of garlic,  onions, peppers and a sweet secret ingredient that just makes these irresistible!  Marinading is optional but highly encouraged 🙂

I have made it pretty clear that I have a very strong connection to one pot meals.  The flavors are always fantastic and the clean-up is an absolute breeze.  I am constantly looking for ways to amp up the flavor in these one pot meals and I think this amazing chicken fajita dish has finally done it!

A few weeks ago I was scrolling through my Facebook feed and I stopped dead in my tracks when I saw this Fantastic Oven Baked Chicken Fajitas from my friend Dini at the Flavor Bender!

"I want this" I instantly thought to myself.  But for me it was not enough as you see.  I needed more.  I needed the rice.  Ohh heavenly delicious tender morsels of cilantro and red pepper soaked rice.  MMMMM.  That's what I need I need more rice in my life.  Always.  It's my downfall…that and watching pretty much every Bravo trashy reality show featuring housewives of any type.

I would of course ordinarily devour the chicken as well…but because I have been meat free since June (psssst read more about that journey here), I figured the juicy chicken thighs would be great for the munchkin and hubs and I could just inhale that tender rice.

A very short time after daydreaming about this incredibly delicious dinner…I had it resting on my stove top, hastily devouring the steaming hot rice, burning every corner of my mouth in the process.  But oh it was so worth it!

I did not have much time to marinade the chicken so it only sat for only 45 minutes in a version of Dini's marinade.  I added some soy sauce to it only because I love the umami flavor just a bit of soy can add.  Regardless, the chicken was still packed with flavor!

I decided to pair up the already flavor packed dinner with a nice side dish of Pomegranate Guacamole (recipe coming soon).  It was a perfect combination.
I knew the dish was a success when I noticed munchkin licking off each and every last morsel of rice off her plate…alongside me.  Two classy ladies…
Print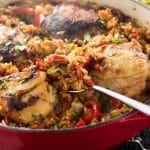 One Pot Chicken Fajitas and Rice
---
Description
My One Pot Chicken Fajitas and Rice is full of garlic, onions, peppers and a sweet secret ingredient that just makes these irresistible!
---
Fajita Seasoning
1 ½ tbsp

paprika

½ tsp

cayenne pepper (more if you like it spicy – I usually add

2 teaspoons

)

1 ½ tsp

ground coriander powder

2 tsp

cumin powder

2 tsp

ground black pepper

2 tsp

onion powder

2 tsp

brown sugar
Marinade

½ cup

freshly squeezed orange juice (about

1

orange)

3 tbsp

3 tbsp of lime juice (approximately

1

lime)

1 tbsp

cilantro roughly chopped

¼ cup

olive oil

2 tsp

salt
Chicken and Rice
5

–

6

Chicken thighs (b

one

in skin on)

2 tbsp

avocado oil (separated)

1

large onion (sliced)

2

large red peppers (sliced)

1 cup

long grain rice

1½ cups

chicken broth / stock

¾ cup

water

3

garlic cloves (minced on microplaner)

2

packets of Goya Sauzon con cilantro y tomate seasoning mix
I

15 oz

can diced tomatoes

3 tbsp

of roughly chopped cilantro
---
Instructions
Combine all ingredients of the fajita seasoning. *
Add marinade, ingredients into ziplock bag along with the chicken. Shake bag well ensuring that everything is covered in the marinade.
Marinade for a minimum of 30 minutes up to over night*
Preheat oven to 350 degrees
Pour avocado or coconut oil into a heavy bottomed pan large enough to fit the chicken and the rice.
Place chicken on some paper towels to absorb some of the liquid. Reserve the remaining marinade.
Place chicken into hot pan SKIN side down and allow to sear for 3-5 minutes until golden brown. Turn over and allow the other side to sear and get golden brown.
Remove chicken and lower heat to medium heat.
Remove the darkened bits from the chicken and wipe pan clean with a paper towel. I like to hold the paper towel with tongs and wipe it around so that I do not burn my hands 🙂
Add the remaining oil and red pepper and onions to the pan. Sweat them out until translucent and soft; about 4-5 minutes.
Add in the rice, tomatoes, garlic and seasoning packets, water plus any remaining marinade you may have.
Let the liquid come to a simmer and allow to simmer for 30 seconds.
Place chicken on top of the rice, nestling it in gently. Place a lid on the pan. Bake in the oven for 35 minutes.
Remove the lid and bake for 10 more minutes to allow the chicken to brown. The rice is done when all the liquid has evaporated.
Sprinkle with cilantro and serve!
Remove, allow to rest for 10 minutes and fluff with a fork.
Garnish with extra lemons and parsley.
Notes
Recipe adapted from Dini's Flavor Bender!
Note 1: Make extra of the seasoning and keep in a plastic bag or sealed jar. It makes for a great last minute spice mix.
Note 2: Be careful marinading it any longer than over night due to the acidity in the marinade. It can make things a bit too tart.
Note 3: I use avocado oil because of the high smoke point. Feel free to use any other oil.
Category:

One Pot Meals

Cuisine:

Mexican
SaveSave