Vegetarian Chili with Quorn Crumbles
This vegetarian chili will knock your socks off!  A complete and uber flavorful meal in one bowl full of protein and good for you veggies!  This chili tastes so good you will never miss the meat! 

This vegetarian chili will knock your socks off! #chilli
[wprm-recipe-jump]
A few months ago I was sitting in front of my laptop, on a Sunday morning, enjoying my typical Sunday morning blogging while sitting next to the munchkin who was hypnotized by another episode of  Netflix's "How to Save Your Dragon."  This actually is one of the few shows that I can enjoy alongside with the munchkin.
Hubs was at the gym and I had a few hours to play around with breakfast and possibly start on lunch.  This is the reason why Sunday mornings are my favorite…it is the only moment in my life where I actually feel like I got this whole mom/wife thing together.
Hubs has been asking me for chili for quite some time.  And while he has always been a fan of my typical turkey and chicken chili, I have been aching to make him a vegetarian chili and fool him into thinking it was a regular chili.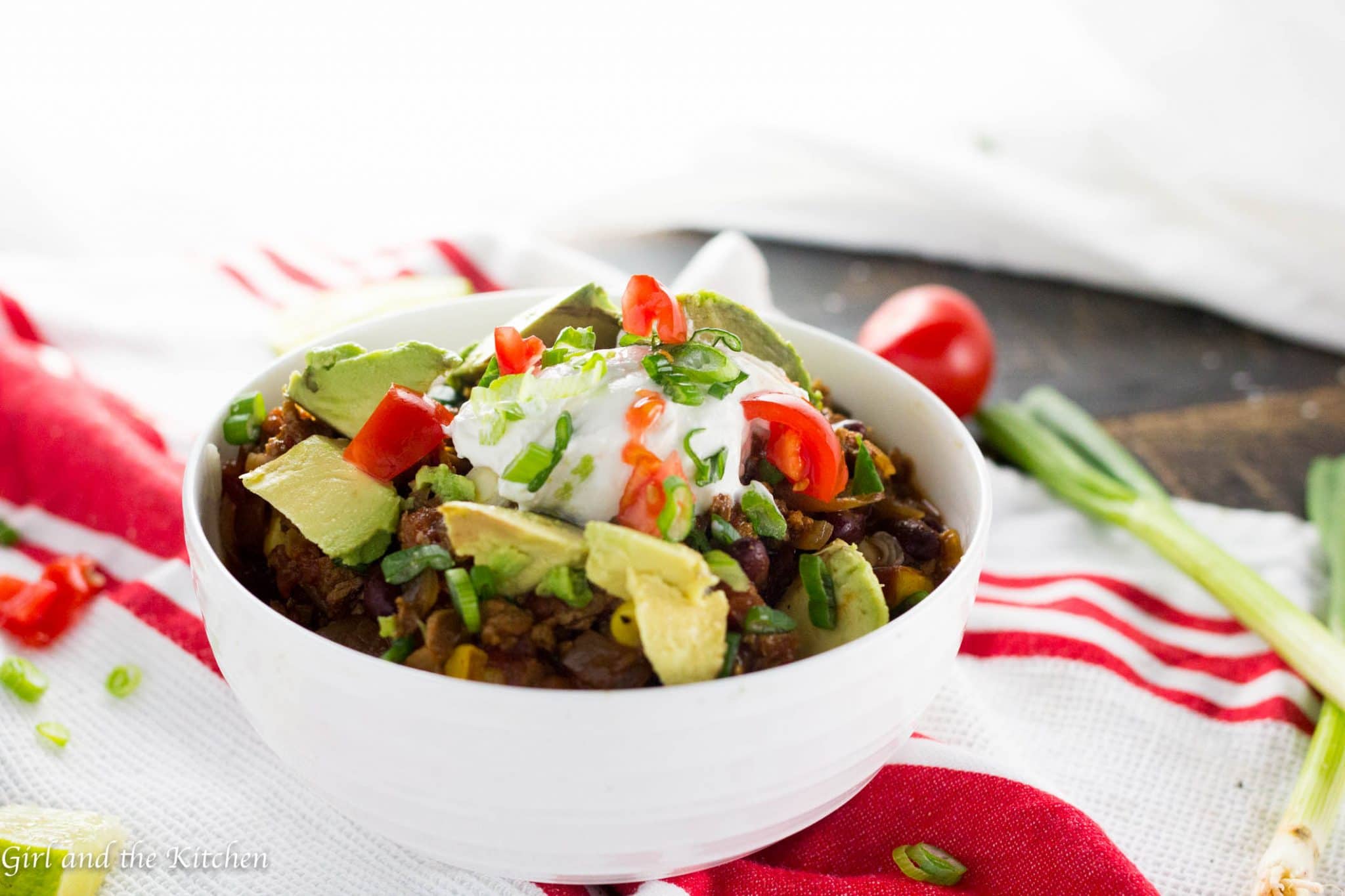 I opened my freezer and stared at my stash hoping I had something that would fulfill such a heavy task.  And I did.  There in the back of the fridge, an orange and white package caught my eye.  It was my favorite Quorn crumbles.
I happened to discover Quorn by accident when reading a post from Becca at Amuse Your Bouche.  Becca happens to run a fabulous vegetarian blog and considers herself a cheese loving vegetarian 🙂  I can relate.  Anyhow…it was after I saw her Healthier Korma Curry with Quorn Chicken Style Pieces that I ran out to my nearest grocery store and got me some Quorn.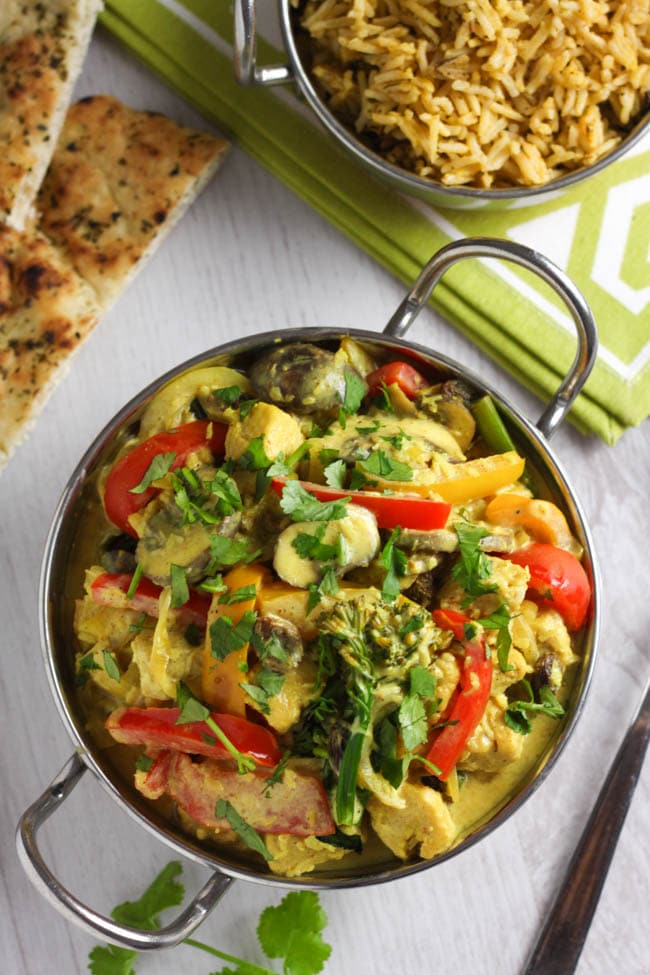 After tasting one of their products I was hooked.  Their texture was spot on.  The flavor was fantastic on its own and it took on the flavor of anything that I cooked with.  But for me, the best part about Quorn is that it is loaded with protein but it remains soy free.  Quorn products are made from Mycoprotein, a proprietary fungi-based protein that is harvested through a fermentation process just like brewing beer. I try and minimize the amount of soy that I use in my food so when I found Quorn and realized that it was ridiculously delicious and was full of protein I knew I had a winner. Needless to say, I stocked up my fridge immediately with all their products and proceeded to continue to trick my husband into believing he was eating real meat…when he wasn't.
So on that one Sunday afternoon I added a package of the Quorn meatless grounds along with spices and onions and threw it all into a crockpot to take care of itself.  Several hours later hubs' nose led him to the crockpot and after getting a whiff off the intoxicating smell of the simmering chili he practically demanded a bowl for his dinner.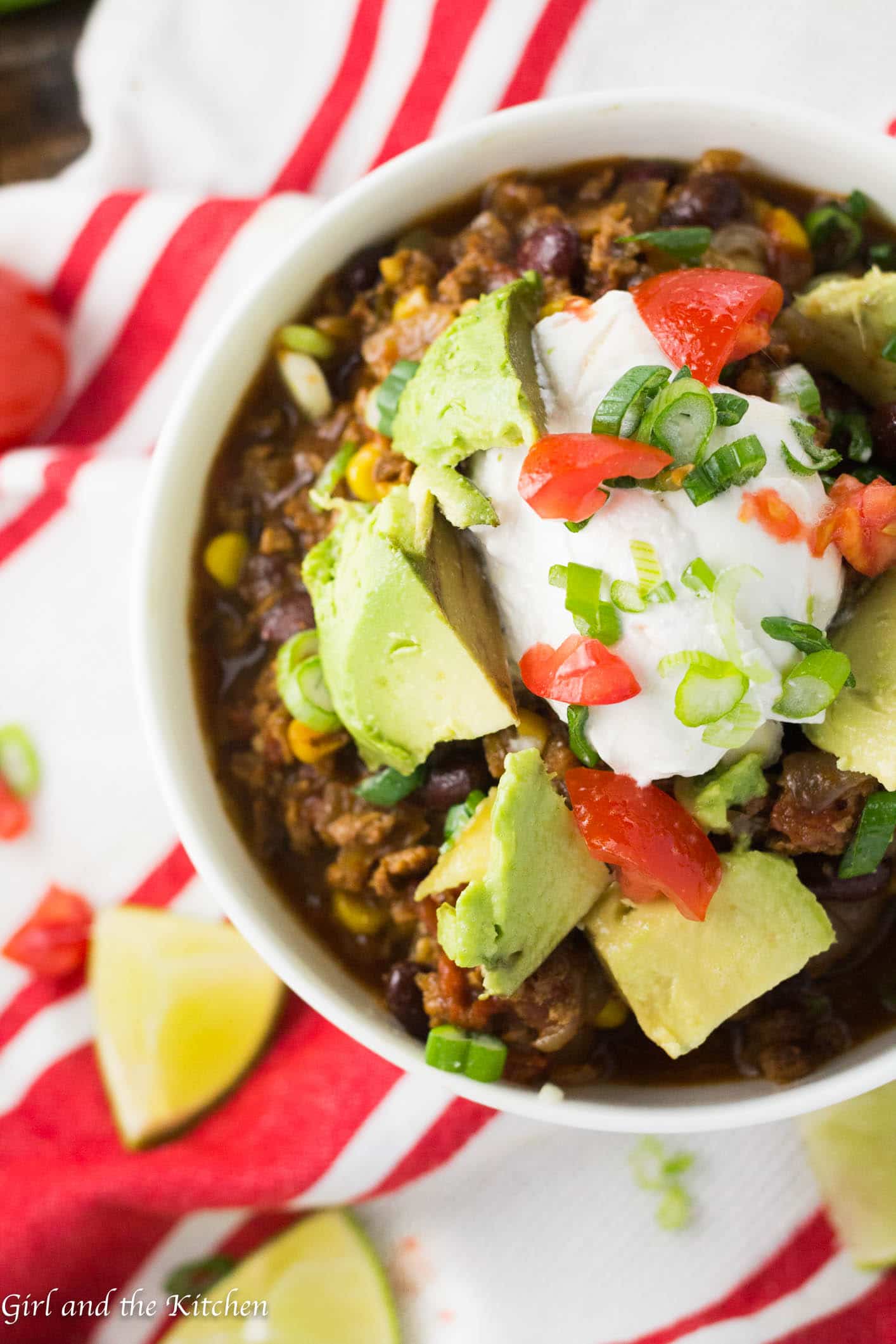 "MMMM, this is great babe.  The meat is so soft and I love the spice!"  I smiled wickedly as I took a spoonful myself.
"Oh no..you did it again didn't you?  What am I eating this time?"
"It's basically a fungus that has more protein than an egg and more fiber than broccoli.  And it's pretty darn close to the real thing huh?"  I said proudly.
"You are going to turn me into one of those veganarians aren't you?" He said smiling.
"It's vegetarian and I think I already have…"
Mission accomplished…vegetarian in progress.
Print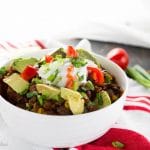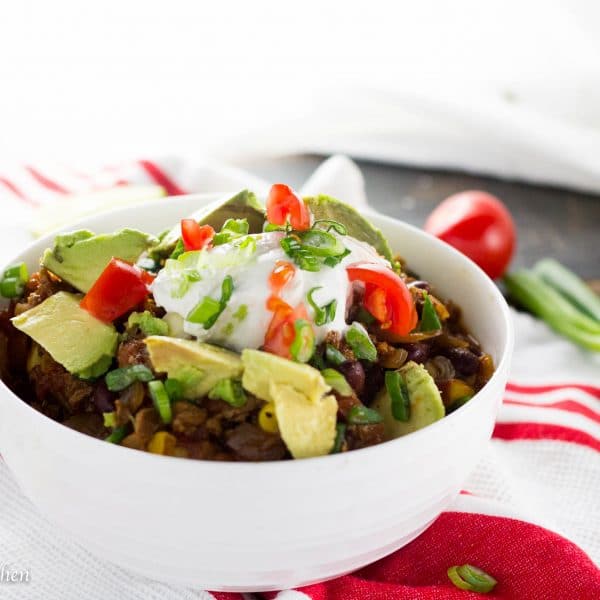 Vegetarian Chili with Quorn Grounds
---
Author:

Total Time:

370 minutes

Yield:

6

1

x
Description
This vegetarian chili will knock your socks off! A complete and uber flavorful meal in one bowl full of protein and good for you veggies! This chili tastes so good you will never miss the meat!
---
1

package Quorn Meatless and Soy Free Grounds

1

15 Oz Can Diced Tomatoes with Jalapeno (or similar, Oregano and Onion)

1

15 Oz Can Diced Tomatoes with Italian Seasoning

1

15 Oz Can Chili Style Beans

1

15 Oz Can Kidney Beans (rinsed and drained)

1

Spanish Onion (Diced)

1

Jalapeno (Seeded, Minced)

4

Garlic Cloves (Sliced)

1/2

a cup of frozen corn

1

Packet of Chili or Taco Seasoning
Vegan Sour cream (avocado, sliced scallions and tomatoes to be used as garnish)
Olive Oil
Vegetable stock or water
---
Instructions
Add all the ingredients and HALF of the seasoning packet into a crockpot.
Cook on low for 6 hours. Watch that it does not evaporate too much. Some crockpots are more powerful than others and the liquid can evaporate quickly. If this happens add in vegetable stock or water as needed to allow for the consistency you desire.
After the 6 hours add in the corn.
Taste for seasoning; if you need more seasoning add in the remaining seasoning packet, tasting as you go as to not to over season.
Notes
Nutrition information is to be used only as a guideline.
Prep Time:

10 minutes

Cook Time:

360 minutes

Category:

Vegetarian

Cuisine:

American