This recipe is what my childhood memories are made of. It is what I need to turn to when I am sick or aching from a bad day. The rich golden broth makes my sniffles melt away and warms my soul. Full of veggies, tender chicken and moist, melt away matzo balls, this Jewish Chicken Soup is the Real Jewish Penicillin…the answer to all of live's hard times.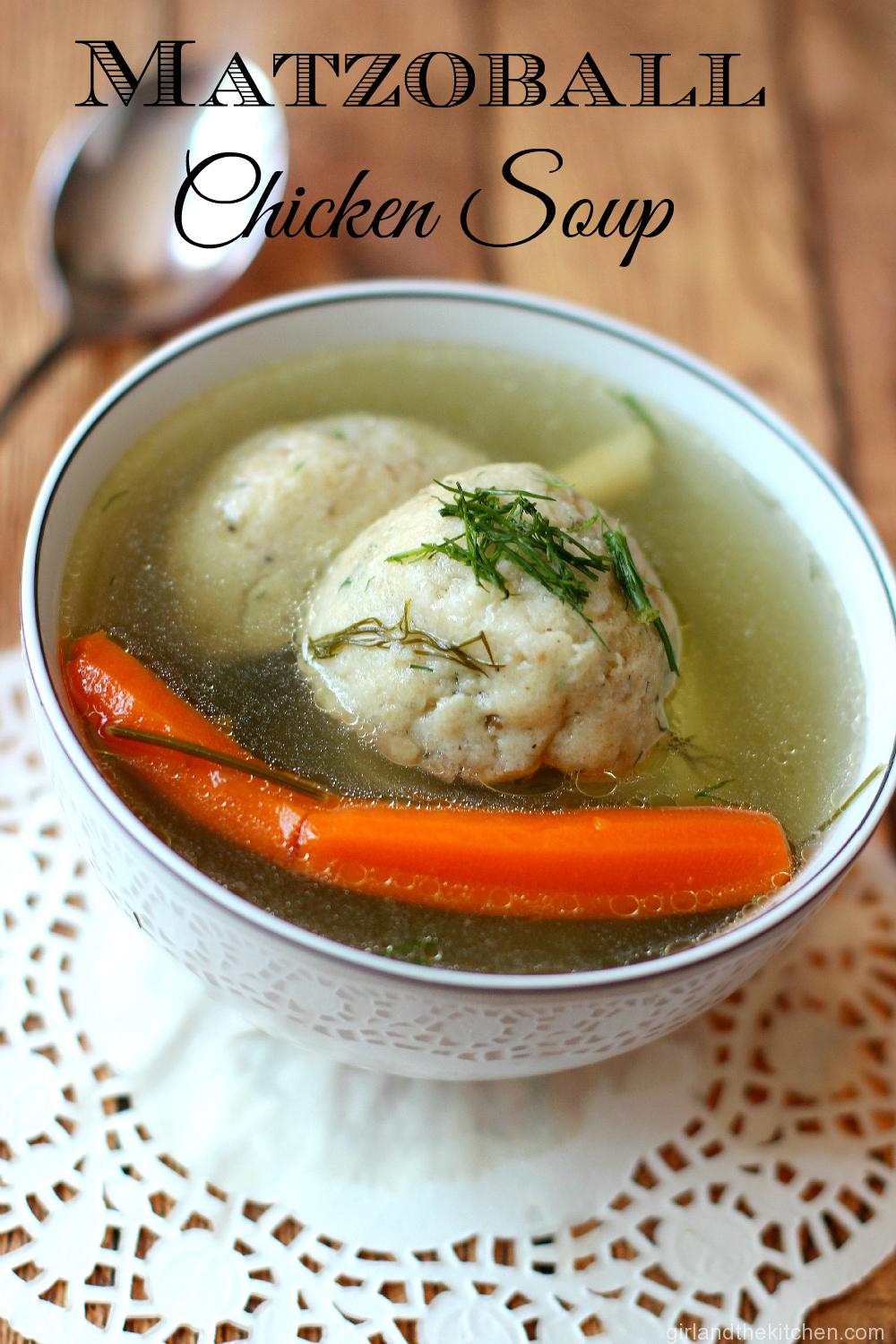 This post is a recreation of the very first blog post I ever wrote.  However, it was so near and dear to my heart that I decided I needed to make it better.  
Year after year, the one request I get from my readers and clients alike is to teach them the secret to a real Jewish chicken soup.  There are very few rules to a good chicken soup, mine starts with two ingredients, heart and soul.
Call it cliche.  Call it cheesy.  But a good chicken soup is made with love.  My mother taught me that…"Make it with love Mila…and it will always be right."  How right she was.
This Chicken Soup was the ONLY food I would eat as a kid. We had to have it in the house all the time or else I went hungry.
I can still recall that wonderful taste.  The best part was when my mother used to hand feed me with it. She would take a bite size piece of bread with some meat on it from the soup and put it in my mouth followed by a spoonful of broth. That taste has been forever imprinted in my mind.
When I am sick, this is my calling.  All diets are off when I'm sick, I slurp up every golden circle of chicken fat and gobble up every last piece of chicken skin, until my belly smiles with glee.
When I am sick, I think back to those days that my mom hand fed me this soup (truth be told she did so until I was 16).  Her soup was always so simple, some chicken with cooked vermecelli noodles or rice and a few of the parsley roots and carrots from the soup.  When we emigrated to America she sometimes made it with matzoballs. That was it. Nothing special, just good.  Always, lifting my spirits and lowering my fever.
Today, my mother isn't around anymore to make me a batch of chicken soup, but every time I make my own it still soothes my soul and makes me feel like she is in the kitchen with me.
No words can explain how important this soup is to me.  It brings me back to my childhood.  A time of utter simplicity and minimal worries.  A time that all aches and pains were put to ease by my mother's gentle touch and warm embrace.
My poor mother was always worried that her scrawny daughter needed nourishment.  And almost every week she made this chicken soup for me.  With every slurp I felt the amount of love that she put in her soup.  She always told me, "Cook only when you want to and no matter what you add, a piece of you must always be in it. Your food will always taste great."
Her chicken soup was always hers. It tasted different than when my babushka made it. Perhaps that was why it made me feel better. My mom's chicken soup can never be duplicated because she sadly is not around to make it, but there are certainly ways to come close and that's the best I can do.  For now, that's enough.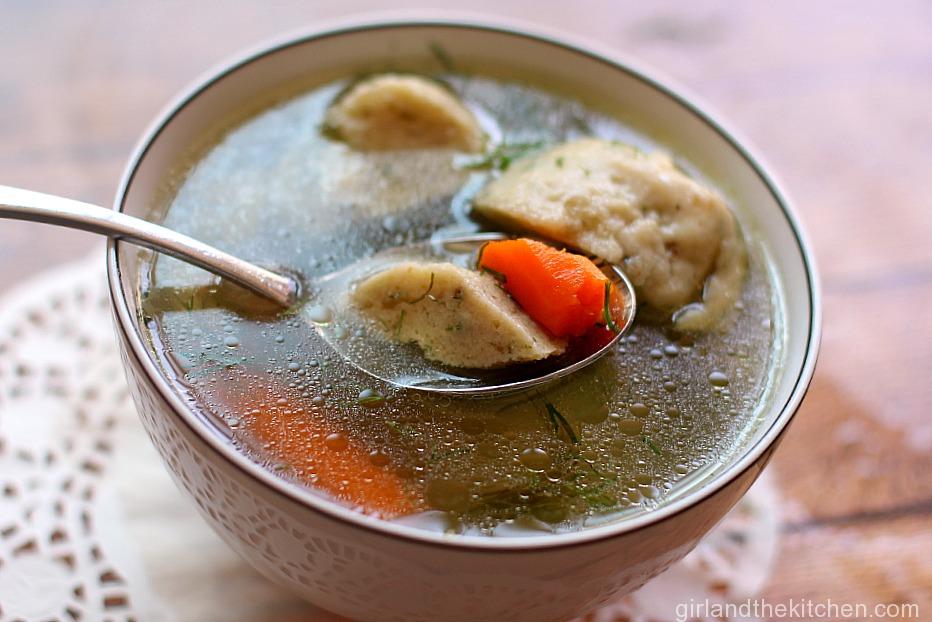 A few weeks ago, I was making this soup for my freezer stash and my babushka was over.  Babushka is 89 years old and still remembers every detail of her life.  It hurts her too much to recollect, as it does me, so instead we always talk about food and the obvious family gossip.
Babushka tasted this soup and said, "Milachka, may your hands never hurt," a Russian proverb that means more in Russian than it does in English and somehow the translation is lost in English…nonetheless, Babushka slurped the golden broth up and broke up her matzoball and finally said, "I have not had a chicken soup this good since back home."  Back home meaning the motherland, Moldova.
I was proud.  And I knew my mom was proud too.  Smiling down at me, pleased that I use her recipe to soothe my munchkin's sniffles and tummy aches.  Hopefully, my embraces are just as warm and my soup is just as healing.
And so… I pass my mom's simple recipe onto you.
This soup is ALWAYS a standard in my freezer as well as on my holiday tables.
(Psst, this is precisely the reason that it is included in my Rosh Hashanah and Yom Kippur Dinner Menu Plan)
Please note this chicken soup is not that goopy canned condensed gross stuff. No this is the stuff that real Jewish grandmothers have passed down for generations.
This is liquid gold. It is a golden broth, filled with minimal toppings but plenty of flavors. Mostly popular with the Ashkenazi Jews, this is the stuff that has been labeled the Jewish Penicillin. The cure all to heartbreaks and tummy-aches, fevers and chest colds or just the run of the mill bad day.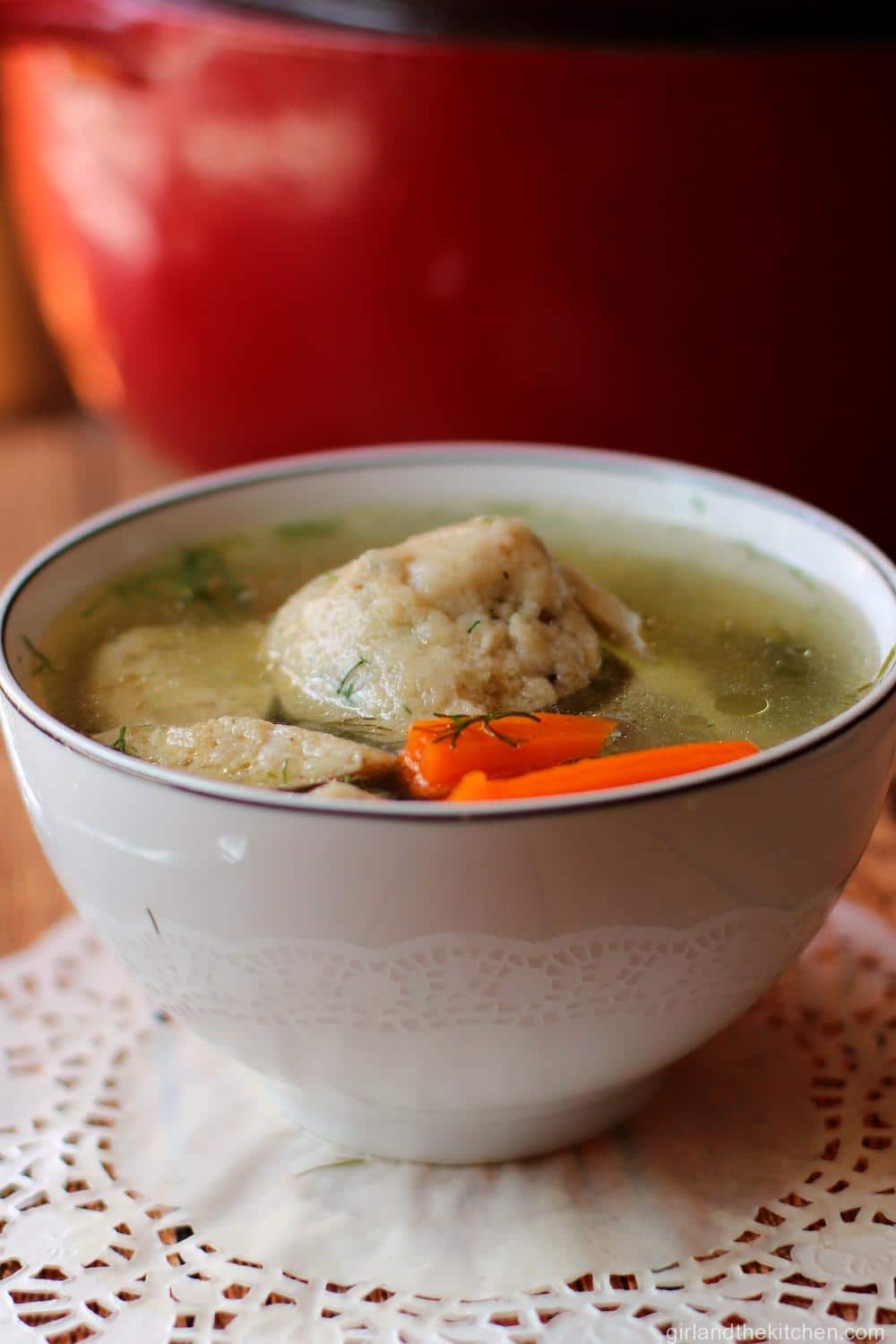 Yes there are scientific facts that chicken soup heals.  The fat in chicken actually loosens and thins out the mucus in the nose and lungs.  So breath in the fat happy people!
Now onto my top 4 tips for the ultimate chicken matzoball soup:
Tip #1. Start with cold water, ALWAYS.
Tip #2. Add only Kosher Salt to the water, it clarifies the stock and makes it less cloudy.
Tip#3. Use a good chicken. If there was one thing that my mother taught me about cooking it was to use the best products you can. This recipe is no different. Try and get an Amish or Free Range chicken. They even look different, you will notice they have a more yellow tint to them, due to the difference in their diet.
Tip#4.  The water to meat ratio is important.  Otherwise you just end up with a watery broth.  Yuck.  Pour in enough water to cover the chicken.
That's it. Other than that it is just patience.
*I'm sure you noticed there is no chicken base in this soup. If you let the soup cook for awhile, you will never need any base in this soup. My mom never used it in this soup and neither will I.*
You want a nice big stock pot. Mine is a 7.5 qt.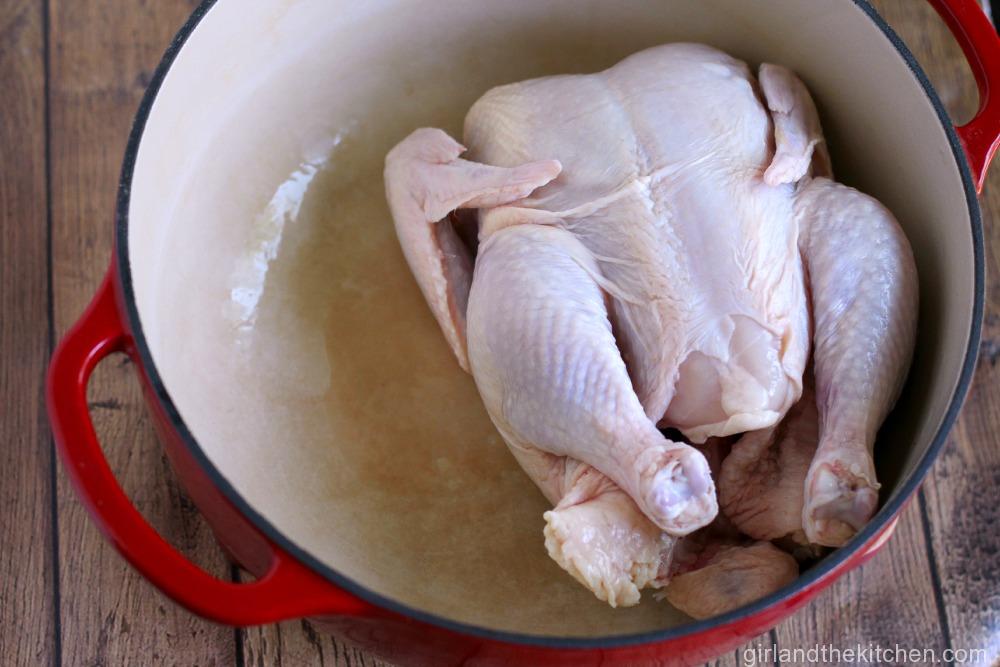 Wash out your chicken and place it in the stockpot and cover it completely with COLD water.  And let it simmer.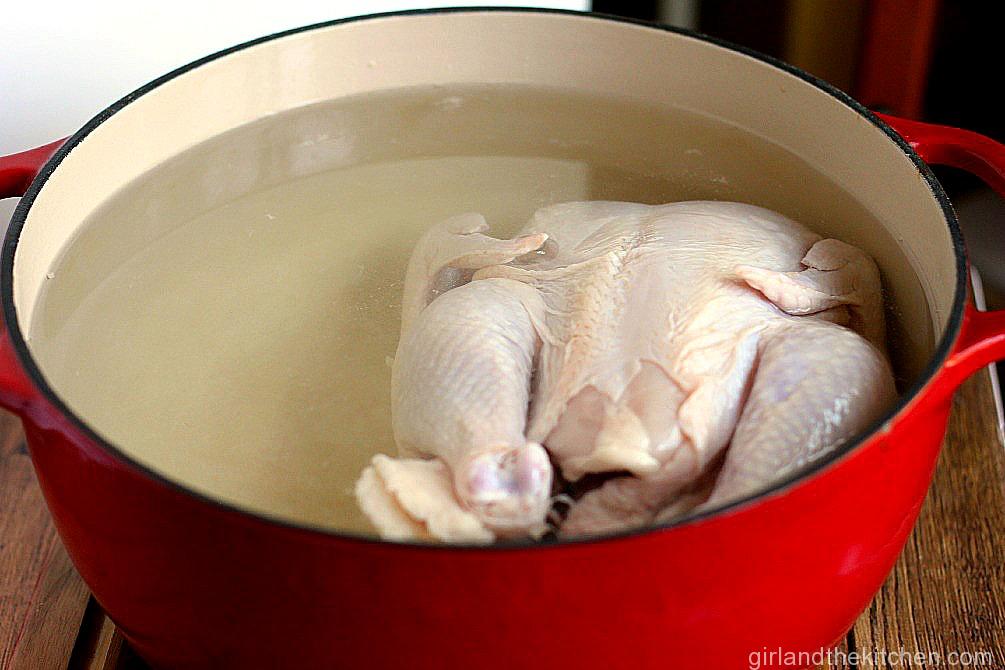 You are going to notice the scum start to come up.  It's really just coagulated blood.  I let it simmer away for about 25 more minutes.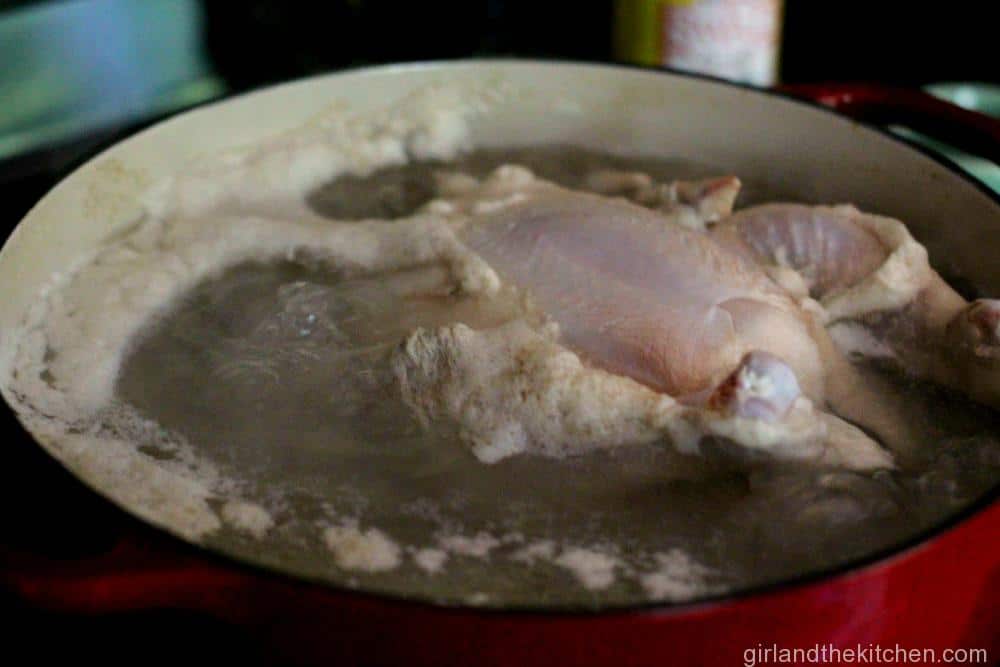 In the meantime, prep your gorgeous carrots.  I like to get the ones with the greenery still attached to them.  It somehow makes everything seem better in life.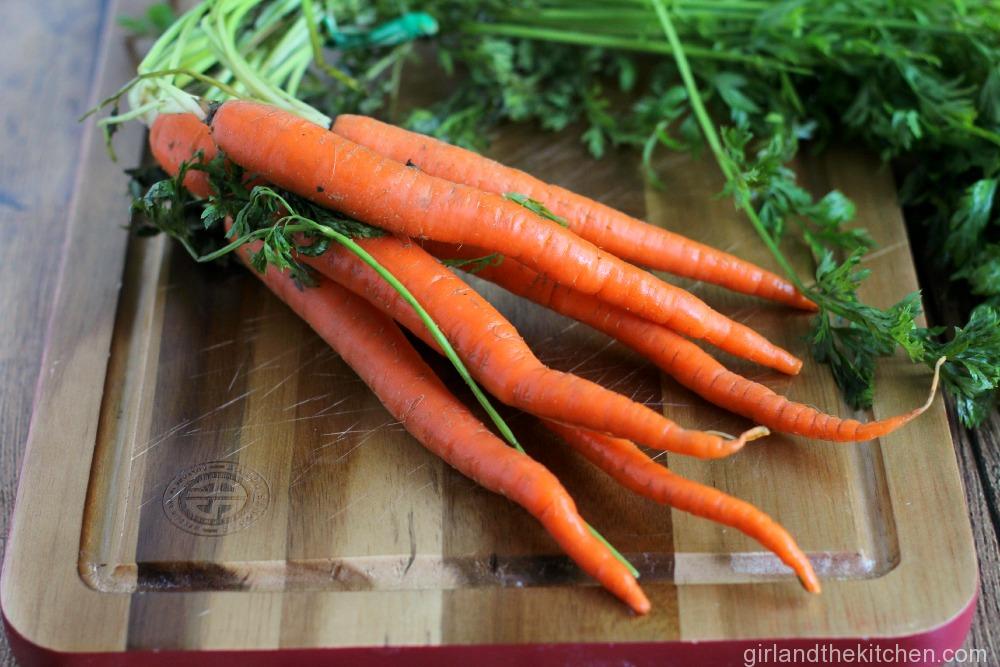 Same with your parsley root.
What's that?  You never used a parsley root?  Well it's magnificent!  It is sweet and gloriously parsley like!  Plus you get to use the actual leaves attached to the parsley root as…PARSLEY!  Brilliant huh?
Don't forget to clean two onions as well!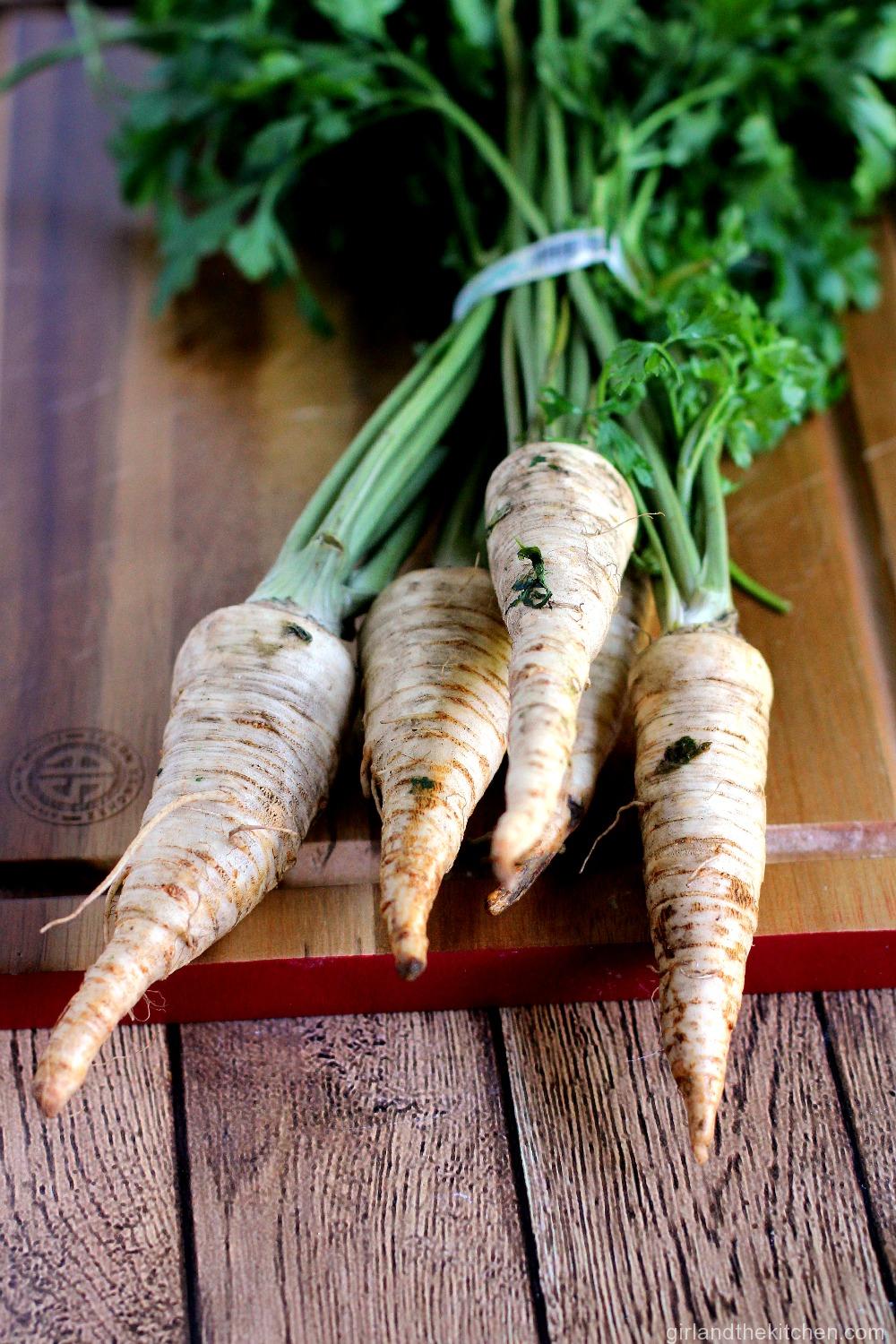 And then I use an unorthodox approach.  I dump the broth out into a large colander so that we can start fresh with a new broth.  This is how the Asians make their broths so nice and clear. Make sure to rinse the chicken and the pot of all the scum.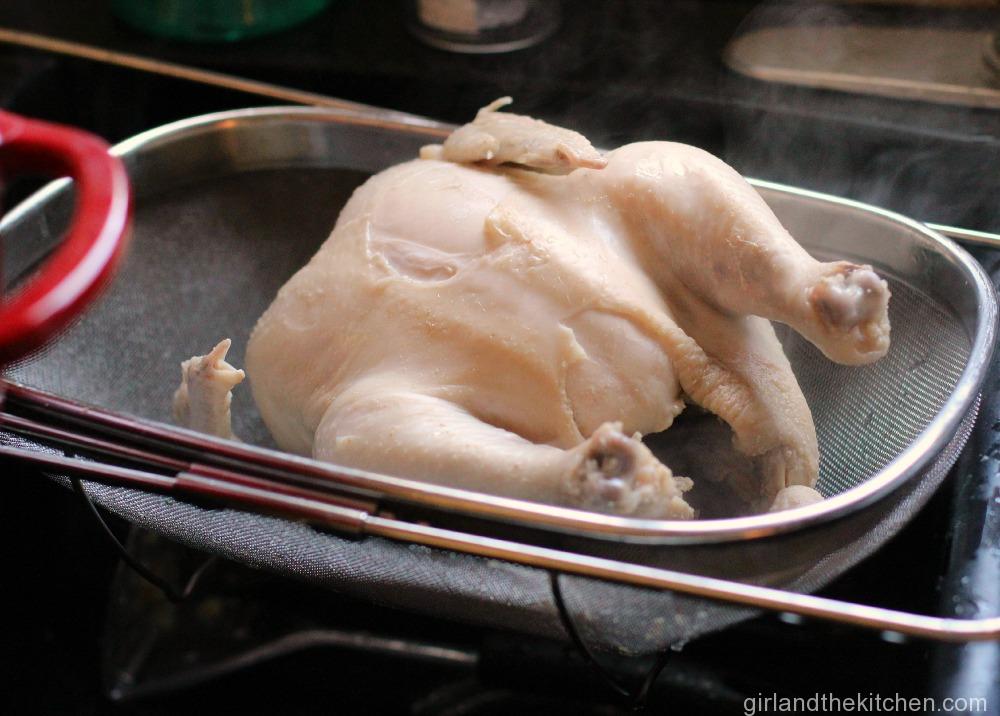 And now we place all the veggies, parsley, dill, chicken, salt and pepper into the pot.  Cover it again with cold water and let it simmer on medium-low for about 2 hours.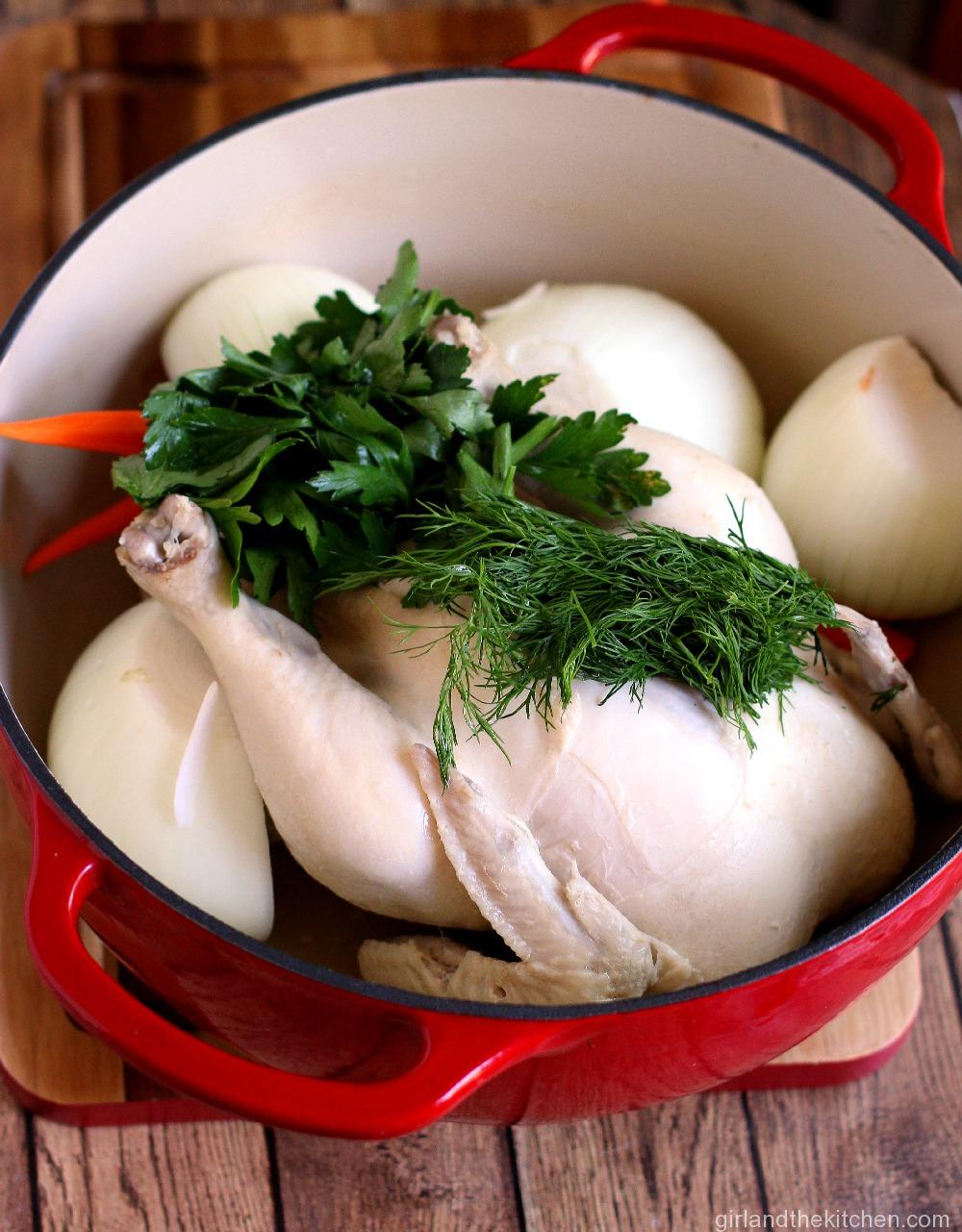 In the meantime let's make our matzoballs.
Combine all the ingredients for your matzoballs in a large bowl.  I like to add dill to mine to increase the flavor and the color.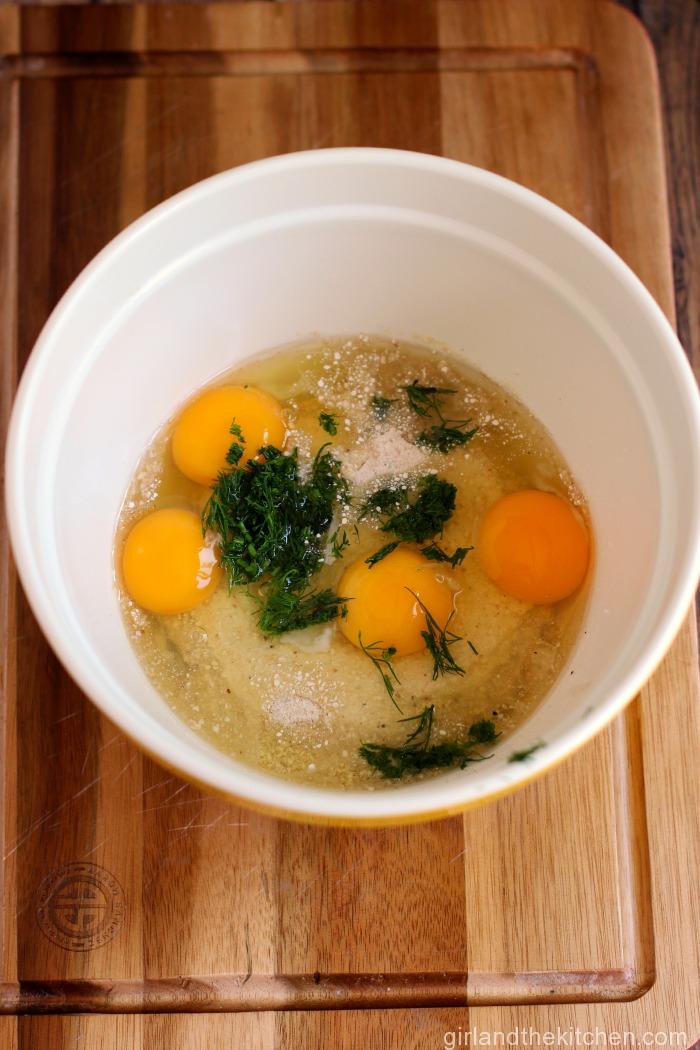 Mix it all up with a spoon until it's nice smooth.  Place this mixture into the fridge for 20 minutes.  And get a pot of water with salt on the stove.  Bring up to boil.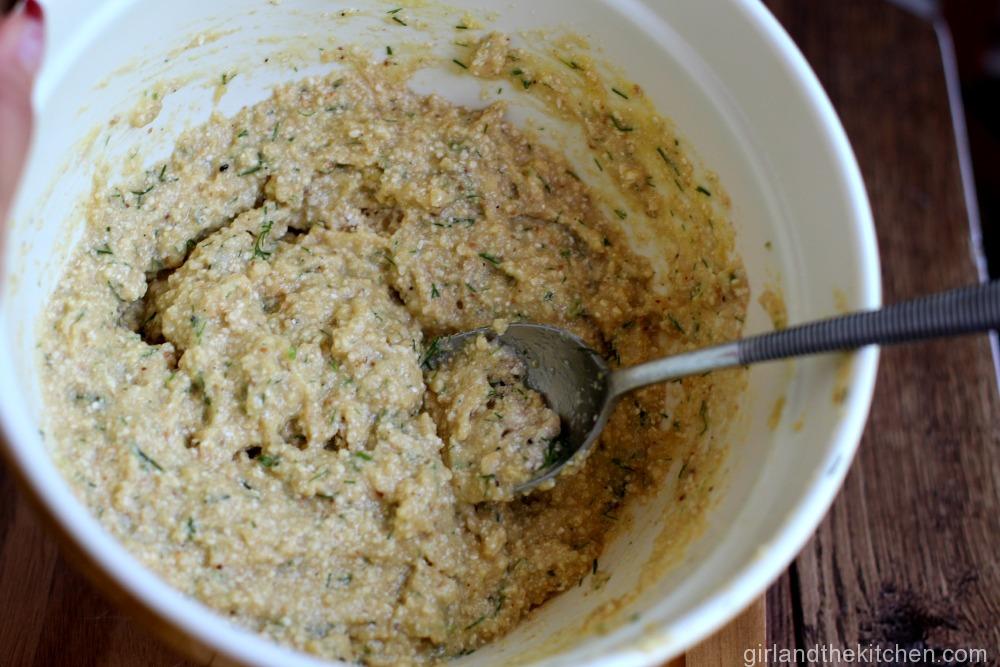 I like to use a little ice cream scooper to scoop them into my hand and then roll the balls out.
Then place them on a plate.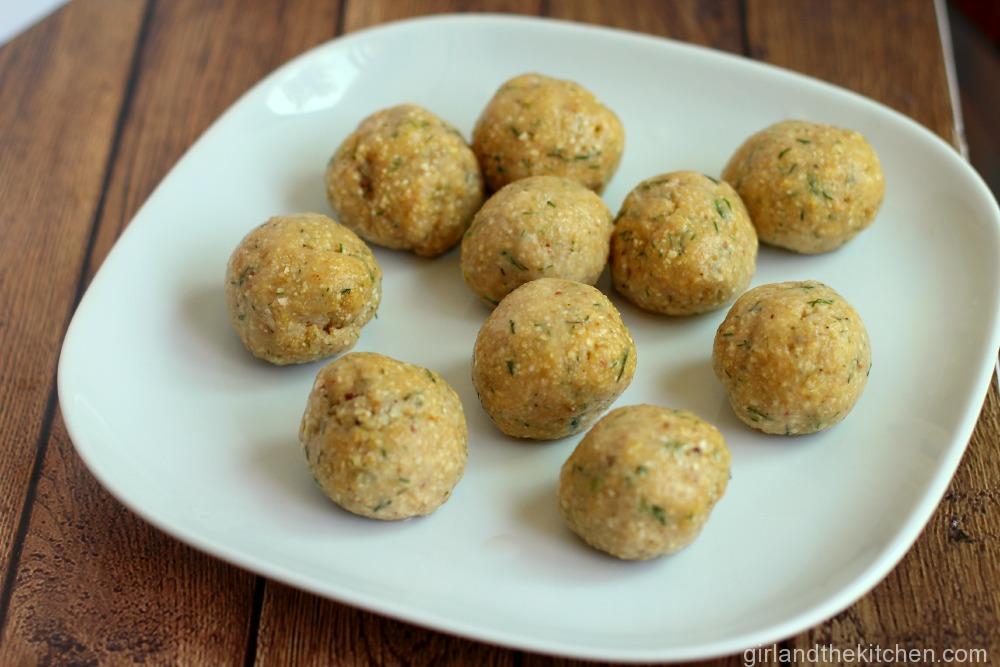 Now for me, the secret to fluffy matzoballs also has a lot to do with how long you cook them.  I have made HUNDREDS of matzoballs at all the different catering places I worked at and I learned quite a few tips.
If you want a dense and heavy matzoball, cook it for 25 minutes.  If you are going for airy and light floaters, you are going to want to boil them for 35-40 minutes.
Drop them into the boiling pot of water carefully, one by one.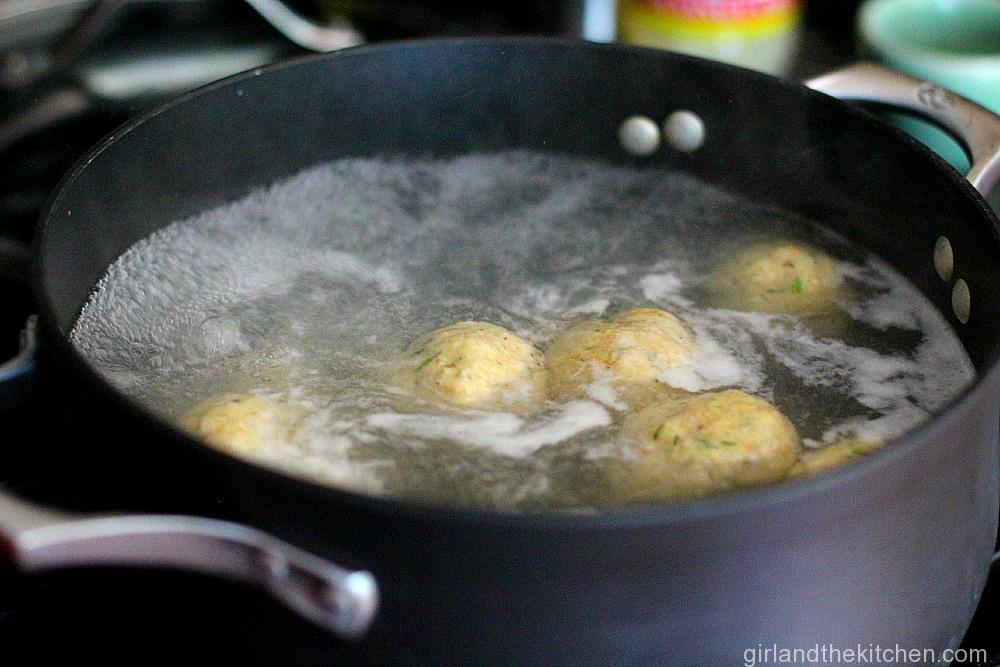 Turn it down to a simmer.  Cover it.  And let them cook for 35-40 minutes. Once they are finished, you can serve them immediately with the soup or you can cool them completely then place them in another container in the refrigerator.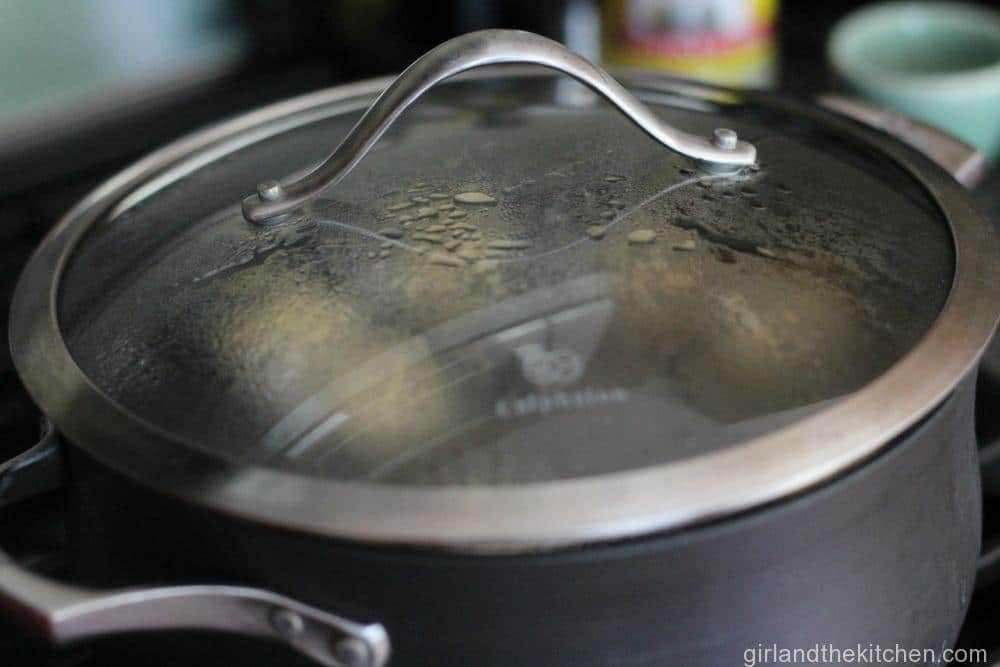 Perfect and soft matzoballs.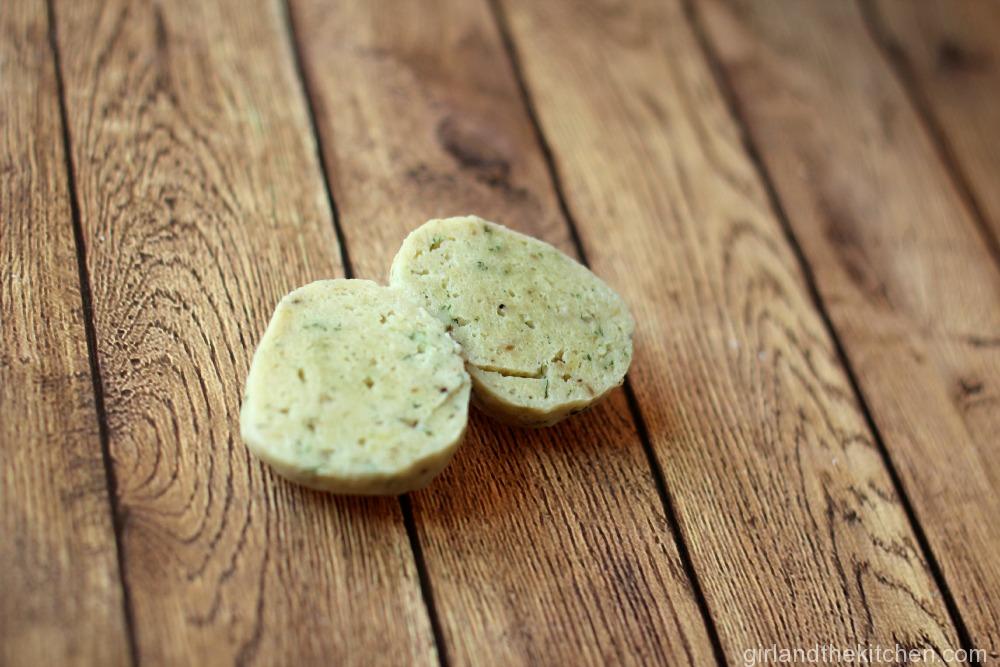 Now back to our chicken soup.  Taste it.  Make sure it's as sweet as you want it and  add salt if needed.
There we go…golden, beautiful and delicious.
Tip: If you want to skim the fat off some, the easiest way is to place it in the fridge and let the fat solidify over night.  Then you can go ahead and just remove the fat solids.  Which is essentially shmaltz that you can reserve for the next time you make matzoballs.
I like to leave the fat in.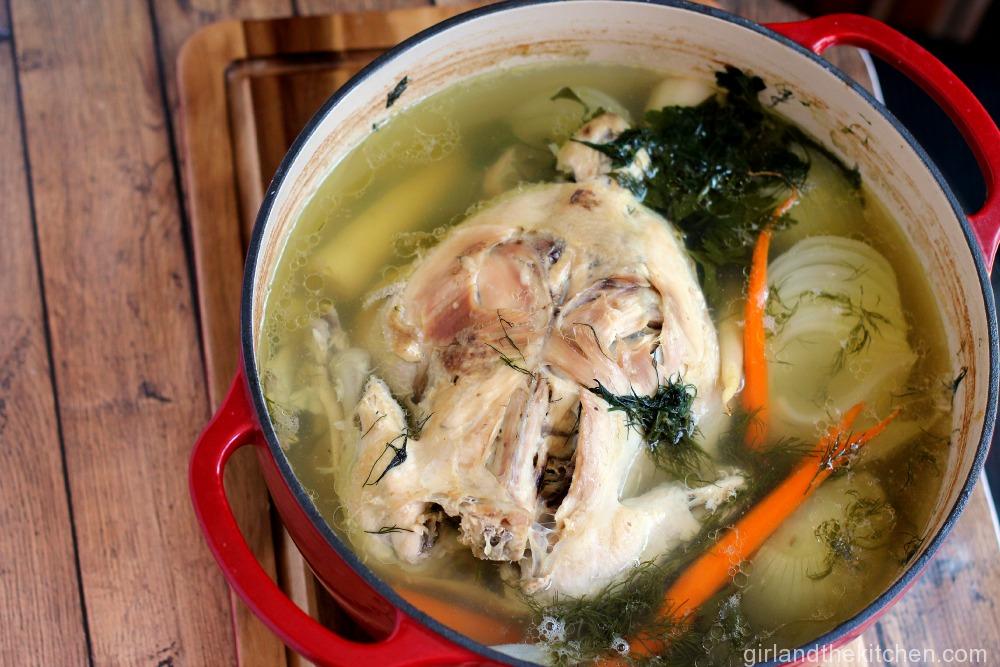 Serve the soup with a matzoball or two, some of the veggies, some meat on the side and a nice sprinkling of dill if you are into that sort of thing.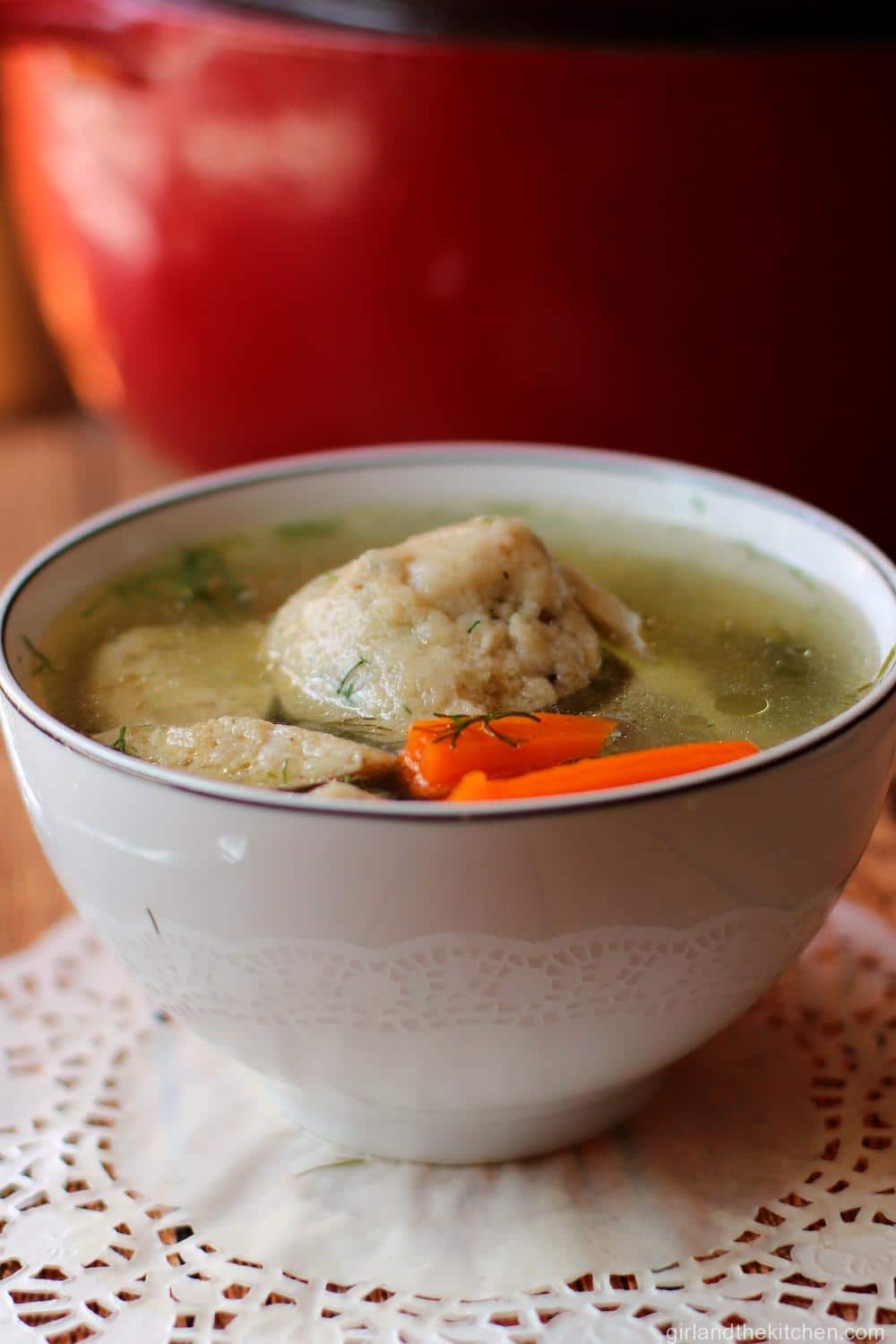 ***A hint, I always make a little more and freeze the rest, this way I always have chicken soup in the house.***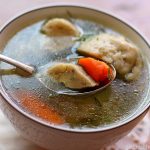 Chicken Soup for My Soul…The Real Jewish Penicillin
Full of veggies, tender chicken and melt away matzo balls this Jewish Chicken Soup is the Real Jewish Penicillin, perfect for sniffles and heartbreaks.
Print Recipe
Ingredients
For the Soup
1

whole Amish chicken or cut up chicken pieces

with skin-on

6

or 7 medium carrots

peeled and cut in half

2

large onions

peeled and cut in half

1

bunch dill

washed

1

bunch parsley

washed

3-4

parsley roots

peeled and cut in half if large

1

tablespoon

black peppercorns

Kosher Salt
For the matzoballs
1

cup

matzomeal

4

eggs

1

tsp

baking powder

1/4

tsp

salt

1/3

tsp

pepper

3

tbsp

melted shmaltz or vegetable oil

chicken fat

1

tsp

minced fresh dill
Instructions
Wash out your chicken and place it in the stockpot and cover it completely with COLD water. And let it simmer.

You are going to notice the scum start to come up. It's really just coagulated blood. I let it simmer away for about 25 more minutes.

In the meantime, prep your gorgeous carrots. I like to get the ones with the greenery still attached to them. It somehow makes everything seem better in life.

Same with your parsley root. What's that? You never used a parsley root? Well it's magnificent! It is sweet and gloriously parsley like! Plus you get to use the actual leaves attached to the parsley root as...PARSLEY! Brilliant huh?

Don't forget to clean two onions as well!

And then I use an unorthodox approach. I dump the broth out into a large colander so that we can start fresh with a new broth. This is how Asian broths are so nice and clear.

Make sure to rinse the chicken and the pot of all the scum.

And now we place all the veggies, parsley, dill, chicken, salt and pepper into the pot. Cover it again with cold water and let it simmer on medium-low for about 2 hours.

In the meantime let's make our matzoballs.

Combine all the ingredients for your matzoballs in a large bowl. I like to add dill to mine to increase the flavor and the color.

Mix it all up with a spoon until it's nice smooth. Place this mixture into the fridge for 20 minutes. And get a pot of water with salt on the stove. Bring up to boil.

I like to use a little ice cream scooper to scoop them into my hand and then roll the balls out.

Then place them on a plate.

Now for me, the secret to fluffy matzoballs also has a lot to do with how long you cook them. If you want a dense and heavy matzoball, cook it for 25 minutes. If you are going for airy and light floaters, you are going to want to boil them for 35-40 minutes.

Drop them into the simmering pot of water carefully, one by one.

Turn it down to a simmer. Cover it. And let them cook for 35-40 minutes. Once they are finished, you can serve them immediately with the soup or you can cool them completely then place them in another container in the refrigerator.

Now back to our chicken soup. Taste it. Make sure it's as sweet as you want it and add salt if needed.

There we go...golden. Beautiful and delicious. If you want to skim the fat off some, the easiest way is to place it in the fridge and let the fat solidify over night. Then you can go ahead and just remove the fat solids. I like to leave the fat in.

Serve the soup with a matzoball or two, some of the veggies, some meat on the side and a nice sprinkling of dill
**Originally published October 13th 2013***