Easy Rosh Hashanah/ Yom Kippur Dinner Menu (Freezer Friendly)
My super easy Rosh Hashanah and Yom Kippur Dinner Menu is going to make your high holiday dinners a breeze this year. Plus it is a major crowd pleaser!  There is something in here for everyone!  And the best part is every single item on this dinner is either freezer ENCOURAGED or easily made ahead of time.  

My super easy Rosh Hashanah and Yom Kippur Dinner Menu is going to make your high holiday dinners a breeze this year
I  know a dinner for the high holidays may be a bit late for some of you.  But let's be honest, if you are anything like me and my friends then you are currently feverishly rounding up all your friends and family and just now sitting down to plan what is going on your table.
I am a huge believer of doing as much ahead of time as possible when it comes to huge holiday gatherings.  And in my house they are always huge because we invite EVERYONE!  My dad, my in-laws, my brother and his kids and his in-laws, my cousins and their 2 kids, my aunt and uncle and we usually have some random friends stopping in.  Family dinners at our house our insane as always.  I have an all or nothing type mentality…so when I do a party I invite EVERYONE.  The more the merrier 🙂
And this menu is A CROWD PLEASER. It has something for everyone!
This easy menu for your Rosh Hashanah or Yom Kippur, that I am about to introduce to you is fantastic!  I have actually made this ENTIRE menu in one day.  Majority of it though I recommend making days before BECAUSE YOU CAN FREEZE it!  Yes!  My brisket, cabbage rolls, moroccan chicken and chicken soup are ALL FROZEN and thawed out the day of!  Oh and did I mention there is dessert?  Oh yes glorious simple and elegant dessert 🙂
So here is the menu:
Your Plan
3 days to 2 weeks ahead of time:
You are going to make the Melt in Your Mouth Brisket, chicken soup, Moroccan chicken, Stuffed Cabbage.  You can even make this 1 month ahead of time and freeze it.  It won't effect it.  Once you are ready to use it, just place it into a 350-degree oven and bring it up to temperature.  Isn't that a time saver?  All of the dishes (except the chicken soup) can be reheated in the oven simultaneously.  There are however a few ways that I recommend you freeze it:
The day before: 
The day of the Event:
About 1-2 hours before the event, place all your frozen items into the oven (except the soup) and allow to come to temperature.  Remove, while still covered with foil and keep warm.  (If you have a warming drawer, this will be great to use for this purpose)
About an hour before the event, remove the soup from the ziplock bag and place into a pot.  Allow to come to a boil.  Turn down to a simmer.  As people arrive place the matzo balls into the soup so that they warm up.
As people start arriving, place carrots, brussels sprouts and mushrooms into the oven.  Cook until ready and garnish as necessary. Serve.
Heat up the cous cous in a sauce pan with about 2 tbsp of butter.(use the same one as you will be using for the butter for the mashed potatoes and save yourself a pot to clean)
Heat the mashed potatoes in the microwave for a few minutes until warmed through completely.  In a separate pan sauce pot heat up the remaining butter and sour cream.  Mix into the potatoes for the ultimate fluffiness.
Pour sugar on the creme brûlée and torch before serving to guests.
THAT's it!!!!
This may seem like a lot…but all the hard work is done and over with and sitting in your freezer by the time the day rolls around 🙂  I managed to actually test myself and do it all in one day.  And I could do so quite easily 🙂
Now go on and have the best dinner you can have!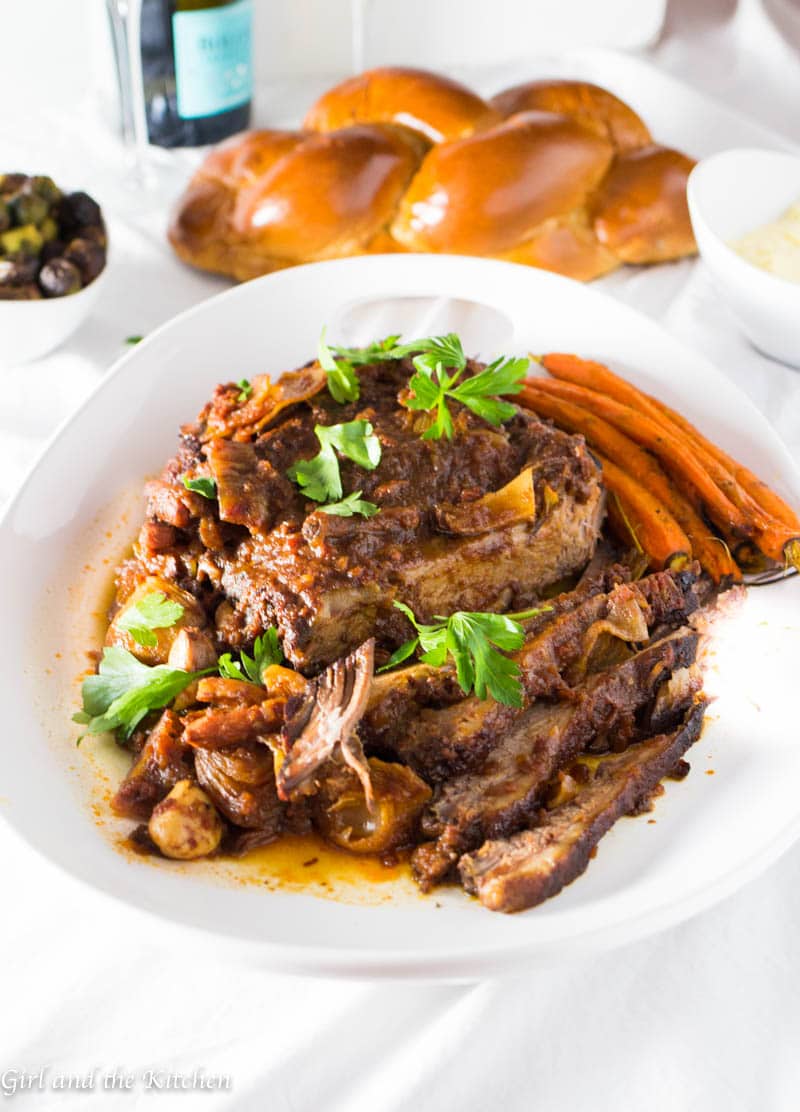 There is a reason this baby is called the star of the show.  Because it REALLY is!  I swear every time I make this brisket it is always so impressive to me that this came out of MY oven.  I know…even I am impressed!  Low and slow cooking was never my forte, so when I came up with this brisket that is so ridiculously easy, incredibly well flavored and perfectly cooked I smiled in glee.
BUT most importantly guys… my brisket is FREEZER ENCOURAGED, I am not trying to sound crazy here.  I ENCOURAGE you to make this.  Something magical happens with it when it's frozen and then reheated…and perfection is achieved.  Trust me it's the real deal.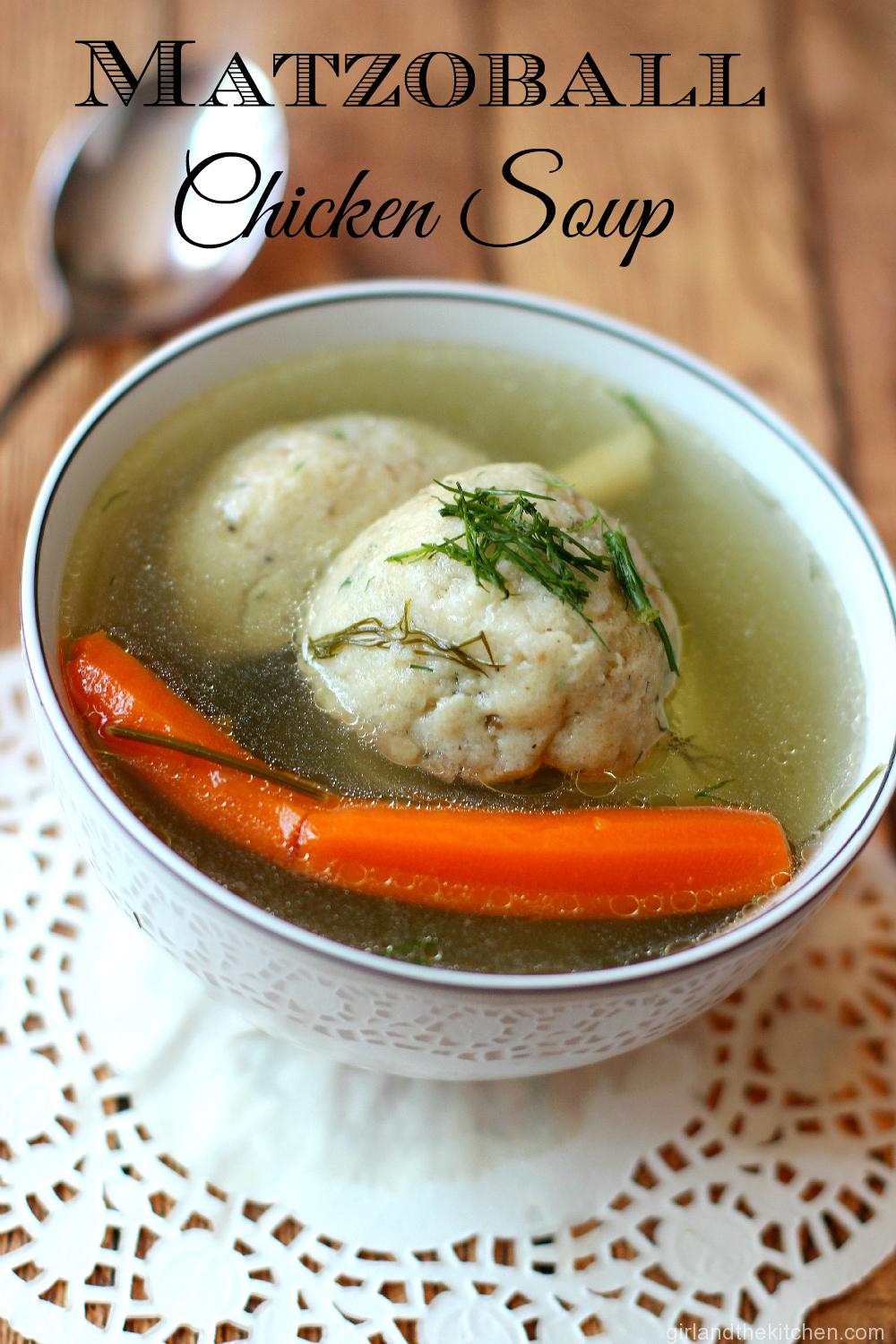 There is no Jewish holiday that is complete without this for me.. Because… it's SOOOO ridiculously good.  It's soothing to the soul and the belly.  And whenever we have Yom Kippur at our house I ALWAYS make sure my chicken soup  is the first thing everyone eats.  Everyone always asks for a small amount and always ask for seconds of my liquid gold.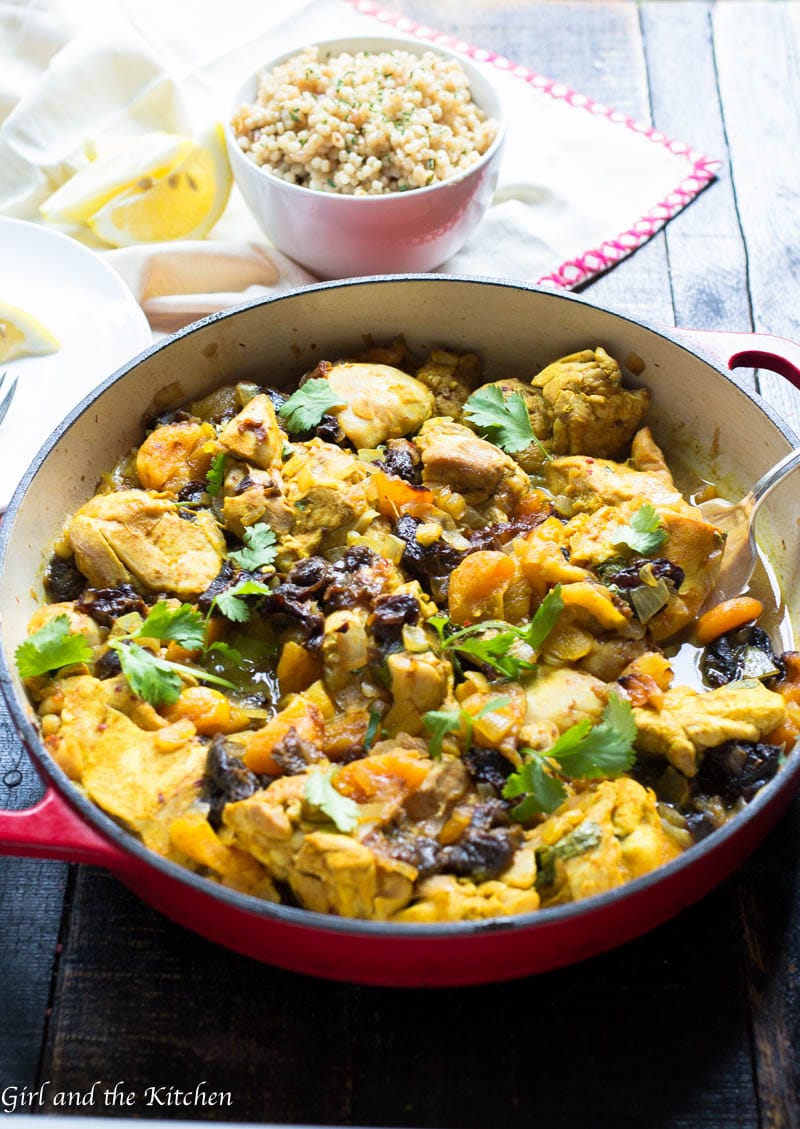 I love this Moroccan Chicken for the Jewish high holidays. I love the sweet and sour aspects to this dish.  Plus it has that incredible Sephardic twist to it featuring the dry fruit and all the spices.  It's just perfect.  And you make it in one foil dish and then freeze it.  Can we get any easier?!?
This cous cous is such a perfect side dish for the Moroccan Chicken.  Plus you can make it a day before and reheat it with a little extra butter before serving.  Or since it only takes 10 minutes to make… Just make it right before serving.  Cut up all your aromatics first and put them on the side.  Then when you are setting the appetizers and soup out, get the cous cous going and it will be ready right when you are ready for the entree.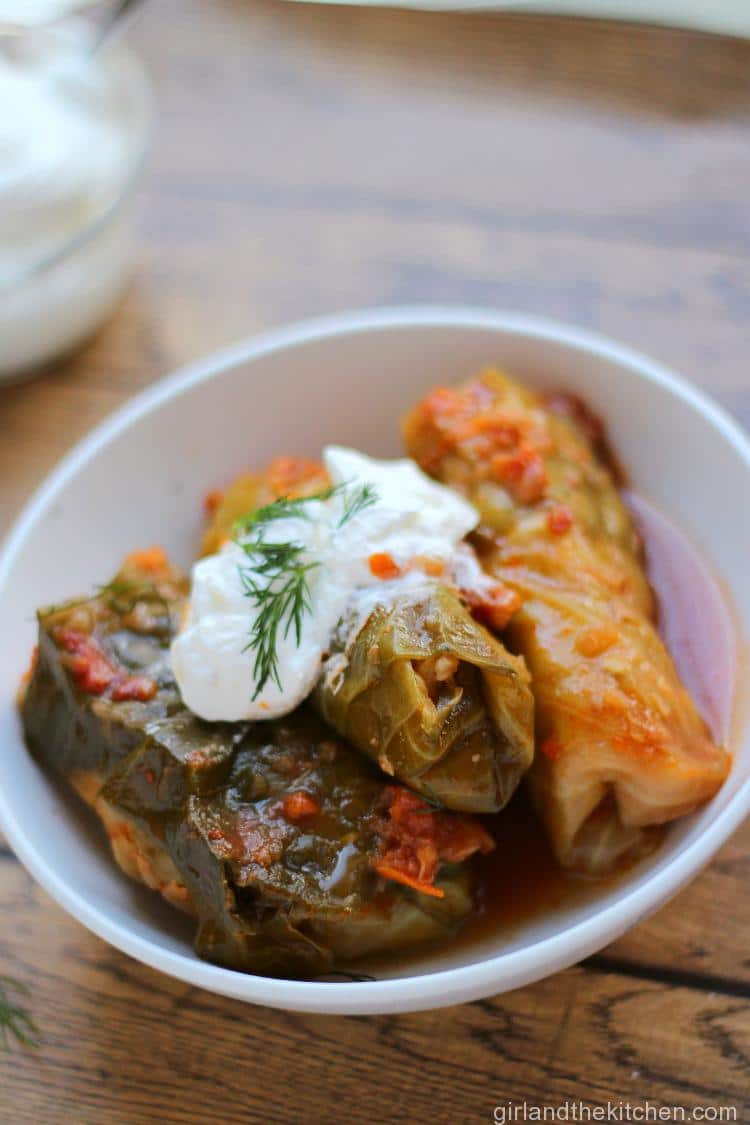 My love for my father in law's cabbage rolls is real.  They are so ridiculously delicious and tender.  And they are yet another dish that is FREEZER ENCOURAGED! Yes they taste WAY better after they have been defrosted.  Deliciousness served.  (This recipe is traditionally made with pork and turkey HOWEVER for the high holidays I make them with turkey and chicken thighs and it is ALWAYS A HIT)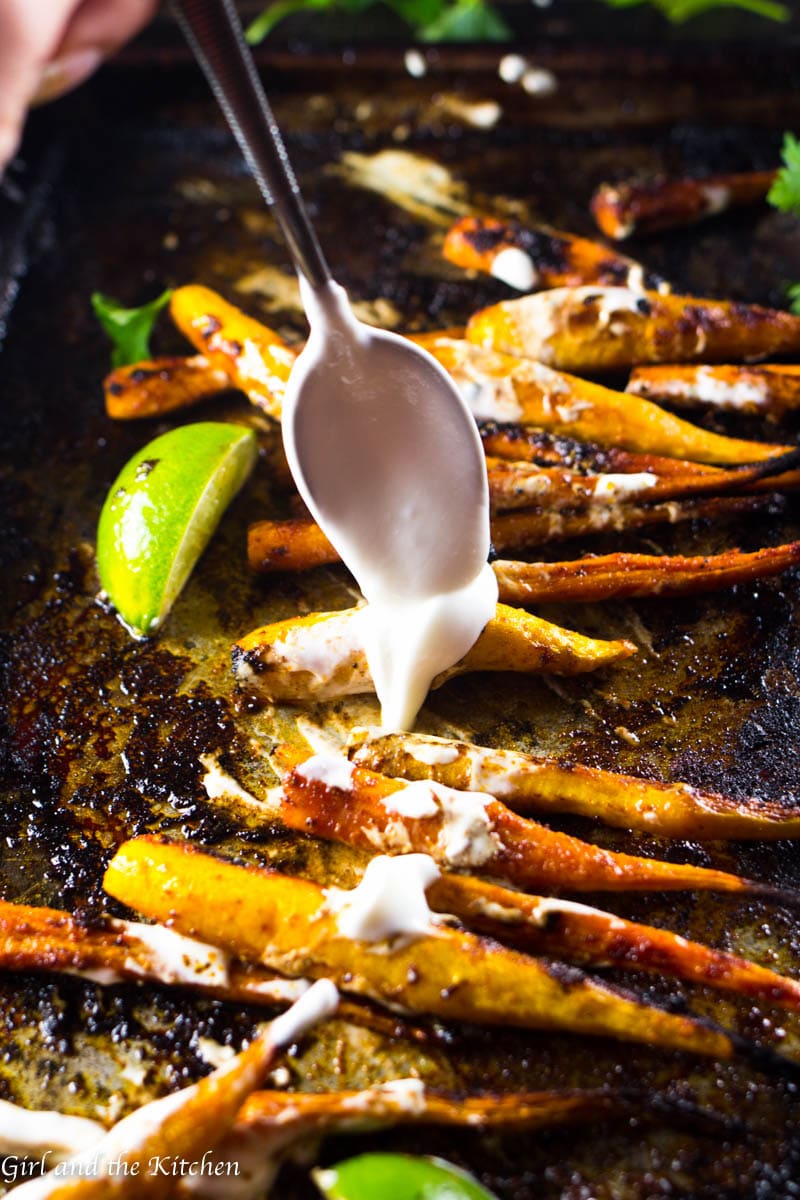 These just go so great with our Moroccan Chicken and with the brisket. Plus they are EVERY vegan or vegetarian's dream!  And they also are made ahead of time and reheated the day of.
You can most definitely make these a day ahead of time and just reheat them.  But they are so darn easy and make the house smell absolutely divine!!!! So they totally make everyone salivate just as they start sitting down to eat.  Oh and did I mention these are vegan?  Yup.  They are.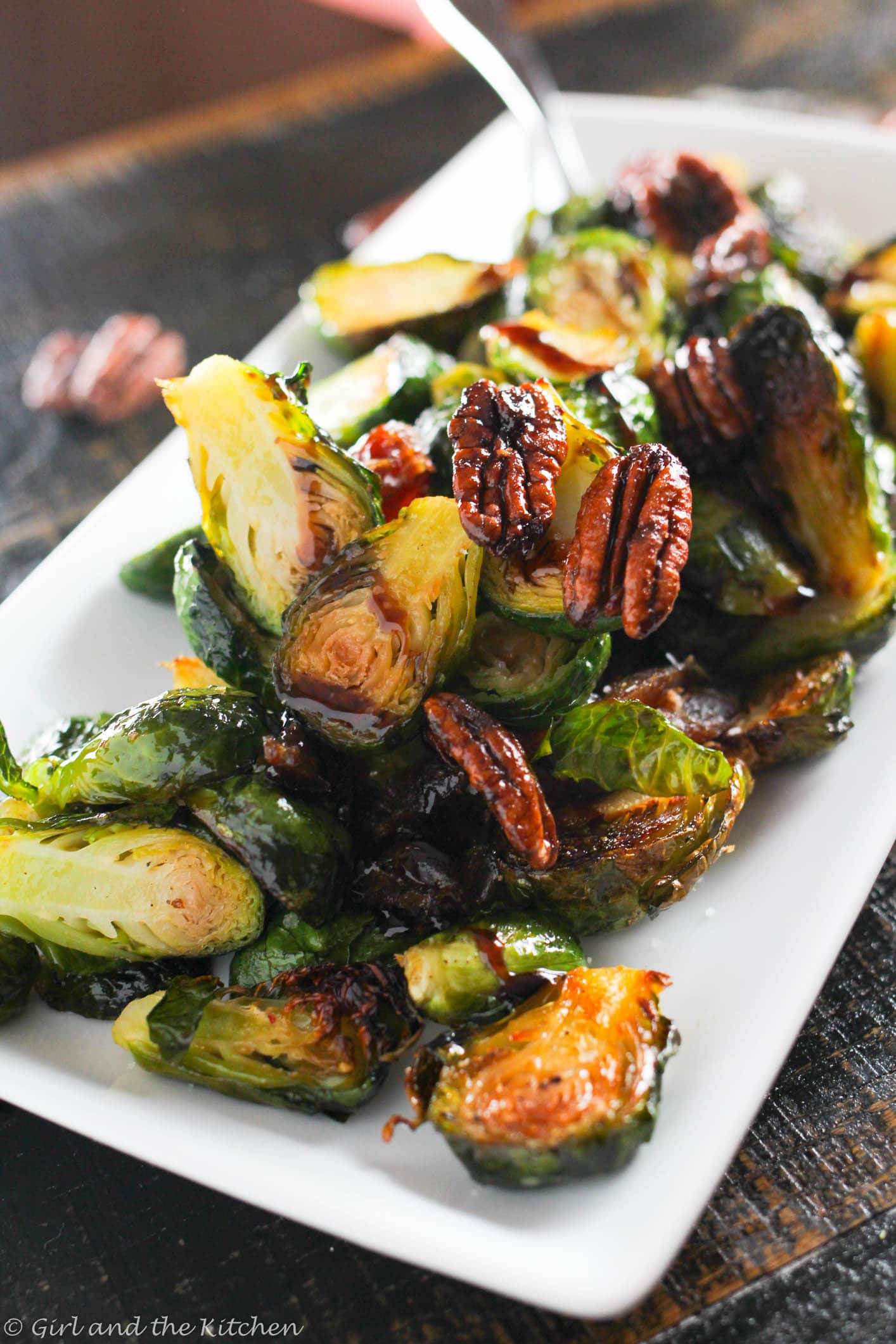 These Brussels Sprouts go from freezer to oven in 20 minutes!  They are a dream come true for last minute side dishes.  And are glazed with balsamic and adorned with beautiful candied pecans and dates.  Fall heaven.
There are no words to describe how much I love mashed potatoes.  And these are my FAVORITE!!! They are perfectly flavored and stupendously creamy because of a few tricks I learned from the catering world.  Plus there is a great make ahead trick in there 🙂
Pin For Later
This dessert is the NUMBER ONE dessert that has been requested by my friends and family.  Buttery dough with a delicious filling is never a bad thing.  I have made this dough ahead of time and froze it. And then just made the cookies whenever I felt like it.  I also just made these cookies on Sunday and gave them to my husband's co-workers and they thought they were freshly baked.  Yea…they are JUST that good 🙂 Just make sure to store them on the counter in a zip lock bag or in an air tight container.
YES… I love LOVE love CREME BRULEE  .  And it is SO easy to make!  This is not a souffle.  It is an extremely simple dessert that requires zero skill to make.  And the best part is…when it comes to the torching it is SUCH a cool show off trick!  Show all your friends how cool you are by torching your brulee's and looking all professional.  Or better yet, pass the torch around and let them take turns doing it.