Persian Chicken Noodle Soup
This chicken noodle soup is loaded with good for you veggies and tons of flavor and this bowl of comfort comes together in under 30 minutes.  (Pssst check out the little hands in the pic… this is kids approved too!)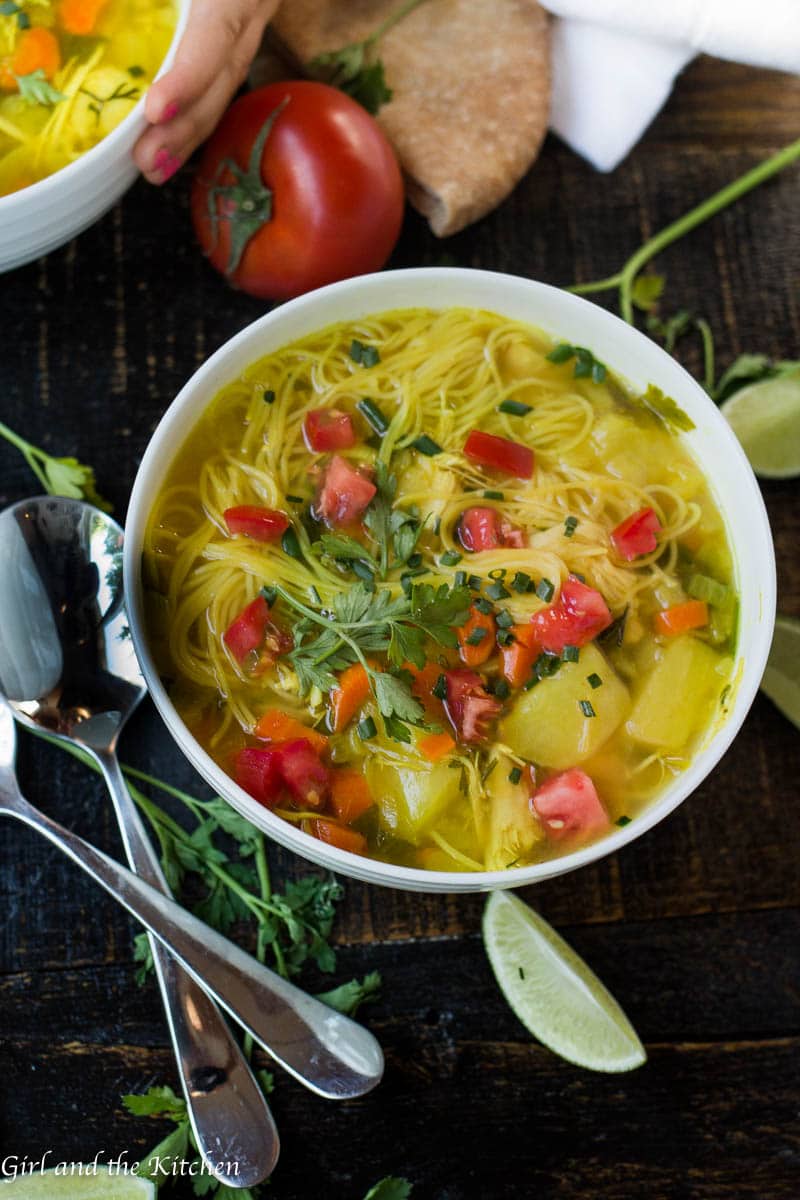 [wprm-recipe-jump] I have always been a believer that the best cooks know how to turn few day old leftovers into something new and spectacular. My mom and babushka excelled at this.  Sometimes mama would take old pork chops, slice them up and sauté them up with new spices and flavors and create a yummy stew.  Other times her and babushka would take angel hair pasta, combine it with loads of garlic, cheese and eggs and fry it up.  It would be a delicious pasta pancake with an uber crispy, golden crust and a cheesy and tender center which we would eat alongside meat and salads.
But my favorite reinvention was soup.  Because of the pesky little eater that I was my mom had to have her famous Jewish Chicken Soup in our house practically every week.  She would usually make extra and in a few days she had loads of soup leftover and sometimes not too much meat.  So instead of throwing out a perfectly good broth she would remake it into something new and incredible.
I would stand by her, stove side, watching her throw in all sorts of veggies and spices into the new soup…and naturally I cringed.  "Yuck mama you are ruining it!!!! What are you doing?!"  I would yell.  My mom would laugh and explain to me that all soups are made based off of a delicious broth like this.  How right she was, decades later in culinary school I learned this exact technique in culinary school. A good broth is the base of mostly any soup.
I understand you all believe I am moderately insane right now.  That I would eat the chicken soup but when it came to eating anything made from it I would lose my mind.  I know, I know, my mother was dealing with a lunatic.  Fortunately it did not take much to sway me into eating most soups.  My mom frequently made my favorite green chicken soup or Russian green borscht as it is frequently called, out of regular chicken soup and I would usually lose my mind for this stuff.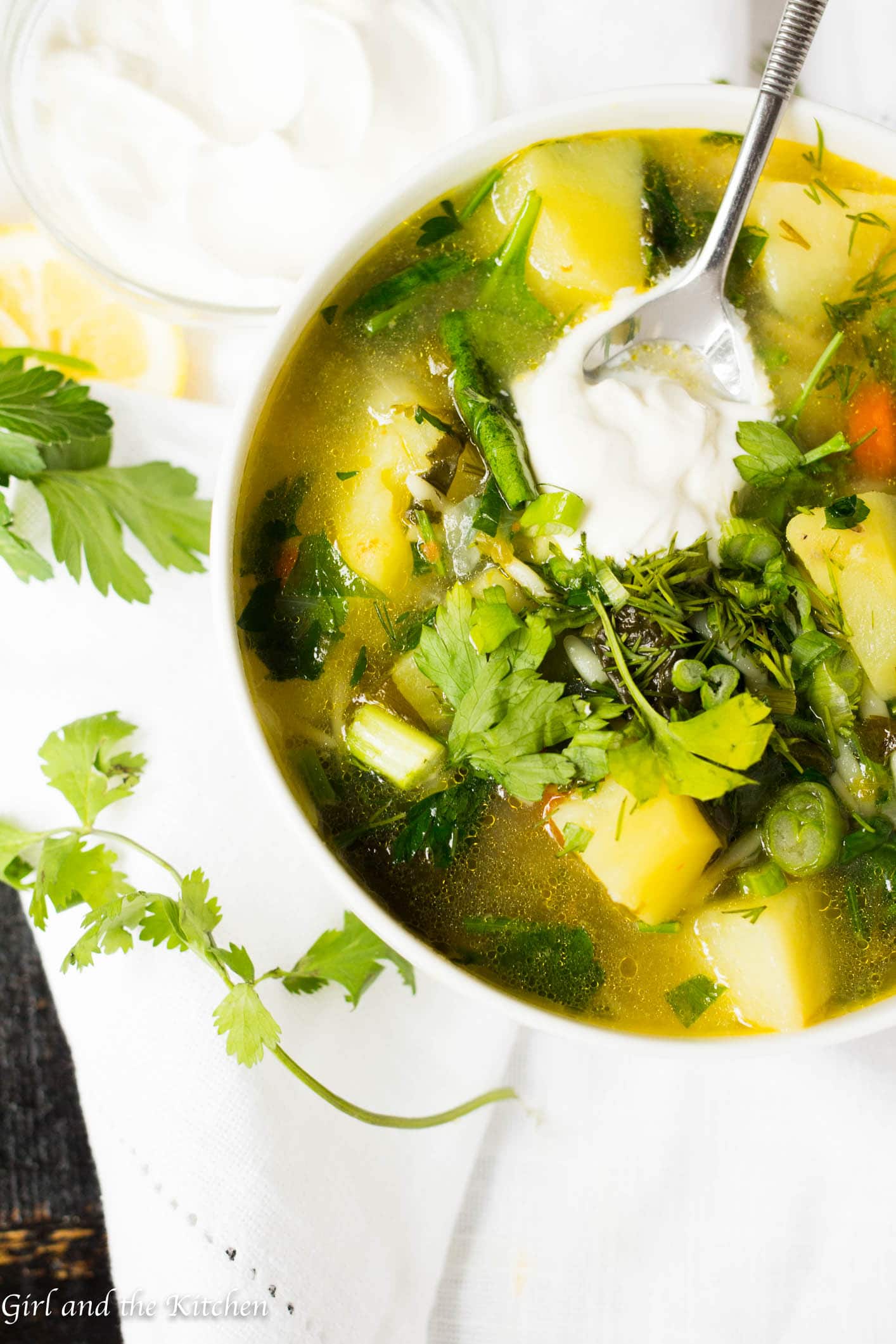 I have recreated this soup many a time.   And like my mother I usually have chicken soup on hand.  If not fresh then I have some frozen in the freezer for a rainy day or when we all come down with a run down feeling.  Soup, especially chicken noodle soup is always the answer.
My munchkin, fortunately does not share my pickiness with food.  She is just like my husband, she will taste and eat anything that tastes good.  The kid has been eating caviar (how very Russian right) since she was one, with a spoon.  She isn't snooty and she doesn't cringe.  She tastes anything and ensures to tell me how good (or not good) it happens to be.  The one thing she does share with me is that she loves soup.  So much that when I was photographing this particular chicken noodle soup, those little hands kept trying to steal the bowl of soup when I wasn't looking.  I would run off to get some extra garnish and sure enough I see her sneakily tip toeing to the table to chow down.  This happened four times.  And let me tell you she was pretty pissed by the fourth time, so I finally let her eat my Persian chicken noodle soup.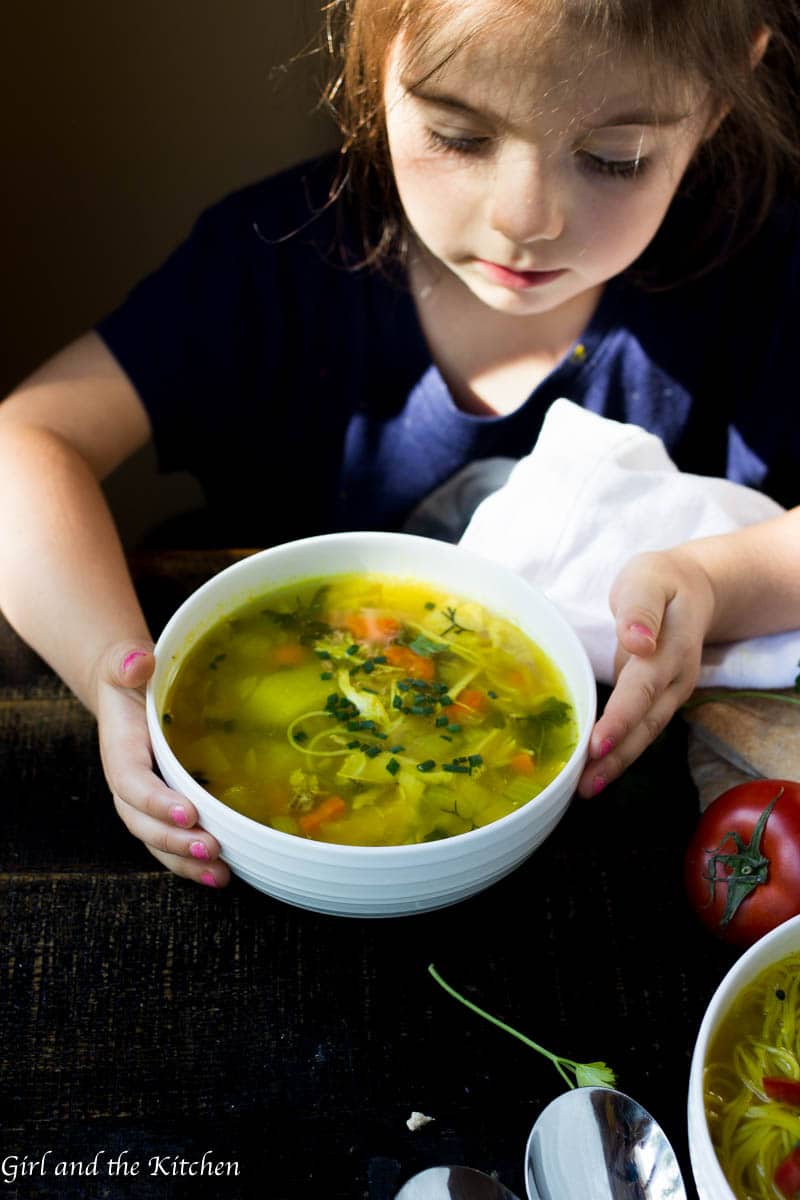 There she is!  There is my little clepto!
This soup…ahhh this soup…it's so darn good.  I have been wanting to make this chicken noodle soup ages and ages ago.  I saw it once many moons ago on a cooking show my mom and I watched together.   Mama right away made note of the ingredients and promised to make it but sadly never did.
So I find myself so very many years later, making this ridiculously comforting and delicious soup for the family.   It's full of tons of fragrant herbs, tender veggies and thin angel hair pasta.  I also like to use my favorite angel hair pasta which is the one my mama always used, angel hair nests.  You can find them at any grocery store nowadays and honestly I just feel it is so much more delicious than classic angel hair pasta.  However if all you can find is the flat pasta by any means go ahead and use it.
A few Sunday's ago, while the hubs and munchkin both napped (I am not sure who put who to sleep by the way) I decided to use up the leftovers of my chicken noodle soup from earlier that week and turn into something even more fantastic.  I only had two chicken breasts left in the soup, so I just shredded those and waited until all the veggies were gloriously tender and the broth was infused with tons more flavor.  The great thing is if you are already starting with an uber flavorful broth you won't need much more work to make this taste good.  Everything else that goes into the soup is just an added bonus 🙂
For the first time this year we used our 1 acre of backyard in an efficient manner and planted tons of herbs and veggies.  I was quite proud of myself that I remembered to water them a few times a week and was gifted with busloads of herbs.  Let me just tell you how very Ina Garten I felt when I strolled out to my "garden" and snipped off some handfuls of fresh cilantro, chives and parsley for this soup.  Yes almost Ina…minus the Hampton's estate and the hundreds of cookbooks.
Anyhow…30 short minutes later I was shooting this gorgeously colorful soup and two tiny hands crept up.  Munchkin was up and she was hungry.  So when I finally let her steal soup away from photo shoot, I watched her blow the steam off of each spoonful and artfully slurp up the angel hair pasta.  Yup…it is the best feeling in the world to watch your child enjoy something that you had made with your labor of love and your own perfectly manicured two hands 🙂
Pssst…you can TOTALLY make this vegetarian!  Just use a really good veggie broth and take out the chicken and you are gold!!!
Print
Persian Chicken Noodle Soup
---
Author:

Total Time:

40 minutes

Yield:

6

servings

1

x
Description
---
8 cups

homemade chicken broth or stock or storebosugh chicken broth or stock

2

cooked chicken breast (see note, shredded, feel free to use rotisserie chicken or any other leftover chicken)

1

large onion (chopped into small cubes)

5

medium carrots (peeled and sliced into half moons)

1

turnip (peeled and chopped into small cubes)

4

medium Yukon Gold potatoes

3

garlic cloves (roughly chopped)

2

tomatoes (chopped into small cubes)

10

chives (finely sliced)

1 cup

cilantro roughly chopped

1 cup

parsley (roughly chopped)

1/2 tsp

turmeric

2 tsp

sumac

4 oz

angel hair pasta
salt and pepper to taste
red chilli flakes (optional)
limes for garnish (optional)
extra chopped cilantro (parsley and chives for garnish.)
---
Instructions
Place the chicken broth into a large pot and bring to a boil. Add in onions, carrots, turnips and potatoes. Once the soup boils, reduce to a simmer.
While the soup is coming up to a boil, peel and chop all your veggies.
Add the onions, carrots, turnips, garlic and potatoes to the soup once it is on a simmer. Allow to simmer for 15-20 minutes.
Add turmeric, sumac, tomatoes, cilantro, parsley, chives, shredded chicken and angel hair pasta. *
Taste for seasoning and adjust with salt, pepper and red chili flakes if necessary.
Serve with extra chives,cilantro, parsley and limes.
Notes
1. This recipe is written using two cooked chicken breasts from a soup. However if you are using raw chicken breasts, just throw them in at the very beginning with the broth and let them cook. Then remove them and shred them.
2. The great part about this recipe is that it is a chop and drop. You can do everything as the soup simmers away.
3. One of the shortcuts to shredding chicken is to use the paddle attachment in your Kitchen Aid mixer or any other stand up mixer.
Prep Time:

10 minutes

Cook Time:

30 minutes

Category:

Soup

Cuisine:

Persian