Mexican Chicken Soup (Caldo de Pollo)
Mexican chicken soup is a comforting soup full of aromatic vegetables, tender chicken and warm spices.  A perfect twist on the classic chicken soup favorite.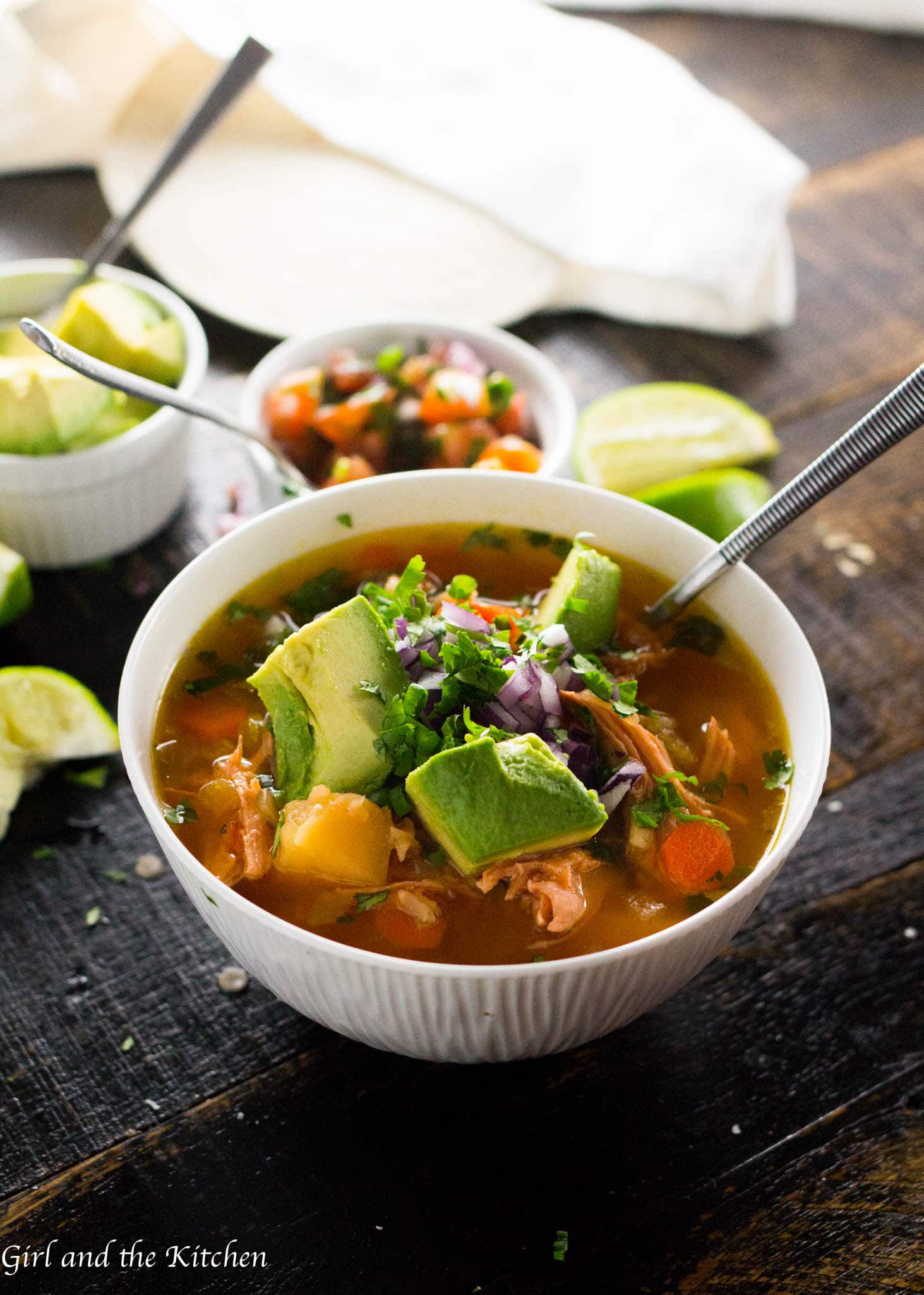 A blazing sun shined brigtly through the curtains, neighbors greeted each other as they put their finishing touches on their Christmas lights, children raced to their homes to catch a glimpse of their Christmas presents…a beautiful vision, stifled by my non-stop sneezing and sniffling. A miserable Christmas day ensued for me last year, that I was sure of. After 4 hopeless days of lying on the couch with my husband I craved homemade soup.
Unfortunately, due to our contagious colds my husband and I were quarantined in the house, completely out of touch with anyone who could bring us homemade comfort food. We suffered with take out food…ok suffered is a bit dramatic…settled is more like it…oh who I am kidding!
We relished each bit of sushi, pizza, gyros, burgers…that is until the fourth day…by the fourth day I was done. I wanted…I DEMANDED homemade food. I nudged my husband and looked as pitiful as possible…useless I thought…he does not know how to make comfort food…So we sat on the couch and continued to pig out on the last bits and bites of pizza and found comfort only in Afrin.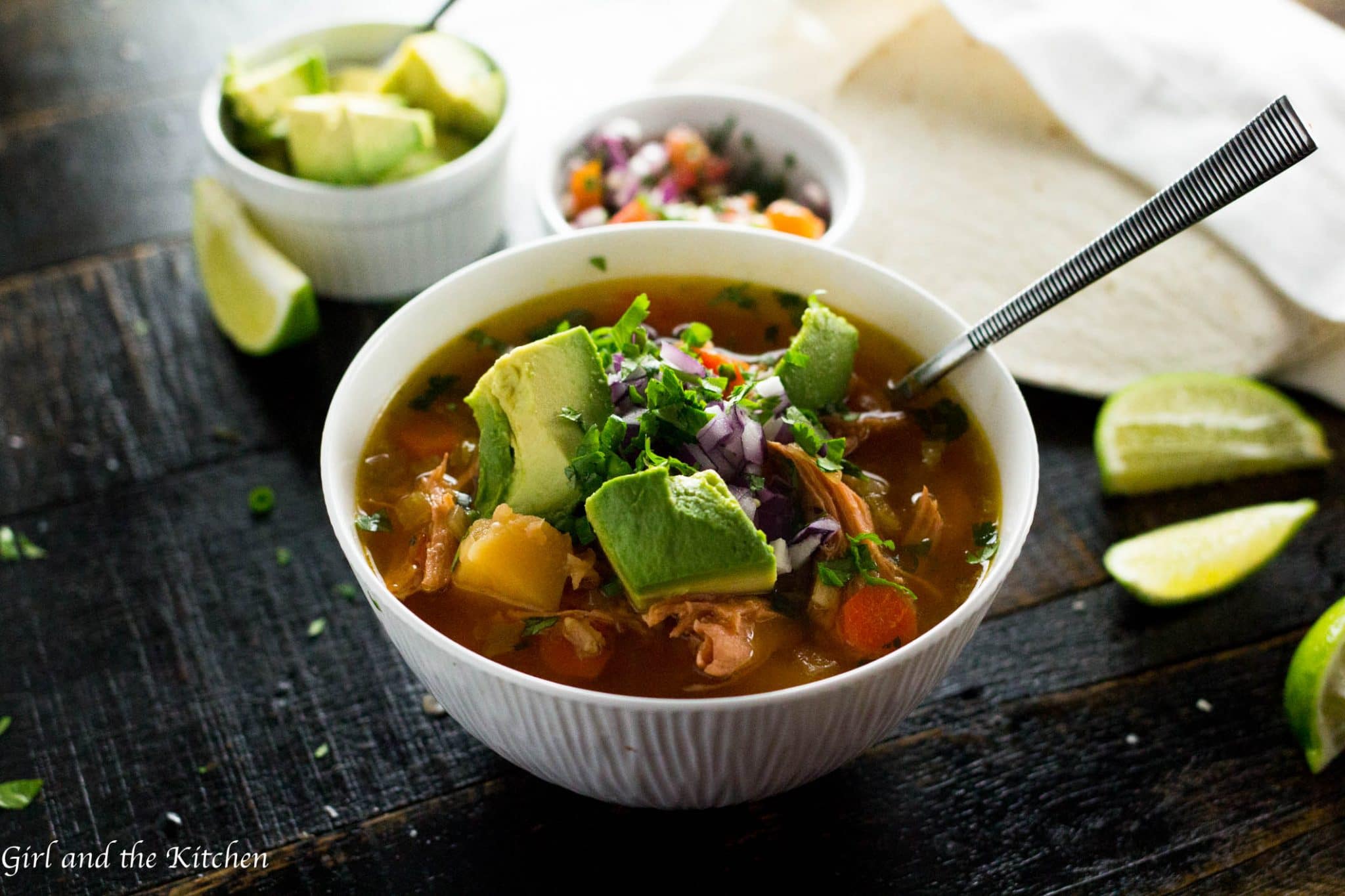 By the fifth day of laying on the couch, I had somehow gotten some energy back and decided that my body needed soup…chicken soup cures all sniffles. I needed chicken soup.  I usually crave my mom's classic Jewish chicken soup but this time I wanted something different, some with a kick to knock these sniffles out once and for all.  I needed a chicken soup with a kick.
I searched the fridge all whilst sneezing uncontrollably.  The beauty of this soup is that it requires very few ingredients to make it great and fortunately for me I happened to have all those ingredients in my fridge.  I stowed a box of tissues next to my cutting board and started cutting up a storm.
Traditionally this soup is made with chicken wings and drumsticks with the skin on.  And while that is all too delicious, it isn't quite as lean and healthy.  So I used chicken breasts to healthify (that's a word right?) just a tad!  And the flavor did not suffer one bit.
Two bowls of soup and one box of tissues later, I felt renewed. I walked away from my stove feeling a lot better and a little bit prouder…sniffle, sniffle, sniffle.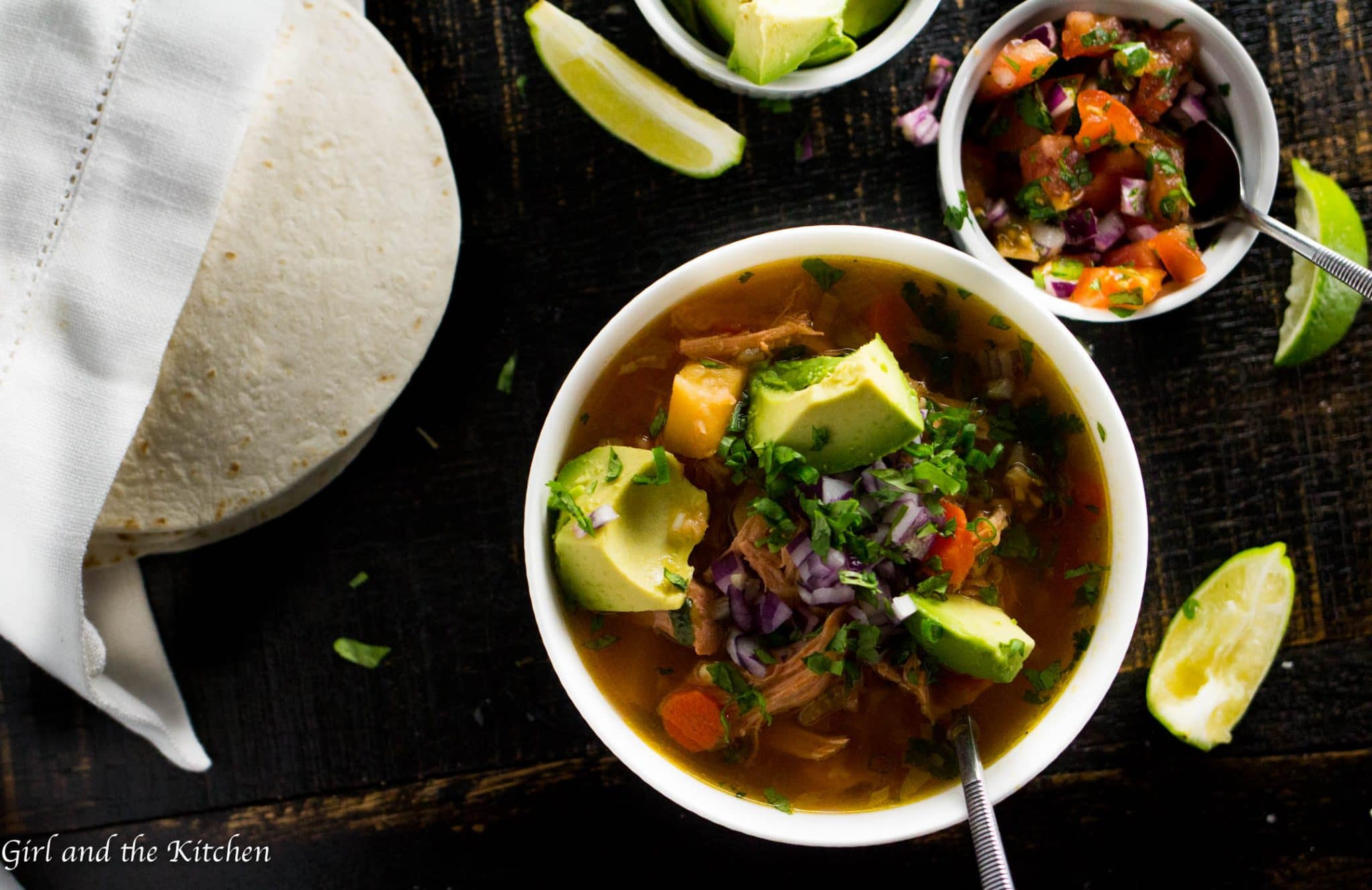 Print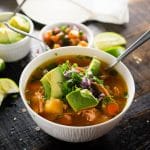 Mexican Chicken Soup (Caldo de Pollo)
---
1.5

Pounds of Chicken Breasts

5

Carrots (Sliced into Half-Moons)

1/2

Large Onion (Diced)

3

Stalks Celery (Sliced)

5

Garlic Cloves (Minced)

1

Jalapeno (Seeded and Finely Diced)

3

Large Red Potatoes (cubed)

1

Bunch of Cilantro (Roughly Chopped)

4

Knorr's Caldo de Pollo Cubes *

1/4 cup

of rice

8 Cups

Chicken Broth

1 Tsp

Better Than Bouillion

1 Tsp

Turmeric*

4 tbsp

chopped cilantro

1 tbsp

olive oil
salt and pepper to taste
For Garnishes:
Avocado
Chopped Cilantro
Pico de gallo
Limes
---
Instructions
Add olive oil to a medium pot and turn the heat to medium.
Add onions, carrots, celery, jalapeños and garlic to the pot. Sweat COVERED in the pot. Ensuring you do not get any color on the vegetables. Allow to sweat for 5-7 minutes.
Add chicken broth to the pot along with the cubed potatoes and the chicken breast. Bring up to a boil and then turn down to a simmer.
Add the rice, Knorr's Caldo de Pollo cubes, turmeric and the better than Bouillon.
Allow to simmer until rice and potatoes are tender.
Turn off the soup, add cilantro and serve.
Serve with avocado, extra cilantro and pico de gallo.
Notes
Note 1: This is the secret to this soup. Every Mexican woman who I had worked with, told me that every good Mexican housewife keeps this in the back of her cupboard as her secret weapon. Be careful it they are high in sodium so make sure to taste the soup to ensure that it's not getting too salty*
Note 2: This is MY secret weapon…it gives the soup a healthy yellow color without much flavor. People will think your soup was cooking for days after they see the gorgeous golden color.*