Healthy Vegan Potato Salad with Mustard Dressing
The perfect addition to any cookout, BBQ or picnic. is this healthy vegan potato salad.  It's low on calories and healthy because unlike the classic potato salad it's completely mayo free!  Ideal for sitting outside for hours at a time while enjoying a warm summer BBQ.
[wprm-recipe-jump]
It took me a really long time to start liking potato salad.  I mean over 25 years.  Eventually, I did develop a flavor for it and naturally I created the ultimate classic potato salad.  Full of mayo, eggs and perfectly cooked potatoes.  I'm not going to lie, it's pretty incredible.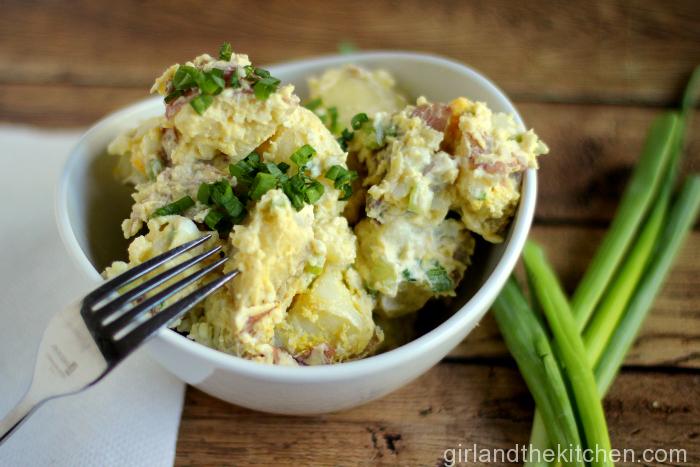 It does look pretty fantastic doesn't it?  All creamy and tossed with golden eggs and a creamy dressing.  It is s mind blowingly good.  BUT…there is one big but…it's not very safe for those warm summer cookouts that we typically bring our potato salads.  Mayo+eggs is a tad unstable and it must be held over ice or allowed to sit outside for a short period of time to not risk the uninvited bacteria.  And while I feel I can handle this just fine at my house, I always panic a bit when consuming potato salad at other people's house, always in fear of how long it sat out.  Not to mention, since I stopped eating meat about a year ago I like my potato salads to be a bit on the lighter side and mayo free.  So naturally, I now bring my own potato salad.  For no other reason than to be a picky pain 🙂
But frankly, no one has complained yet about me toting my own potato salad for the party despite it being a vegan potato salad or not…because let's be honest…who doesn't love a good potato salad?  Especially one you do not have to make yourself.  (Again I may be exception to this rule, partially because I am a control freak and I am not a fan of people bringing anything to my BBQ other than alcohol and fruit.  I know I have issues.)
Anyhow… I created this potato salad last summer when I was all giddy about creating new healthy recipes for my plant based lifestyle.  I went on a cooking stint for weeks creating delicious meals for me to eat at home and take to work and I had a blast.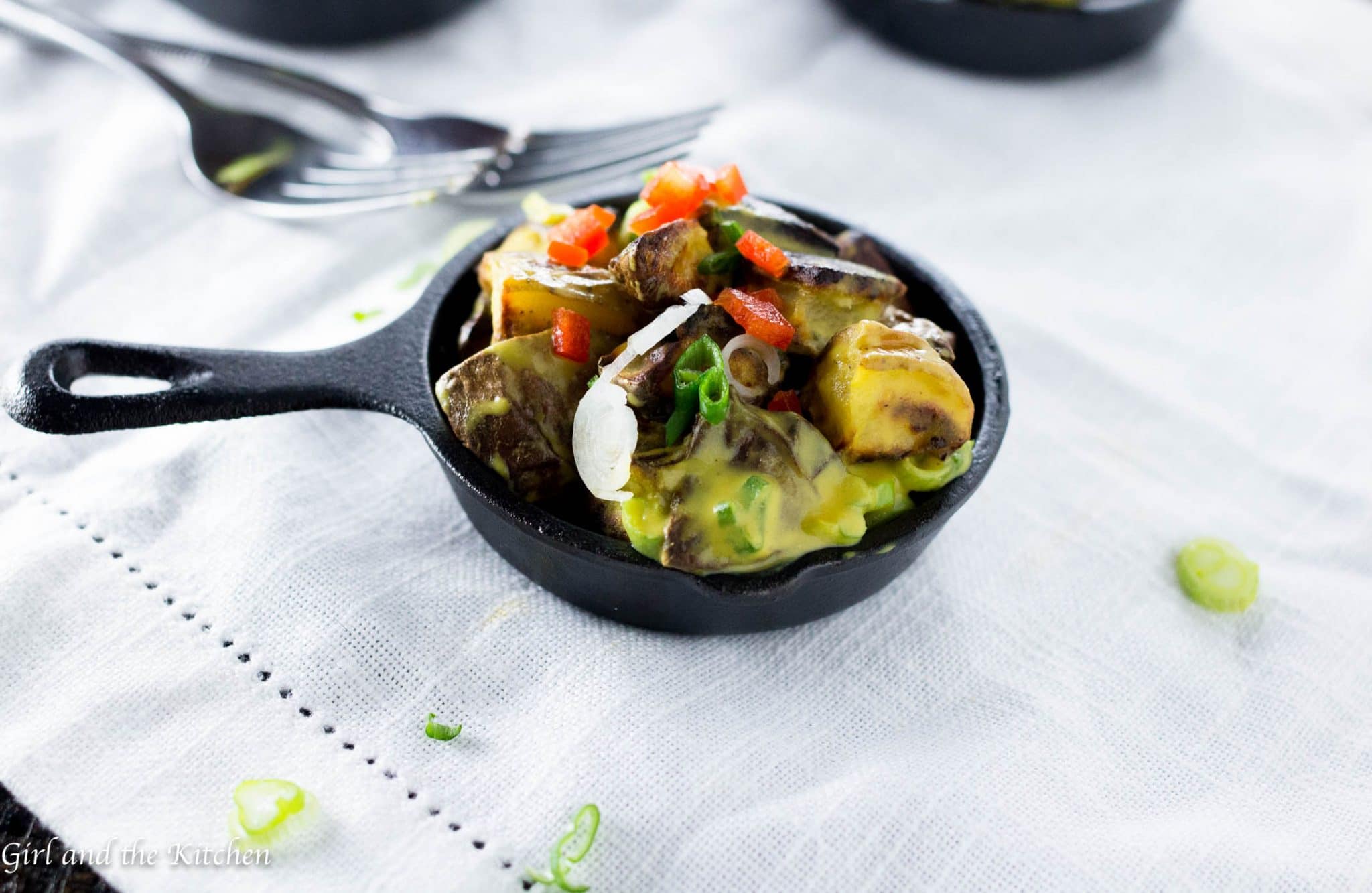 One very busy morning I grabbed my husband's lunch instead of my own and was extremely disappointed when I had discovered that instead of having saucy coconut lentils for lunch, I had his saffron and yogurt marinated chicken breast, which of course is delicious but not precisely what I was choosing to eat in my new meat free lifestyle.
So much to my distaste, I had to go to the building deli cafe and scrounge around for some vegan fare.  I looked through the salad bar and nothing looked particularly appetizing. At all.  So I scooped up some beans, pico de gallo and went over to ask for a side of rice in hopes of making a sort of burrito bowl.
"Sorry, Mila we do not have rice today.  Do you want some potato salad?"  Asked Vivi the cafe manager.  They all knew me by name because I frequently ran down during the day to grab last minute snacks for my bosses to nosh on during their meetings so they did not get hangry.  My co-workers appreciated this 🙂
"No thanks Vivi, I am not eating any meat or dairy so no potato salad for me."
"There isn't any meat or dairy in there, we made it for lent and we kept the recipe because everyone liked it."  Vivi replied to a defeated me.
So I took the potato salad and the rest of my fare and went upstairs not at all looking forward to the meal at hand.
However, when I took a bite of the potato salad I was blown away.  It was full of flavor!  And the potatoes were deliciously roasted and tangy from the mustardy dressing!  I inhaled them almost instantly and was very disappointed that I did not get a larger serving.  Naturally I vowed to recreate this as soon as I got home.  But first I stalked Vivi for the recipe.
"I don't know the recipe Mila…it's just potatoes, yellow mustard and green peppers.  There is nothing special about it but everyone loves it."  Vivi explained.
Yellow mustard?  What? Was this the 1950's?  Was this some crazy rendition of a 1950's cult classic?  Who used yellow mustard anymore.  No, I will use dijon.
But it was't the same.  It just did not have that same, delicious savory and zesty flavor.  I hung my head in shame as I failed at my attempt at improving the recipe.  I noticed a few pieces of roasted potatoes that were just hanging out and tossed them with some yellow mustard, dijon and some diced veggies.  And it was HEAVEN.  Just like at the office.  It was so darn good that I added a ton of yellow mustard to the failed batch…and consumed that as well.  Carb heaven.
Of course I added my own touches and jazzed it up with some scallions and dijon mustard, but for the most part I left it as it was, because it was just that good.  I brought it to a friend's BBQ and they instantly started laughing at the fact that the "vegan" brought her own food!  They never do get tired of reminding me that I stopped eating meat…"eat your meat, I'll eat my potatoes and we will make ourselves happy." Winner winner.
They bit their tongues (quite literally actually for one unfortunate guy) after they placed this yumminess in their mouths.  And continued nibbling on it, late into the night.
Print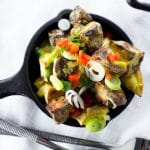 Healthy Vegan Potato Salad with Mustard Dressing
---
Author:

Total Time:

40 minutes

Yield:

4

servings

1

x
Description
The perfect addition to any cookout, BBQ or picnic. is this healthy vegan potato salad. It's low on calories and healthy because unlike the classic potato salad it's completely mayo free! Ideal for sitting outside for hours at a time while enjoying a warm summer BBQ.
---
2

pounds of small potatoes (I used Yukon gold but red potatoes work great too)

1/2 cup

of yellow mustard

1/4 cup

of dijon mustard

3

scallions finely sliced

1/2

of a red pepper (finely diced)

2 tbsp

olive oil

2 tbsp

garlic powder
salt and pepper to taste
---
Instructions
Preheat oven to 450-degrees.
Cut up the potatoes in quarters or eights depending on how large the potato is. You want the pieces to be bite size.
Place on a sheet pan. Drizzle with olive oil, salt, pepper and the garlic powder. Toss to coat evenly.
Place into the oven and toss every 10 minutes or so to achieve even color on all sides. Cook until tender and cooked through, about 30 minutes.
While the potatoes cook, make the dressing. Combine the yellow mustard and dijon mustard and set aside.
Let the potatoes cool for about 10 minutes so they are cool enough to handle.
Place in a bowl and toss with the dressing.
Add scallions and red peppers and toss to make sure everything is distributed evenly.
Allow, to chill in the refrigerator for at least 2 hours but preferably over night.
Prep Time:

10 minutes

Cook Time:

30 minutes

Category:

Vegan

Cuisine:

American