How to Roast Chicken Drumsticks with Garlic and Herbs
One of the first things I ever learned to cook was how to cook chicken drumsticks. These chicken drumsticks are tender, juicy and gorgeously brown! The marinade that is used in this recipe is super versatile and can be used on practically anything else!
Chicken breast may be all the hype but I have always been a drumstick girl myself. In fact, I can probably eat 3-4 drumsticks myself, sometimes more. I have been roasting and grilling drumsticks since I was 12. My mom originally taught me how to roast chicken drumsticks when I was 12. She marinaded them in copious amounts of lemon, mayo, garlic, salt and black pepper. The result was plump, tender and golden brown drumsticks.
My mom also taught me how to grill chicken drumsticks. I still use her method to this very day. Marinade then slather in BBQ sauce. Done and Done.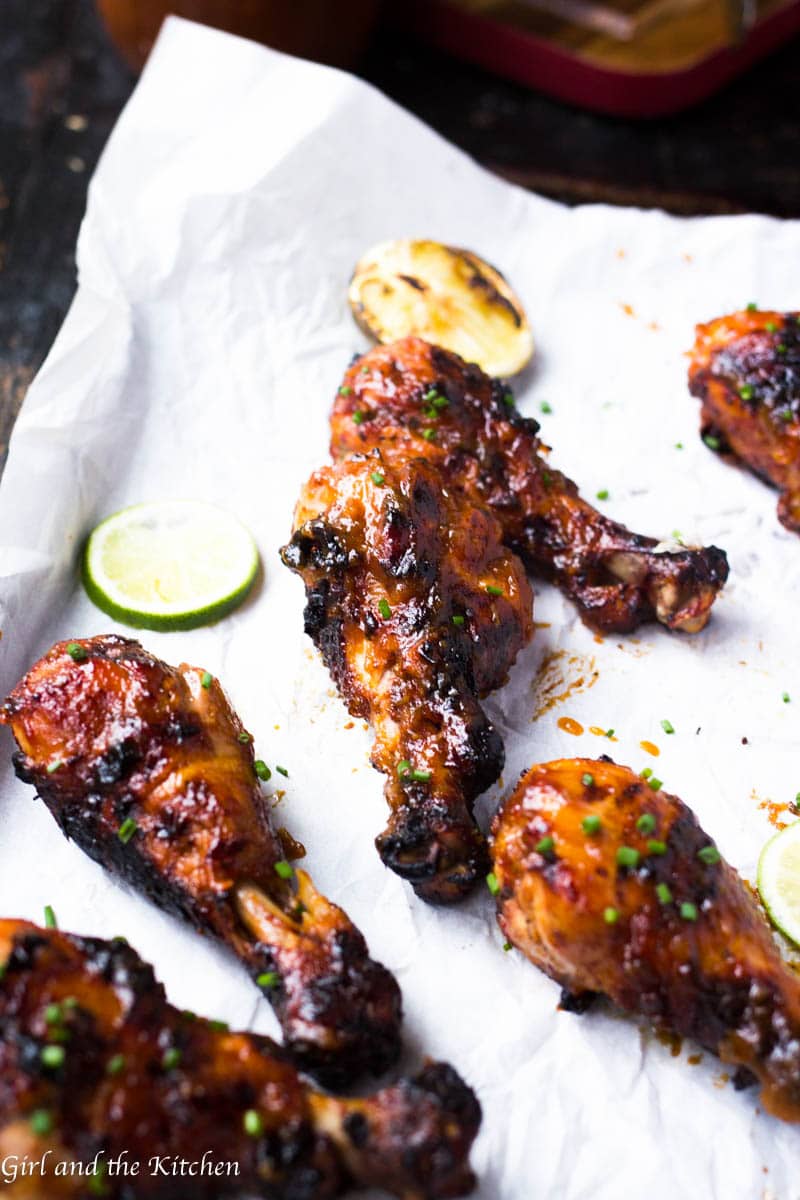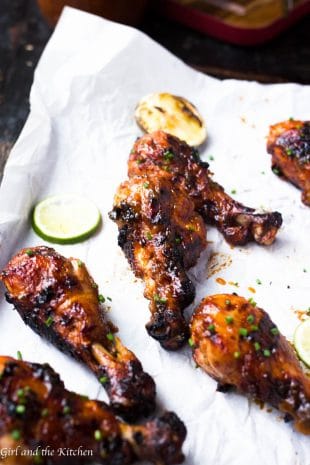 Why Do We Marinade
When my mom taught me how to roast chicken drumsticks she said, "Marinade Mila, it's always in the marinade." I use the term "taught" here very loosely because my mom just let me watch her and occasionally gave me tidbits from her self taught wisdom. But no matter what she placed in the oven or on the grill, unless it was a plain burger or hot dog (which did not happen often since I was raised in a Russian household and this was not a dinner for us) it was marinaded.
Tenderizing: Marinading does tenderize meat. Especially when you use acidity. That being said, it is not always a good thing to let it get too tender. With delicate pieces of meat like boneless chicken pieces, the acidity will break down the proteins and actually lead to an undesirable texture. You will want to leave chicken in a highly acidic marinade no longer than over night. With fish and seafood you have even less time! Remember ceviche? That is actually cooked by marinading it in a highly acidic mixture, typically made of mostly citrus. So with fish or seafood if you want to marinade, limit it to minimal acid and not more than 2 hours.
Flavor: For me the most important part of marinading is flavor! I find that the best types of flavor components are garlic, shallots, onions, fresh or dry herbs, citrus juice and zest and vinegars. You want strong flavors that are going to infuse your chicken.
Versatility: With marinading the combinations are endless! Any oils, acids and flavorings can be used. Use your favorite herbs or spices to change up the flavor every time!
Health Benefits: According to the Journal of Science marinades can help reduce the carcinogenic compounds from high heat grilling and broiling essentially providing a protective for the food while it cooks. Even a 30 minute marinade of oil, herbs a tad of acid can help reduce carcinogens by 88%!
Flavor Components
For this recipe, I went back to what my mom did when she taught me how to roast chicken drumsticks. Mom always did the Russian choice…good ole' mayo.
Mayonnaise:

My mom always used mayo with a slew of other ingredients when she taught me how to roast drumsticks. She always told me she did it because it kept the meat juicy, tender and gloriously brown. After doing my own research and finding an article from Food52 .com my mom's theory was confirmed, mayonnaise does indeed keep food super tender, flavorful and slows down the burning process so food gets gloriously brown. Plus the crust it gives the food is so darn delicious.

Citrus

: I, the self proclaimed queen of citrus and zest, must use it on and in everything. So it is no surprise that as we learn how to roast chicken drumsticks in this post, I include lemon juice and zest! It gives an insane amount of flavor and it really tenderizes the drumsticks nicely.

Allium

: Is a family of vegetables that we commonly know as garlic, chives, onions, shallots, scallions and a few others. Any of these can be used in a marinade and they will add so much flavor to anything! In this particular recipe, I used garlic, chives and shallots but feel free to use anything you have on hand!

Salt

: This is to me the most important flavor component! Salt brings out the flavor of anything and to me food just does not seem like it is finished without a sprinkling of salt on the top as well.

Herbs and Spices

: You can go as fancy or simple as you want with herbs. I decided to use parsley and chives. But I have made these with any and all herbs and it's always delicious! I also added in some red pepper flakes because I love the kick it gives. However I keep this minimal since my kids love drumsticks and they do not want any kind of heat on them.
Make it a Complete Meal
The best part about making these chicken drumsticks is not only the versatility in flavors but also in side dishes. You can make this a one pan meal by throwing the chicken over some potatoes or other root veggies. My favorite combo is to throw it over some onions and potatoes with garlic. All the flavor seeps onto the veggies from the chicken and you have the most delicious and succulent veggies!
You can serve it with a side of rice, mashed cauliflower , a quick tomato and cucumber salad or… just on its own which how my kids prefer to eat it 🙂
I also love slathering it in my chimichurri sauce. It adds such a nice garlicky kick!
Tools to Make This Recipe Easier
Have you tried a marinade that you love? What's your go to?
Print
How to Roast Chicken Drumsticks with Garlic and Herbs
---
Prep Time:

30 minutes

Cook Time:

30 minutes

Total Time:

1 hour
Description
One of the first things I ever learned to cook was how to cook chicken drumsticks. These chicken drumsticks are tender, juicy and gorgeously brown! The marinade that is used in this recipe is super versatile and can be used on practically anything else!
---
2

lbs chicken drumstics or thighs

½ cup

homemade or storebought mayo

1

lemon (zested and juiced)

6

garlic cloves (minced)

4 tbsp

flat leaf parsley (chopped)

2

shallots (finely chopped)
kosher salt and black pepper
---
Instructions
Preheat oven to 400°F.
Combine all the ingredients except the chicken in a bowl and whisk until well combined.
Place the chicken into a ziplock bag or a bowl and pour in the marinade. Toss everything well to combine.
Allow to marinate for at least 30 minutes or up to overnight.
Place some parchemnt paper or a silicone mat on a sheet pan.
Lay out the chicken and roast for 20-30 minutes or until juices run clear.
Category:

Main Course

Cuisine:

American, Russian