5 Minute Chimichurri Sauce…Super Easy
My 5 minute chimichurri sauce has a secret ingredient that sets it apart from the rest!  It comes together in just a few minutes with a couple of pulses in the food processor.  This sauce packs loads of garlicky flavor and is a perfect sauce, marinade and dip for just about anything!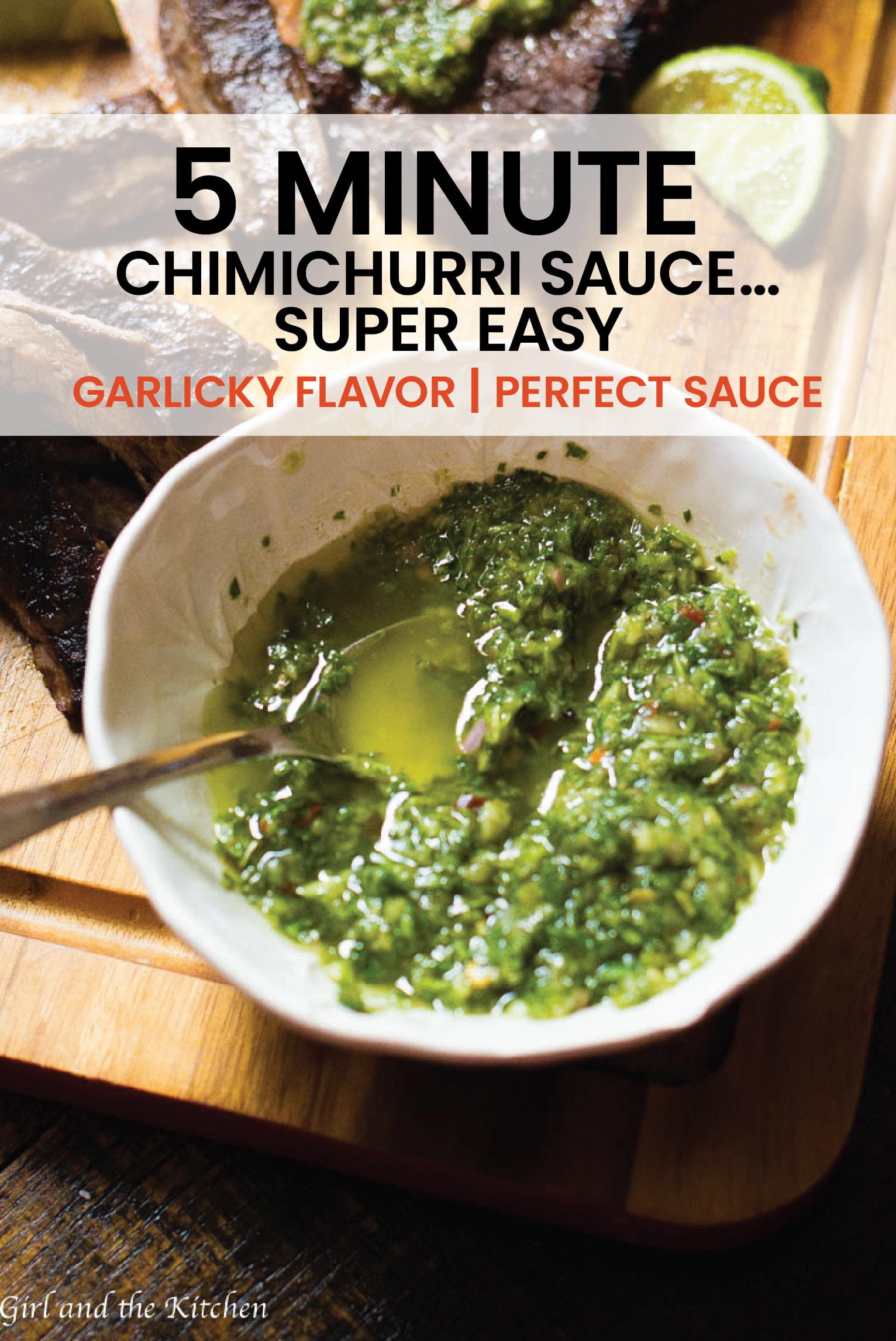 Our circle of friends boasts some pretty impressive male cooks.  There's my cousin Kenny who has so generously given me his recipe for his Teriyaki BBQ Chicken.  And then there is our friend Alex who has provided me with one of my most popular one pot meals on this blog, his Cajun Red Wine Chicken and Potatoes.
Alex and Kenny cook with the flow.  When I ask them how they made a recipe they both usually shrug their shoulders and tell me they threw a little bit of this a few dashes of that and greatness was born.  Not the best tactic if you are actually trying to get a recipe from them for recipe testing purposes…but hey I make it work.
A few weeks ago, we all gathered to a last minute BBQ at our friend's house.  Instead of 3 couples there ended up being 6 and instead of the beautiful sunny day we had been promised we had a torrential on and off downpour.   We all brought appetizers, dessert and side dishes for the party.  In a fashion that was highly unlike me, I brought store bought salads and dips because I had to work that day.  As we all sat down to eat dinner Alex unveiled what he had brought.  Chimichurri sauce.
He joked that he just picked it up from the local grocery store.  But as soon as I tasted it I knew that was a lie.  I slathered it all over roasted potatoes and inhaled them practically instantaneously.
"Alex, this is flipping incredible!!!! Did you chop this by hand?"  I asked him, licking the remains of the green goodness from my lips.
"Pfffft Mila, do I look like I'm the kind of person that would chop them by hand?  That's what food processors are for. "
He then listed off the ingredients that he put into the sauce.  I was intrigued by one of them.  Traditionally dry oregano is added into chimichurri sauces, but Alex added dry rosemary.  I told him I liked his style and I vowed to him that he would be making another appearance on my blog with this green goodness.
I made this sauce over and over again for the next few weeks.  Playing around with the ratios of the ingredients.  I made small adjustments to Alex's recipe but for the most part kept it true to his original.  I added it to almost everything and it only enhanced the flavor.  This sauce never failed to impress me or anyone else who's mouth it touched.
I was told by a fellow Argentinian that the truest way to make a chimichurri sauce is to chop all the ingredients…by hand.  So in my attempt to respect Argentinan culture I did so.  And I am here to report that there was absolutely no difference in flavor.  The only difference is that unlike my sauce…this was most definitely NOT a 5 Minute Chimichurri.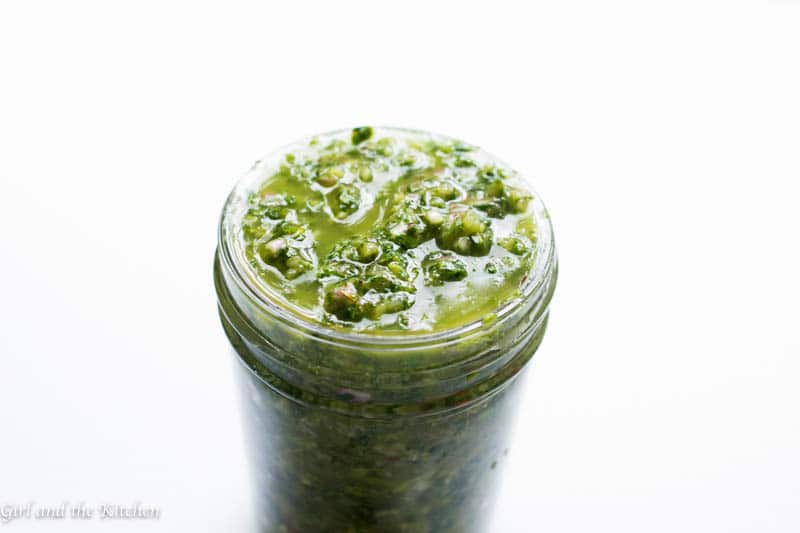 But this most definitely IS a 5 Minute Chimichurri Sauce is because it truly does come together in 5 minutes!  There is a trick to providing the perfect texture to this sauce though.  You see the reason they say to chop up all the ingredients by hand is because a classic chimichurri has texture.  It is not one homogenous sauce.  In order to achieve this texture, the vegetables are processed in the food processor without any liquids. This allows the ingredients to be chopped but not pureed, which would occur with the presence of a liquid.  Once the ingredients are all chopped in the food processor, I added the lime juice and just 2 tbsp of olive oil.  I pulsed it twice and that was it.  I then poured the contents of the food processor into a bowl, added the vinegar, adjusted the seasoning.  And it was perfection.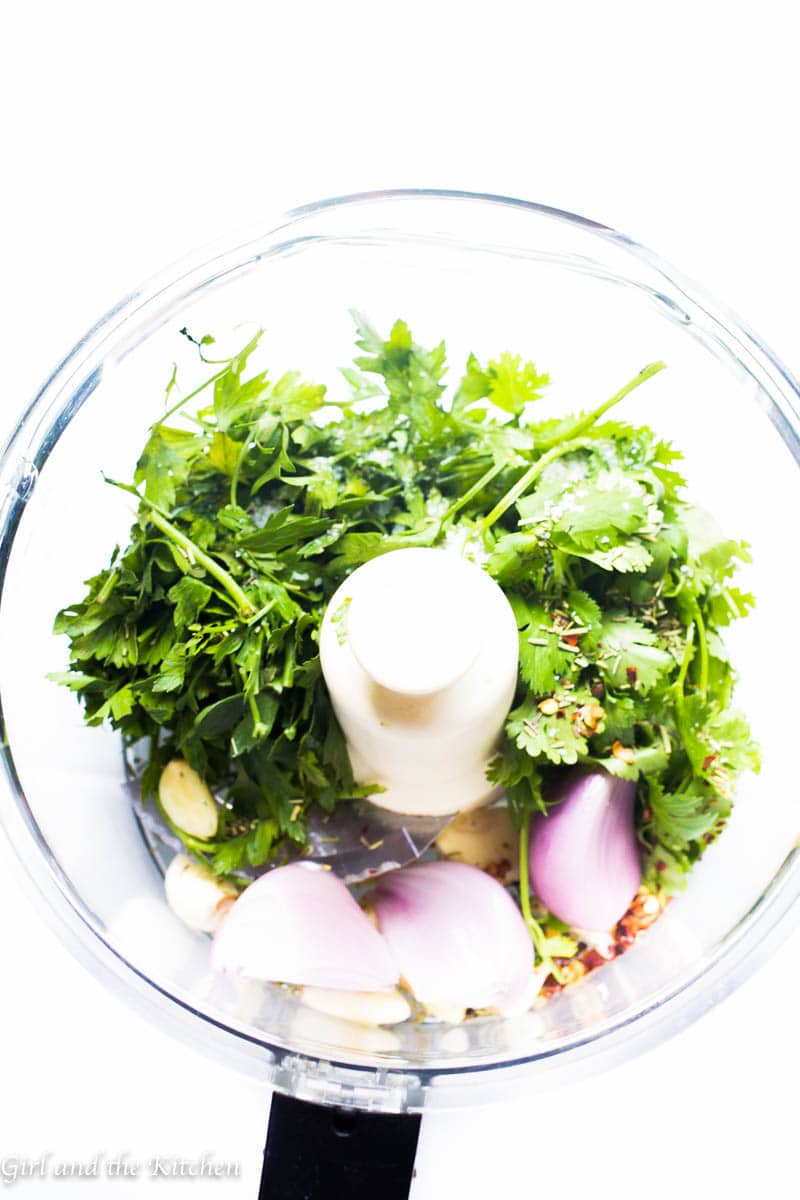 I have since added this sauce to:
Steaks (which is traditional)
Chicken marinades
Shrimp marinades
Fish tacos
Greek yogurt and Sour Cream (which created the most incredible dip ever.)
It has always proven to be beyond delicious. But if course the best part is that my 5 Minute Chimichurri sauce is the best use of cilantro and parsley that is almost about to go bad…which sadly happens to me more times than I like to admit.
So thank you Alex for adding yet another recipe to my repertoire and blog…Kenny you got some catching up to do.
Print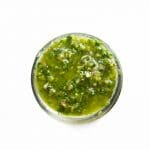 5 Minute Chimichurri Sauce…Super Easy
---
Author:

Prep Time:

5 minutes

Total Time:

5 minutes

Yield:

8

people

1

x
Description
My 5 minute chimichurri sauce has a secret ingredient that sets it apart from the rest! It comes together in just a few minutes with a couple of pulses in the food processor. This sauce packs loads of garlicky flavor and is a perfect sauce, marinade and dip for just about anything!
---
Scale
Ingredients
1

bunch of cilantro (washed and ends removed)

1

bunch of parsley (washed and ends removed)

7

cloves of garlic (less if you want it a bit less garlicky)

1

large shallot (halved)

2

scallions (cleaned)

2 tbsp

red chili flakes (more if you like it spicy)

2 tbsp

dry rosemary
juice and zest of one lemon

3 tbsp

apple cider vinegar

1/4 cup

extra virgin olive oil
salt and pepper to taste
---
Instructions
Add cilantro, parsley, garlic, shallots, chili flakes, scallions, rosemary, lemon zest and juice, salt and pepper into a food processor or blender.
Pulse until the mix is just under finely minced. This is about 15 pulses.
Stop the processor, add the olive oil. Pulse 2 times.
Remove from the food processor and place into a bowl. Add in the vinegar and mix in with a spoon. Taste and season.
Notes
1. This is easier to process with a food processor than a blender. However, I have tried it with a blender and it was not as easy to get it all out of the blender.
2. The nutritional information is to be used for information purposes only.
Category:

Sauce and Marinades

Cuisine:

Argentinian
Pin For Later