Bourbon Peach Chipotle BBQ Chicken
Slightly tangy, perfectly sweet and a tad spicy is what makes my Bourbon Peach Chipotle BBQ Chicken irresistible!  Learn the restaurant secrets to cooking perfectly tender BBQ chicken and how to make a gloriously sweet and spicy sauce to mop on top of it.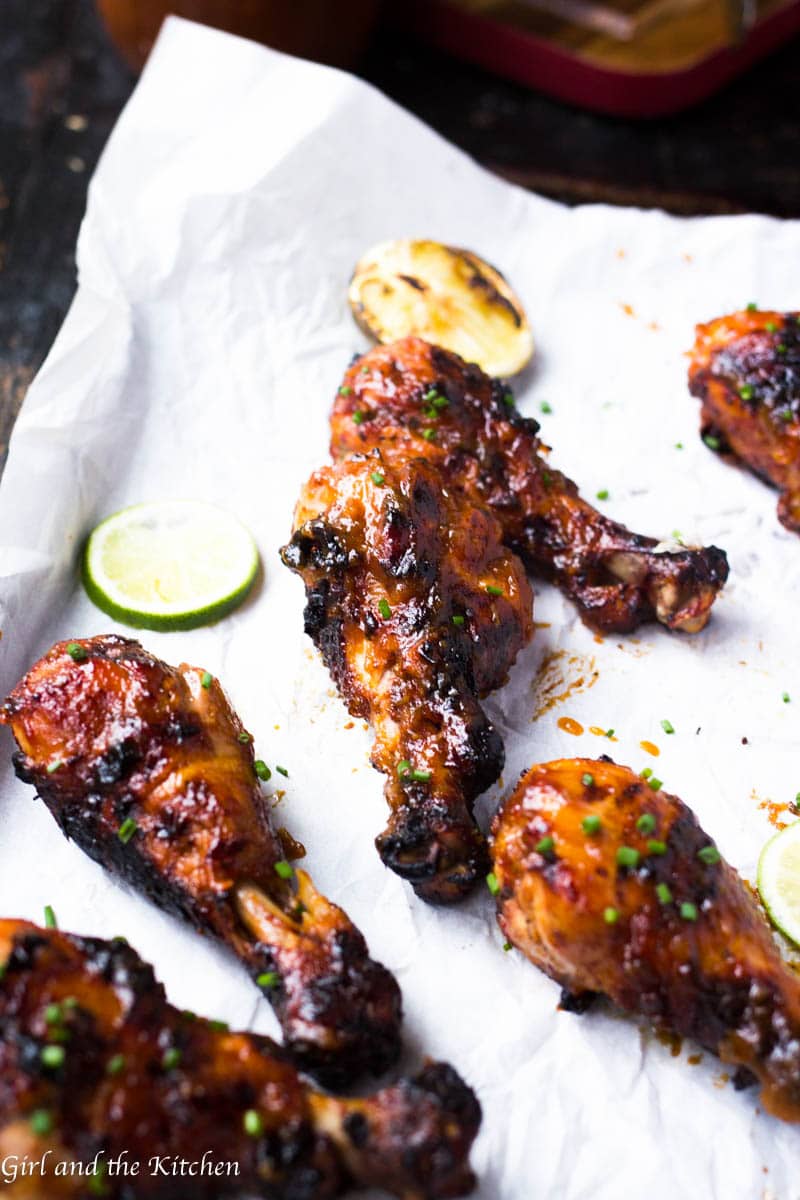 Growing up, one of my favorite things in the world to eat was BBQ chicken.  As I have mentioned several times before, my mama was an incredible cook.  And the one common attribute between the two of us was that she would find a dish she really loved, either from a restaurant or from a friend's home, and then try and duplicate the flavors at home.
Back in the old country…we did not have a grill per say like we have here.  We had a vertical indoor rotisserie oven of sorts that we made kebobs on.  When we emigrated to the states and my mom saw my aunt and uncle using their grill, the wheels in my mom's head starting spinning with all the ideas.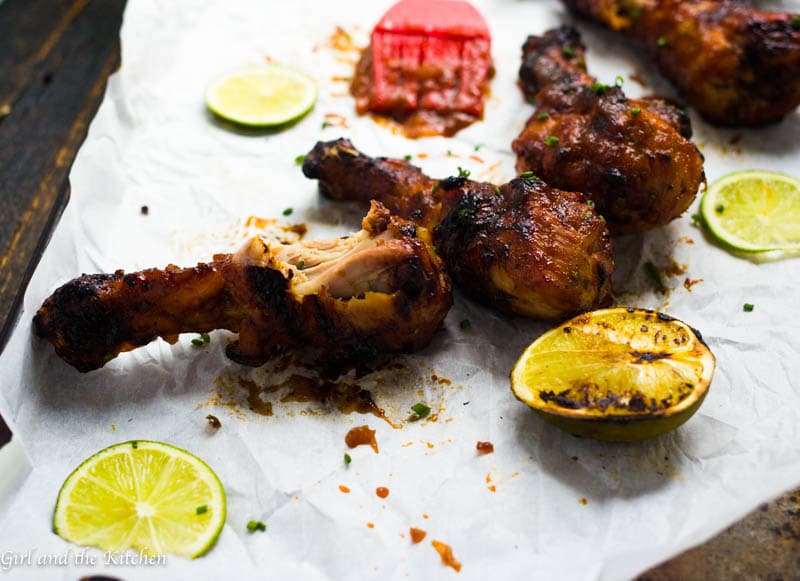 I sat outside with my mom, babushka,  and my aunt on their patio, while my dad, uncle and brother were inside watching a game or something masculine of that sort.  My mom watched my aunt use the grill with ease and a sense of professionalism.  My mom found it interesting that my aunt, the woman, was the one grilling and not my uncle.  My aunt loaded up the grill with marinaded kebobs and chicken drumsticks.  Mom asked my aunt a gazillion questions about the chicken as she watched her methodically slather each chicken drumstick with a sticky, red BBQ sauce.
The idea of BBQ sauce to cook with was a rather foreign idea to my mom because in the old country we would cook kebobs of all sorts on the grill but never doused them in sauce.  Sure they were marinaded and we may have served them with a sauce after we cooked them, but never during.  This was revolutionary to my mom and she insisted on making her own version of BBQ chicken the very next weekend at our house.
My mom did exactly what I do when I get excited about a recipe.  Except she did not have the internet, instead she had clients.  And she asked every single client for all of their BBQ chicken secrets.  She found that one of the common advices was to marinade the chicken.  And one of her most trustworthy sources said to marinade it in good ole' Italian dressing.  The combination of the zesty Italian dressing and the sweet and tangy BBQ sauce was a surefire hit.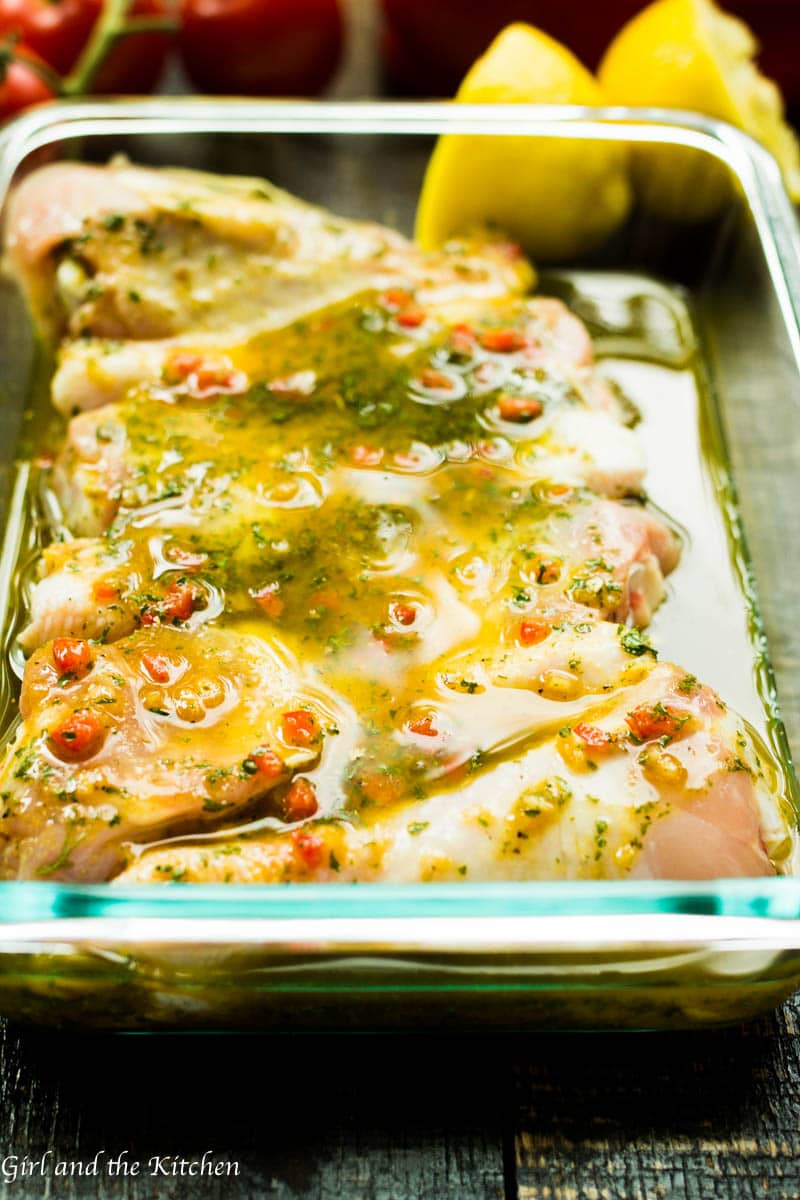 My mom's discovery proved to be a successful one.  All of our BBQ's had this mandatory chicken as part of its menu.  And I followed suit.  At each and every BBQ that I ever had, I always served this exact same BBQ chicken.  Most recently I created my own 5 Minute Homemade Dressing and Marinade  that was a game changer!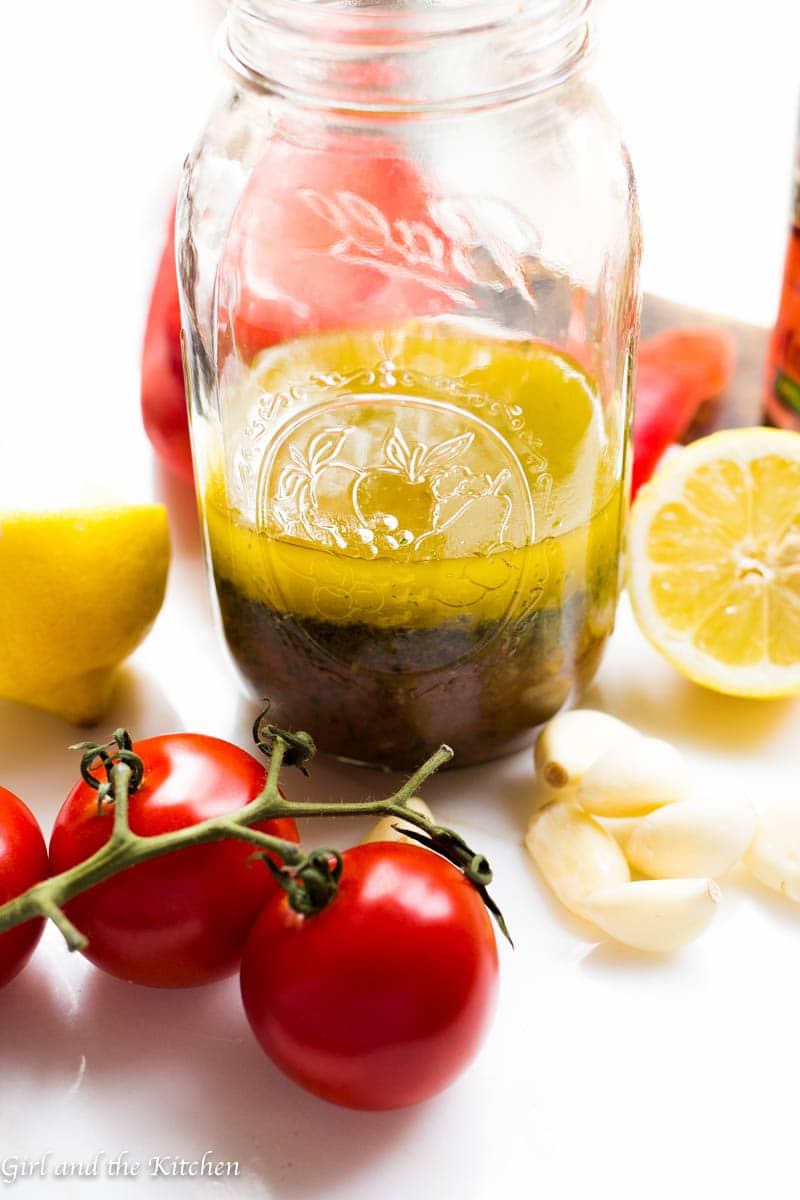 And if I was using a homemade Italian Dressing I could not possibly use a store-bought BBQ sauce could I?  That would be extremely unlike me.  So on a Sunday afternoon, when the house was quiet with a napping munchkin and hubby, I whipped up a BBQ sauce that I blew myself away with.  It was inspired by the gorgeous summer peaches I had laying around that I knew I had to include.  I combined it with a sick Serrano pepper, a dash of Chipotle and sweet Bourbon.  The results?  A sticky and sweet tomato based sauce that had a quiet kick.
My Chipotle BBQ Chicken was juuuuuuuuust right…the perfect hint of smoky chipotle, sweet peaches and spicy Serrano were exactly what the doctor ordered for this perfectly sticky and sweet BBQ chicken.
Chef tip: If you do not want too much heat, take your chili of choice in this case the Serrano  and just poke it with a knife so you create a slit in it.  This way all the flavor and some of the heat will infuse your sauce.  Just make sure you remove it before pureeing the sauce, otherwise the sauce will have some heat to it.
The recipe will make plenty of sauce but it lasts for quite some time in the fridge.  I have had mine in the fridge for 3 weeks and it's still fabulous.  I have used it on steak, BBQ beans, ribs and even salmon.  It's just THAT good…
Enjoy!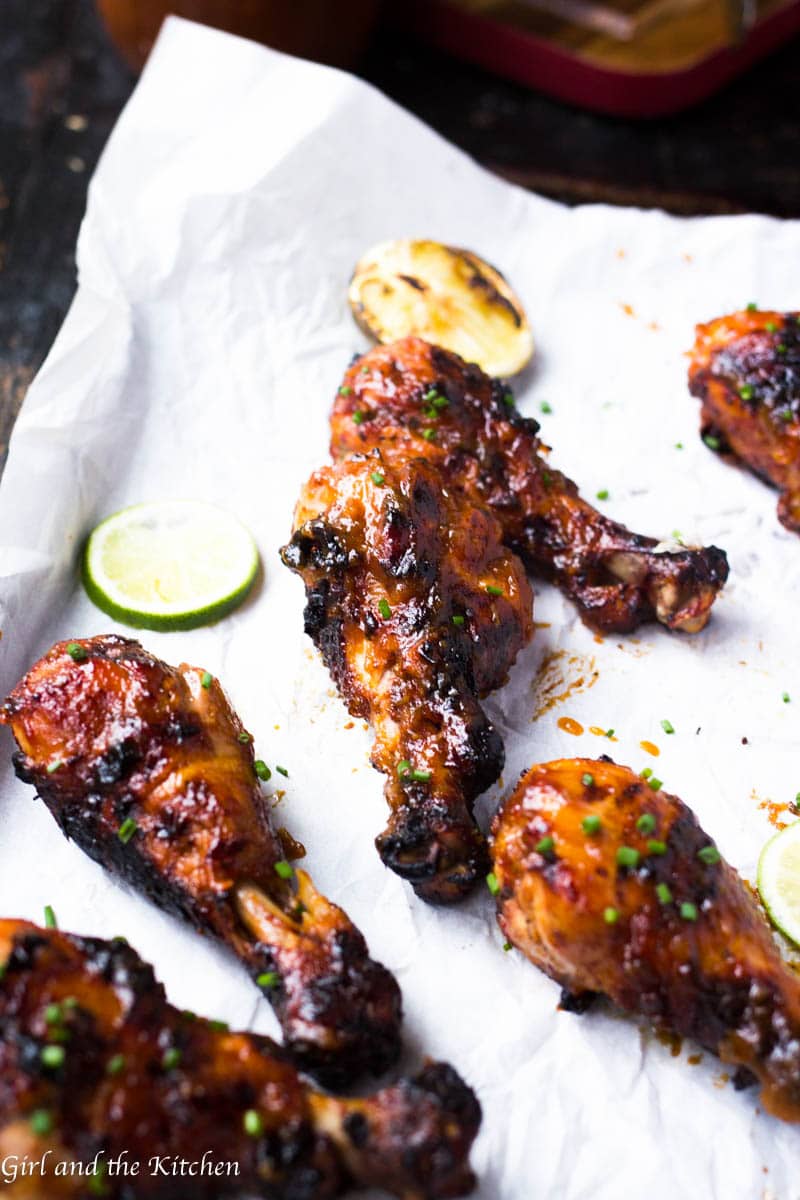 Tools used in this post:
Print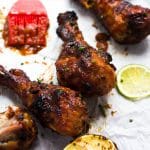 Spicy Bourbon Peach BBQ Chicken
---
Author:

Total Time:

90 minutes

Yield:

16

people

1

x
Description
The ultimate BBQ chicken is slightly tangy and sticky sweet. Learn the restaurant secrets to cooking perfectly tender BBQ chicken and how to make a gloriously sweet and spicy sauce to mop on top of it.
---
Barbecue Sauce
2 tablespoons

vegetable oil

2

peaches roughly chopped

1

large Spanish onion (roughly chopped)

1

serrano pepper (whole and poked through with a knife)

3/4 cup

ketchup

2 teaspoons

garlic powder

2 teaspoons

onion powder

1 tsp

chipotle powder

1 teaspoon

smoked paprika

½ teaspoon

cayenne pepper

½ teaspoon

freshly ground black pepper

1/4 cup

apple cider vinegar
juice of

one

lime

½ cup

fresh orange juice

⅓ cup

brown sugar

⅓ cup

molasses

2 tablespoons

Worcestershire sauce

2 teaspoons

mustard powder

1 cup

bourbon

2 cups

water
Kosher salt
Chicken
4

pounds chicken drumsticks

1

recipe of my 5 minute homemade Italian Dressing
---
Instructions
BBQ Sauce
Heat oil in a medium saucepan over medium heat.
Add onions and peaches. Toss and cook for 5-7 minutes until tender.
Add ketchup and cook about 2 minutes. Add garlic powder, onion powder, paprika, cayenne, and black pepper. Cook, stirring, until fragrant, about 1 minute.
Into a blender, add the onion and peach mixture along with the bourbon. You can also do this right in the pot with a stick blender if you have one. Puree until nice and smooth and no lumps remain.
Into the pot, add vinegar, orange juice, brown sugar, molasses, Worcestershire sauce, mustard powder and 2 cups water.
With a knife, prick the serrano peppers and throw them into the sauce. This method allows all the flavor to come out but still keeps the heat on the milder side.
Cook, stirring occasionally and scraping up any browned bits, until reduced by half, this will take about 30 minutes. Make sure to taste the sauce as the flavors melt together to ensure there is a nice even flavor of sweet, spicy and tangy developing. Adjust with molasses, vinegar or lime as necessary.
Remove the serrano pepper and place into a sealed container or a mason jar and store in the fridge for up to 1 month.
Chicken
Place the chicken into a ziplock bag and pour the 5 Minute Homemade Italian Dressing over it. Shake, shake, shake and allow to marinade for at least an hour and up to 24 hours.
Prepare grill for medium heat.
Spray the grill liberally with a non-stick spray
Grill, turning frequently until nicely brown, 15–20 minutes.*
If you have a powerful grill, I like to turn down the grill to a nice low heat and start basting my chicken. If your grill has multiple rack levels, place the chicken on the highest level away from the flames. This makes the chicken less likely to be the cause of flare ups which can burn the skin.
If you had opened the grill go ahead and close it at this point. As long as the heat is low enough, the flare-ups should not be a problem,
Start basting the chicken with the BBQ sauce with a pastry brush. Feel free to use as much or as little as you like. I like mine super saucy so I use quite a bit.
Continue grilling, turning and basting with barbecue sauce often, until chicken is cooked through and an instant-read thermometer inserted into the thickest part of thigh registers 165°, 8–10 minutes longer.
Notes
If you want the heat to deepen from the serrano, feel free to leave the pepper in the jar. It will deepen the flavor and the heat.
Depending on the strength of your grill, you can grill the chicken with the grill open. This discourages too many flare-ups and allows for less charring and more of an even cooking process.
The important thing about a really delicious BBQ Chicken is to add the BBQ sauce in layers. Allow the sauce to settle into the chicken and caramelize a bit in between basting it with more layers.
You can use the exact same technique by making this chicken in the oven if it happens to be a colder day. Just heat up the oven to 375 degrees and follow the same steps.
Nutritional information should only be used as a guide.
Prep Time:

60 minutes

Cook Time:

30 minutes

Category:

Chicken

Cuisine:

BBQ