These fun and easy spicy Asian meatballs are juicy, tangy and spicy!  They are baked right in the oven and dipped in an uber flavorful glaze to create the perfect party appetizer or a quick dinner!!!  
In my household, we tend to eat pretty healthy.  I eat a mostly plant based diet.  (Psst here is my story of how I got there.) But the munchkin is quite the carnivore as is the hubs, bless their hearts.  They consume plenty of of chicken, lots of turkey and lean beef.  I make meatballs A LOT!  I'm a fan, hubs is a fan and the little munchkin loves them too.
I typically make these  except I use turkey or lean beef instead of the veal.  That being said, it sometimes gets a bit boring and so I have to get creative with my ground turkey creations.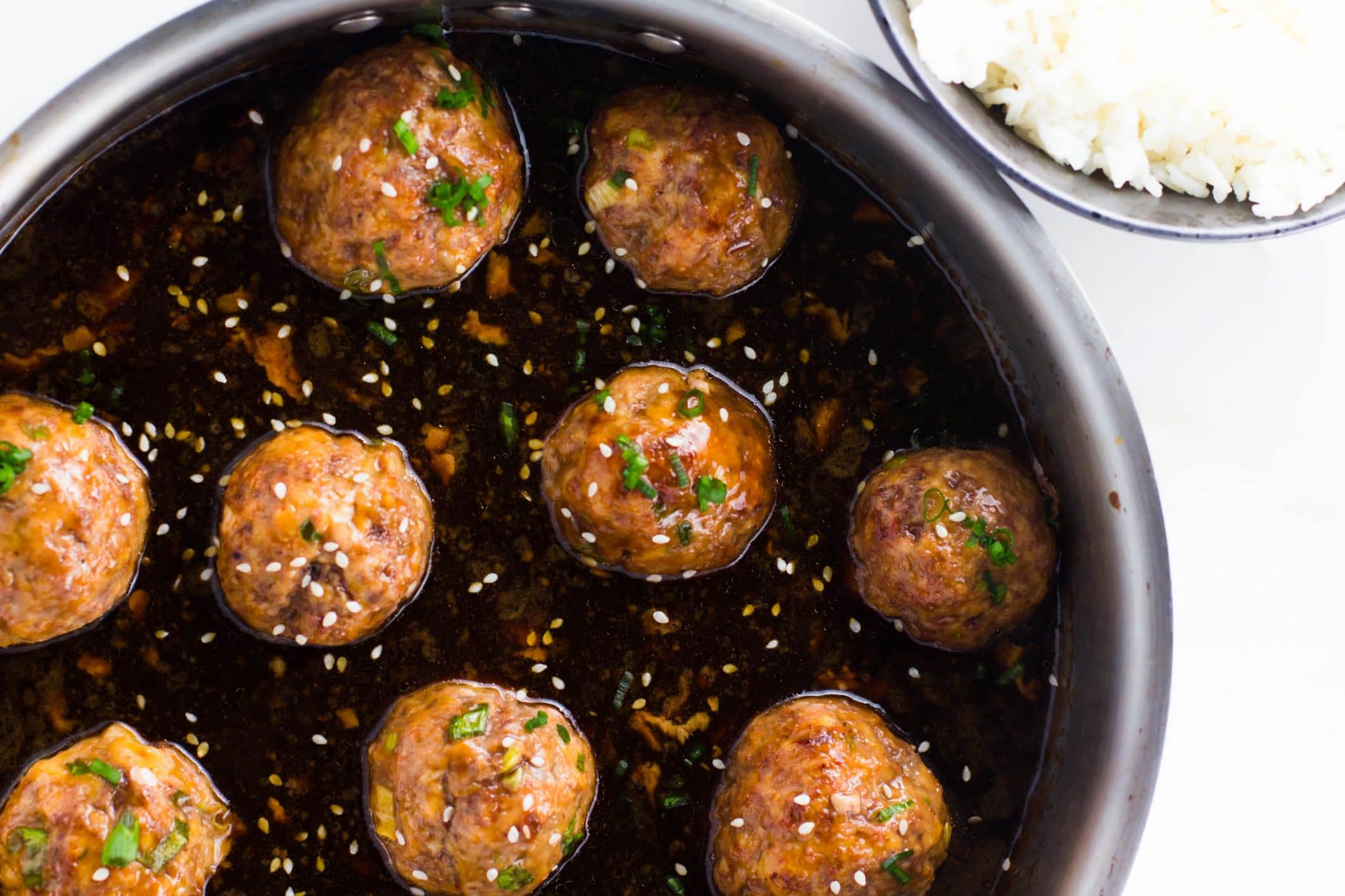 I created this meatballs on a whim one weeknight when I stared blankly at my lump 2 pounds of ground turkey and had no idea what to do with it.  After looking through the pantry, only a few things jumped out at me and none were very inspiring.  Except the soy sauce.  For some reason, the soy sauce struck a nerve and before I knew it, I was racing around the kitchen looking for ginger, lemon grass, scallions and other ingredients of the Asian variety.
I combined some fairly common Asian ingredients together and baked the little bite size suckers.  While they baked, I whisked up a quick glaze to dunk them in pumping hot out of the oven.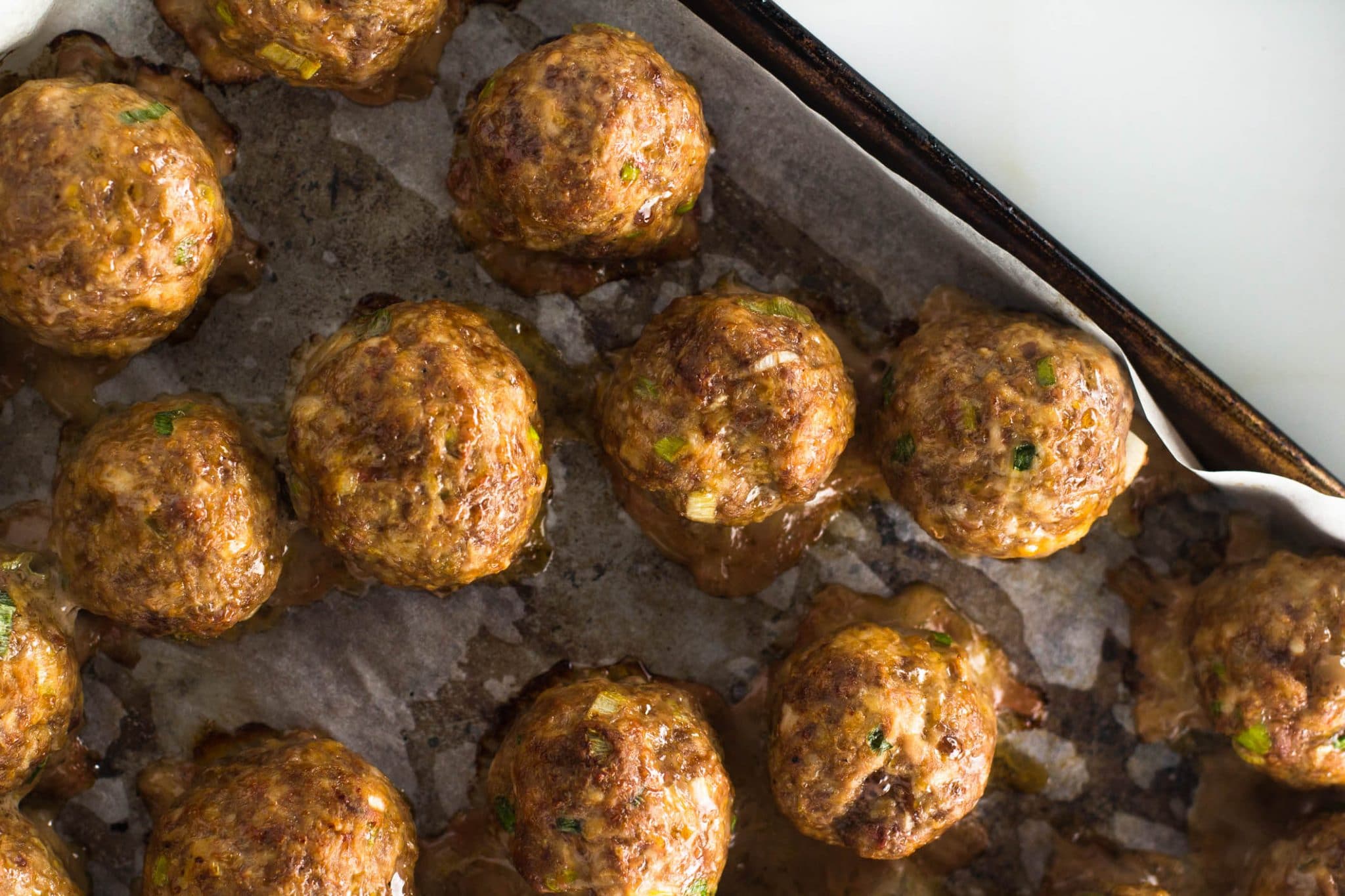 And into my mouth they went.  Cuz you know while I am mostly plant based…I still taste everything I make.  What kind of a chef would I be otherwise?
I have to say, I was darn impressed with myself.  They were zesty, tangy, sweet and salty.  Absolutely perfect with fried rice and veggies or propped up on a cute little cocktail fork as an appetizer at a swanky party.  These saucy, sexy, little meatballs will definitely be part of my recipe artillery.
I gave this recipe out to friends and family galore during the holidays last year.  Every single one of them came back and said they should have doubled the recipe…some said to even triple it.  So do yourself a favor if you are bringing these to a party make extra…they warm up beautifully the next day…the day after…they never get old!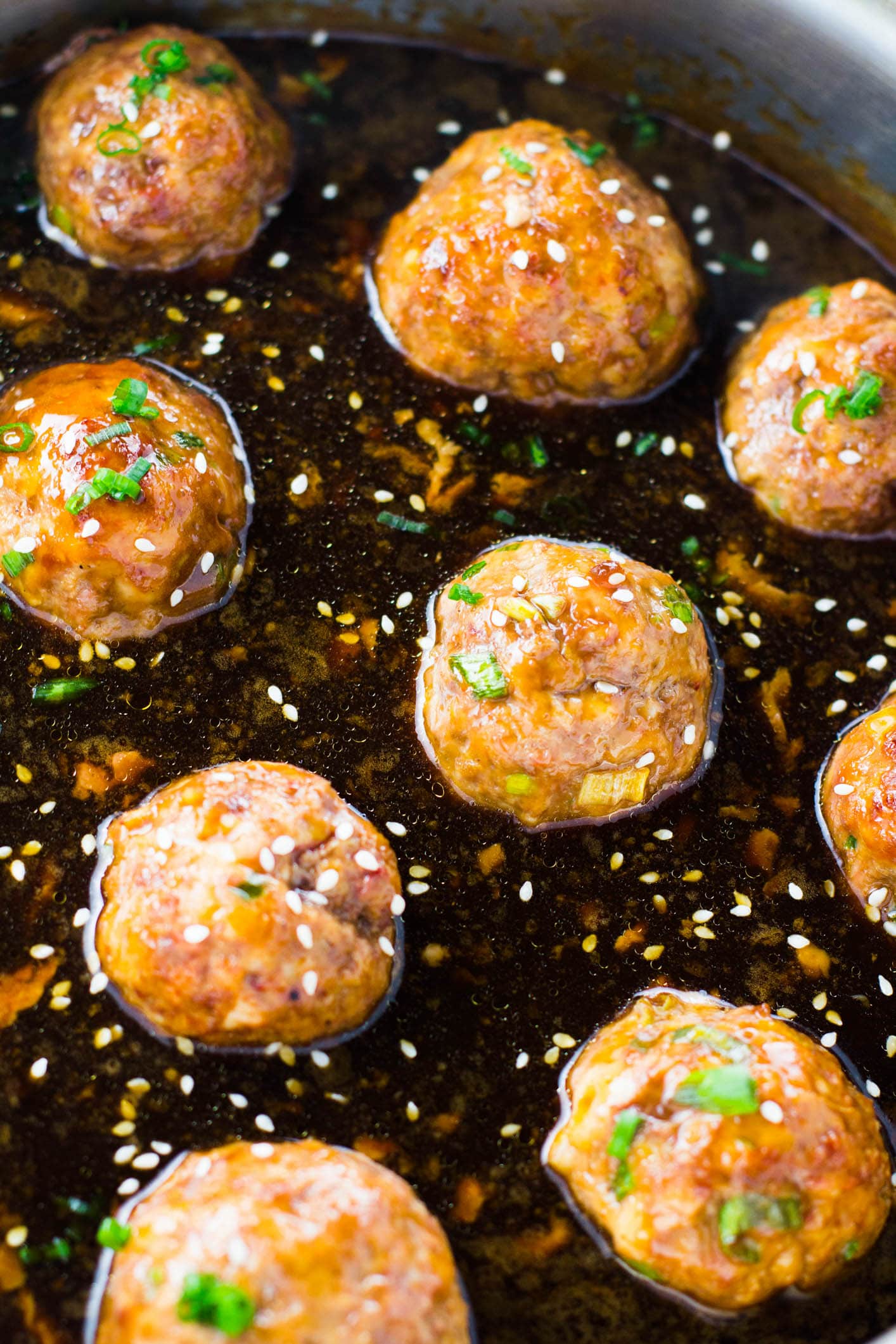 Print
The Perfect Bite – Zesty Asian Meatballs
---
Description
These fun and easy spicy Asian meatballs are juicy, tangy and spicy! They are baked right in the oven and dipped in a flavorful glaze creating a perfect bite
---
Meatballs

2

pounds ground turkey (you can also use, ground beef or chicken)

4

scallions sliced thinly

3 tsp

sesame oil

1 cup

Panko breadcrumbs

1 tbsp

ground ginger

5

garlic cloves minced on the microplaner

2

eggs

1/4 cup

soy sauce
few squirts of siracha (depending how spicy you like it)
Glaze

1/2 cup

hoisen sauce

1/4 cup

honey

1/2 cup

rice wine vinegar

2

garlic cloves (minced)

1 tsp

sesame oil

2 tsp

minced ginger
juice of

half a

lemon
---
Instructions
First pre-heat your oven to 400-degrees.
Combine turkey, ginger, garlic, siracha, soy sauce, sesame oil, Panko, scallions and eggs. Mix with hands until thoroughly combined. Make sure not to overwork the mass. Taste a tiny little piece for seasoning and spice by frying up a small piece of the mixture on a frying an quickly.
Shape into little meatballs. About 1 inch in diameter. You want them just a tad bigger than bite size. I got about 30 out of them. You will want them a bit smaller if these are for an appetizer.
Place them in the oven and bake for 10-12 minutes or until no longer pink on the inside.
While they are baking combine hoisen sauce, sesame oil, garlic, ginger, rice wine vinegar, honey and lemon juice in a small sauce pan over medium heat until the sauce is combined and heated through.
Remove the meatballs from the oven and let rest for 5 minutes.
Dunk into the glaze so they are completely coated and serve. Make sure to taste the sauce as you go as well. Some people like it a bit more tart, others a bit more sweet.
Garnish with sesame seeds and sliced scallions.
Category:

Appetizer

Cuisine:

Asian