Balsamic Glazed Oven Roasted Brussels Sprouts
Perfectly crispy and tender oven roasted Brussels sprouts that go from freezer to oven to done in under 20 minutes are the perfect party side dish or better yet entree for us plant based folk! Adorned with sweet dates and crispy, caramelized pecans this dish is hard to compete with for the top veggie of the year!
I always thought it was brussel Sprouts…but turns out it's BrusselS sprouts. Color me stupid. Regardless of how you say it or spell it… these are fantastic.
Brussels sprouts are a new love for me. I was never a fan of them, primarily because the first time I tasted them they were simply boiled and overcooked…not a good way to be introduced to an already intimidating item. A few years ago, Brussels sprouts started emerging at every new hot spot in the city. They were served in salads, thinly sliced and tossed with light vinaigrettes and bright tomatoes. Or they were roasted and spiked with chilies, bacon, shallots, garlic or all of the above (that sounds like a promising dish right?!)
My foodie city friends not only convinced me to order them but also to try them…such a travesty. For once, I was glad they did. Brussels sprouts were fantastic!!! Chewy, crispy and deliciously savory all in one bite. They were the perfect accompaniment to any meal or a lip smacking meal all on their own. And the health benefits of these cruciferous veggies were undeniable. The first dish I created with these was a super simple roasted sprouts with chili and garlic. (Please be kind…this was one of the first pictures I did on the blog, clearly not my best.)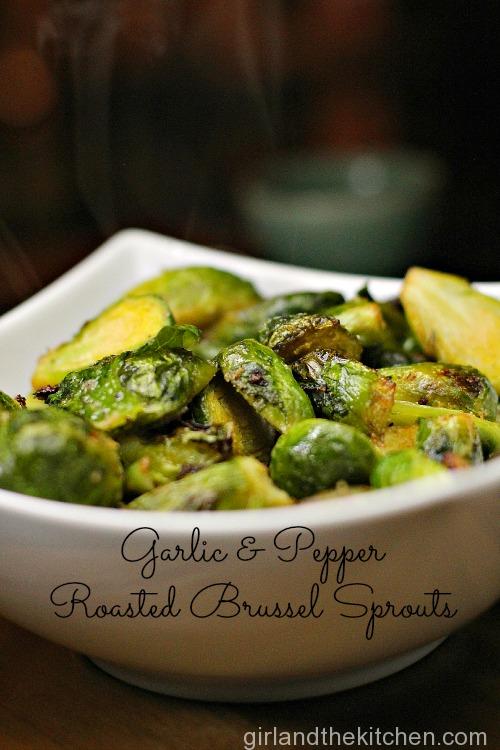 I could not stop myself from eating them. They were ridiculously delicious and crispy. I could pop them in my mouth like pop-corn and def not feel guilty, maybe a bit bloated but not guilty.
Brussels sprouts soon became my number one ordered item on any menu in any restaurant we went to. However, it was not until my famous New Orleans trip (humble brag—-> great foodie guide to New Orleans here) that I fell in love with them.
We had dinner at my favorite restaurant in New Orleans, Cafe Amelie.
Cafe Amelie is hidden away on Royal St. It was quaint, romantic and the food was ridiculously delicious. This was easily the best meal we had while in Nola. And without a doubt the best ambiance. It was hidden behind ornate wrought iron gates and upon enter it in the evening, as we did, this was our view.
That house is Amelie Cafe, but as you get closer you realize that in front of it is a beautiful courtyard. Complete with fully mature trees reaching towards the sky with ivy draping them like pearls. Twinkle lights hung from the table umbrellas and loud sparks flew from the roaring fire pit that was conveniently surrounded with benches. The place seemed to glimmer. It made perfect sense to us after the night we had that we would end up in a magical place like this.
It was a glorious evening filled with fantastic food. One of those items in particular were the brussels sprouts. This picture does them no justice.
They were roasted to a crispy perfection, accompanied with sweet and chewy dates, tossed with salty pancetta and lightly dressed in a homemade balsamic glaze. I fell so in love with them, I vowed to make them at home.
And so this is my ode to Cafe Amelie's amazing brussels sprouts. Except with one difference. These boys and girls are vegan. Completely and entirely butter and bacon free and still smoky, crispy, buttery and lovely.
Oh and want to know the best part? They go from freezer to platter in 20 minutes. Yes…these were frozen sprouts. Half the price, all the flavor, none of the dirt. After all my experiences with the sprouts I realized that the worst part is the cleaning and removing of the little stems. Somehow dirt still ends up in them and it's a headache in a half. But these frozen babies are perfection. Cost wise they are way cheaper and I can get organic almost all the time for a great deal less…no coupons necessary.
I found that the bacon not only added a great crunch but it also added a really delicious smoky attribute…I needed that to balance out the sweetness of the glaze.
The answer——> Liquid smoke.
Liquid smoke is fabulous. But literally use a DROP! Otherwise it will be bitter and remind you of taking a dive face first into the fire pit. Third degree burns not included.
Look how crispy these little sprouts are! Aren't they just EVERYTHING?!
Here's a chef hint—> When roasting these, slice them in half first, yes while they are frozen they will slice just fine. By doing this, way more surface area is exposed and you can caramelize all the sides easier which leads to a nice crispy sprout.
I served these up for easy dinners and fancy dinner parties and I always got rave reviews. It comes together so easily you will wonder how you spent your entire life without them!
Print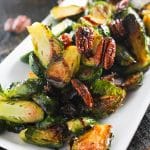 Balsamic Glazed Oven Roasted Brussels Sprouts
---
2

frozen packages of Brussels sprouts (they usually come in

12 oz

bags)

8

dates (sliced up)
balsamic vinegar glaze

½

a cup of candied pecans (Note 1)
olive oil
salt and pepper

1

–

2

drops liquid smoke
---
Instructions
Preheat oven to 400-degrees
Slice up the Brussels sprouts in half, yes straight out of the freezer.
Place the Brussels sprouts onto a sheet pan, feel free to use the foil pans for super easy clean up.
Drizzle with olive oil, salt and pepper. Toss and place in the oven.
Once the Brussels sprouts are nicely browned and soft on the inside, about 20 minutes, remove from the oven.
Add in balsamic glaze, liquid smoke and dates. Toss everything to combine. Roast for another 3-5 minuts.
Remove from oven, sprinkle candied pecans on top. Serve immediately.
Notes
Note 1: Feel free to candy up your own pecans. I personally find it easier to buy the suckers. Because otherwise I have them handy in the pantry and I start munching…and it's just not necessary.
Category:

Side Dish

Cuisine:

Fusion