Seared Cod with Arugula Walnut Pesto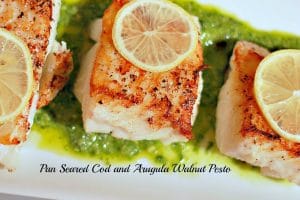 I am not a fan of cod.  There I said it.  I never order it in the restaurant unless it comes as the crispy counterpart of the fantastic duo Fish & Chips.  Anything covered in effervescent beer batter has a spot on my palate.  But regular cod…. well I had a bad experience with it.  Back in culinary school, I got the opportunity to work with an incredible guest chef visiting us from Portugal. He created some gosh darn finger lickin' bites.  But the one bite that ruined it all for me was the Bacalao; essentially a salted and dried out fish that is common in Spanish, Portuguese and even Italian cuisine.  To me the texture was unappetizing and that was enough to turn me off to the cod for quite some time.
However, hubby and I have been on a rather strict (and obnoxious) diet and the salmon was not looking too good this week.  But the cod, according to my Greek fish monger "Eeeez very fresh…heeere smell it."  And I did.  It smelled like the sea (which by the way is what fish is supposed to smell like).  Plus cod is very low calorie but packs a large protein punch.  So I pulled up my big girl panties and bought some of the fresh smelling cod.  I brought it home and pondered.  You see, cod is a little bit finicky.  In my few experiences of making it, I did notice that it dries out rather easily.  I had to think of a way for the fish to retain its flavors and its firm texture.  Plus I really wanted something simple because I have right around 10 minutes to whip up dinner before my daughter decides that cruising around in her Ferrari walker is no longer entertaining.
I love searing fish.  WHEN it is done right, it does look exactly how the restaurants serve it. Gorgeous golden crust, tender, flaky inside – the perfect combination.  So… the only problem was that searing fish-or anything else for that matter- creates a huge mess in the kitchen.  And my stove was freshly cleaned.  So I created a method for searing or frying that keeps my kitchen surfaces protected from those violent oil splatters.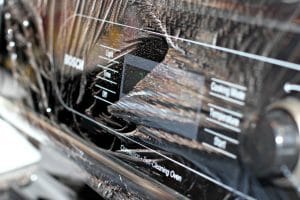 I put plastic wrap on my glass control panel and my microwave and anything else that I want to protect (in fact I wish I could do this to my entire kitchen…floors included. )
Now that the surfaces were covered, a couple of glops of olive oil went into the frying and  I  moved onto the seasoning of the fish.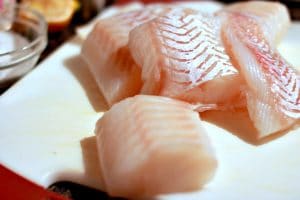 I admit it…it's some beautiful looking fish…
I kept it really simple, salt, pepper, a squirt of lemon and garlic powder.  Make sure the fish is nice and dry before seasoning it.  One of the key's to a good crust is a a dry fish.  When the oil was nice and hot, I carefully laid the fish skin side down into the pain and left it alone to cook over medium high heat.  Do not touch it.  It's tempting, I know, but the only way that glorious crust is going to develop is to let it fry.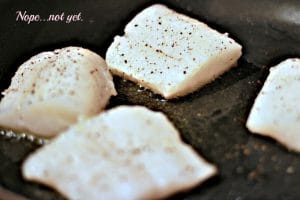 If you attempt to lift the fish off of the pan at this time, it will stick and the fish will tear.  Let. It. Cook.
After 6-7 minutes, gently lift up the corner of the fish and you will find that it has browned beautifully.  If not, just give it a minute or two.  Now that the fish has its perfect crust, it will lift off gently.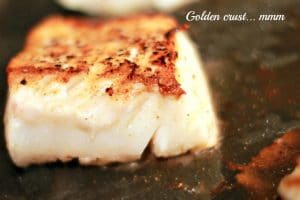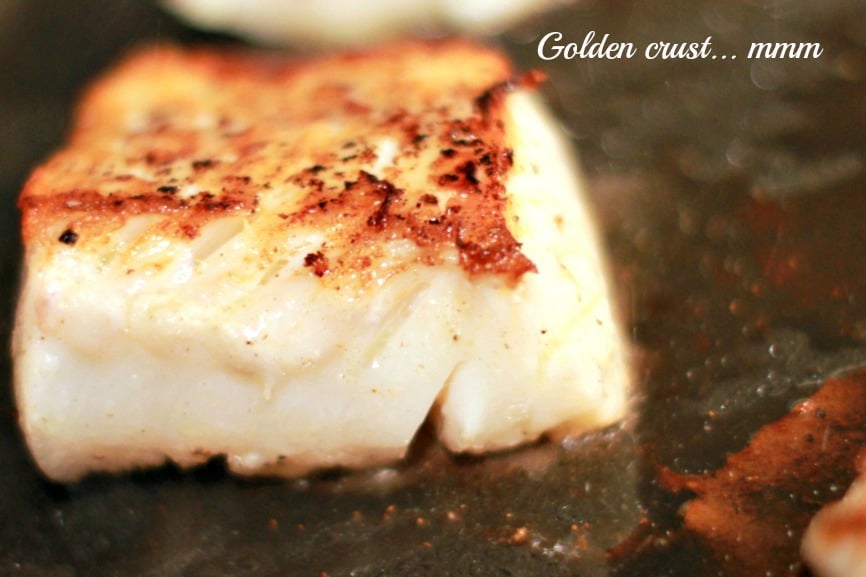 There it is…that's a beautiful thing isn't it?  The second side does not take nearly as long.  Only 3-4 minutes.  I removed the fish from the pan, painted a nice thick layer of my pesto on the plate and sliced off a few lemon slices.  Ladies and gents, I must say, it was great.  It was moist, delicate and delish.  Even my 10 month old licked her little fingers in glee.  That cod…not so bad.
Pan Seared Cod
4 (6 ounces each) boneless, skinless cod fillets
Salt and pepper
3 tablespoons olive oil
1 tablespoon lemon juice
1 tablespoon garlic powder
Lemon slices
1. Season fish on both sides and sear in pan skin side down.
2. Flip fish after 6-7 minutes or golden crust has developed.
3.  Cook for 3-4 more minutes and serve with pesto sauce and lemon slices.
Arugula Pesto Sauce
3/4 cups Fresh Arugula
1/2 cup Grated Parmesan Cheese
1/4 cup Walnuts
2 cloves Garlic, Peeled
Salt And Pepper, to taste
1/3 cup Extra Virgin Olive Oil
Add arugula leaves, 1/2 cup Parmesan, pine nuts, and salt and pepper to a food processor or blender.
Turn machine on, then drizzle in olive oil while it mixes. Continue blending until combined, adding additional olive oil if needed. Set aside.