Creamy White Chicken Enchiladas
These Creamy White Chicken Enchiladas are beyond simple to make but boast an insane amount of flavor!  Slathered in a ridiculously delicious creamy sauce and covered in stretchy cheese, these enchiladas need nothing else except a fork and a knife to dive in with!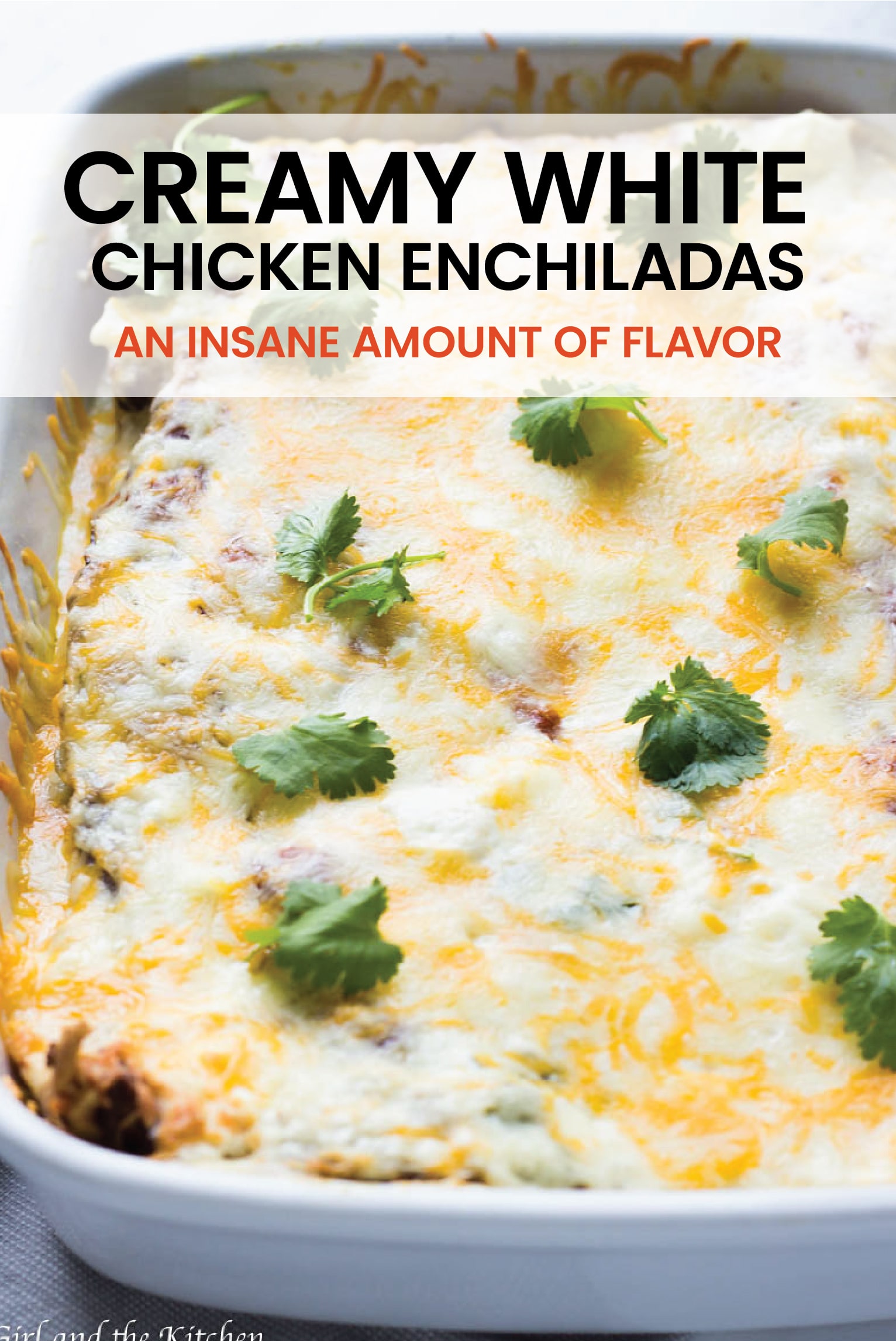 [wprm-recipe-jump]
I was never a fan of enchiladas.  I never really met an enchilada that I liked.  They were either soggy, overly spicy or the worst kind flavorless.  (yuck)
But then the hubby decided to throw a celebratory party in honor of  us finding out that we were having a BOY!!!  
And he let me decide on the theme as a kind gesture while he decided on the guest list…which ended up being 18 people…plus 8 kids.  When he wants a party…he REALLY wants a party.
So I naturally decided that I would create the party in an attempt to experiment with some recipes that I was dying to try out for the blog.
And I sooooooo did.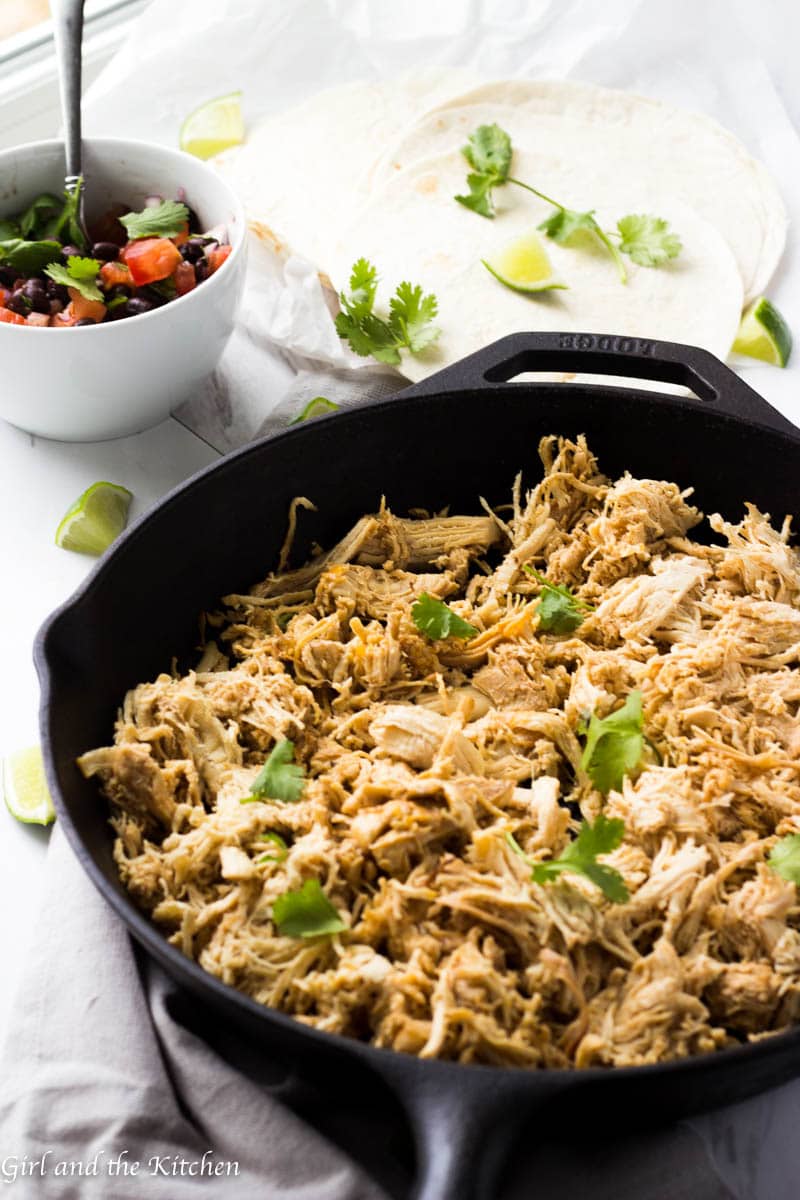 I first started with my Instant Pot Shredded Chicken loaded with bold and bright Mexican flavors.  I made enough of these to feed my guests 3 times over…so I decided to make this delicious shredded chicken into a recipe that was a bit more naughty.
Something creamy
Something super savory
Something ridiculously cheesy
Something perhaps called Creamy White Chicken Enchiladas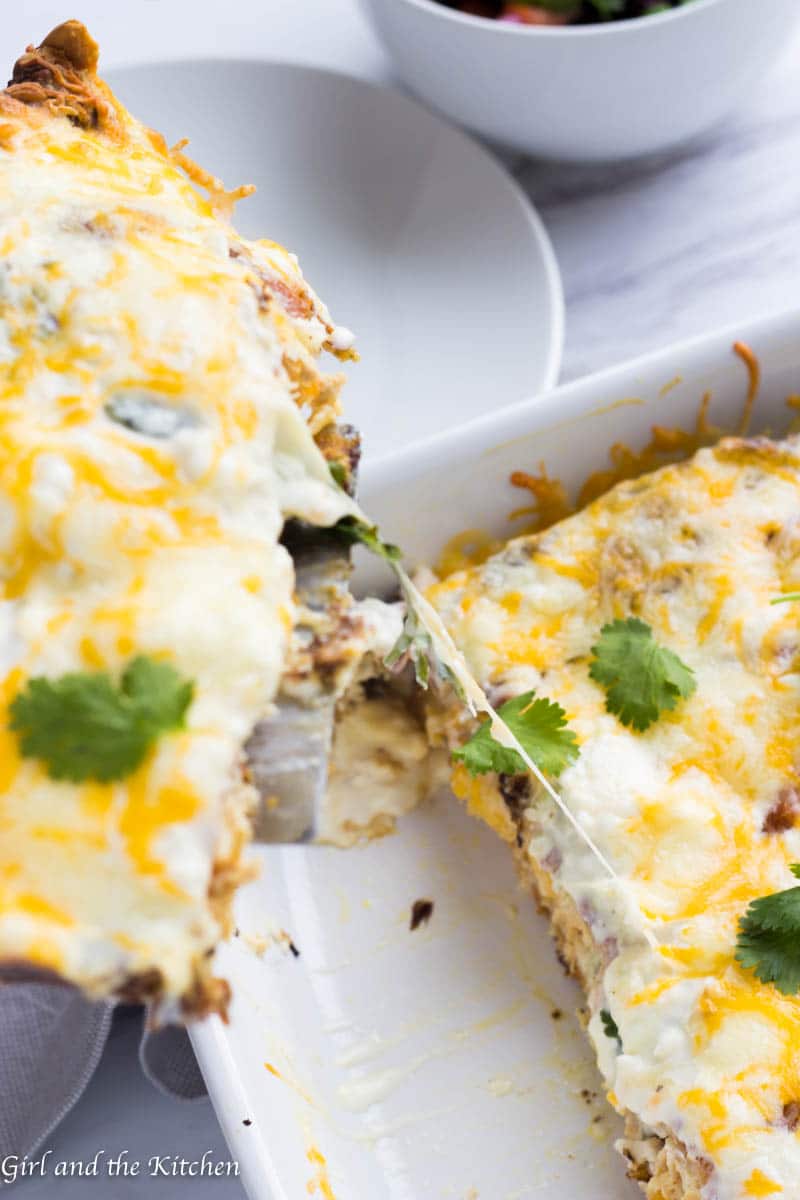 I decide I needed to give enchiladas another try.  But they would be made my way…loaded with flavor, colors and textures.
Naturally I searched far and wide for ideas…but like so many other times it was my good friend the fridge and my laziness that inspired me.
I had planned to make a dulce de leche cheesecake for dessert for the party.  But my friends had informed me post cream cheese purchase that they would be bringing dessert since I was handling dinner and drinks.  So I had a plethora of cream cheese left over that was just begging to be used up…
Enter the best, creamiest, tangiest most delicious sauce for enchiladas EVER!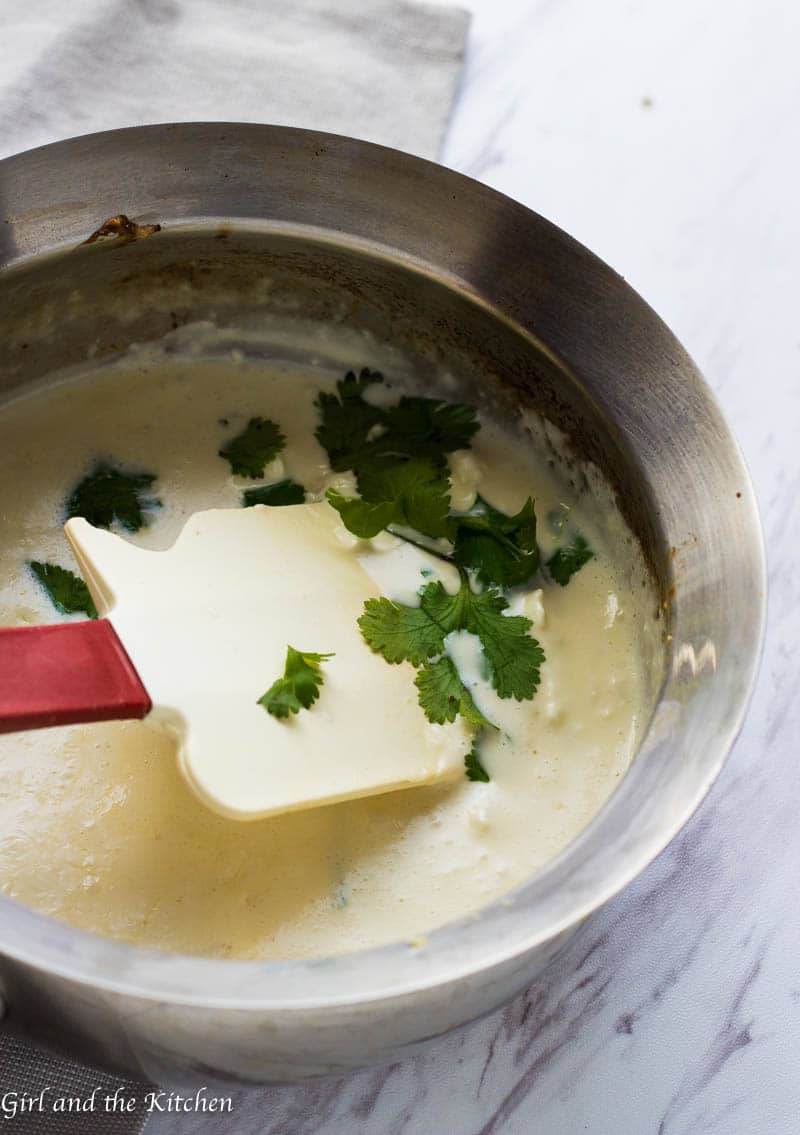 In Mexican cooking, cream sauces are typically made with sour cream or as they refer to it: crema.  But I decided to really amp up the flavor a bit and create my sauce out of my many un-used boxes of cream cheese.
The sauce of course was only the beginning of these creamy white chicken enchiladas.
THE TECHNIQUE
The Tortillas: I prefer to use flour tortillas instead of corn tortillas.  I never liked the texture of the corn tortillas when they bake up and I also feel that they have a strong flavor that really masks everything else in the dish.  Therefore I always use the taco size flour tortillas.  The best part of course is that unlike so many other enchiladas recipes…these are a less caloric.  And yes while there is a delicious creamy sauce all over the enchiladas you are not actually DIPPING the tortillas into the sauce like most enchilada recipes are.
The Filling: I made the filling for these creamy white chicken enchiladas really simple because the star of this dish really was the sauce.  The filling consisted of my Instant Pot Shredded Chicken, some scallions, shredded cheese and of course the sauce.  If you happen to not have any of my  Instant Pot Shredded Chicken on hand, feel free to use some rotisserie chicken or any leftover chicken you may have.  You can also make these completely vegetarian and add in some black beans or corn or even zucchini!  Anything your heart desires will be delicious as long as it is wrapped up in that delicious sauce!
The Sauce: Ahhh guys this sauce…it's impossible to not fall in love with.  It all starts with butter as all good things do.  Followed by the deliciousness of minced shallots and minced.  Cubes of cream cheese are then dropped over a low heat so everything melts evenly.  Once it is all melted I finished it of with some chopped cilantro and salt and pepper.  You can also add some serrano or jalapeño peppers in for some added heat.
The Cheese: After rolling up the tortillas with the filling inside, the extra sauce is then drizzled over the top of the rolled up enchiladas.   I like to do a Mexican cheese blend because it is mild enough to blend in with all the flavors of the enchiladas yet creates the perfect melty perfection on top of the enchiladas.
Once I realized how absurdly delicious this recipe was, I knew that I had to make multiple pans because these babies would go fast at my party.  I made 3 pans and 2 out of the 3 were DEMOLISHED within 30 minutes by adults and children alike.  The third pan I closed up with saran wrap and foil and placed into the fridge for a rainy day.
I hear ya Kenny, I am in agreement with you 100%!
I knew I had a winner when my foodie friend/cousin told me this:
"Typically I am not a fan of enchiladas, but I gotta say these were damn good.  There was no dry spot on them and that sauce was perfect!"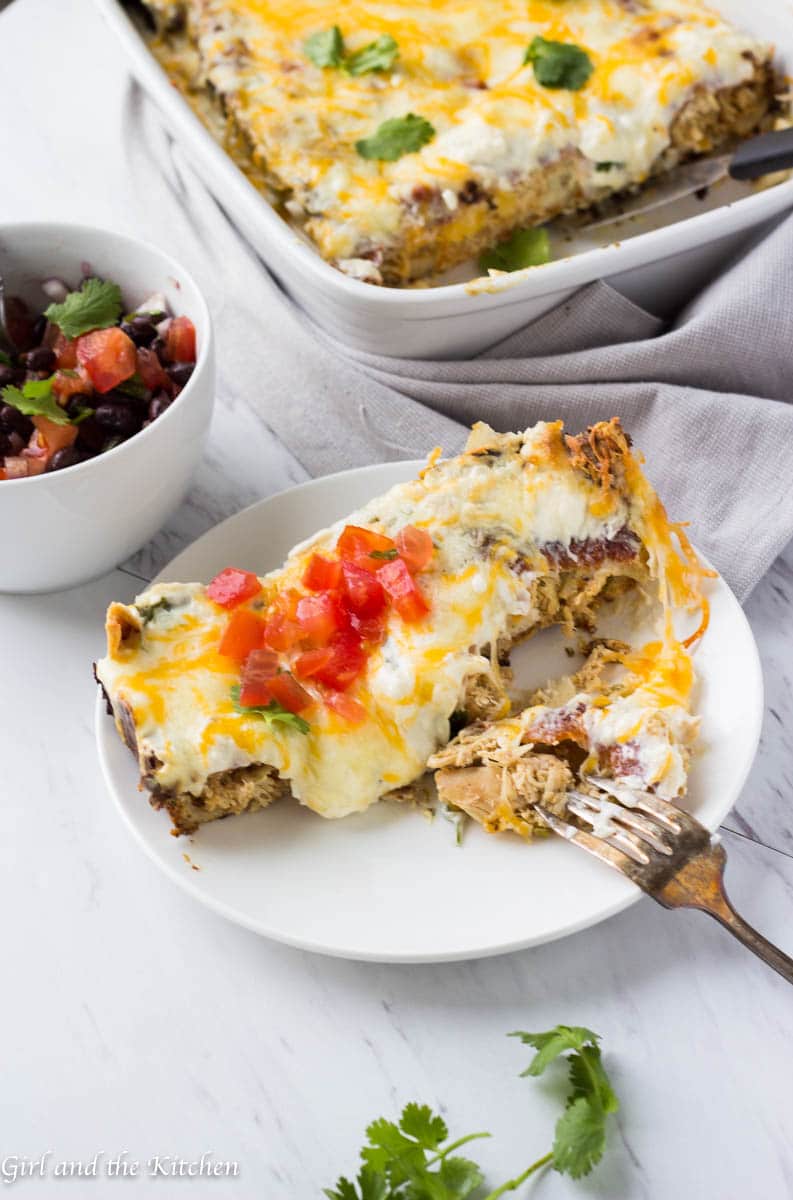 And so last weekend when him and my hubby went on a motorcycle trip to Austin, I took my creamy white chicken enchiladas out of the freezer and brought them over to my cousin's house so that Kenny and her could enjoy them upon his return home from his trip.
I got a message later that week from her that stated " We finished the enchiladas!  Kenny loved them!  Definitely going to try this recipe out."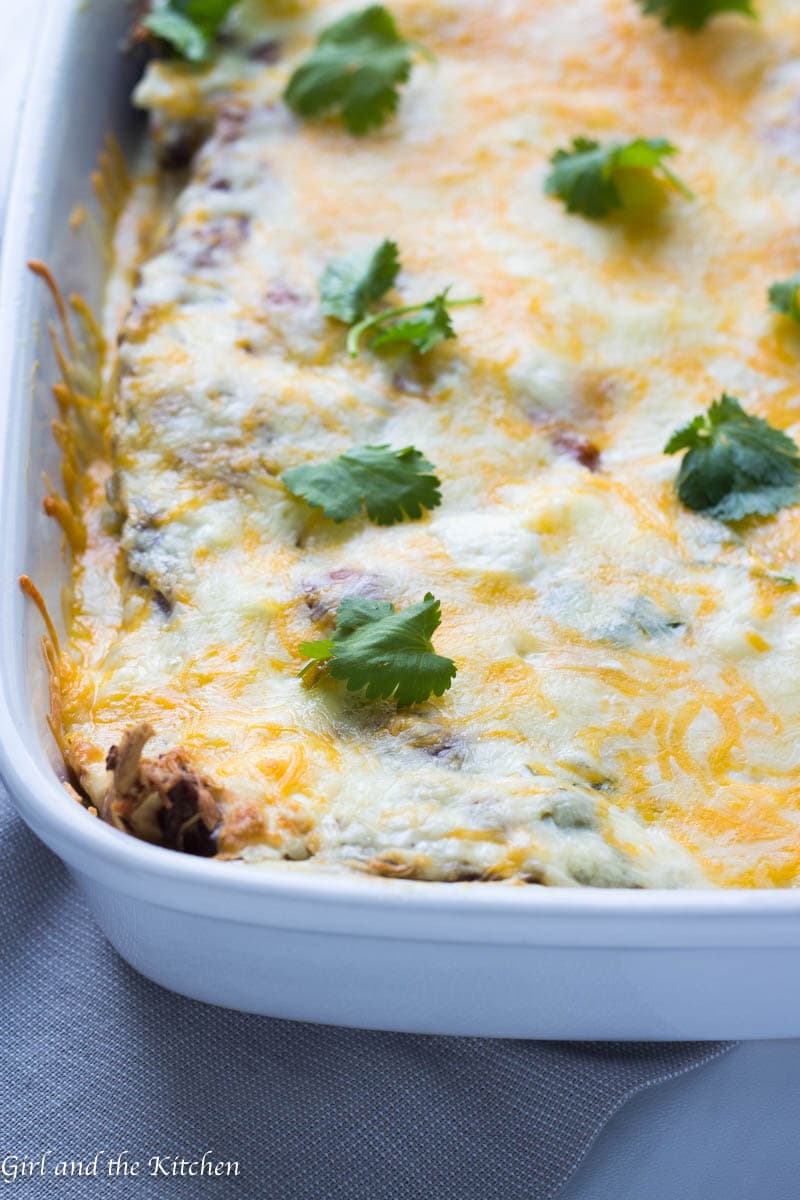 Even the finickiest foodies fall in love with these creamy white chicken enchiladas 🙂
Print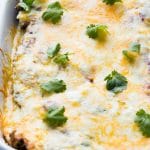 Creamy White Chicken Enchiladas
---
Author:

Total Time:

35 minutes

Yield:

16

servings

1

x
Description
These Creamy White Chicken Enchiladas are beyond simple to make but boast an insane amount of flavor! Slathered in a ridiculously delicious creamy sauce and covered in stretchy cheese, these enchiladas need nothing else except a fork and a knife to dive in with!
---
Creamy White Sauce
1 tbsp

butter

1

pound cream cheese

1/2 cup

milk

1

shallot (minced on a microplane)

3

garlic cloves (minced on a microplane)

2 tbsp

cilantro (chopped)
Enchiladas Filling
16

flour tortillas

1

pound Instant Pot Shredded Chicken or any shredded chicken breast (rotisserie, roasted or otherwise)

5

scallions (thinly sliced)

1.5 cups

Mexican blend shredded cheese or chihuahua cheese
cilantro (for garnish)
---
Instructions
Creamy White Sauce
In a medium saucepan, add the butter, shallots and garlic over low to medium heat COVERED. Allow to sweat for 5 minutes ensuring no color is added onto vegetables.
Add cubed cream cheese and half of the milk to saucepan. Over medium heat, stir until all is combined and melted. If the sauce is too thick add in the remaining milk. Stir in cilantro and taste for seasoning.
Assembling the enchiladas
Pre-heat an oven to 350-degrees. Butter a rectangular or a square oven proof baking dish that will fit 16 enchiladas.
Take a tortilla and onto the edge closest to you, add in about a tablespoon of chicken, a sprinkle of scallions about a tablespoon of sauce and a sprinkle of cheese. Roll up the tortilla like a cigar and place SEAM SIDE DOWN into the butter pan. Continue doing so until completed with all the enchiladas.
Pour remaining sauce over the top of the enchiladas ensuring to spread it evenly. Sprinkle cheese on top.
Cover with foil and place into the oven for 15 minutes. After 15 minutes, remove the foil and allow the cheese to brown up. Make sure you are careful when removing the foil so it does not remove some of the cheese. The enchiladas are done once the top is golden and bubbly and the inside of reaches a temperature of 165 degrees F. In total this should take about 25 minutes.
Remove from the oven and allow to rest for 5 minutes. Sprinkle with cilantro and serve.
Notes
If you want to freeze the enchiladas, cover them in saran and then foil and freeze until ready to reheat.  When ready to reheat, place covered into a 350-degree oven for 30 minutes or until heated through to an internal temperature of 165 degrees.
Nutritional information is to be used for guidance only. 
Prep Time:

15 minutes

Cook Time:

20 minutes

Category:

Chicken, Entree, Main Course, Main Entree

Cuisine:

Mexican