20 Minute Creamy Enchilada Soup
This 20 Minute Creamy Enchilada Soup comes together in JUST 20 minutes from start to finish.  This whole recipe is    completely "chop free" and boasts an incredible amount of creaminess and flavor thanks to my secret ingredient!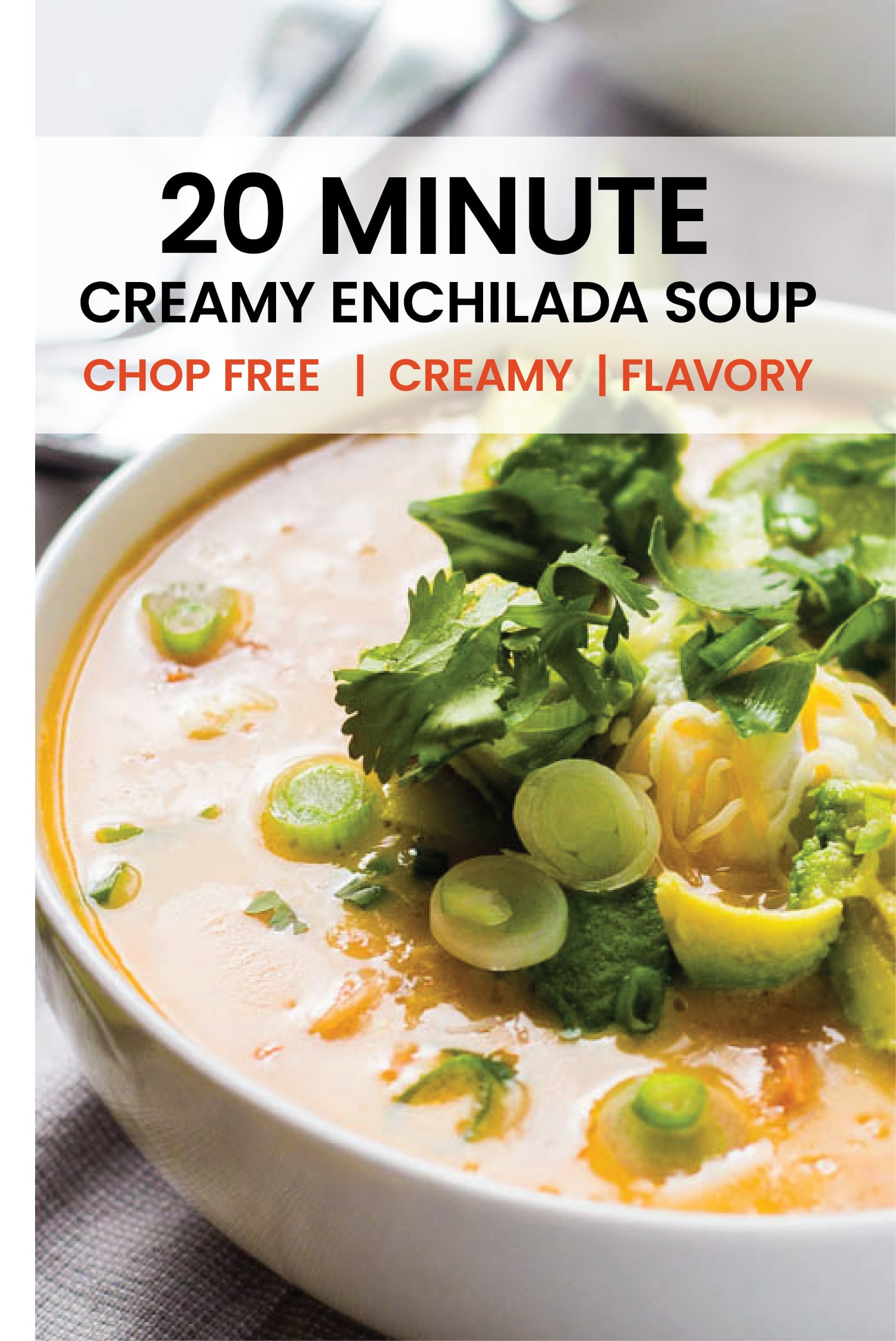 This 20 minute creamy enchilada soup is exactly what every weekday meal plan needs!  It is full of comforting flavors and so VERY much cheese!  But most importantly despite how complex the flavors taste it only takes 20 minutes from start to finish!
Shocking right?!?! Something so incredibly colorful and boasting so much flavor cannot possibly take only 20 minutes right?  Oh but it does…it does…and the best part is there is minimal effort happening in those 20 minutes.  With the help of a few short cut techniques and by using by freezer stash of my Instant Pot Shredded Chicken  this soup came together without any hiccups.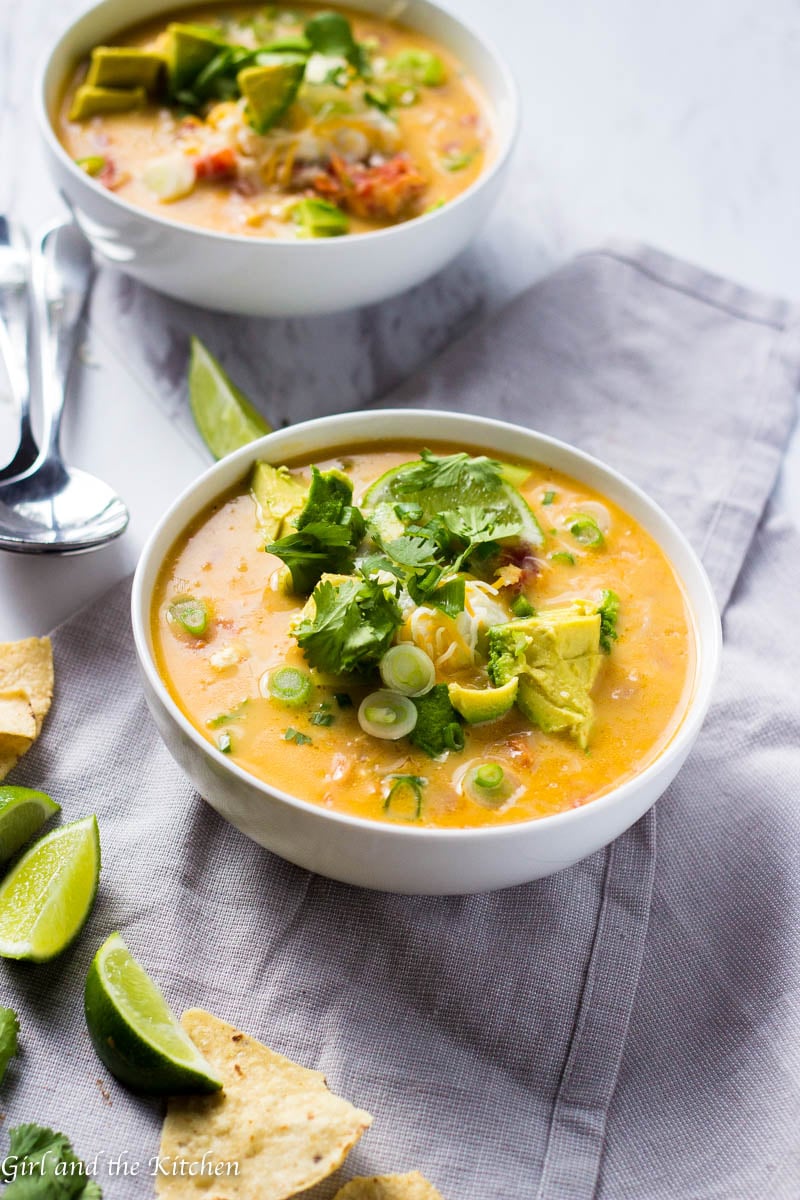 This was one of those recipes that after I threw in all the ingredients into my soup pot, I just kind of stared at the clock and wandered what else needed to be done in the meantime…I mean this cannot possibly be IT!
But it was…so I just chopped up my garnishes while all the flavors melted together.
What I love about this recipe is the limited amount of chopping going on.  The biggest aromatics, the garlic, onion and jalapeños get pureed in my handy dandy [easyazon_link identifier="B003NQE8B0″ locale="US" tag=" ne0fc6-20″]hand blender[/easyazon_link].  Everything goes right into the hand blender and instead of taking the extra time to chop up all the aromatics, I just whiz it up and it's all ready to go!  You can also use a blender or a food processor to chop up all the veggies.  In the end, it really will not make a difference because the magic of this recipe is in my secret creamy ingredient.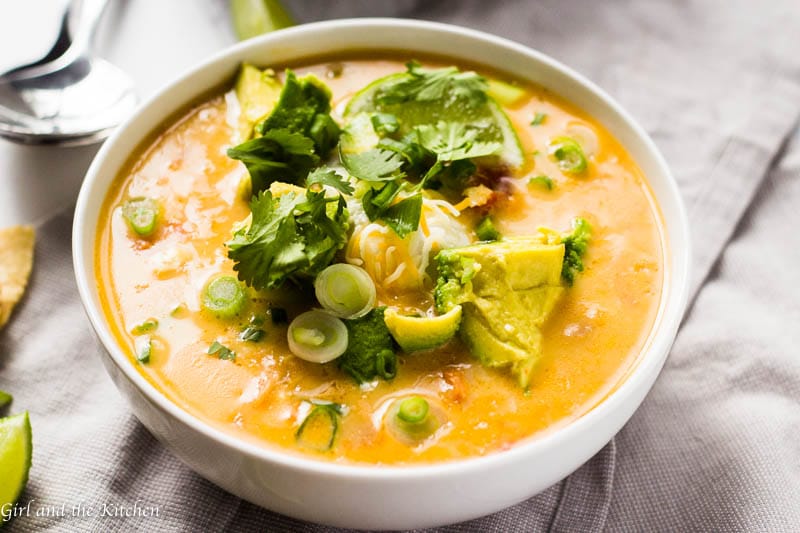 I took a note from my Creamy White Chicken Enchiladas and instead of using the traditional sour cream in this soup which is so typical in so many other Creamy Enchilada Soups, I used cream cheese.  Cream cheese truly changed the flavor of my enchiladas and took them from mediocre to incredible!  And this soup was no exception…it completely changed the flavor profile and it gave that particular flavor in the background that really distinguishes it from all the rest mediocre enchilada soups out there!
THE TECHNIQUE
The Sweating: I am a huge believer in sweating out vegetables for soups prior to actually cooking the soup.  This saves us time in the actual cooking of the soup process because we extract all the flavor from the veggies and or aromatics prior to adding in our liquids.  This speeds up the process of cooking quite a bit plus sweating onions, garlic and jalapeños in butter is one of the best smells in the world!
The Tomato Product: The tomatoes play a pretty crucial role here.  Not only do they add a great deal of color to the soup but they add a much needed acidity that will be used to cut through the creaminess of the soup!  Plus the diced tomatoes that I use have chilies in them so they add a really great boost of heat that is an undertone and just gives it a nice kick.
Seasoning: I take a lot of help here from a product I know and love.  I have used these [easyazon_link identifier="B001M073SO" locale="US" tag=" ne0fc6-20″]Goya seasoning packets[/easyazon_link] in my Quick and Easy Mexican Restaurant Style Rice  as well as my favorite Arroz con Pollo.  This was a trick I learned ages ago from a fellow Mexican lady who worked with me in a catering kitchen.  She said it is always a must in all their soups and rice dishes.  It is also the ultimate shortcut because there is no need to measure anything out, just dump the packets in and voila flavor city!
The Chicken: Truly you can really make this soup without the chicken.  There are black beans in here that will give you plenty of protein and in fact feel free to double up the black beans if you are not using chicken to really amp up that protein. But I happened to have 2 huge Zip-lock bags of my Instant Pot Shredded Chicken in the freezer and I knew this was a perfect use for them.  You can also of course use any rotisserie chicken you my have or any leftover chicken breasts at all.  If you are starting with raw chicken breasts just add them in at the same time that you would be adding in your chicken broth.
The Cream Factor: Traditionally, enchilada soups are actually finished off with loads of sour cream which gives it both its tartness and creaminess.  However, considering how epic my creamy sauce turned out in my Creamy Chicken Enchiladas  , I figured the same magic would happen in this soup.  And I was correct!  The important part here is to add in the cream cheese at the VERY END OF THE COOKING PROCESS! Once the heat is turned off that's when we add in the cream cheese.  I made a faux sauce out of the cream cheese so that it would blend in easier.  I simply placed it into my [easyazon_link identifier="B008H4SLV6″ locale="US" tag=" ne0fc6-20″]Vitamix[/easyazon_link] and added one ladleful of the soup.  Then I pureed it so that it was one cohesive mixture.  This also tempered the cream cheese a bit so that it will not break in the soup.  The zesty deliciousness of the cream cheese completely transformed the soup and truly made the difference!
The Cheese: We cannot talk about this soup without mentioning the cheese.  I used a really gorgeous sharp Cheddar that I grated myself.  I tasted the soup right before adding in the cheese and then again immediately after and was truly blown away by the difference in flavor!  HUGE difference!  Again we are not going for pounds and pounds here so go ahead and grate it yourself and allow for mucho meltability in the soup!  Remember the pre-grated stuff has corn starch in it to prevent it from clumping in the package so the end result in the soup is not quite as smooth.  And we are going for silky, silky smooth here!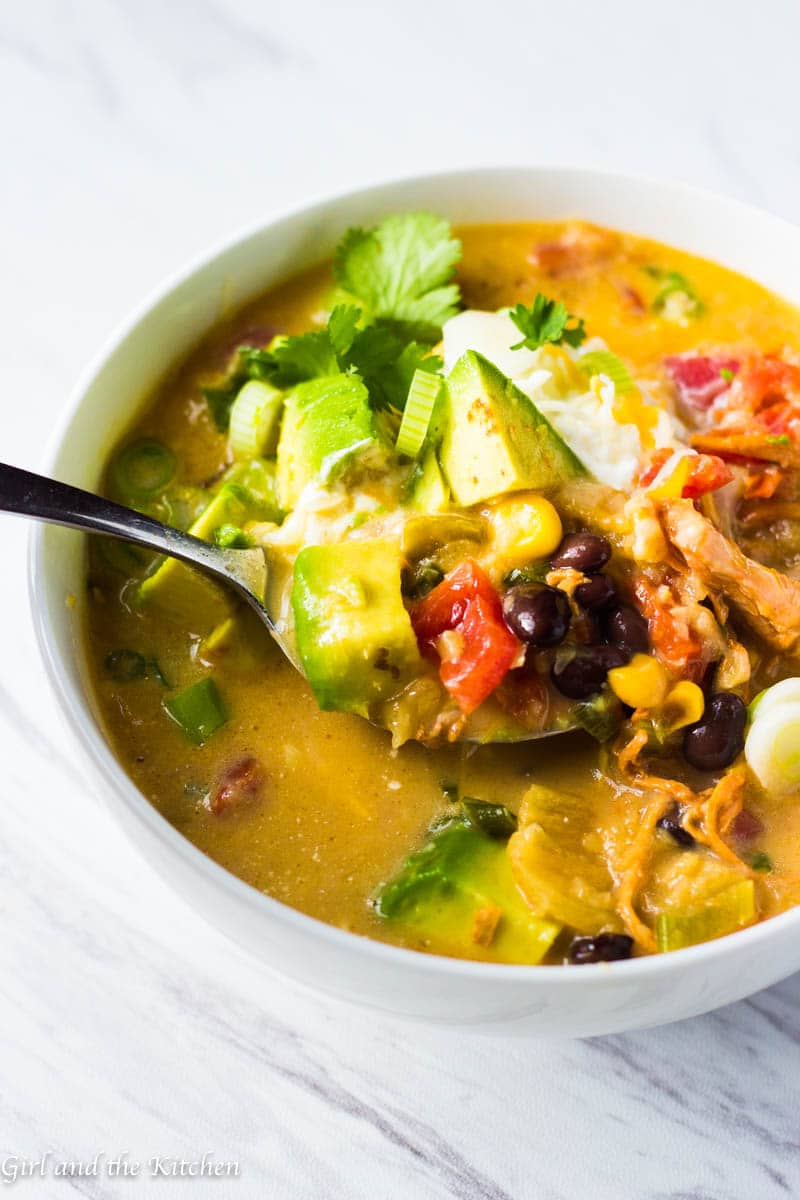 Look at that! Tell me it does not look like a party in you mouth!!! I mean really! Look at those gorgeous colors!  Can you imagine anything more comforting or delicious!
I love to garnish it with plenty of scallions, cilantro, a pinch of cheese, some sour cream and naturally loads of slices of avocado!  Feel free to throw in some tortilla chips on top if you fancy that sort of thing.  But truly this is "may delcioso!"!!! Super comforting, creamy and just a hint of spicy!  Just the thing when those enchilada cravings hit you and you only have 20 minutes to get something on the table!
Hey I think thats shorter than the line at Chipotle at peak hours don't you 🙂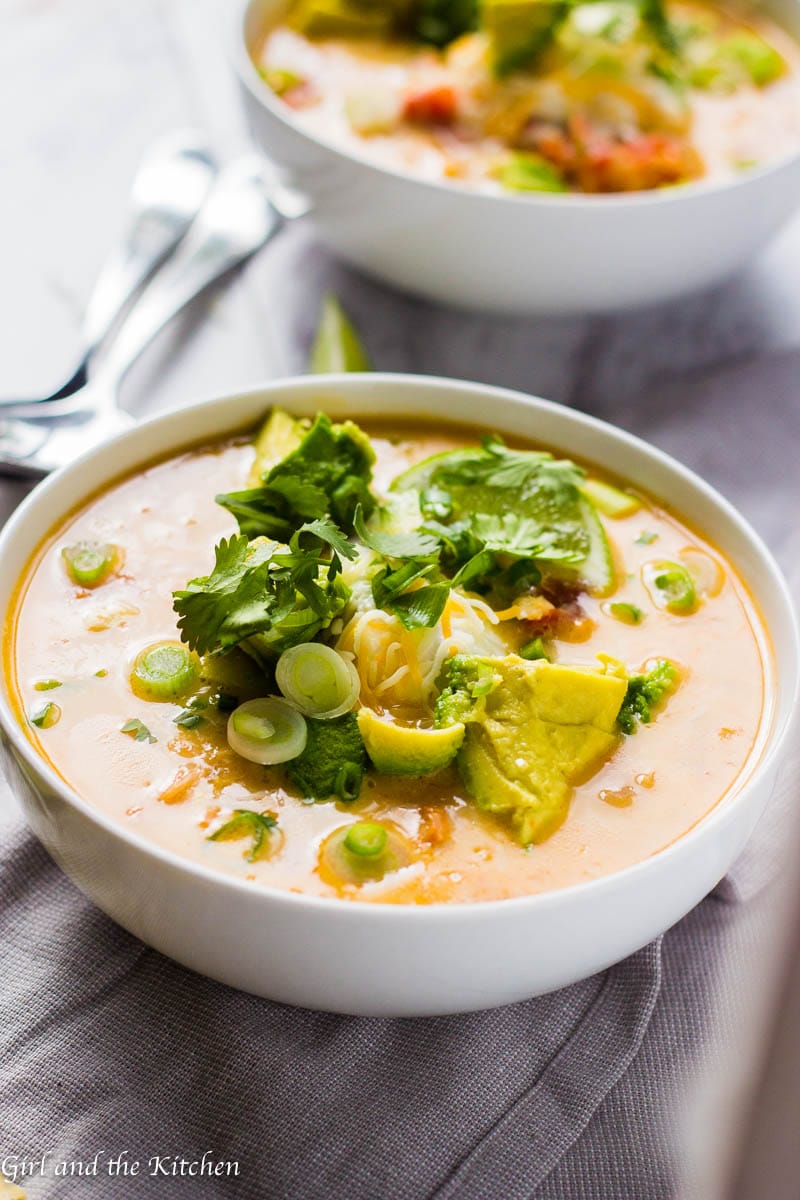 Print
20 Minute Creamy Enchilada Soup
---
Author:

Total Time:

20 minutes

Yield:

4

people

1

x
Description
This 20 Minute Creamy Enchilada Soup comes together in JUST 20 minutes from start to finish. This whole recipe is completely "chop free" and boasts an incredible amount of creaminess and flavor thanks to my secret ingredient!
---
2 tbsp

butter

1

large onion (chopped or put through the food processor)

4

cloves garlic (chopped or put through the food processor)

1

jalapeno (seeded and chopped or put through the food processor)

1 quart

chicken broth or stock (homemade or store-bought)

1

can black beans (rinsed of their liquid)

1

can diced tomatoes with chillies

2

packets Goya Seasoning

3/4 cup

frozen or fresh corn

1 cup

Instant Pot Shredded Chicken or Rotisserie Chicken

4

scallions (chopped)

3 tbsp

cilantro (roughly chopped)

1 cup

Sharp cheddar or Mild Cheddar (grated)

10 oz

cream cheese
Kosher salt and pepper to taste
Garnishes
Sliced Avocado
Sour Cream
Grated Cheese
Diced Onion
Cilantro
---
Instructions
Pour the butter into a medium sized soup pot and heat up to low-medium heat.
Place onions, garlic and jalapeños into a blender or a hand blender. Puree until all chopped up. If you prefer, you can also chop by hand this just really decreases your prep time. Place the veggies into the pot with the butter and close with a lid. Allow to cook for 5 minutes
Turn the heat up to media-high and add in the chicken stock, black beans, tomatoes, corn and Goya seasoning packets. Close with a lid and allow to come to a boil. Once the soup comes to a boil, turn it down to a simmer and let it cook for 5 minutes.
Add in the shredded chicken, scallions and stir. Allow to cook for 5 minutes. Turn off the heat.
Add in the cream cheese into a food processor with 2 ladels of the soup. Puree until smooth and creamy. This part ALSO ensure that your soup will not curdle. DO NOT bring to a boil after this.
Add in the grated cheese then pour in the cream cheese mixture and stir. Taste for seasoning. Add in salt, pepper and chopped cilantro.
Serve immediately with chosen garnishes.
Notes
Both the tomatoes and the jalapeño will give a nice spicy kick.  If you like it to be a bit milder just leave out the jalapeño. 
If using raw chicken breast ( you will need about 1 large chicken breast) add it in during the same time that you add in the chicken stock.  Then shred it right before adding in the cream cheese.
Prep Time:

5 minutes

Cook Time:

15 minutes

Category:

Soup

Cuisine:

Mexican