No Churn Pistachio Ice Cream with Chocolate Chips
This delicious no churn Pistachio Ice Cream is made out of 5 simple ingredients that tastes like it was churned in a gelateria!  The secret lies within a super simple method and a delicious paste that is made in minutes!
[wprm-recipe-jump]
This dessert has been a long way in the making.  Ever since I came up with my no churn ice cream series, I have had thoughts about pistachio ice cream for quite some time.  Not thoughts actually…dreams.  Wonderful silky ice cream dreams with specs of pistachios and dark chocolate chips.
But alas, those plans, as some do, got lost in the shuffle of life and more than likely in the plans for other blog favorites.  Plus no churn ice cream takes no time to whip and rarely lasts a long time in my house, mostly because hubs and I devour it as soon as it freezes.  So for the sake of our lovely figures I tend to only make my no churn ice creams when we go to friends' houses and I can bring it to them as my contribution to the meal.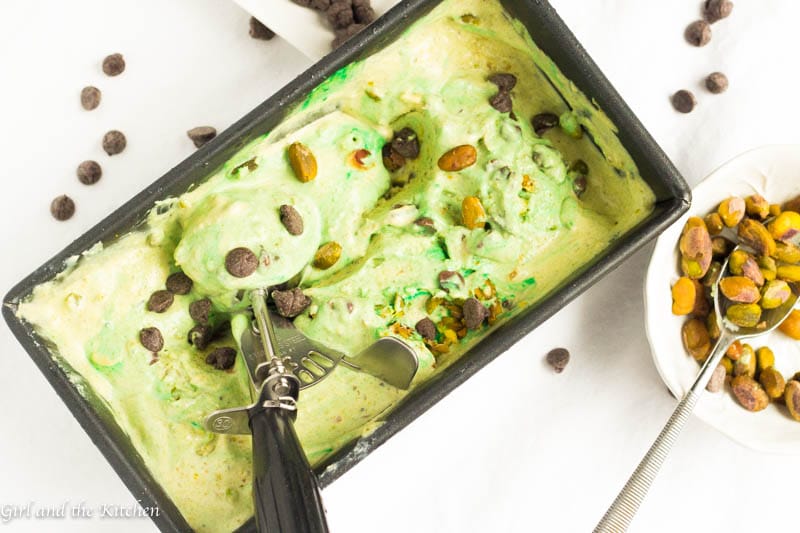 So more recently when I was planning my blog posts for the month, I realized I had nothing for St. Patrick's Day.  Let's be honest here, I actually rarely have much for St. Patrick's Day to post.  It's not my holiday and usually it sneaks up on me and I find myself lost in a slurry of green beer and shamrock shakes with no recipe to show for it.  So this year I decided to be all proactive and stuff and create a recipe.  And all I could think of that was green was my no churn pistachio ice cream.  And I am so incredibly thankful I did.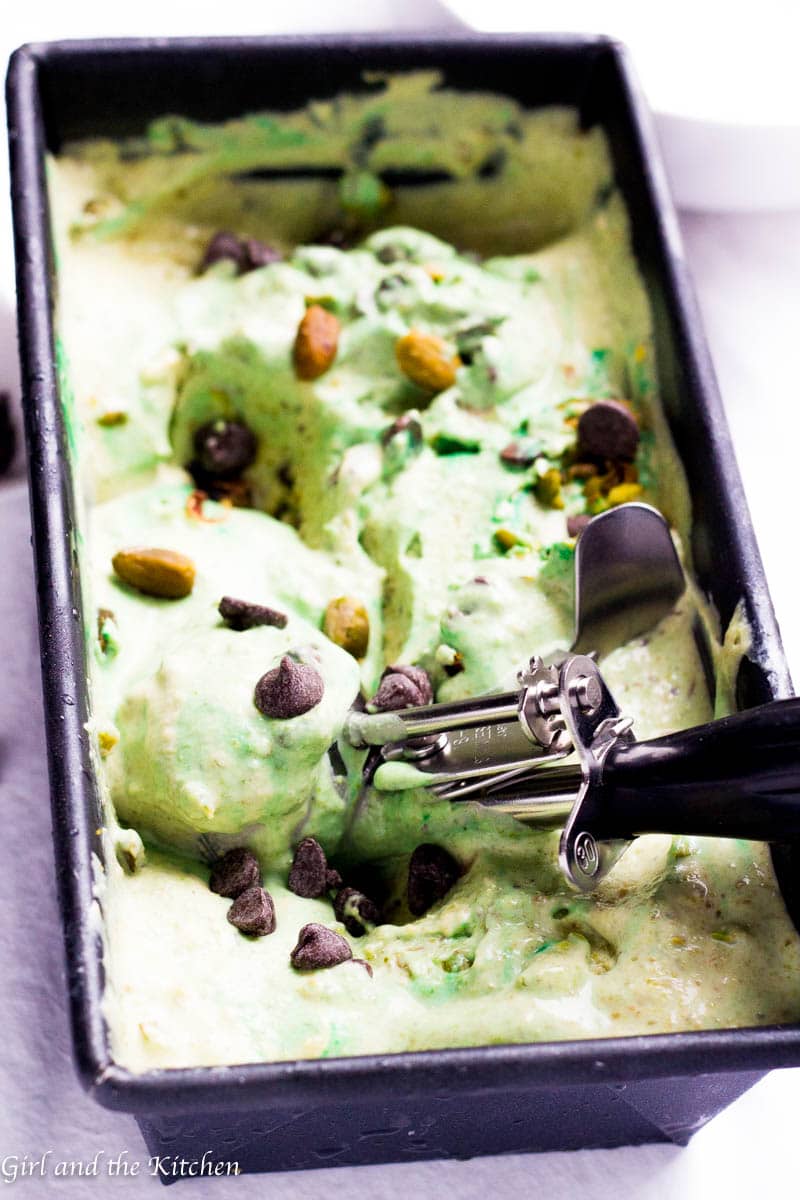 I wanted a fun green and festive dessert BUT more importantly I wanted it to be really authentic an delicious.  I wanted the pistachio flavor to be really prominent and to shine.  And I knew the only way to ensure this was to create a creamy paste much like the Vegan Nutella paste I created.  While my Vegan Nutella had 5 ingredients, this pistachio paste had only 2.  And it completely revolutionized the flavor of this lovely no churn ice cream .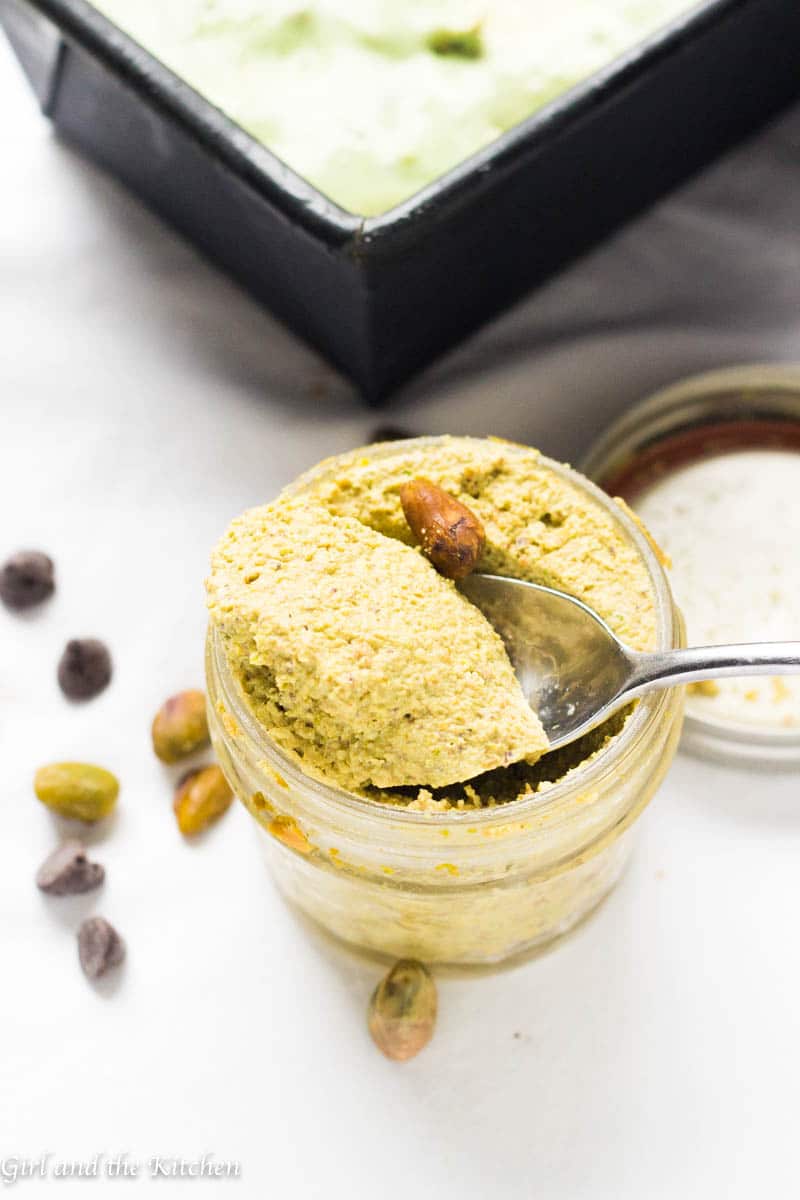 THE TECHNIQUE 
The Paste:  The paste is an extremely simple combination of pistachios and milk.  Because I wanted the paste to be super smooth, I soaked the pistachios in hot water.  Plus by soaking them, I cut the time to puree this mix significantly.  I read similar recipes that said it could take up to 20 minutes to create the paste.  That seemed a tad ridiculous to me.  This soaking technique I had learned from many vegan cashew sauces that I had created.  It makes for a much smoother consistency in the paste and also is a lot gentler on your food processor or blender. I have the almighty Vitamix which is a monster.  But because of this soaking technique any blender or food processor can handle the task of turning these stubborn pistachios into a smooth paste, without all that time wasted.
The No Churn Method: The No Churn method is not one that I myself created (although it would be pretty sweet if I did.) It has been around for years and it literally changed my life when I discovered it with my Salted Caramel No Churn Ice Cream.  It is an extremely simple combination of whipped cream and sweetened condensed milk.  The combination of the two along with any flavorings you like creates a glorious ice cream that no one would believe is not churned with an ice cream maker.  That being said, because the classic aerating technique is not present here as it is with classic ice cream, it does benefit from thawing for about 10 minutes before serving.
The Swirls:  I thought it might be fun to liven up the recipe with some green swirls made with green food coloring.  Munchkin thought it would be fun as well and inadvertently added in a bit too much and made my lovely ice cream a tad too green.  Naturally at this point I knew that it would indeed be perfect for St. Patrick's Day.  For non St. Patrick's Day needs I would put in just a touch of green food coloring in, perhaps 1-2 drops to make it a bit more green.  Natural pistachio ice cream does not have bright green colors 🙂
One of the best pistachio gelato's I have ever had was in New Orleans at this incredible little gelateria.  And it had chunks of dark chocolate and little pieces of pistachios.  It was the perfect combination and I decided to keep it as close to that original flavor as I could.
I created this recipe early in the morning and as soon as I knew it was frozen I whipped it out of the freezer and tasted it.  It was true perfection.  In between bites I had plenty of pistachios and chocolate chips.  There was literally no one home to stop me from consuming the entire batch except that I had a photo shoot to handle first.  First the photo shoot…then I could consume the whole batch.  Done and done.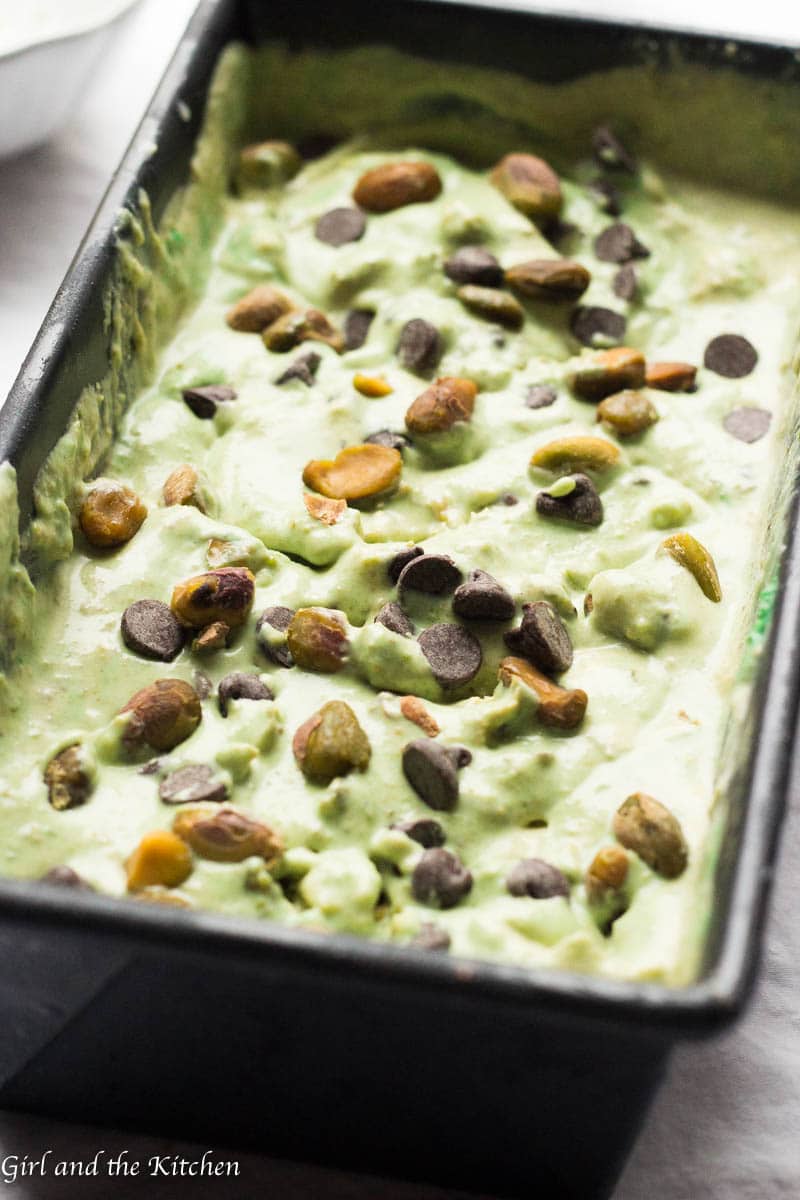 Make sure you check out the original recipe of my No Churn Ice Cream for all the step by step photos.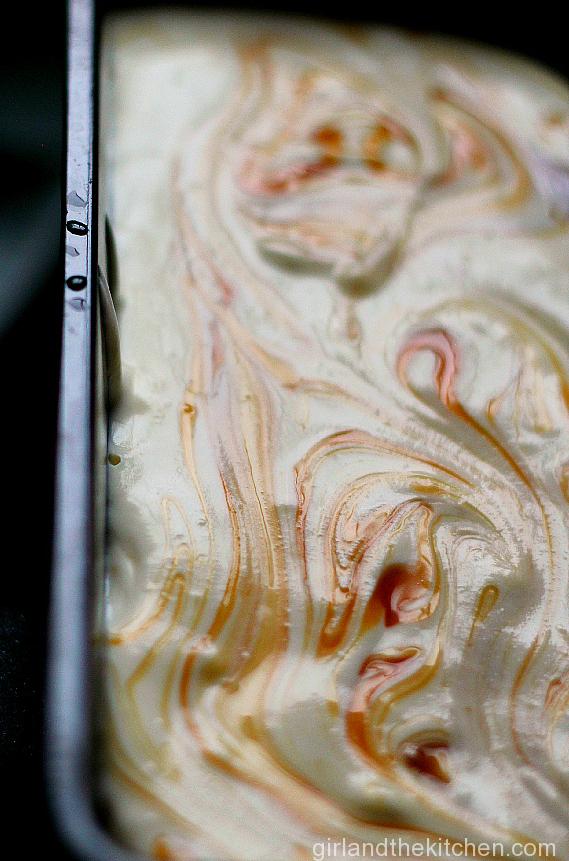 Print
No Churn Pistacio Ice Cream with Chocolate Chips
---
Author:

Total Time:

65 minutes

Yield:

8

people

1

x
Description
This delicious no churn ice cream is made out of 5 simple ingredients that tastes like it was churned in a gelateria! The secret lies within a super simple method and a delicious paste that is made in minutes!
---
Pistachio Paste
1/2

a cup of unsalted pistachios soaked in enough water to cover them for

15

–

20

minutes.

3 tbsp

of milk+more if necessary
Ice Cream
1 pint

heavy whipping cream

1

14 oz can of sweetened condensed milk

1/4 cup

of dark chocolate chips

1/4 cup

of unsalted pistachios

1

serving of pistachio paste
green food coloring as necessary
extra chocolate chips to garnish
extra pistachios to garnish
---
Instructions
Pistachio Paste
Place the pistachios in a colander to ensure all the water is removed.
Combine the milk and the pistachios in a food processor or high powered blender.
Start out with a slow speed and slowly increase to a high speed.
Stop every 30 seconds or so to ensure that the mixture is pureeing and to push anything leftover down from its sides.
Add more milk if the mixture needs help pureeing.
Ice Cream
Place whipping cream in a mixer and bring to stiff peaks. If using a mixer, whip on high until stiff peaks form.
If using a Vitamix. Start on VARIABLE and continue slowly increasing speed. Once you are at SPEED 10, flip the switch to 10 and let it run for NO MORE than 10 seconds. You will notice the motor sound change very drastically as the whipped cream reaches its desired state. Make sure it does not go too long as you will then have made butter!
Pour contents of 1 can of sweetened condensed milk and then pour in whipped cream into that. Fold carefully to combine.
Add in pistachio paste, 1/4 cup of chocolate chips and 1/4 cup of pistachios and mix gently to combine.
Pour into a freezer safe container, I usually use a bread pan.
Sprinkle on the extra chocolate chips and pistachios.
Feel free to drip in extra green food coloring at this point and swirl it in with a knife to create swirls.
Freeze for 6-8 hours. Let stand for 10-15 minutes at room temperature prior to serving.
Prep Time:

5 minutes

Cook Time:

60 minutes

Category:

Dessert

Cuisine:

Italian