BBQ Teriyaki Marinated Grilled Chicken and the Most Versatile Spice Mix Ever
Grilled chicken can get too boring.  But this chicken is anything but boring.  An incredibly easy and uber flavorful grilled chicken recipe full of tangy and smoky flavors all made with an extremely versatile rub!  Grilled chicken will never be the same!

[wprm-recipe-jump]
Grilled chicken is one of the most versatile dishes there is… Unfortunately it can also be quite boring.  But this chicken it's something else guys.  It's tangy, smoky and lip smackingly fantastic.
I have to admit, this is not my recipe.  This recipe belongs to one of my favorite cooks.  My cousin Kenny. 
Let me tell you something about Kenny.  Kenny, is one incredible cook.  And I just know that if he is reading this it's going to go straight to his head.  
But I speak the truth, that guy can cook. 
Kenny is not professionally trained.  Everything he has learned has been from experimenting in his own kitchen and watching a few episodes of random Food Network shows.  We differ in many ways , Kenny and I… In the kitchen I mean.  He loves to fuss around with new and strange flavors like essence of whiskey or perfume of bacon.  Odd things like such are his calling.  "Whatever works for you Kenny" I always say to him whenever he is experimenting with yet another cracked out combination of flavors.
Yet somehow his food really is always well done.  Seasoned well, cooked to a perfect temperature (he prefers his steak still mooing he says) and really quite pretty.  I respect Kenny, because he gets the same sad look in his face when something did not turn out as well as he had hoped.  We grieve together over the loss of potentially perfect food.
Another thing about Kenny:  he isn't really my cousin… Well he sort of is.  Through marriage.  Kenny married my older cousin Tanya.  Kenny and I clicked the minute we met.  Tanya and my relationship grew.  It was really a wonderful union for all of us.  We all spent more time together and got super tight.  And once we discovered that our birthdays were only a day apart (that and a few years..he is OLDER than me after all) we were done.  Friends forever. The end.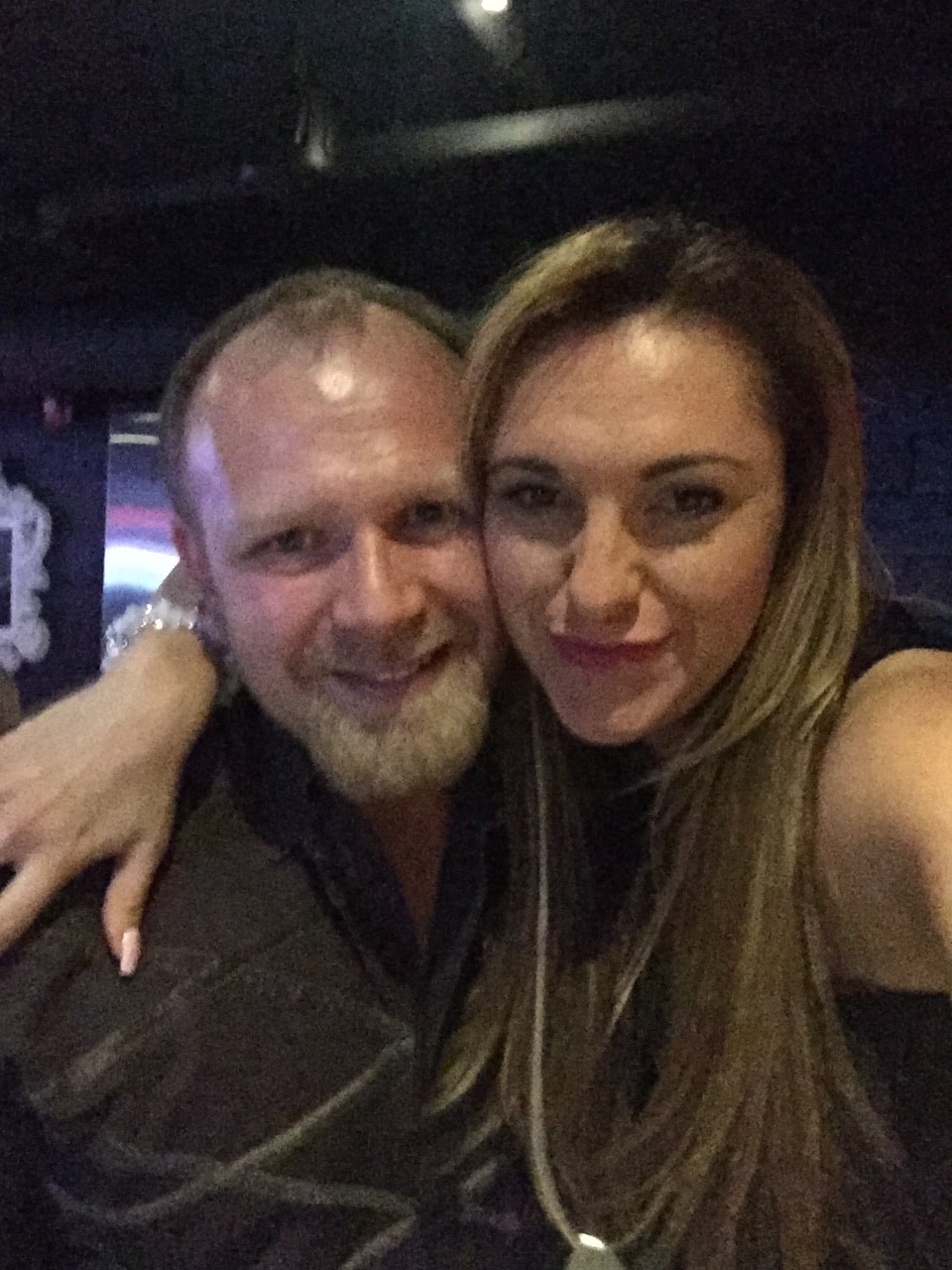 Kenny and I shared a perverse sense of humor, he always told me how it is, "Mila, definitely no need to wear that dress again," or "Hey you look like you lost weight, looking fantastic!" or one of his famous quotes just happened last week when I brought veggie burgers over to his house, and informed him I was a chegan, "Mila you are a chef, you should not be eating cardboard as food.  I will not be contaminating my grill with this garbage." I told him to shove it and cook my damn burger.  He did… except little did I know, he let the bacon cook over my vegan burger and had some of the bacon grease drip on my burger.  "Guess why it's so good Mila…it's bacon.  You of all people should know the answer is always bacon."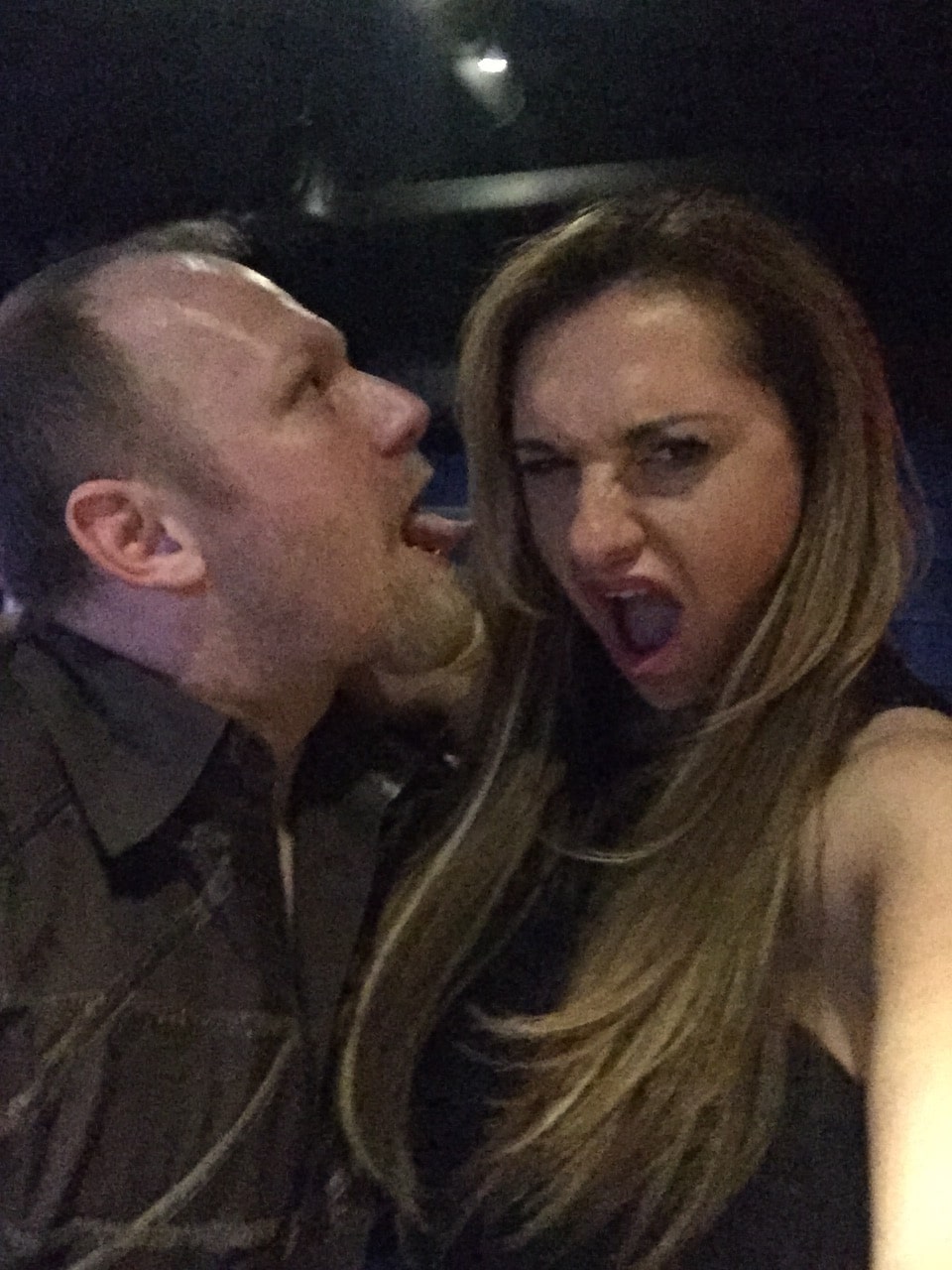 That little f*&!er.
In addition to our ridiculous sense of humor and our love for cooking we also share the love of one other very important person: my hubs.  Kenny and hubs were friends well before I was ever in the picture.  Kenny prides himself on bringing hubs and I together.  I blame the nightclubs.
In truth, it was too hard not to hang out, we all went on nightly rides on the motorcycles together.  Clubbed late on weekends, went to see Sunday  night movies still slightly recovering from the hangovers that haunted us from the night before.  And my favorite was the random drinking parties we had for no reason whatsoever except to eat some grilled meats and drink, typically sponsored by Kenny's inability to refuse anything at his local Costco.
Look at how cute these two are… That's the Blue Steel look… careful ladies don't all fall for them at once…hard to resist I know!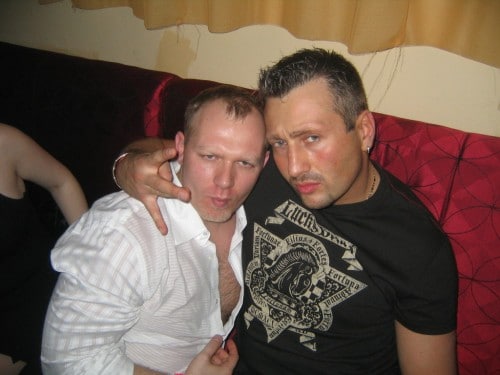 The best part is my little munchkin adores Kenny…and always growls when she sees him.  An ode to his love for heavy thrash metal.
Anyhow… The bottom line is… Well Kenny is pretty awesome.  (This is sooooooooo going to his head). And I am happy to say that he is a friend and #family4life (he hates hashtags 🙂 )
I digress as always…On to chicken!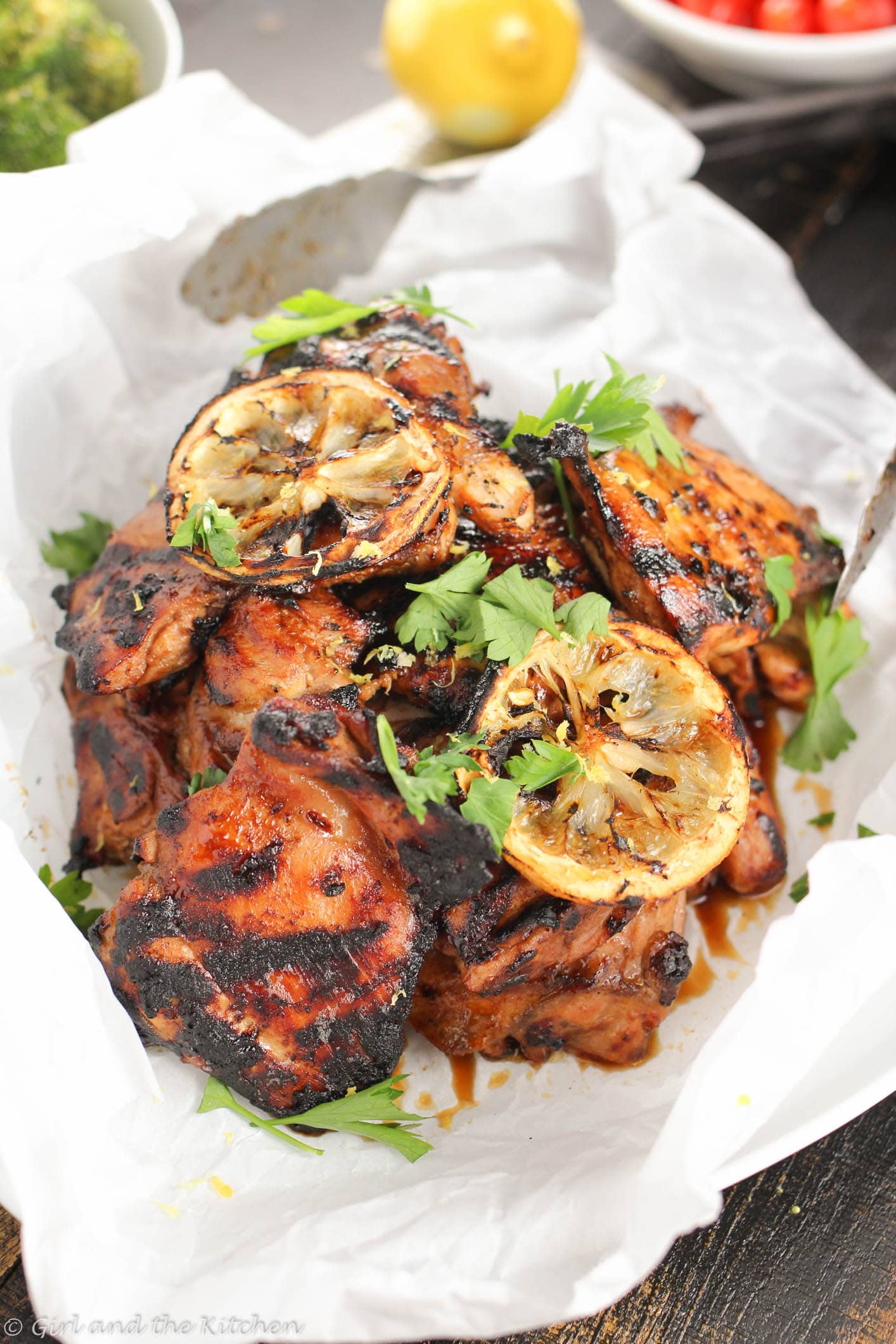 A few months ago Kenny was grilling up some dinner for a last minute Mother's Day BBQ and he starts sprinkling some sort of spice concoction on to the chicken thighs.  
"What is that?" I asked inquisitively as I sipped on the special tequila infused smoothie he made me.  We were both gathered around his island, him methodically seasoning every chicken thigh and me attempting to balance on my high heels as the tequila went to my head.
"Oh this? It's my personal spice mix… Kind of a BBQ meets Teriyaki if you will.  East meets west." 
" Interesting…is that all you are putting on the chicken?" I asked.
"No…I'm thinking of adding some balsamic, some soy maybe some mustard.  Haven't got it all figured out yet."
"Alright, sounds good, I am going to go retire on the couch, feel free to make me another one of these tropical tequila smoothies."  
I let Kenny continue on his marry way and I stumbled over to the couch, ready to enjoy my Mother's Day.  Unfortunately I got attacked by the munchkin and my niece and nephew.  They all jumped on top of me in varying time intervals…they all plotted this.   I was certain my 2.5 year old led the plotting.
After I had finished serving as the human trampoline for the kids it was time to eat.  There was a lot of everything: that's just how Kenny rolls, he always makes enough to feed a small neighborhood.  Once I tasted that chicken I was in love. It was so well seasoned and it tasted like it had been BBQ'd, you know like in a smoker the REAL kind of BBQ.  

"Kenny, this chicken is fantastic!  So good!!!!" Everyone nodded in agreement.
So I ensured to get the recipe from him.  The secret to this recipe is simple.  It's the rub.  The rub is a great mix of different smoky components along with savory and sweet.  Which lends itself to be able to be used on pretty much ANYthing.  Kenny said that when he does lamb sometimes he will add mint or rosemary, with steaks or beef cuts he will add thyme.  I love the versatility of the rub.  And it's super fast to make a marinade out of it.  Just add some acidity and oil and about 1.5 tbsp of rub per 4 pounds of meat and you are gold.
I decided to grill chicken thighs because they are just so much yummier and I know the hubs is sick of chicken breast.  The marinade that I made with it is deliciously tangy and sweet at the same time and also Kenny's recipe.  The very same one he used that one Mother's Day.   I pretty much followed it to a T, the only difference was that I added a fresh dusting of lemon zest right on top and it just made everything pop.  Now fair warning, Kenny and I were just discussing this yesterday… if you add any sort of zest to the actual marinade or rub it totally changes the flavor profile.  So be careful, unless that is your intention.
*Chef Kenny Tip: Marinade these in a bowl rather than the easier ziplock bag choice.  Why?  Because then when you are grilling, you can use the left over marinade in the bottom of the bowl to coat the chicken.  So oil up and preheat the grill then place the chicken on the grill.  After 4 minutes, remove the chicken and dip it into the remaining marinade and place it on the grill on the other side.  Do the same exact process until the chicken is done.  Do not worry about the remaining marinade being contaminated, once it gets on that hot grill all potential bacteria is killed off.  But this way you end up with a beautiful glaze.*
Now go off and feast and let's all thank my cousin Kenny for his fabulous contribution 🙂  I am sure this rub will be making many more appearances on this blog.
Print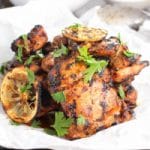 BBQ Teriyaki Marinated Grilled Chicken and the Most Versatile Spice Mix Ever
---
Author:

Total Time:

75 minutes

Yield:

8

servings

1

x
Description
An incredibly easy and uber flavorful grilled chicken recipe full of tangy and smoky flavors all made with an extremely versatile rub!
---
Rub
3 tbsp

smoked paprika

1.5 tbsp

garlic powder

1 tsp

ginger powder

1/2 tbsp

chipotle powder

2 tbsp

Kosher Salt

2 tbsp

raw sugar

1/2 tsp

of dry sage
Marinade
1 tsp

liquid smoke

4 tbsp

oil

1/2

a tsp toasted sesame oil

3 tbsp

balsamic vinegar

4 tbsp

soy sauce

1 tbsp

dijon mustard

1 tbsp

honey

3

pounds chicken thighs trimmed of extra fat
---
Instructions
Combine all the DRY ingredients into an air tight jar for the rub and shake until well combined. Taste. Make sure all the flavors balance out nicely. Set aside.
Combine all the ingredients of the marinade and whisk until combined. Add 2 tbsp of the dry rub to the marinade.
Taste and adjust for seasoning as needed.
Add chicken thighs to bowl and allow to marinade for at least an hour and up to 24 hours.
Oil up and preheat the grill then place the chicken on the grill. After 4 minutes, remove the chicken and dip it into the remaining marinade and place it on the grill on the other side. Do the same exact process until the chicken is done. In total about 15 minutes. This way you end up with a beautiful glaze.
Prep Time:

60 minutes

Cook Time:

15 minutes

Category:

Chicken

Cuisine:

American, Asian, BBQ