Vegan Creamy Mashed Sweet Potatoes
Did you ever think you can get creamy mashed sweet potatoes without all that butter and cream?  I didn't!  But you can and it's fantastic!  Plus it's vegan and healthier and tastier than EVER! 

I happen to love Thanksgiving.  A LOT.  The family. The loud laughter. And the food.  Ohhh the food!

When I do a holiday party there are a LOT of people at my house.  The tables are breaking at the rims with food and liquor and the house aches to break at the seems with all the laughter and chatter.  It is always a good time and everyone always leaves with full bellies and big smiles.

This year my cousin and I had decided to combine our Thanksgivings into one.  You know the cousin that is married to the infamous Kenny.  Anyhow, they have a beautiful house that actually has a gigantic basement complete with a fancy bar and a second kitchen.  So cooking up a storm in that house was awesome!

When we started talking about the menu for the 20-some people attending the Thanksgiving feast this year it hit me…WHAT AM I GOING TO EAT?  No really?  I mean so many side dishes for Thanksgiving either are full of dairy or are laden with meat products.  And my mashed potatoes.  Literally I LOVE mashed potatoes.  Creamy and delicious in all their glory…I could eat an entire bowl.  And have.

And let me tell you…I love my family but if I even started telling them, particularly the men, that they are eating vegan they would sit me down and explain what a freak I am and how I am depriving my body of protein and how I need to be institutionalized.  (Funny story I was informed by someone that the Russian radio had a debate about vegan vs omnivore eating and that the World Health Organization said that vegans are clinically insane.  Don't these people have cancer and diabetes to worry about?)

ANYHOW…So my goal for this year was to create ridiculously delicious food that just so happens to be vegan or at the very least vegetarian.  And then at the end I will scream out…SURPRISE you have been punked!  This is VEGAN!!!

Or not…Cuz then I really would be a lunatic 🙂

Anyhow…these mashed sweet potatoes were born one night when I found 4 large sweet potatoes in my pantry looking sad and lonely.  It happened to be the same night that I was making my Panera Copycat Vegan Butternut Squash soup and I was inspired by the magic ingredient in the soup that makes it so unbelievably creamy…coconut milk.

Chef note…when I talk about coconut milk I am talking about the stuff in a can not in the cartons next to the milk.  That stuff is thinned out and watered down and while it is good as a drink it is not for cooking and to add creaminess to dishes.

After the potatoes were boiled, I drained them really well.

Chef note:  No one wants soggy mashed potatoes.  Water and cream do not mix.  Drain them really well in a colander so they are nice and dry.

I added a bit of vegan butter once the potatoes were cooked and some coconut milk as well as a secret ingredient I use in my Crazy Creamy Mashed Potatoes…sour cream.  Except I used vegan sour cream.  I added a very good pinch of salt and pepper and some fresh thyme.  Then I whizzed it up in my mixer.  I think this was imperative as it really got the taters nice and creamy.

Chef note: Check out my super special make ahead tip in the notes of the recipe.

The result?  It was FANTASTIC.  Hubs loved it.  And he was in disbelief how creamy and delish they were without all that cream and butter.

Mission accomplished.  Dish 1 of 36 for Thanksgiving was complete.
Print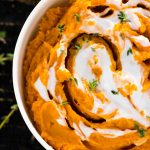 Vegan Creamy Mashed Sweet Potatoes
---
Description
Did you ever think you can get creamy mashed potatoes without all that butter and cream? I didn't! But you can and it's fantastic! Plus it's vegan and healthier and tastier than EVER!
---
4

large sweet potatoes (peeled and cut into half moon shapes)

3 tbsp

vegan sour cream

3 tbsp

vegan butter such as Earth Balance

4 tbsp

coconut milk plus extra to garnish * (Note 1)

2

thyme stems (Note 2, with the leaves removed, plus extra for garnish*)
salt and pepper to taste
---
Instructions
Rinse the potatoes well as they tend to hold onto some of the dirt even after they were peeled.
Add to a large pot and fill completely with water. Bring to a boil, lower to a simmer and cook until knife tender: when a knife goes into the potatoes smoothly.
Drain in a colander. This step is crucial because you want to get as much water out of the potatoes as possible.
Now add BACK into the pot that the potatoes were in…the pot will now be dry because the residual heat would have dried it up. If not, then just wipe the access water out with a paper towel before adding in the potatoes.*
Add the remaining ingredients into the pot with the potatoes. Now add this point you can either use a hand mixer, a stand mixer or a plain masher to get everything smoothed out.
Taste for salt and pepper and season accordingly.
Before serving, swirl in some coconut milk on the very top and sprinkle with thyme.
Notes
1. Use the coconut milk from the can NOT the cartons. Stir up the liquid and the solids in the can so that it is completely combined. This will give you the perfect texture.
2. Removing thyme leaves is super simple! With one hand hold the top of the stem and with the other hand just slide your hand down the stem to remove the little leaves and voila! De-stemmed!
3. Personally I get the creamiest outcome when I use my stand mixer with the whip attachment. However, hand mixers work just as well. And when you are in a pinch for time the hand masher will do just fine 🙂
4. Make ahead tip: You can cut up your potatoes and store them in your pot of water up to 2 days ahead of time. Then once your potatoes are cooked. Drain them and keep them in your pot. Right before your guests come, heat up the remaining ingredients until they are melted through and add to the potatoes. You will have perfect creamy potatoes that are gorgeously warmed through!
Category:

Vegan

Cuisine:

American