Grilled Mexican Street Corn (Elotes)
 Sweet, tender and spicy! These Mexican Street Corn is all of it!  It is full of vibrant colors and bold flavors and will turn your summer BBQ into a fiesta!  Of course the best part is how incredibly easy it is to turn regular grilled corn into the show stopper that this Mexican Street Corn is!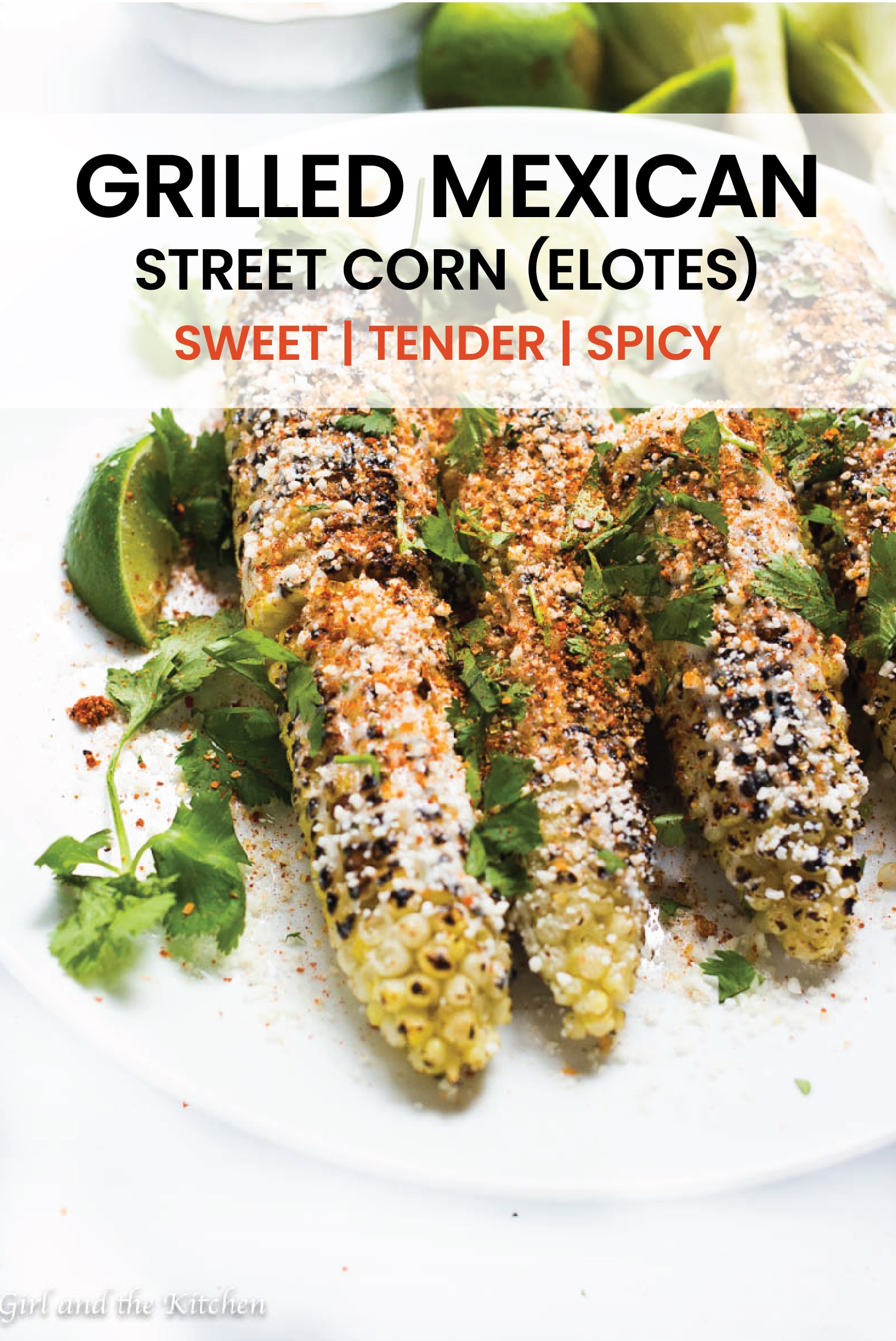 [wprm-recipe-jump]
Ages ago, when my husband still lived with his parents, we gathered at his house for a small BBQ.  His brother came rushing into the door carrying 6 strange looking corn on the cobb.
"Take it!  You have to eat it immediately!" He screamed at us. "This is the traditional food of Mexico" (that's not true) "It makes you strong and is good for the digestive system because of the citrus and spice." (Also not true)  I decided to not argue with his ridiculous claims and instead I rushed up to help him with the corn and he insisted I take a bite immediately.
"No I'm good…I will give it to one of the kids."  You see  I was moderately grossed out by the corn and figured I would use the fact that there weren't enough corn for everyone as an excuse because I had zero interest in consuming this corn.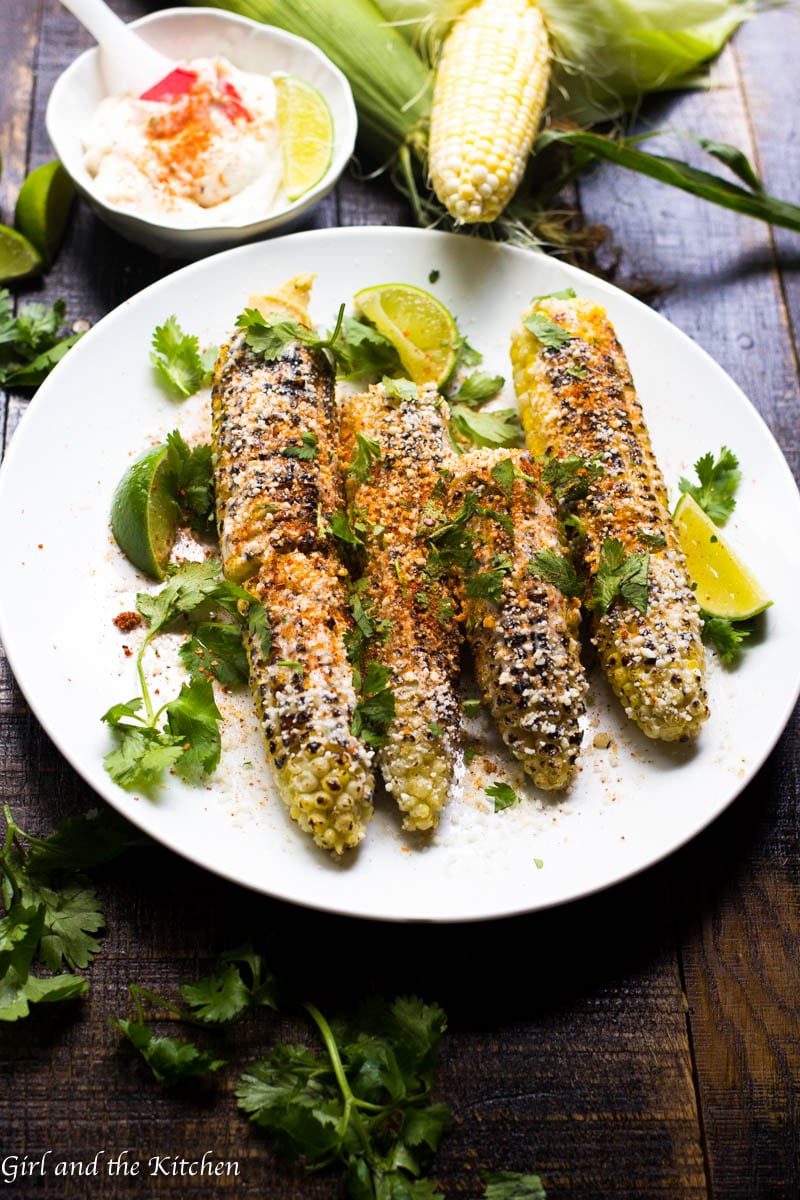 Hubbies parents lived in an area that had a large Mexican community surrounding it.  And in the summer time, little old men walked around with ice cream carts and elote carts, i.e. Mexican Street Corn.  Elote was traditional Mexican corn that was grilled or roasted and slathered with crema (Mexican sour cream), tons of chilli powder, cotija cheese and plenty of lime.  It was intended to be a messy eat and always came with plenty of paper towels to soak up the dripping melting crema and catch the falling corn kernels as they fell out of your mouth.  Apparently they were all the rage…
But not for me.  When I looked at the corn that my brother in law brought in all I could look at was the insane amount of mayonnaise that was slathered all over it and I was instantly grossed out.  As I watched everyone messily eat the corn,  I glanced over to my right and watched my then 3 year old niece attempt to eat this gigantic corn on the cobb that barely fit into her hand and then it slipped from her hands, rolled off the table and made a huge splat on the floor, smearing all the chilli mayo along everything it touched.  Clearly she was not a fan of it because she just shrugged her shoulders and walked over to the other room to play.
A few hours later, when the hubs and I retired to his room to watch a movie, he complained that his stomach not feeling too well.
"It was the corn.  Definitely the corn.  You consumed enough mayo to feed a diner for a year."  I explained to him staring off at the tv in disgust of the copious amounts of mayo that were gurgling around in his tummy.
"It was really good though…can you make it?  But healthy?  Seriously it was good, shame you didn't try it." He tried to explain to his super picky girlfriend.
Naturally, to me this sounded like a challenge…so years later I finally found myself making it.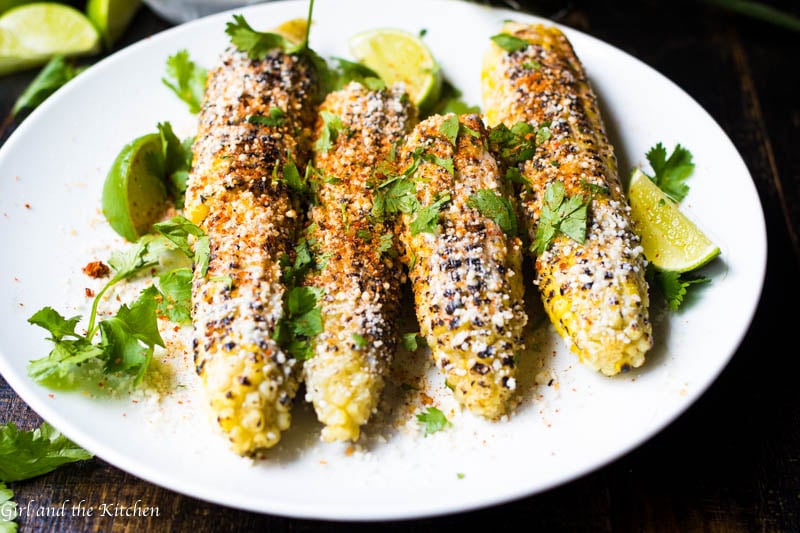 Corn seems to be the perfect food for summer and so I decided to put my own unique twist on them by creating my own lightened up Mexican Street Corn and flavoring them up with the almighty popular spice mix created by my cousin Kenny.  I quickly realized that in order to make this corn magically delicious and not as horrendous on my waist line, I would have to increase the amount of flavor and decrease the amount of mayo and crema.  Traditionally Mexican Street Corn is practically dipped into the mayo crema mixture and then dipped into the cotija cheese.
By the way have you ever used cotija cheese?  It is the Mexican cousin of our beloved Parmesan.  It is crumbly, salty and ridiculously delicious.  The best description is that it is a cross between feta and Parmesan.  And just as delicious.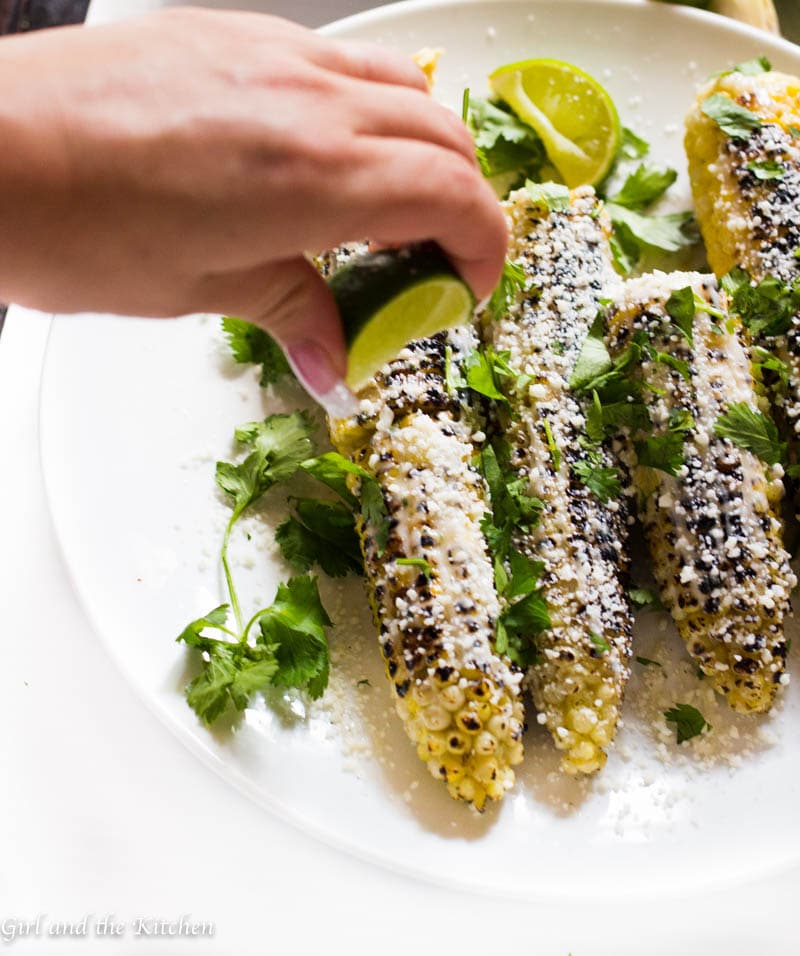 When I finally perfected the recipe… I realized that instead of smearing the mayo and crema on, the better option was to just brush it on with a pastry brush lightly.  With this method it actually seeps into the corn and doesn't just sit on top.  I put loads of flavor into the crema and mayo mix with Kenny's spice mix and some cilantro, garlic and lime zest.  And instead of rolling around the corn in the cheese, I simply sprinkled it on and served extra on the side in case anyone wanted more.  I topped the corn off with another generous sprinkling of the infamous spice mix and zested some lime on top.  Loads of fresh cilantro and lime wedges finished off this glorious dish and now I am proud and happy to call the lightened up version of Mexican Street Corn my own.
And if you LOVE this dish.. check out this fantastic Serrano and Soy Grilled Chicken that will knock your taste buds off!  Plus it pairs so perfectly with this corn!
Tools used in this recipe:
Pastry brush:  Used to brush on the crema and mayo mixture ever so lightly.
My trusty Weber grill: Used for grilling up the corn
Microplane:  My favorite kitchen gadget of all time, used to zest the lime and mince the garlic.
Print
Grilled Mexican Street Corn (Elotes)
---
Author:

Total Time:

25 minutes

Yield:

4

people

1

x
Description
Sweet, tender and spicy! These Mexican Street Corn is all of it! It is full of vibrant colors and bold flavors and will turn your summer BBQ into a fiesta! Of course the best part is how incredibly easy it is to turn regular grilled corn into the show stopper that this Mexican Street Corn is!
---
8

ears sweet corn

1/4 cup

mayonnaise (feel free to use a vegan mayo)

1/4 cup

of crema or sour cream

1/2

each lime (juice and zest)

4

cloves garlic (minced on a microplane)

½ cup

cotija cheese

2 tbsp

finely chopped cilantro

3 tbsp

cilantro (roughly chopped)

2

limes (garnish, quartered)

1 tbsp

of Kenny's special spice mix plus extra for sprinkling on top
---
Instructions
Fill up a large pot with water and place the corn in the husks into the pot, ensuring the corn is covered. Allow the corn to sit in the water for 15 minutes so the husks soak in the water. This will prevent them from burning up on the grill.
Preheat grill to medium high.
Remove the corn from the pot and place the corn on the grill and grill for 7-10 minutes per side or until tender on the inside. If when removing the husks from the corn, the corn does not have enough color, place the corn onto the grill and allow it to char for a bit to get some more color.
While the corn is grilling, in a bowl combine mayonnaise, crema, garlic, finely chopped cilantro, 1/2 of the lemon zest and all of the lemon juice, and 1 tbsp of Kenny's special spice mix.
Remove the corn from the husks carefully as they will be hot.
With a pastry brush or a knife, apply the seasoned mayonnaise to all the sides of the corn while it is hot. This works better with a pastry brush because you get even coverage without using too much of the mix.
Sprinkle the corn with the cotija cheese.
Sprinkle with roughly chopped cilantro, extra Kenny's spice mix and squeeze with limes.
Serve immediately.
Notes
1. When grilling corn in the husks, if you soak the corn for 15 minutes in water, the husks will not burn up on the grill right away and will allow for even cooking.
2. You can very easily make this vegan by using vegan mayonnaise and omitting the cheese. It will still be delicious!
3. Nutritional information is to only be used as a guide.
Prep Time:

5 minutes

Cook Time:

20 minutes

Category:

Vegetarian

Cuisine:

Mexican
[wprm-nutrition-label]
Pin For Later