The Best Steak Marinade (And Veggie Marinade)
A deliciously simple and savory steak marinade that takes an ordinary steak to a gorgeously tender and scrumptious piece of meat. As a bonus it is great on veggies!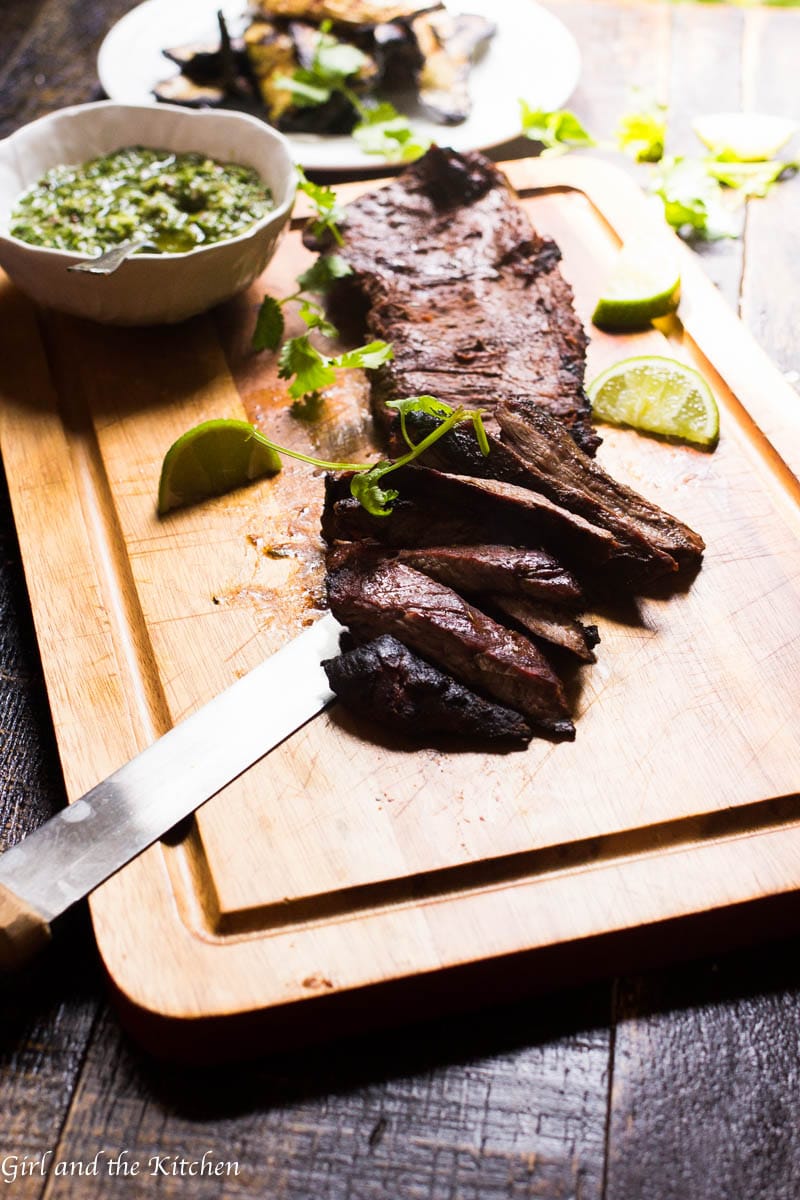 Marinades are a busy cook's easiest flavor booster. If a proper marinade is used even a second rate steak cut can be saved and made deliciously mouthwatering.
Our house has never been a stranger to steaks. The hubs loves them and when I was a carnivore I loved them as well. I frequently bought skirt steaks and within a few minutes of being thrown on a scorching hot grill I had dinner ready. Skirt steak is an incredibly flavorful cut of meat. They cook up very quickly and deliciously and as a bonus, they do not benefit from long cooking times.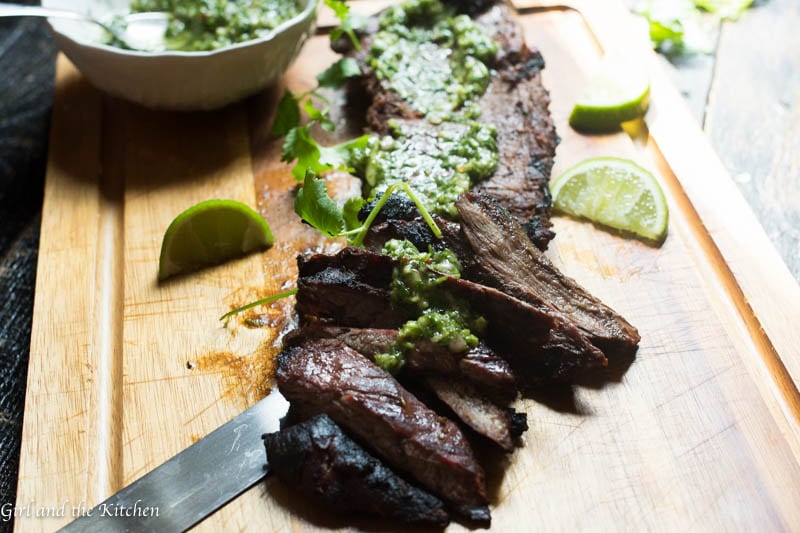 Generally speaking and without getting into too many technicalities about anatomy, the skirt steak (or arranchara as it is frequently called) has 2 different cuts: inner and outer. The inner skirt steak tends to have a great deal of flavor but is just a bit more stringy and lends itself really well to things like fajitas, tacos and salads. The outer cut has more flavor, less fibers which = more moisture and is usually the more expensive cut.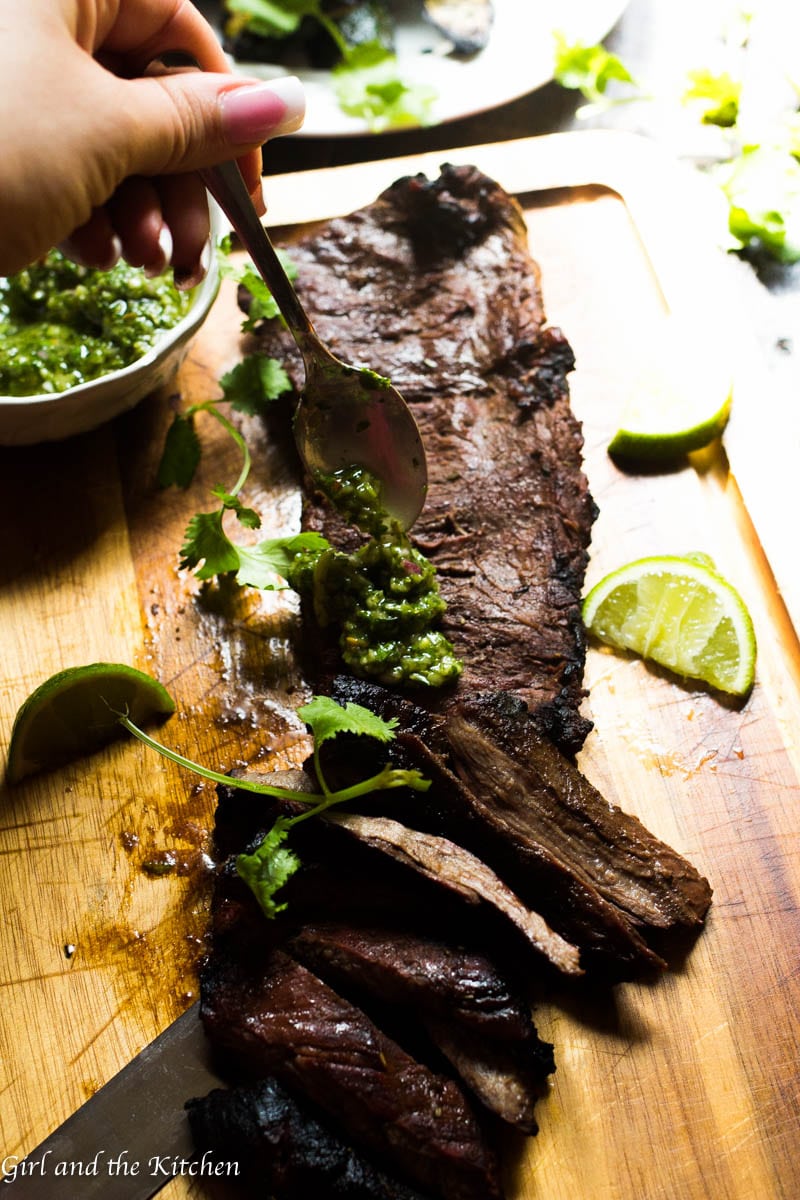 This summer, the hubs and I ramped up for a very last minute BBQ. It was supposed to be a casual get together with some of our friends and some much needed gabbing and relaxation. I had big plans for the evening. I planned on doing an Argentinian night. Complete with all sorts of veggie side dishes and an incredible steak with my legendary chimichurri sauce.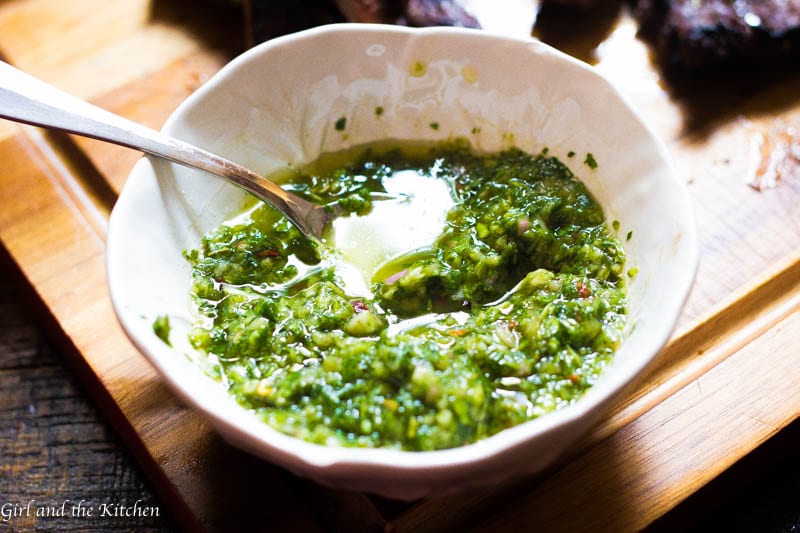 On the way home I stopped by the grocery store to get my outer cut steaks and unbeknownst to me, they had a sale on the steaks that day…and as my luck would have it, they only had some inner cuts left. I huffed and puffed a bit and then agreed to get the steak regardless.
Chef tip: There are some grocery stores that will ask if you your steak tenderized. DO NOT do this. There is no need to tenderize the steak as it will benefit greatly from a quick sear and will still be tender. When they tenderize it, the end result can sometimes become even stringier and mealy.
To be honest, the steak had not looked that awful when I brought it home. Sure it was not my prized outer cut but it certainly wasn't as offensive as I had believed it would be. But I believed it could achieve culinary greatness…And I had great plans for it.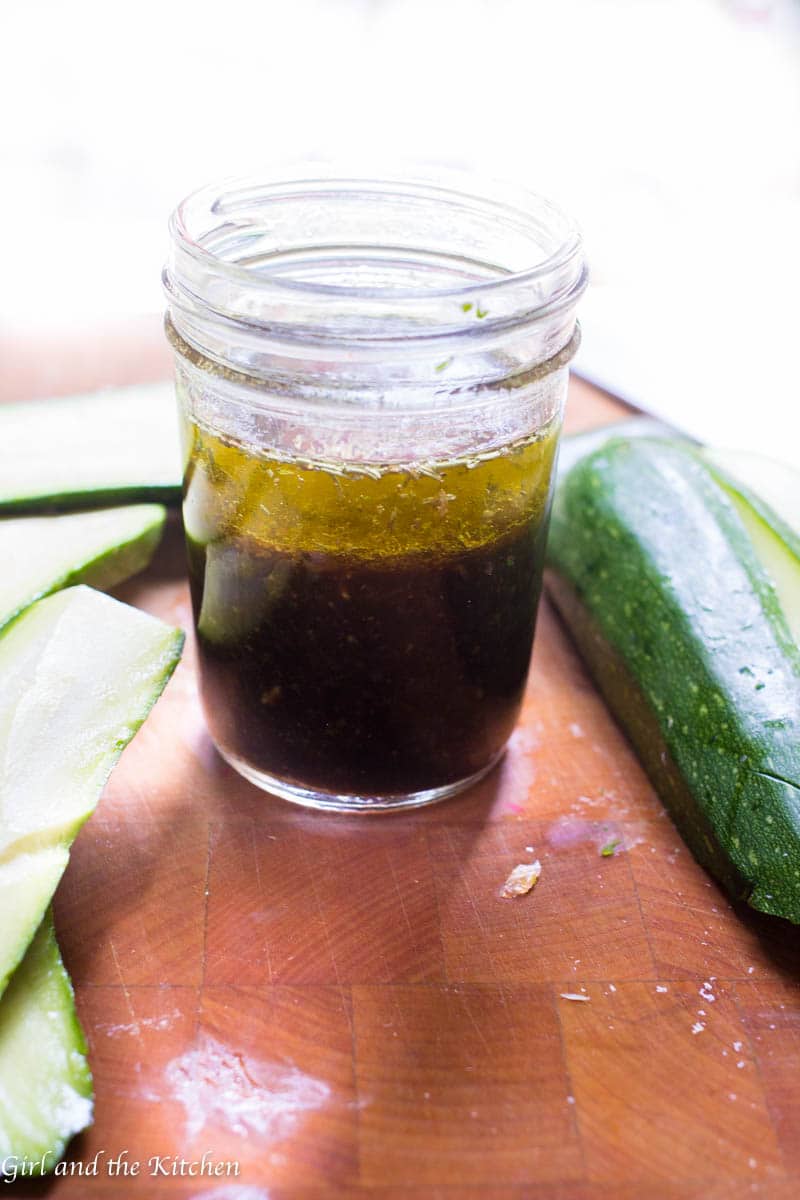 A marinade will often enhance and sometimes completely transform the flavor of almost any food. Unlike popular belief, few marinades will actually tenderize the meat. In order for tenderizing to occur there need to be special enzymes that aid in the tenderizing of the meat. They do however enhance the flavor. A good marinade will never take away from the food itself but instead exaggerate the flavor it already has.
My steak marinade is perfectly balanced with salty and savory and makes the steak impossible to put down. The combination of balsamic, dijon and garlic is a pretty hard combination to beat.
Oh and as a BONUS this is my marinade that I always use on my vegetables as well. The veggies literally need a 5 minute soak in the marinade and the flavor is completely transformed! I use this marinade with peppers, zucchini, squash, asparagus, broccoli, portobellos… any vegetable truly benefits from this marinade before hitting the grill.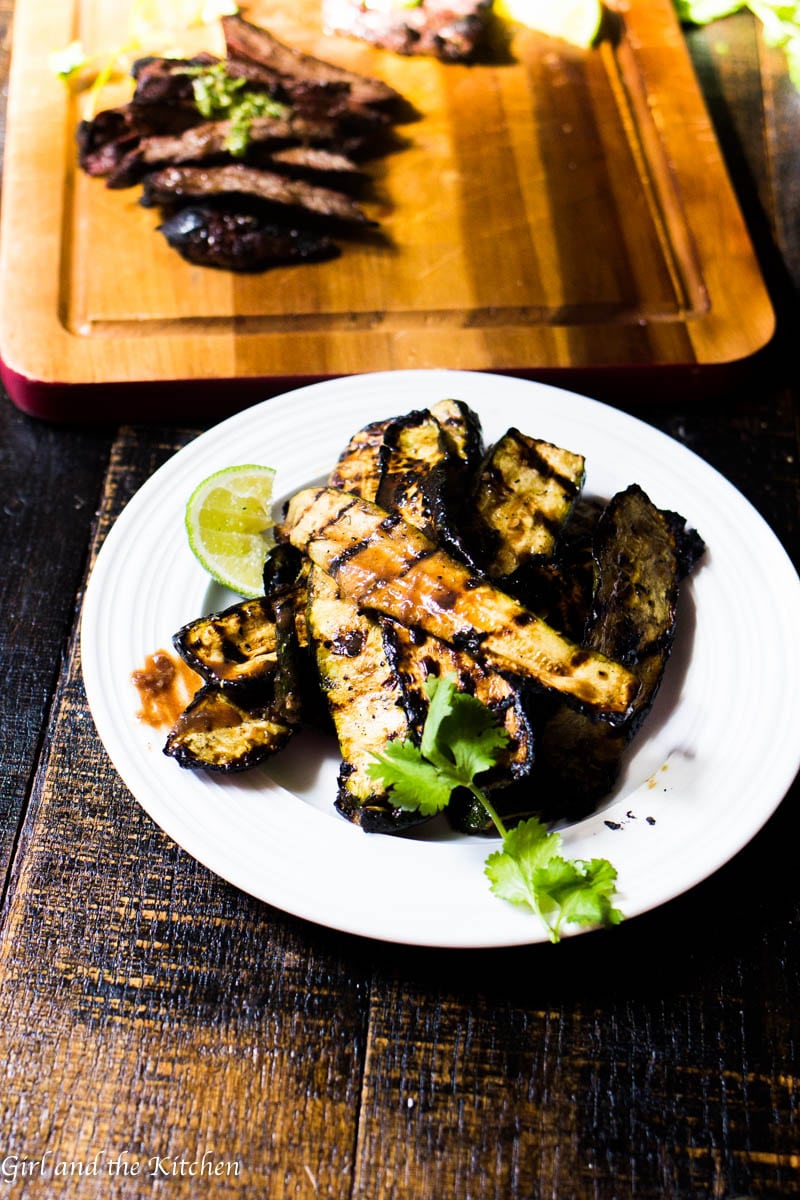 My steak marinade happens to be one of the sauces I have on hand in the fridge at all times. There are a few reasons for this:
It whips up in my trusty Vitamix without any need for chopping.
Since it is acidity based, it can stay in the fridge for two weeks without the worry of spoilage.
It is extremely versatile! Use it as a dressing, a steak marinade, a chicken marinade and a veggie marinade.
The meat and chicken only need to remain in this marinade for up to 30 minutes. Since this is not actually tenderizing the steak there is no need to keep the steak in the marinade for longer than 30 minutes. Which makes this the PERFECT weeknight meal!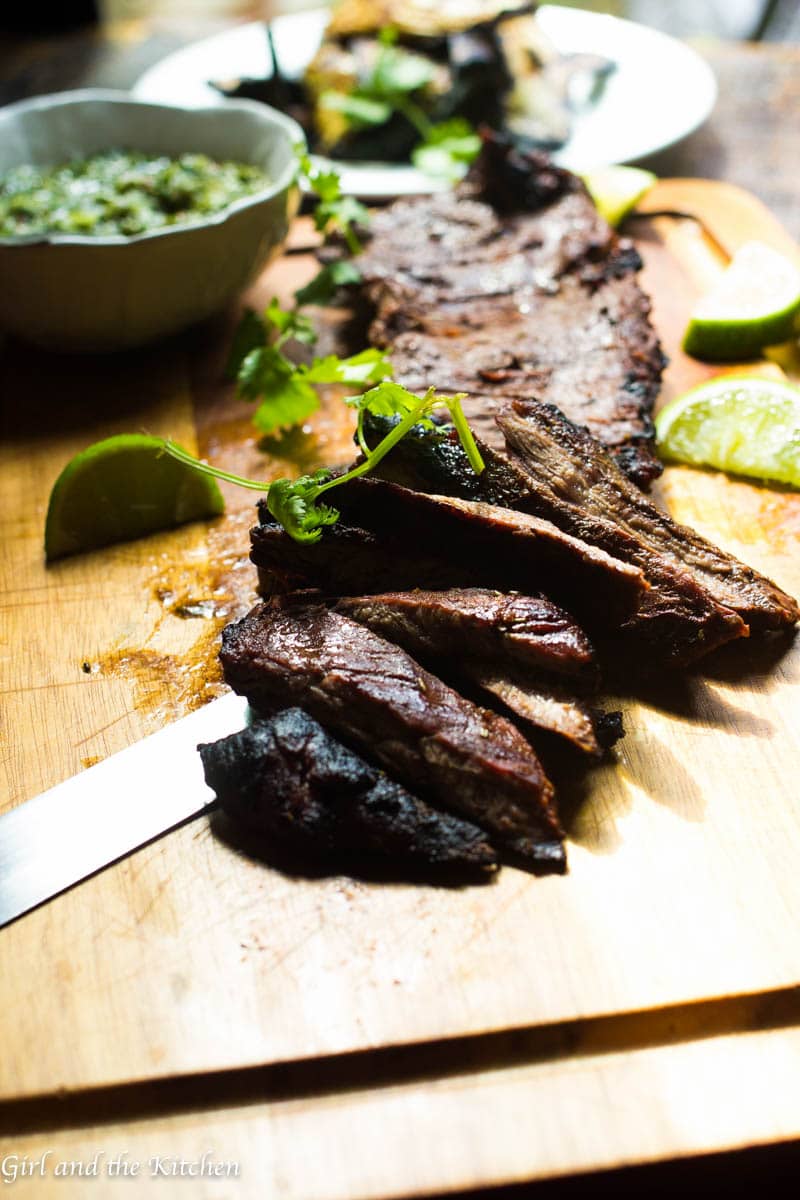 While my skirt steaks marinaded and my guests started gathering on the patio with glasses of rioja and whiskey, I started preparing the rest of the food. I sliced up some veggies for the grill, which also took a nice bath in the marinade. The chimichurri sauce was whipped up with a few pulses in the food processor. 40 minutes later, I had my guests heavily buzzing with conversation and alcohol and I had a table full of delicious steaks, veggies and a few salads.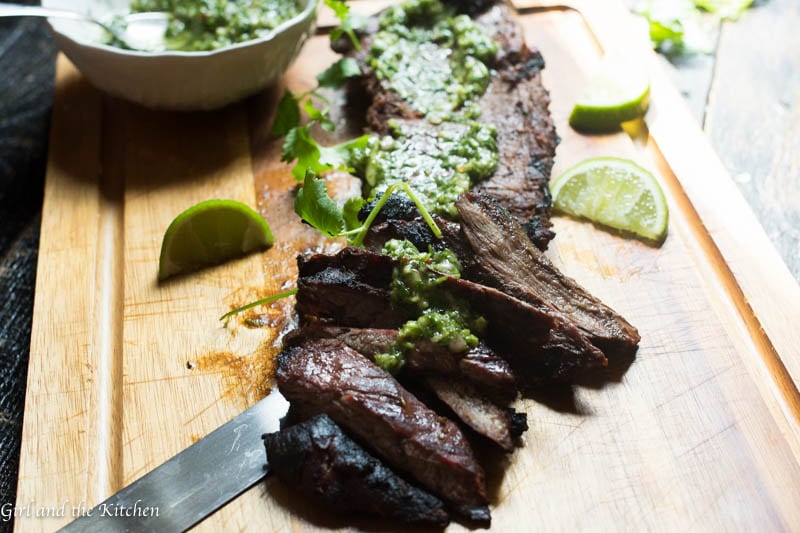 We laughed, we drank and all the while everyone commented how juicy and tender their steaks were. #winning.
Print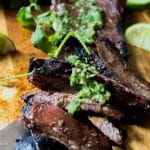 The Best Steak Marinade (And Veggie Marinade)
---
Author:

Total Time:

20 minutes

Yield:

6

people

1

x
Description
A deliciously simple and savory steak marinade that takes an ordinary steak to a gorgeously tender and scrumptious piece of meat. As a bonus it is great on veggies!
---
2.5

pounds of steak * (Or feel free to use any vegetables of your choice)
Marinade
1/2

a cup of balsamic vinegar

1/4 cup

of olive oil

6

garlic cloves (whole)

2 tbsp

of dijon mustard*

2 tbsp

Worcestershire sauce
zest of

1

lemon

1 tsp

salt

1 tsp

black pepper

1 tsp

red pepper flakes (optional)
---
Instructions
Combine all the marinade ingredients in a blender or food processor until blended.
Place the meat or the vegetables into a ziplock bag and seal.
Marinade the meat for up to 30 minutes and the vegetables for anywhere from 5-30 minutes.
Notes
1. Any cut of steak will do. However, try and use this marinade on steaks that can really benefit from the flavor boost. Ribeye, porterhouses and NY strips do not require this marinade 🙂
2. The dijon does two important things in this (and any) recipe. Firstly, it adds immense flavor and secondly it acts as an emulsifier and binds the marinade.
3. Double or triple this recipe and keep it in an airtight container to use as marinades, dressings or vinaigrettes.
4. The nutritional information is to be used for information purposes only.
Prep Time:

5 minutes

Cook Time:

15 minutes

Category:

BBQ, Grilling, Healthy, Steak

Cuisine:

American