One Pan Stuffed Portobello Mushrooms
An incredibly easy one pan stuffed portobello mushrooms recipe full of spinach, garlic and topped with a gloriously runny egg.  The perfect addition to a last minute brunch!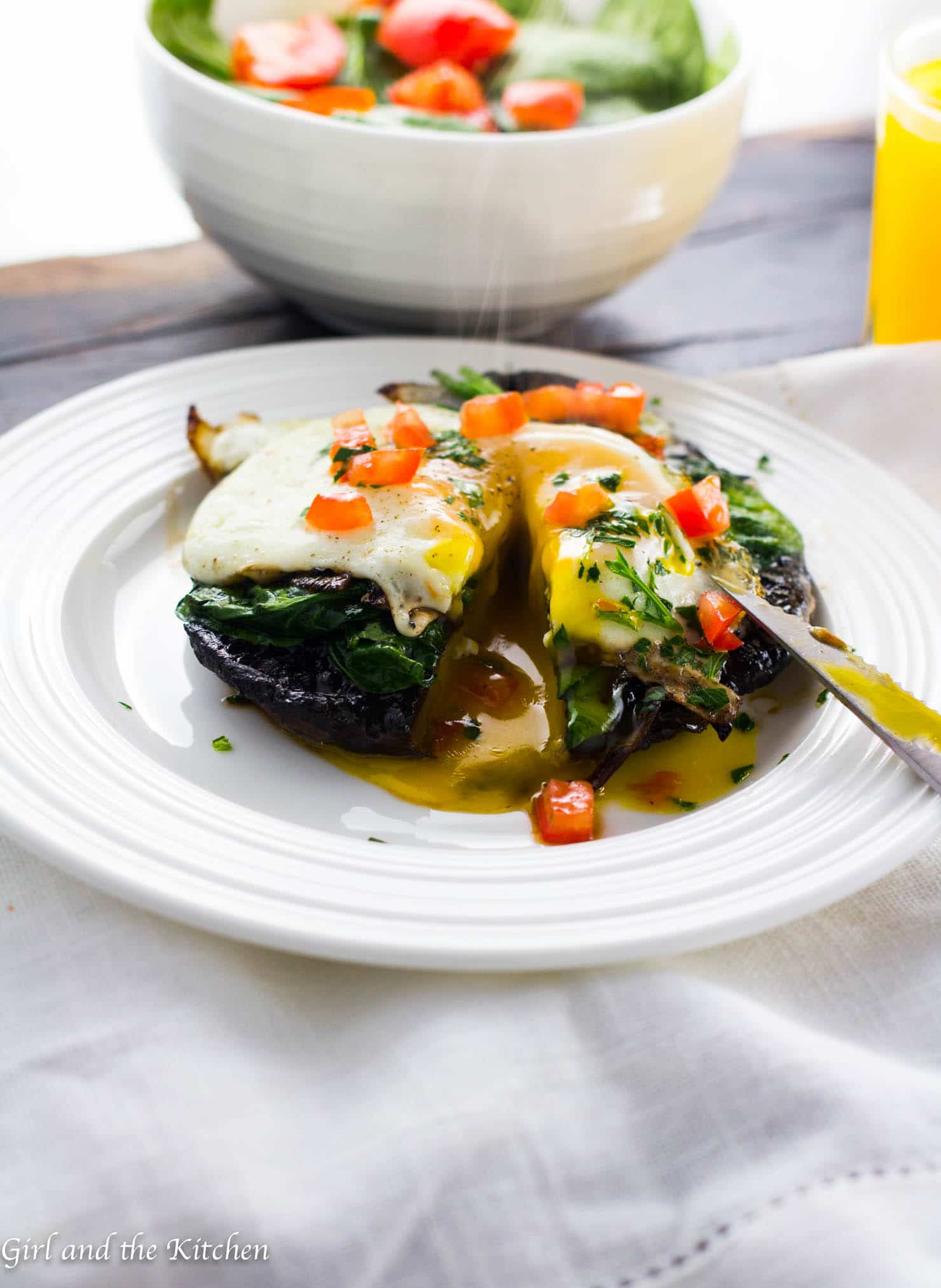 My husband loves mushrooms.  I have mentioned this several times on here.  I however, am not a fan of this fungi.  Sorry, none of them are my cup of tea.
However, they have been absolutely irreplaceable in convincing my husband to eat a mostly plant based diet.  I can stick mushrooms in almost anything and he will eat it.  Mushrooms for him are like potatoes for me…you give me a potato in practically any preparation and I will devour it no questions asked.  Actually so will he…hence why when I really need something for him my ultimate bribe is potatoes with mushrooms done in the Russian way.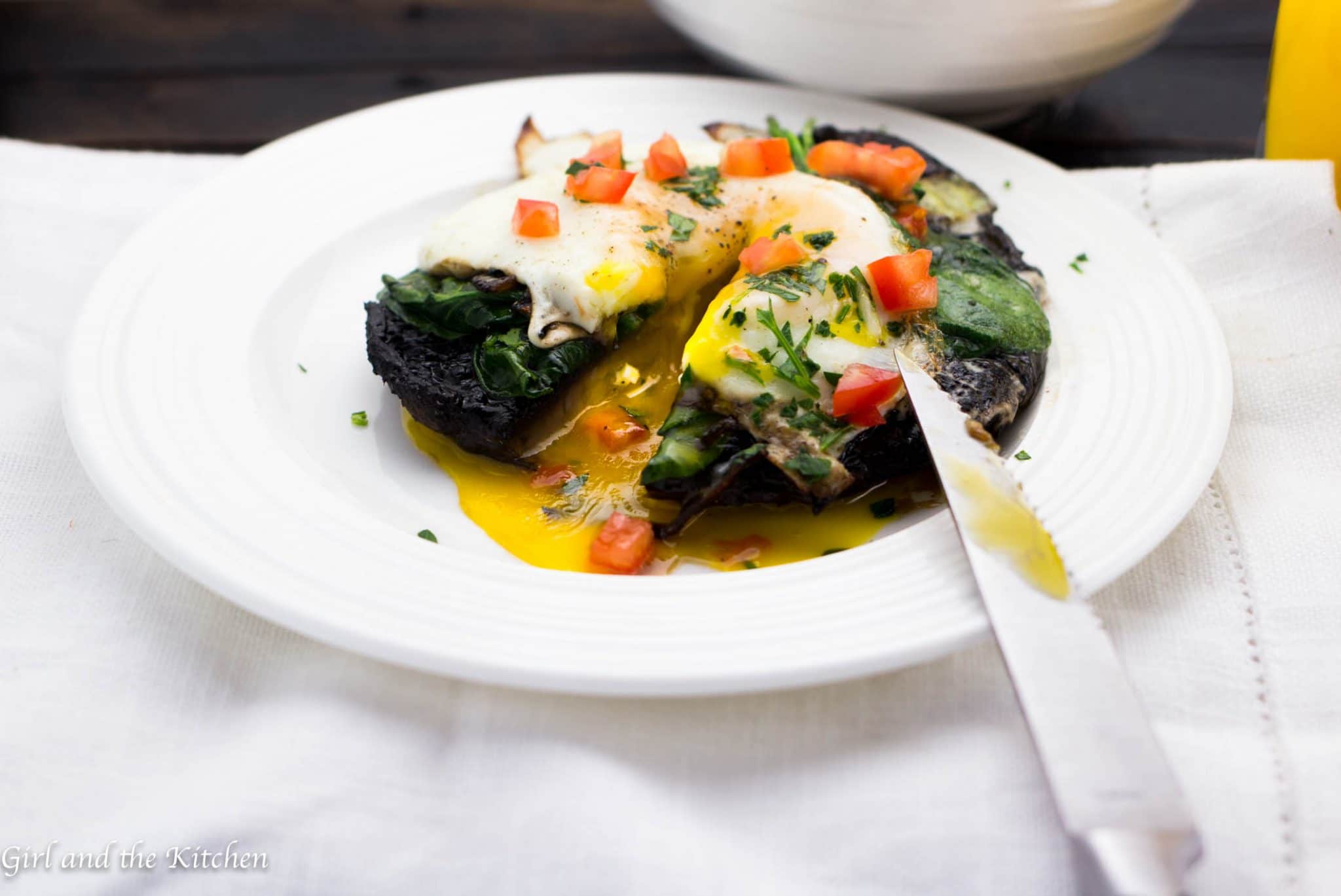 Earlier this week, I was busy doing my usual weeknight shenanigans which consist of cooking, taking pictures and picking Playdoh out of my munchkin's hair.  In between all this, the hubs comes downstairs and says, "Babe, I'm really hungry."
Naturally, I was already taking pictures of food and he had interrupted my flow.  Why could he not eat what I was already photographing that night you ask?  Well because hubs did not feel like fish and I happened to be making my Teriyaki Pineapple Salmon for myself to enjoy this week.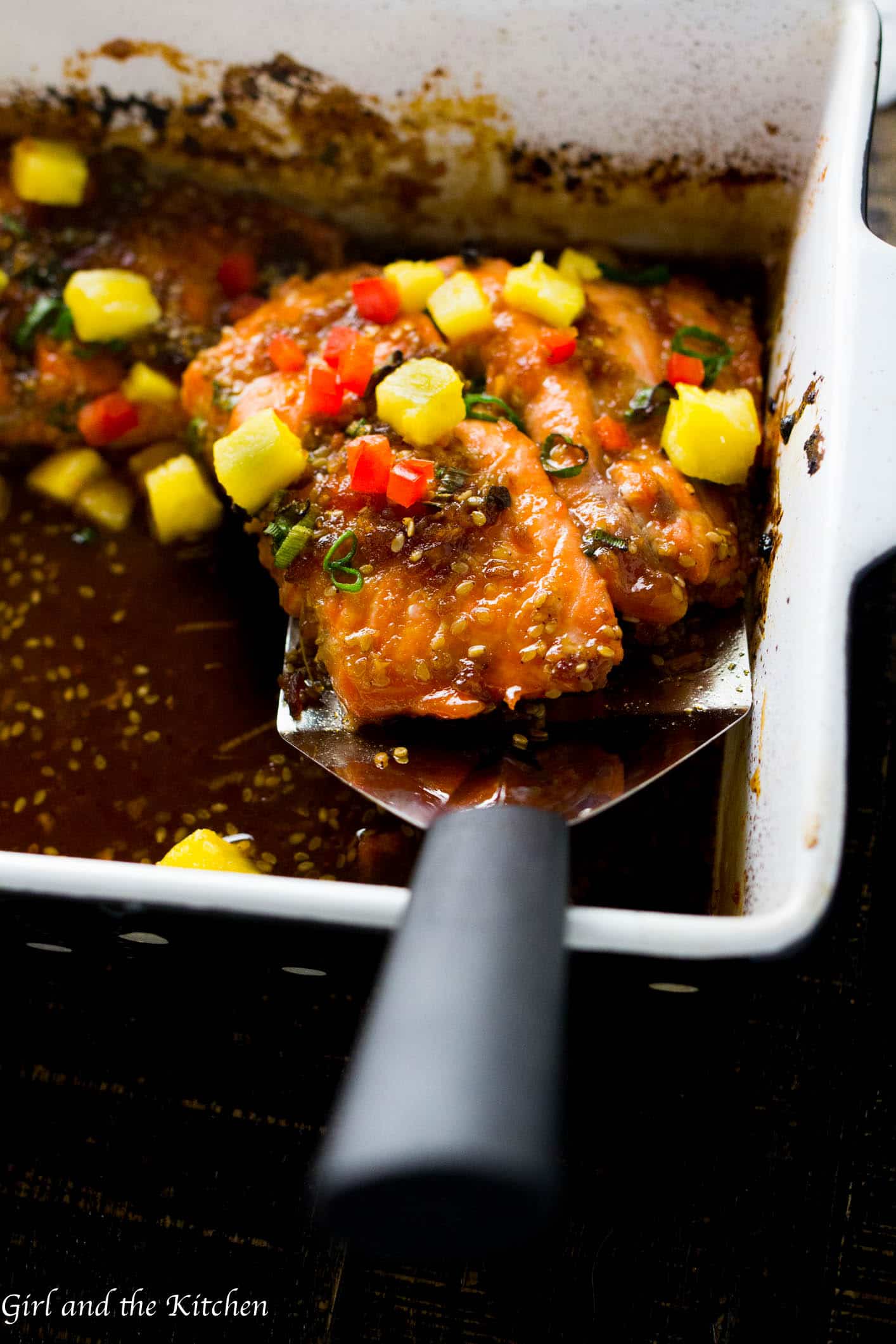 "Make me something…new."  This was the request I received from my lovely husband.  What was this a wedding?  Did he want something borrowed and something blue as well?
So as always I scoured my fridge for "something new" to create for him.  Eggs…eggs are always good.  And then…hidden in my crisper drawer I saw it…Portobellos.  I had purchased them a few days ago…clearly with some sort of plan but none that had materialized yet.
"Babe I'm making you something new! But I need your help with the photography!"  That's the only price he pays in the house for food.  The lovely husband doubles as my photography assistant.
In addition to mushrooms the hubs loves caramelized onions.  I can put them on anything and make it a perfect meal for him.  And because I already had 9 different dirty pans and pots in the sink, I decided to make this a one pan meal.  I used the largest pan I had for the 2 large portobellos.
A quick sauté on the mushrooms and into the pan went the sliced onions and spinach.  Once the perfect caramelization of onions was achieved, I moved everything to the side, added in 2 eggs and fried them up until they were wonderfully over easy.
(Here is a nifty little tutorial on how to make the ULTIMATE over easy eggs)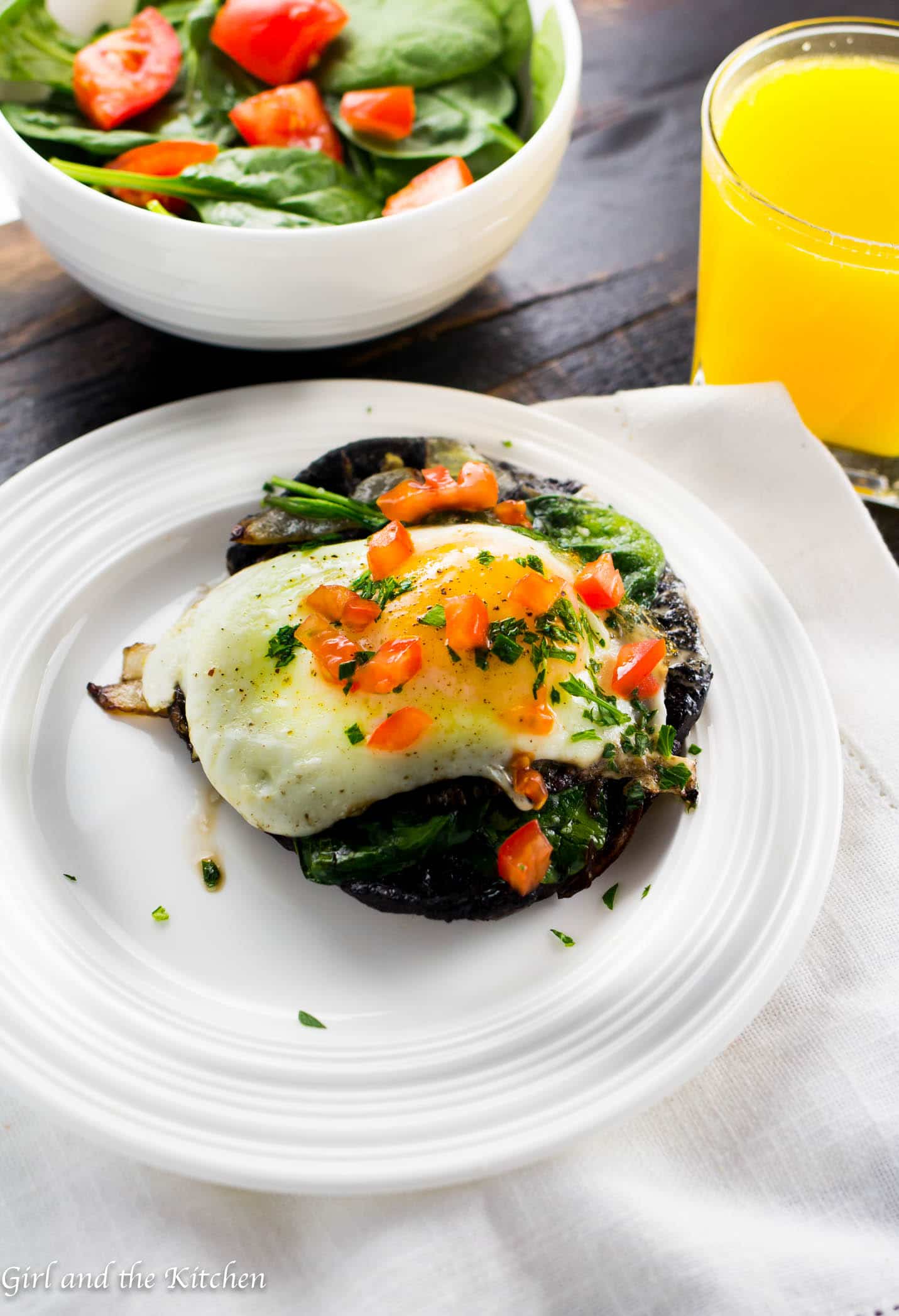 "Baaaaaaabe!  I need you!  I need to get the magic shot!" I screamed to him.  "Quick!  Hold the reflector over the eggs and break the yolk with your fork."  He did as I told him..and greatness was achieved.  The yolk was utter perfection: runny and golden in all its glory.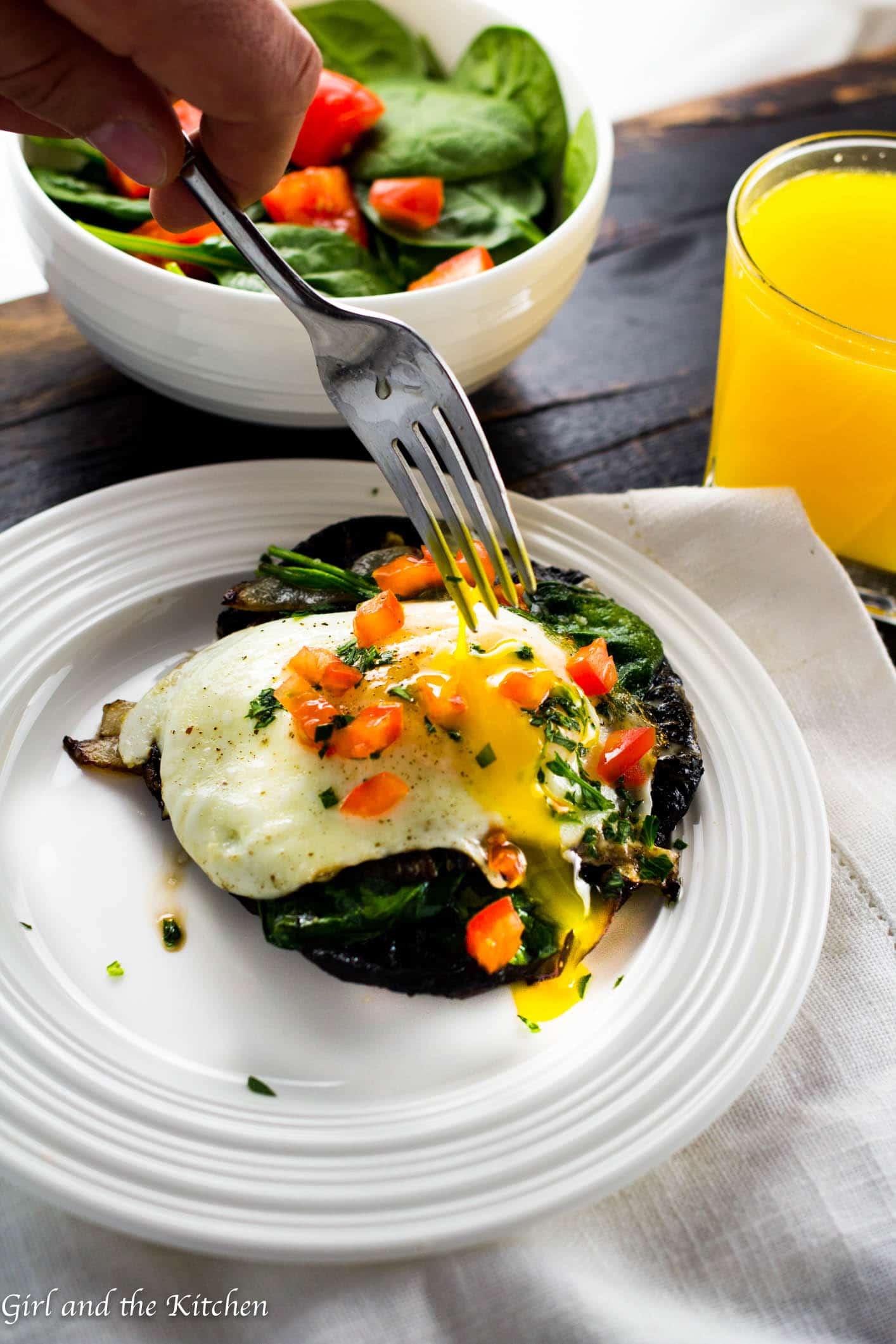 "Mila, it's glorious…Now can I eat it?"  Hubs asked as he licked the runny yolk off the fork.
I served it to him that minute with some hot sauce and some left over guacamole, which happened to be a perfect partner for this dish.
"Seriously this whole vegetarianism thing…it's not that bad," hubs said as he smiled after his last bite of his SECOND mushroom.
Print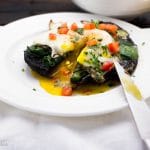 One Pan Stuffed Portobello Mushrooms…A Breakfast Recipe
---
Author:

Total Time:

25 minutes

Yield:

2

people

1

x
Description
An incredibly easy one pan stuffed portobello mushrooms recipe full of spinach, garlic and topped with a gloriously runny egg. The perfect addition to a last minute brunch!
---
2

portobello mushrooms

1

small onion (sliced)

1 cup

baby spinach or frozen spinach*

2

cloves garlic

2

eggs

1 tbsp

chopped parsley

1 tbsp

olive oil plus more if necessary

1

tomato (chopped as a garnish)
salt and pepper to taste
---
Instructions
In a pan large enough to hold the eggs and portobellos, add in the olive oil over medium to high heat.
Place the mushroom in the pan cap side down and allow to sear so a nice color develops. Season the side of the mushroom that IS NOT down on the pan. Allow to pan fry about 4-5 minutes.
Simultaneously add in the chopped onions around the mushrooms and season with salt and pepper.
Flip the mushroom and season the other side that is now facing up.
Toss the onions a bit.
Add in the spinach and the garlic and close with a lid allowing everything to steam together nicely and the spinach to wilt. splitting it up evenly.
Add more oil if necessary then crack the eggs in the same pan alongside the mushrooms. Season with salt and pepper.
Cover with the lid for 3 minutes until the egg yolks are a little pinky yellow (aka over easy).
Remove the portobello mushrooms, put on a plate and add the egg on top. Sprinkle with parsley and chopped tomatoes and enjoy!
Notes
Note 1: You can use frozen spinach as well. Just ensure that when you put in the frozen spinach, you cover the pan with a lid. Otherwise the ice crystals from the spinach will mix with the oil and will splatter all over and create a big ole' mess.
Once the spinach is nice and melted, remove the lid and allow the water that melted to evaporate.
Note 2: Nutritional values are to be used as guidelines.
Prep Time:

15 minutes

Cook Time:

10 minutes

Category:

Breakfast, Vegetarian

Cuisine:

American