Summer Vegetable Stew…A One Pot Meal
One of the hardest things to give up when switching to a plant based life style was comfort food, in the form of stews.  However, with this yummy summer vegetable stew I do not feel like anything is missing from my life!  Full of aromatic vegetables and yellow potatoes this stew feels like it has been cooking for hours and it's all done in 30 minutes!  Plus it can become a chicken and vegetable stew just as easily!  Versatility and deliciousness all in one pot?  Count me in!


I am a huge fan of hearty food.  Stews, soups and rice dishes are my fave.  It's the kind of food that reminds me of my childhood and spending time in our kitchen as mama and babushka cooked up our meals for the week.  This is the kind of meal my babushka loves.  Full of vegetables and tons of fresh herbs, it screams warmth and love.

Babushka used to make a dish similar to this.  She used to make it with chicken drumsticks and chicken wings (yum.)  I used to love it when she made this, she called it a ragu.  I how the Russians steal famous French words, particularly those relating to the culinary world and then they completely interpret them as their own.  Classy 🙂

I had forgotten all about this dish that my babushka used to make so very frequently back in the homeland.  A few months ago when I was at my in-laws house, I was reminded of this comforting dish.  It happened to be one of those random unusually cold days in May.  We had a lot of those this year.  As usual I was on my way to pick up the munchkin from my in-laws house.  When I got there, I heard dead silence and only saw my MIL quietly chopping vegetables in the kitchen.  No TV was on, no barking dog, most importantly no three-foot toddler running at me with laughter and glee; it was strangely quiet.

"Hi Ella, where is everyone?" I said to my MIL as I walked in.

"Charlie is upstairs sleeping, her grandfather fell asleep with her."  (Charlie is the munchkin)

"What are you doing," I asked her trying to cover up the yawn already forming.

"Ahhh I had a bunch of vegetables left over in the fridge so I decided to make a ragu.  Munchkin likes it, I like it, I figure I have not made it in awhile,"

"MMMM that sounds really good.  Do you want some help?"  I said, stifling another yawn.

"Mila, munchkin just went to sleep 20 minutes ago, she will be out for a bit.  Why don't you go and take a nap too for a bit."  My MIL knows as well as I do, that only one chef can be in the kitchen.

I refused to argue and happily went and took a nap in the guest bedroom, the room where my hubs and I used to lay and watch movies late at night when he lived with his parents…sweet memories.

I was awoken 45 minutes later by a familiar and comforting aroma.  The aroma of vegetables and warmth.  It was the ragu.  I must have some.  I snuck a peek into the munchkin's room and realized she was still out cold…which gave me enough time to go inhale a large portion of ragu.

I stumbled into the kitchen, scaring my MIL half to death, and proceeded to walk towards the pot on the stove.  I opened the lid and saw all the beauty within.  Colorful red peppers, tender yellow potatoes and bright dill and parsley adorned the top.

"Take some.  You want some salad?  Maybe some black Kiev bread?  Here have some hummus and a new eggplant salad I made,"  I had not even had a chance to fully close the pot as all these offerings appeared on the table.  This is how the Russian moms and MIL's roll… one meal is not enough, you need 99 accompaniments to it.

FYI…Kiev bread is the most delish bread there is.  You can see it in all the pictures.  Flavor wise it's a cross between rye and sour dough.  It's fantastic and the ultimate for dipping into the saucy goodness left behind.  I proceeded to do just so, lots of "mmmm's and ahhhh's" left my lips.  My MIL seemed pleased that she could feed her picky daughter in law.  The potatoes seemed to melt in my mouth and the veggies were filled with boatloads of flavor.  It was hard to believe that there was not any additional flavorings in there to make it taste so good.

What I love about this dish is in the heart of hearts, there are no rules.  It's a simple and quite humble dish that literally you chop and drop everything into.  Made in one pot with a whole lotta love.  (Spare me your eye rolls…I'm in a cheesy mood.)  The veggies are interchangeable, as are the herbs.  Add cilantro to it and it can take on a whole new party in your mouth. (hmmm recipe idea! Stay tuned for that one).   You can eat it for lunch, or dinner in the summer or the winter.  It's super light and comforting all in one.  It's a one-hit wonder 🙂

My MIL made this with chicken.  And prior to my plant based life, I had also made it with chicken and it was to die for.  The best part is it is just as easy to make it with chicken as it is without.  Add the chicken in at the same step you add the potatoes.  And once the chicken is done, so is your ragu!  Easy as that.  Now go on and enjoy it!  I know am!
Print
Summer Vegetable Stew…A One Pan Meal
---
Description
Full of aromatic vegetables and yellow potatoes this stew feels like it has been cooking for hours and it's all done in 30 minutes! Plus it can become a chicken and vegetable stew just as easily! Versatility and deliciousness all in one pot? Count me in!
---
1

large onion (small diced)

4

garlic cloves (minced on the microplaner)

1

leek (see note 1, sliced and rinsed)

1

small cabbage (see note 1, thinly shredded by hand or shredder, washed through well)

1

large red pepper (sliced into strips)

1

15 oz can diced tomatoes

8

medium potatoes (peeled and cut into quarters)

2 cups

of water or chicken stock/broth

2.5

pounds chicken If using bone-in I recommend using drumsticks and wings. chopped otherwise cut up the boneless thighs and breasts into bite size pieces (optional)
parsley to garnish
chopped dill to garnish
red pepper flakes (to taste)
salt and pepper to taste
olive oil for cooking.
---
Instructions
Add about 1 tbsp of olive oil to a medium sized pan and turn to medium heat.(Note 3)
Add chopped onion to the pan and coat with oil. Season with salt and pepper. The salt will help draw the moisture out of the onion which helps with the sweating.
Allow to sweat together for 5 minutes. Add garlic and chili flakes.
While these veggies are cooking up, slice and wash the leeks. You will want to slice them into half moons.
Add the leeks to the veggies and toss everything together. Season with salt and pepper.
Slice up the red pepper into strips and add into the pot along with the rest of the veggies. Stir everything together and let it cook for 5 minutes.
In the meantime shred up the cabbage thinly and wash well.
Peel, wash and quarter the potatoes making sure they are slightly larger than bite size. This was the small and medium red or Yukon Gold potatoes are perfect for this.
Add the cabbage, the potatoes, diced tomatoes and water. IF USING CHICKEN, now is the time to add it. (See note 4.) Nestle the potatoes and the chicken into the mixture so it is surrounded by the liquid.
Turn heat to medium, cover and let simmer for 15 minutes.
Check on the potatoes (and the chicken). The potatoes should be fork tender and the chicken should be completely cooked through. If not, ensure there is enough liquid in the pot for it to keep simmering gently without burning. Add in about half a cup of water at a time to the pot if needed.
Once everything is tender and cooked, remove from heat, check for seasoning and sprinkle with dill and parsley before serving.
Notes
Note 1: Leeks grow in the ground (duh), they are FULL of soil and grit. Therefore I like to slice it first and then use a colander to rinse it out well. This makes it way easier to rinse all the dirt out.


You will want to do the same exact thing for the cabbage. Cut it in half first, then in quarters. Remove your core and start slicing it thinly from the point.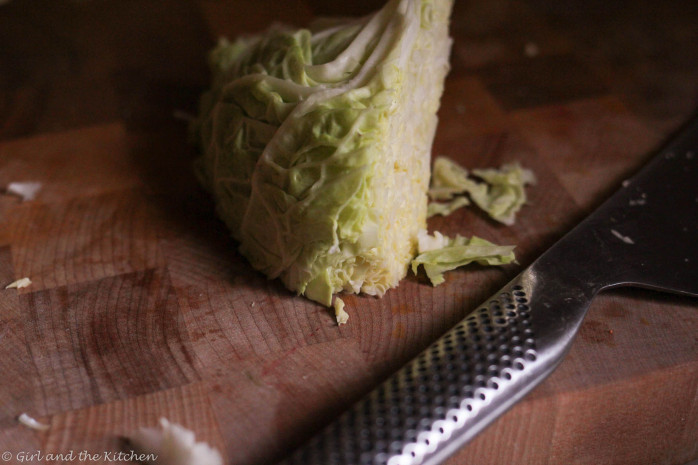 Note 3: In a sense, this recipe is essentially a chop and drop. Since we have the vegetables cooking in sections separately, it only makes it even more logical to just chop up and drop. By multi-tasking this way, you can have a 30 minute meal in no time.
Note 4: Chicken is completely optional but it does make for a great and easy one pot meal. I really love bone-in chicken in here, because it makes me think of my childhood and because the flavor is just fantastic. Keep in mind it will add time to your cooking. Give it a good 15-20 minutes longer if you are using bone-in chicken. But I promise it's totally worth it.
Category:

Stew

Cuisine:

Russian