Skinnier PF Chang's Mongolian Beef
PF Chang's has become synonymous with great Chinese food when there is no time to experiment with the new local Chinese take out joint.  In the time that it takes to to call and order ahead, you can make this super simple and classic Chinese take-out favorite.  The bonus?  It's much healthier for you.  Win/win situation I say! 
Cooking Chinese food at home seems to be a pretty daunting task for most and they typically find themselves running away from their stoves and to their corner Chinese takeout place. The sheer multitude of ethnic ingredients can put anyone into a wild screaming frenzy.  I I get it.  Sometimes Asian food of any ethnicity can be intimidating.
I have a confession of my own:
Hi, my name is Mila and I used to eat take-out Monglian Beef from PF Chang's on a regular basis.  I am happy to say that it has been over 365 days since my last trip there.  Is there a medallion or something I can get for my accomplishment?
No, how about a medallion for THIS accomplishment? This is a skinnified version of everyone's favorite Mongolian beef.
This recipe for Mongolian Beef was born out of laziness not out of genius creativity.  In fact, if I am being honest many of my recipes are and I am not ashamed 🙂  In fact the original recipe of this post…was on the blog since 2012.  But the picture looked like this…
I was a splendid photographer wasn't I?  I created this dish in a hurry when I was home on maternity leave and had to have a dish for a pot luck Chinese New Year we were invited to, that has now become a yearly tradition.  Truth be told, it's another celebratory reason we use to get together, drink and eat.  Hey a party is a party.
Digressing as usual…
Back then, I wanted to create my favorite Mongolian beef recipe from Pf Chang's.  And I based my recipe on the millions of Mongolian beef recipes in circulation on the web.  Honestly though, the recipes were all pretty terrible.  Overly sweet, overly salty.  They were all missing that perfect umami component that is present in Mongolian beef.  I tweaked the recipe a great deal while still staying loyal to the Chinese traditions of quick frying in the wok and using cornstarch to lightly dredge the meat.
It resulted in a recipe I was really proud to call my own. The hardest part really was getting that sweet and salty balance.  After several attempts I had it.  It was perfect. But not so skinny.
While there is a "quick-fry" technique, it is still being fried in oil.  Not healthy.
Enter my laziness.
I was making this dish last week for the hubs dinner.  And as I was about to delicately dredge my meat in corn starch, I realized I had a problem.  I had no corn starch.  None.  I also did not have enough oil to fry it in.
A slew of profanities escaped my mouth as I wondered if I had enough time to grab the munchkin and run out the grocery store which was a 5 minute car ride away.  A roll of thunder and a flash of lightening out my window told me that unless I had a drive thru grocery store I could hit (wow that's a brilliant idea isn't it?!?) I was SOL.
So I did what I do best, I improvised.
Chef lesson——> Fat+flour=Roux. 
And it worked perfectly.  If serving immediately it is absolutely fine, it still had its sheen.  The difference is that if you plan on reheating it, the sauces loses a bit of it's luster…but really who is concerned about that with their leftovers?  Certainly not this girl.  I ain't got time for that.
No frying.  No dredging and we still have great texture and flavor?  That is my type of dish.
Print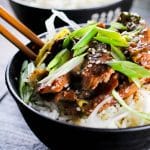 Skinnier PF Chang's Mongolian Beef
---
Author:

Total Time:

25 minutes

Yield:

4

people

1

x
Description
A healthier and faster version of the original PF Chang's takeout classic that combines fresh delicious flavors and a silky sauce.
---
2

pounds of flank steak (sliced against the grain in about

3/4

inch slices)

6

large green onions (sliced on the bias)

1 cup

of low sodium soy sauce

1.5 cups

of water

1 tbsp

of minced ginger

5

cloves of garlic (minced)

1/2 tsp

red pepper flakes

1 tbsp

of corn starch OR

3 tbsp

of flour

1 cup

of brown sugar
Vegetable oil for sauteeing
Cooked rice
---
Instructions
Combine soy sauce, water, ginger, garlic, red pepper flakes, corn starch and sugar in a bowl. Set aside.
Over high heat, add vegetable oil to a large sautee pan or wok. Allow oil to heat up, about 2 minutes.
Add steak slices and sautee for 2-3 minutes until lightly browned.
Add soy mixture to meat and allow to simmer for 2 minutes.
Add in scallions, toss everything together and serve immediately over rice.
Notes
 Nutritional information to only be used as a guide.
Prep Time:

5 minutes

Cook Time:

10 minutes

Category:

beef, Entree, Main Course

Cuisine:

Asian