Easy Pineapple Teriyaki Salmon…A One Pan Recipe
This one pan Teriyaki Salmon flavored with pineapple and ginger is a winning choice for any weeknight dinner!  The bold Teriyaki and pineapple flavors make this salmon recipe taste like you have been in the kitchen basting away for hours.  But you only you will know the simplicity behind it 🙂 

  Lately, my life has been a whirlwind.  And much to my own disappointment finding time to cook has been…well…unrealistic.
In between my full time job, my cooking classes, my blogging, my working out and the endless heaps of laundry that magically multiply in my laundry room overnight – I am pooped.
Even this chef needs a break 🙂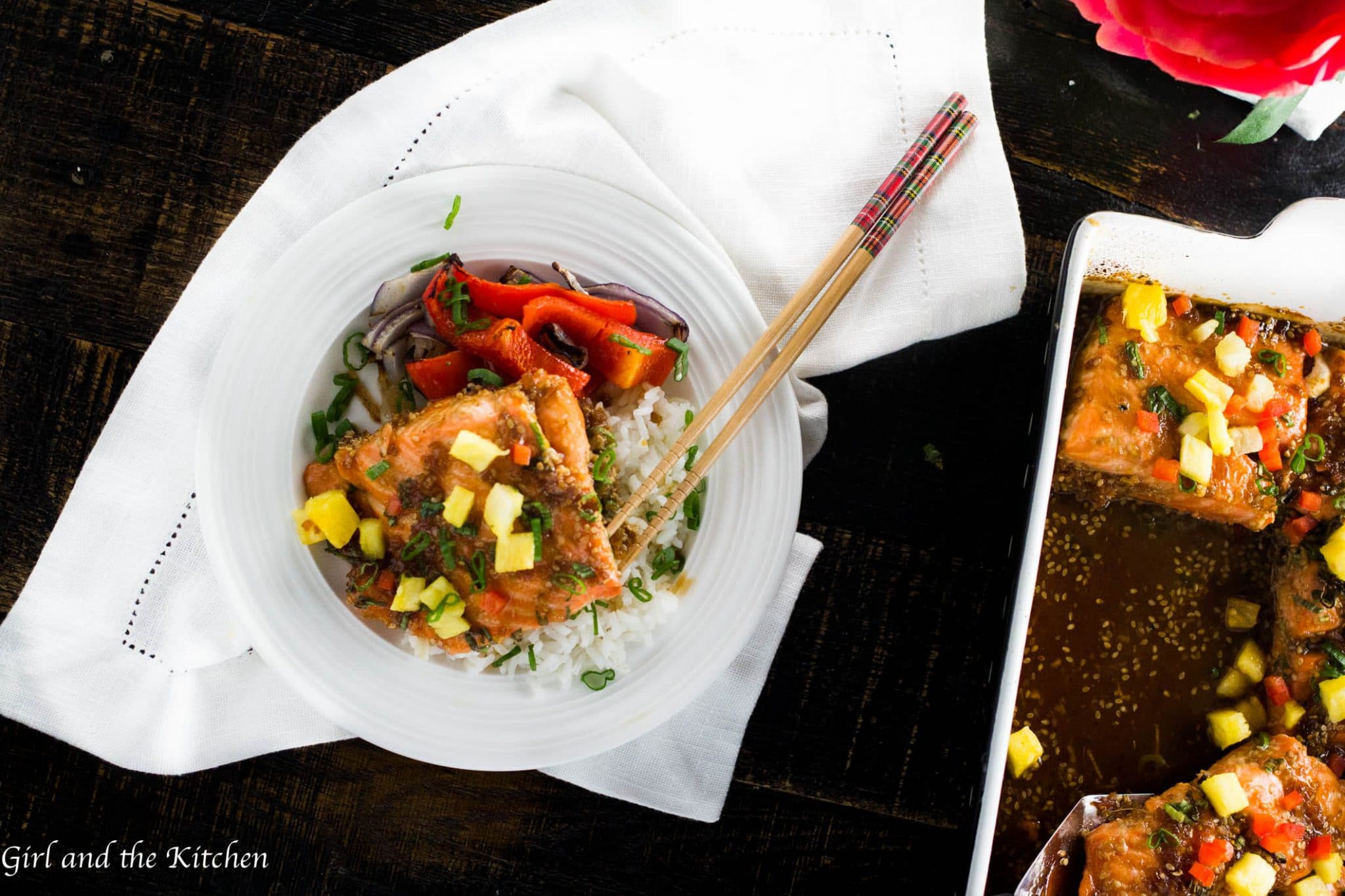 So I have come up with several recipes that are quick, healthy and most importantly delicious!  Considering I eat 5-6 meals a day now…and avoid meat altogether….I find it difficult to look forward to a meal if it is inedible 🙂
This salmon is quite simple and comes together in no time.  I took some help from my good friend Soy Vay Veri Veri Teriyake.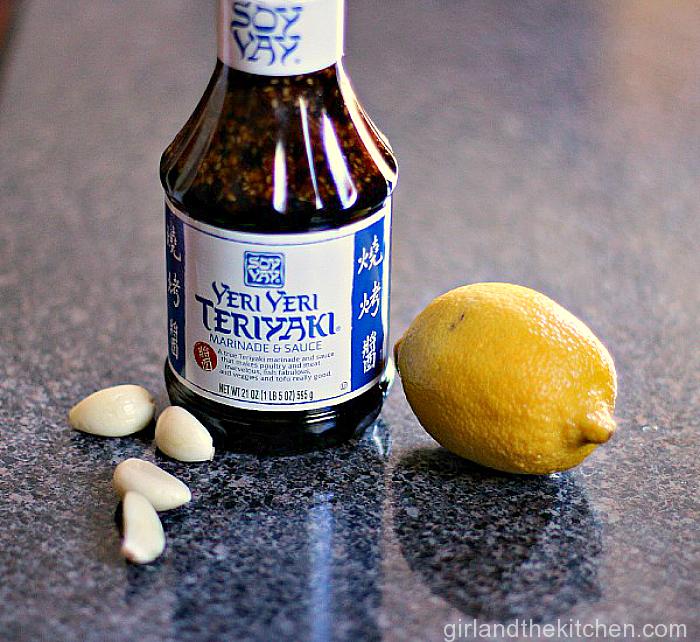 And then I combined some lemon zest, lemon juice, diced pineapple and good ole garlic. Whisk, whisk, whisk to combine!  And don't forget to taste!  You can whisk all this up in an oven proof dish that you are going to use to cook your salmon in!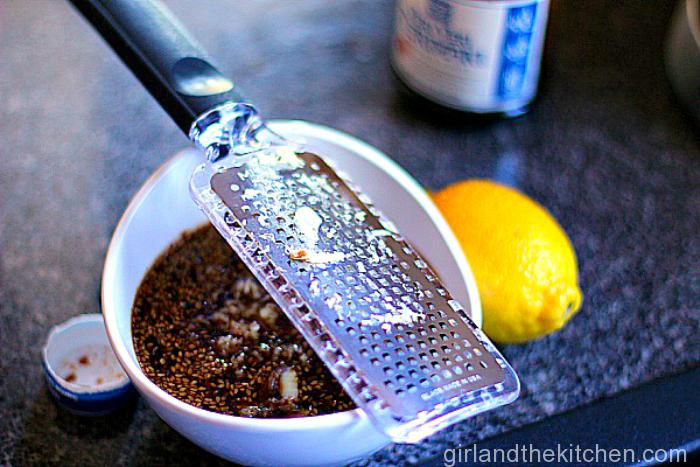 I sliced up my salmon into 4 ounce portions and laid them into my oven safe dish.
I covered them up in my teriyaki and pineapple sauce and went off to a quick and much needed workout.
When I came back from my workout…all endorphin high and happy…I turned on the oven to 450-degrees and once it had preheated, I placed the salmon in there for 10 minutes.
While my salmon cooked I warmed up some Basmati rice, and sliced some scallions and pineapple for the salmon as a fun garnish.
Oh and can we please talk about this rice? My girlfriend Meggan from Culinary Hill has this FABULOUS Chipotle Copycat Rice recipe.  Seriously this stuff is fantastic!!! I add anything from scallions, to sesame oil to tomatoes…it's always fabulous!  And it NEVER sticks!  I always make 3-4 cups of rice and freeze half of it so that I have rice in the freezer when I need it for a last minute dinner.
Back to our fish…10 minutes later, this was what I pulled out of the oven.  It smelled heavenly and tasted even better. It's a real looker!!! And best of all?  You get away with one dish to clean!  Now if that does not spell dinner happiness…I don't know what does!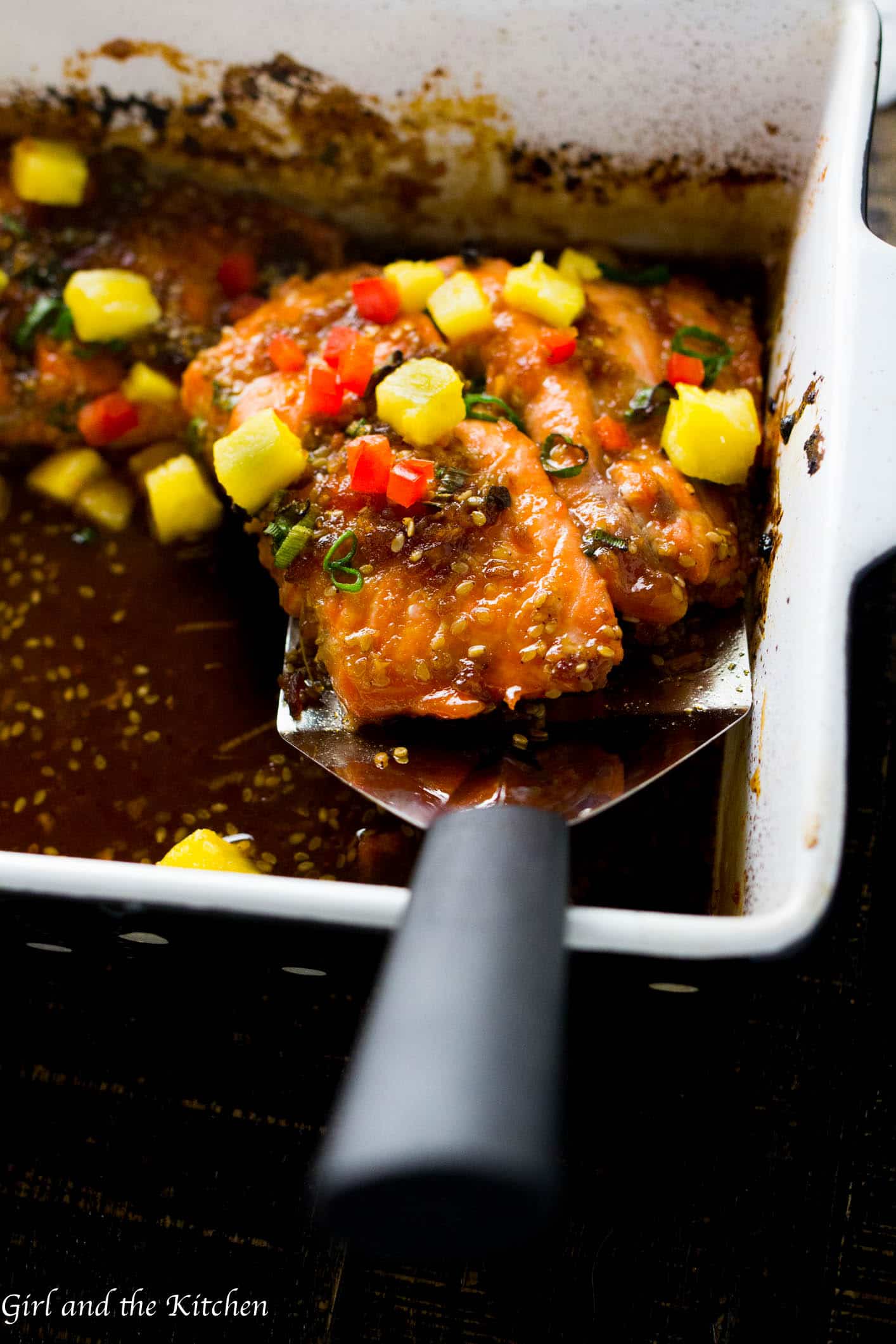 Print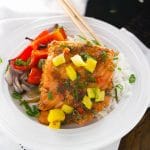 Pineapple Teriyaki Salmon…A One Pan Recipe
---
Description
This one pan Teriyaki Salmon is a winning choice for any weeknight dinner! The bold Teriyaki and pineapple flavors make this salmon recipe taste like you have been in the kitchen basting away for hours. But you only you will know the simplicity behind it 🙂
---
2

pounds of wild salmon

2 cups

of soy vey teriyaki (it's my favorite

one

on the market)

5

garlic cloves (minced or grated on microplane)

1

inch piece of ginger (minced or grated on microplane)
juice and zest of one lemon

1/2

a pineapple diced up (use

1/2

of this in the marinade and the remainder as a garnish)

3

scallions sliced on a bias for garnish
---
Instructions
Combine lemon zest, ginger, lemon juice, diced pineapple and good ole garlic. Whisk, whisk, whisk to combine! And don't forget to taste!
Slice up salmon into 4 ounce portions and lay them into an oven safe dish.
Pour the teriyaki and pineapple sauce over the fish and let stand for 30-60 minutes.
Place into an oven preheated to 450-degrees and allow to cook for 10 minutes.
Garnish with sliced scallions and the remaining pineapple dices.
Category:

dinner

Cuisine:

Asian Fusion