5 Minute Homemade Italian Dressing
Forget the store-bought, bottled stuff!  Create your own homemade Italian dressing in only 5 minutes!  Preservative free and loaded with flavor!  Perfect as a topper for crunchy greens or as a marinade for chicken or grilled veggies!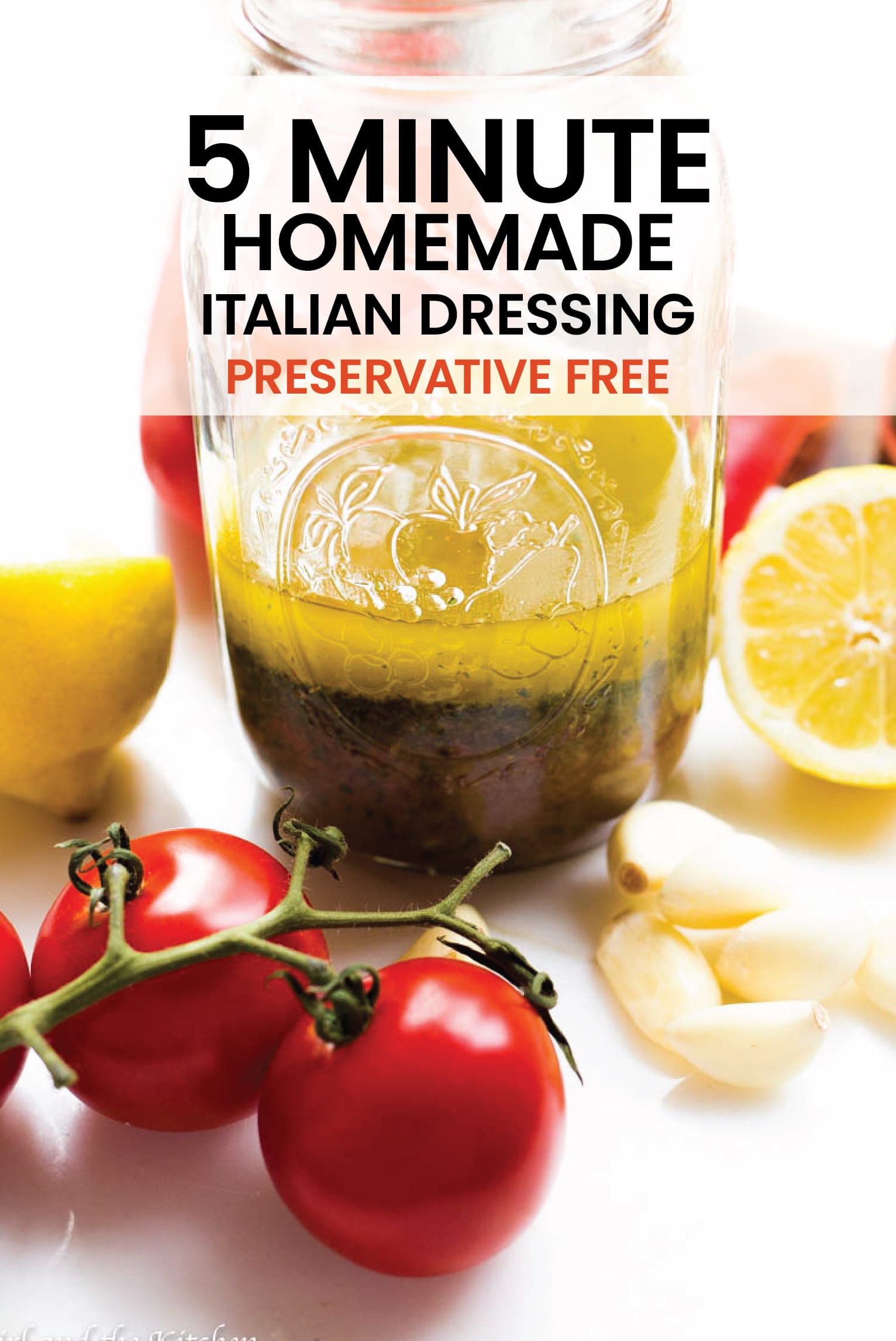 [wprm-recipe-jump]
I never made dressings.  Honest.  In fact, prior to culinary school I did not even know what went into them.  I mean I always combined lemon juice, olive oil, Parmesan cheese and seasoning, shook them up and poured it over my salads, yet I never considered this a dressing…it was just something my mom used to do and I continued the tradition.
But when I learned in culinary school that essentially a dressing was just a combination of oil, acidity and seasoning; I was super excited to create my own dressing concoctions.  It did not take me long to create black peppercorn ranch, dijon honey mustard and my own twist on a balsamic vinaigrette that I still use to this day to marinade vegetables and chicken for grilling purposes.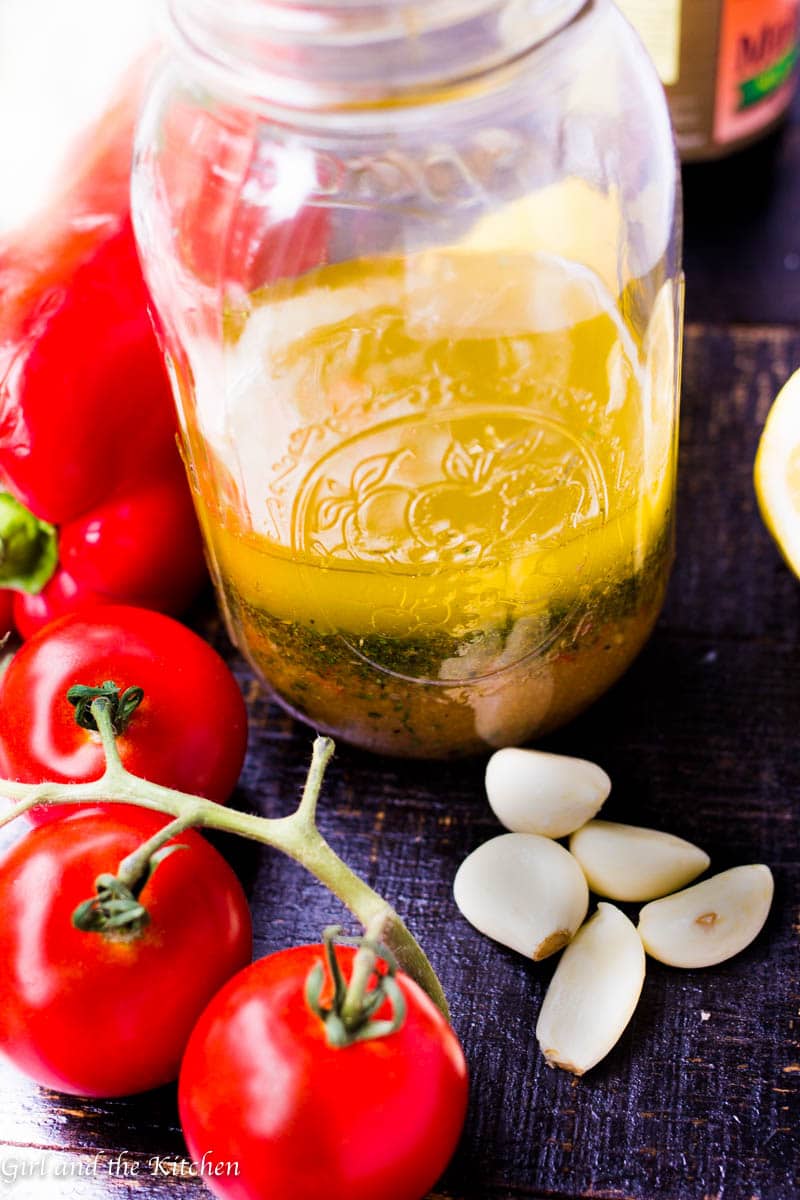 However the hardest of them all was definitely recreating a homemade Italian dressing.  Classic Italian dressings have a merry combination of perfect zestiness and sweetness.
It took quite some time to come up with the ideal level of flavor and acidity.  The toughest part for me was figuring out what to use as the acidity and what to use as the sweetner.  Typically Italian dressings just have a simple white wine vinegar and sugar combo.  But I wanted my dressing special.  So I opted for an apple cider vinegar to give it a bit more flavor than just acidity and I used molasses as my sweenter to give the homemade Italian dressing a gorgeous hue as well as a deep and complex sweetness.
I also added freshly minced garlic, dried parsley, dried oregano, some lemon juice and lemon zest and finely minced red pepper.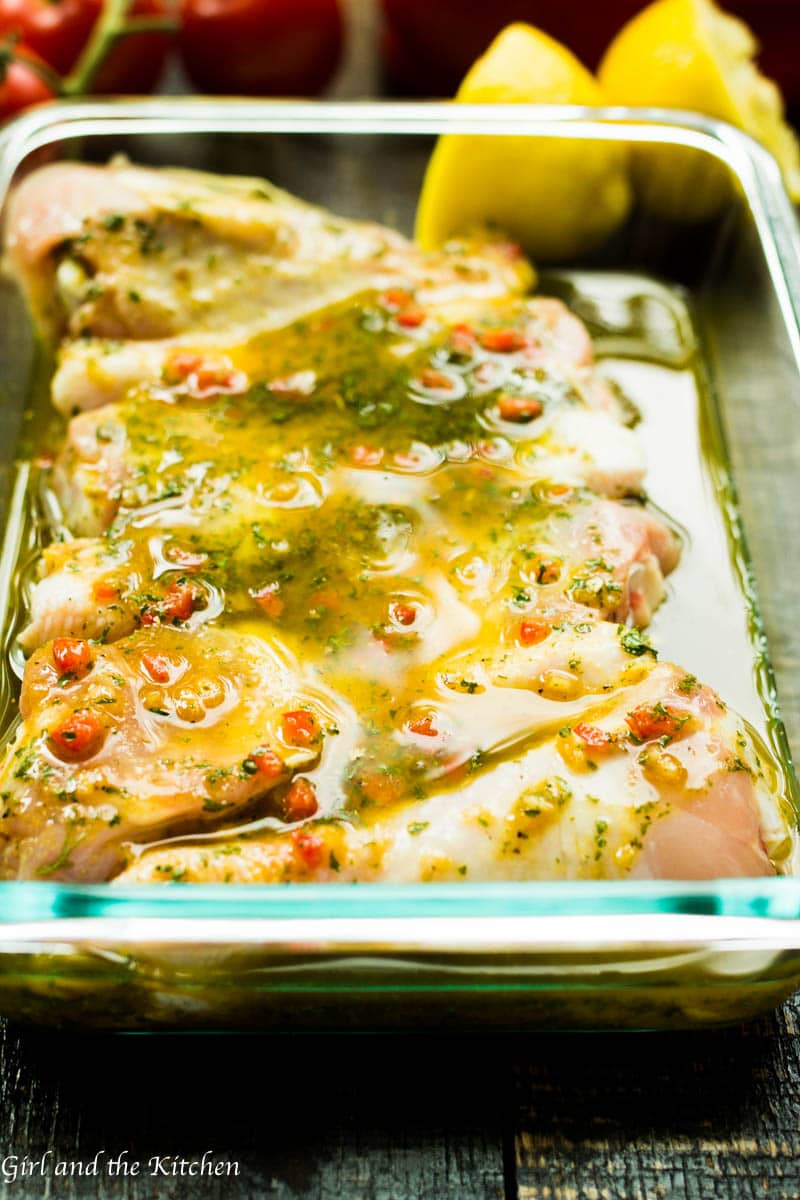 I ended up having a killer dressing for salads but most importantly for marinades.  I always have a jar of this on hand for a last minute marinade for chicken, turkey or any veggies.  Seriously this combination just makes everything a knock out!  I mean just take a look at this gorgeous  Bourbon Peach Chipotle BBQ Chicken..it is layered with complex flavors and those flavors come from this zesty marinade.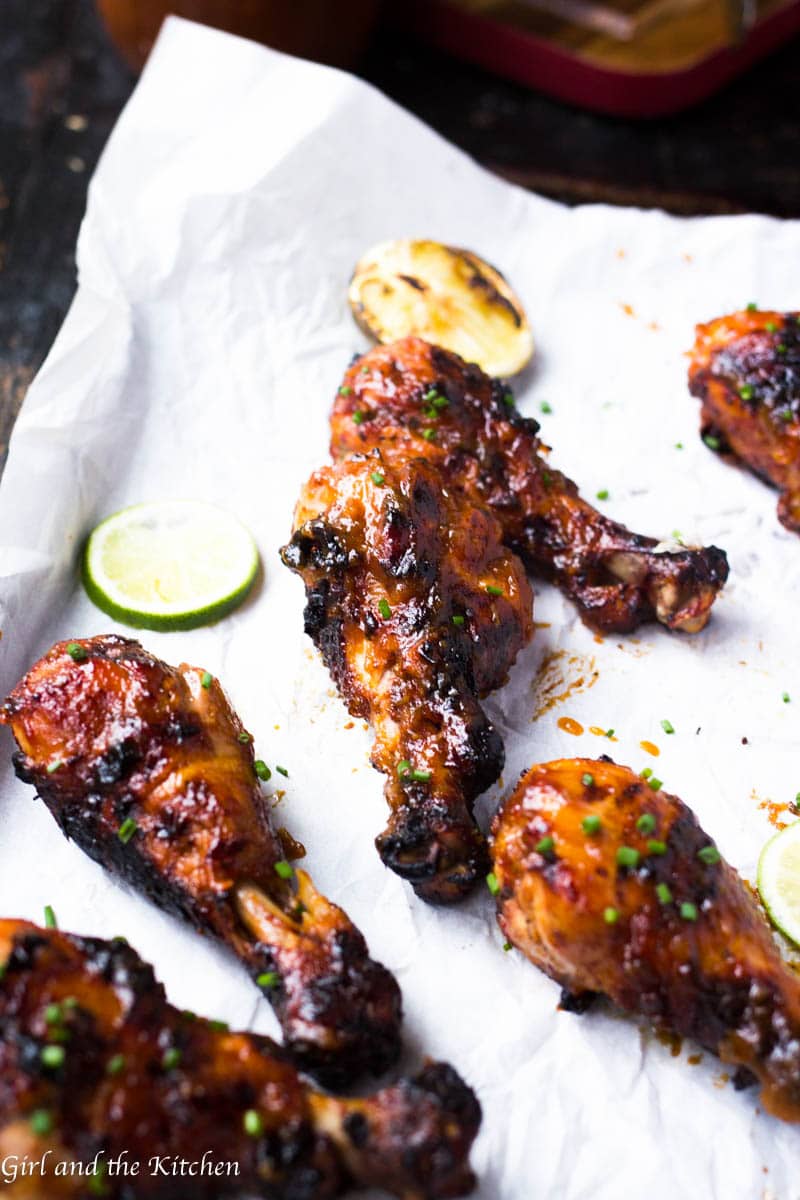 Oh and because finely chopping red peppers is such a pain in the arse… I am including my favorite tips on how to get them nice and finely chopped without losing your dang mind!  And FYI this will work with all other peppers as well.
You want to get that membrane cut of first to flatten it out a bit.  That way the entire pepper will have the same thickness and it will make it that much easier to get nice and even dices.  Sometimes, I even slice some of the pepper off so that I can make it thinner when I need the pieces super tiny.
Next, slice the pepper into super thin strips, ensuring that when you are cutting it, you cut it with the skin side facing down on the board.  Meaning the inside of the pepper is facing up.  This will allow for a much smoother slice and will not dull your knife.
Flip the strips the other way, and slice into cubes or dice.
That's it!  And you can use this technique with any other pepper.
There you are!  A nice and easy marinade that you can make for your salads and marinades! Oh and did I mention it's vegan 🙂
Print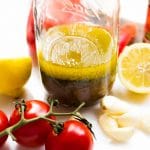 5 Minute Homemade Italian Dressing
---
Author:

Total Time:

6 minutes

Yield:

8

servings

1

x
Description
Forget the store-bought, bottled stuff! Create your own homemade Italian dressing in only 5 minutes! Preservative free and loaded with flavor! Perfect as a topper for crunchy greens or as a marinade for chicken or grilled veggies!
---
1/4 cup

apple cider vinegar

1 cup

good olive extra virgin oil (the fruity smelling kind)

1 tbsp

molasses

2

cloves minced garlic on a microplane

1/2 teaspoon

salt

1/2 teaspoon

freshly ground black pepper

1.5 tbsp

dried parsley

1 tbsp

dried oregano

2 tsp

dried onion

1 tsp

fresh lemon juice

1 tsp

lemon zest

1 tsp

Dijon mustard

1 tsp

crushed red pepper flakes (depending on how spicy you like it feel free to add more)

1/4

of an entire red pepper (finely diced as per instructions)
---
Instructions
Combine all the ingredients in a mason jar and shake, shake, shake!
Use on vegetables, chicken or fish as a marinade or just as a simple dressing.
Keep in the fridge for two weeks.
Prep Time:

5 minutes

Cook Time:

1 minutes

Category:

Dressing/Marinade

Cuisine:

American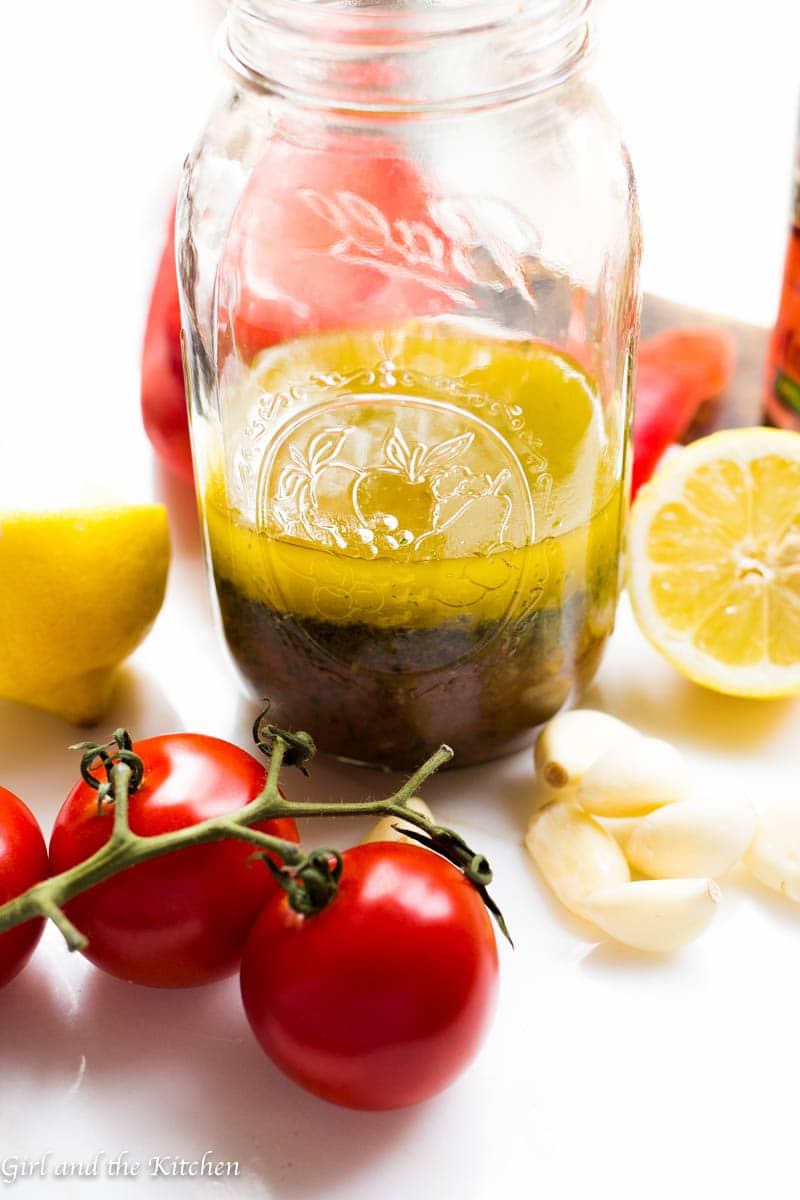 [wprm-nutrition-label]