Garlic and Cheese Stuffed Chicken Breast
This easy and delicious stuffed chicken breast is loaded with silky and savory garlic cheese and surrounded by a creamy, white wine and shallot sauce. Oh and the best part, these chicken breasts do not need to be pounded out! Time saver!
I have a cold. A really miserable cold. One of those awful sniffly, body aching colds leave just miserable enough to not want to do anything but not bad enough that everyone in the family feels bad for you. So that means, mama is still on. Bless my heart.
I was out all day apple picking with the family. We went with my hubs, the munchkin and my brother and sis-in-law and their munchkins. The boys rode their motorcycles up to the farm. Ang (sister-in-law) and I buckled the kiddos up in the SUV, turned on a DVD and had a relaxing and Starbucks fueled hour long drive up to the 16,000 apple tree filled orchard. There was not one cloud in sight. A perfect 75-degree day with warm breezes was ahead of us and nothing could spoil our fun.
We chowed down on more apples than I have ever seen in my life, fed adorable farm animals, rode the carousel and made our way back home still surrounded by a gorgeously sunny and breezy fall day. This is what my favorite fall days are made of: sun, smiles and happy munchkins.
Apples…I have about 20 pounds of apples. All gorgeous, red, shiny and delicious. Looks like there are a lot of apple crostatas in my future.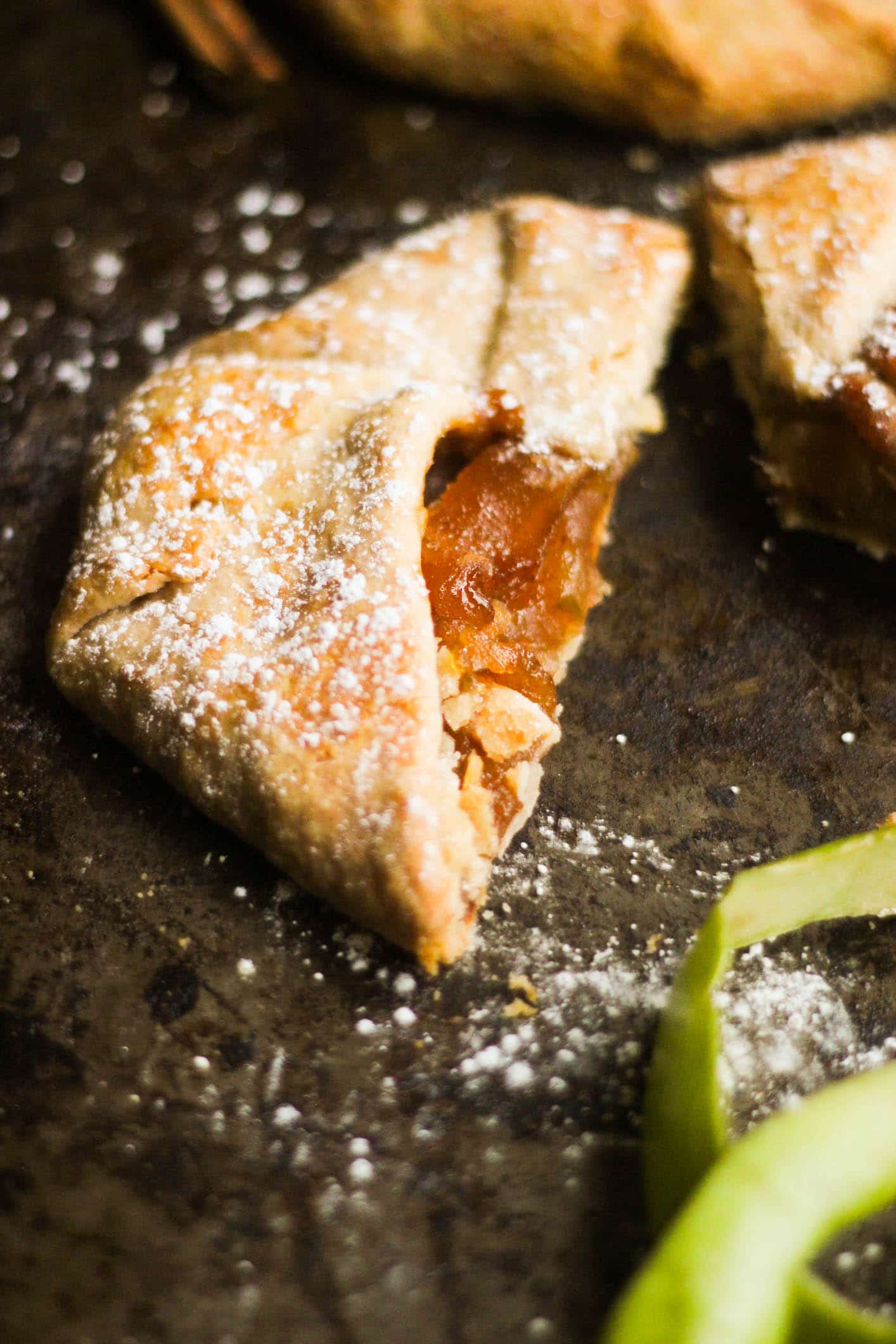 So what do these apples have to do with my creamy garlic stuffed chicken? Nothing. I told you I am sick and mildly delirious and needed a reason to post pictures of the munchkin.
I kid. I kid. This chicken was what we had for dinner. Well it was what hubs and munchkin had for dinner, I had the potatoes and salad.
I came home and completely forgot about the chicken breasts I had put aside to defrost. That morning I had plans to do something exciting with the chicken, however at that moment, I wanted to order some takeout and call it a day.
Buuuuut, I really wanted to do something special for dinner to finish the fantastic day we had today.
And THAT's what this chicken has to do with our special apple picking day.
And ummm guys I am going to tell you a secret. It's EASY! It is, I promise!!! What I really wanted in this chicken breast is for some of the filling to ACTUALLY ooze out creating a richer and tastier sauce. Trust me there is plenty of filling in there so there is enough to keep the chicken and the sauce happy.
I cut the chicken breasts in half, thinness wise. No pounding necessary. The stuffing is a specialty of mine. One of my favorite foods to use in stuffed ANYTHING is cream cheese. So I combined some ricotta cheese, cream, cheese, garlic and chives. It was too easy and so delicious! I rolled up the chicken breasts as best as I could and then I closed them up with…COLORED party toothpicks. There is a reason for this. More times than once, hubs bit into a toothpick that he could not see and that I forgot to remove. Bad wifey. Bad.
The chicken was fantastically creamy and fast. It was done within 30 minutes from beginning to end. I served it alongside my favorite CRACK potatoes and a simple salad.
We ate, munchkin slept and now I have leftovers for dinner tonight so I do not have to get my sick butt off the couch. Win/Win. Now off to create some recipes for the apples!
Print
Stuffed Chicken Breast Recipe
---
Description
This easy and delicious stuffed chicken breast is loaded with silky and savory garlic cheese and surrounded by a creamy, white wine and shallot sauce.
---
4

chicken breasts (cut in half to make them thinner, to make 8)

8 oz

of ricotta

8 oz

of cream cheese

4

cloves of garlic (minced on a microplaner)

4 tablespoons

of chives

1 cup

of white wine

1

shallot finely diced

4 tbsp

olive oil (separated)
salt and pepper to taste
colorful toothpicks
chopped parsley and diced tomatoes to garnish
---
Instructions
Combine ricotta,cream cheese, garlic, chives and salt and pepper in a bowl. Mix well to combine and taste for seasoning. Adjust as necessary.
Take chicken breasts, place on a flat surface and season on both sides with salt and pepper.
Place about 2 tbsp of filling on the end of chicken breast closer to you. Cover the filling with the chicken and continue rolling up until everything is nicely concealed.
Use the toothpicks to seal up the chicken, make sure you seal the ends as well.
Pour 2 tbsp of olive oil into a sautee pan and heat up to high heat.
Place chicken, seam side down into the pan and sear for 3-4 minutes PER side, or until gorgeous and brown. Remove the chicken and set aside.
Wipe the pan out with a crunched up paper towel being held by some tongs.
Place the pan back onto the pan and heat up to medium.
Add in remaining olive oil and shallots. Let sweat, no color, for 4-5 minutes until super fragrant and translucent.
Turn the heat up to high and add in wine. Allow the wine to cook for 1 minute, add in chicken back into the pan. Turn heat to medium and cover.
Allow to cook for 10 more minutes. Some of the filling will ooze out and will leave you with a glorious sauce.*Note 1.
Serve with some chopped parsley and diced tomatoes.
Notes
Note 1: If you have any filling leftover add into the pan along with the chicken after the wine. It will just enrich the sauce a bit more.
Category:

Entree

Cuisine:

American