A combination of brightly colored roasted vegetables, crisped to perfection! Both gluten free and Paleo friendly! 
[wprm-recipe-jump]
My strength is not side dishes.  But this glorious side dish, I could chew on forever.
I have mentioned time and time again that dinner time at my house is rather chaotic.  I usually pick up munchkin around 5:45 from daycare or the in-laws after a long day at the office.  We come home at around 6pm and then I have about 2.5 hours before it's her bedtime to chill out with her, feed her, make some dinner, catch-up on dishes, catch-up on laundry…
 Side Note: Does anyone feel like laundry is taking over their lives?!? I folded 4 baskets of laundry yesterday and was excited to put it away today and not have to deal with laundry…and then this morning I found that my husband lovingly brought down another huge bin of our dirty laundry.  There are THREE of us!  I sometimes feel like my entire life is finding lost socks and folding shirts.  If anyone is available for hire to take over my laundry duties please contact me at drowninginlaundry.com.
Annnnywho… life gets hectic for all of us.  I know I am not a lone ranger here.  However, returning to the kitchen and making meals for the family is part of my crazy day that I actually enjoy.  Regardless of how much I enjoy cooking, there is always a little munchkin running circles around me begging me to come play with her.  Considering how little time I actually do get with her, those moments are super important to me.
SOOO.  I came up with really easy, time friendly and oven friendly recipes for myself on those weeks when the weekends offered to many other fun options and cooking was left until Monday night weeknights.  Plus my favorite part about this is that it's super healthy and does not leave me feeling guilty or overly full before my late night workouts.  It does not hurt that it's also full of vitamins and nutrients that help my muscles get lean!
On a very cold winter evening, the munchkin and I ran into the house, our winter hats cloaked in freshly fallen snow and our noses kissed with frost.  It was snowing, hard and not letting up any time soon.  And as I unbundled the munchkin and myself, I realized I completely forgot about a vegetable for tonight.
One look out the kitchen window and I knew that a trip out into the cold and snowy night was out of the question.  I opened the freezer secretly hoping to find my giant stash of Costco Organic Broccoli.
"Shit" I said outloud, realizing that my hubs decided to clear out our freezer.  Damn his cleanliness!
"Sheeeeeeeeeet", repeated the munchkin.  Great.  It happened.  My child was turning into the truck driver mouth that I was.  Hopefully it won't stick.
I rummaged through my vegetable drawer and found some really pretty carrots, 2 parsnips, a turnip and a few parsley roots; all leftovers from a private chef gig I did that weekend.  Oven roasted vegetables never hurt anyone right?
The rest, kind of ended up being a sweet and savory success story.  I roughly chopped up my veggies.  Added garlic, salt, pepper and copious amounts of really great olive oil.  Tossed it all together and into the oven it went.

I had no idea where I was going with this, but I figured when in doubt, roast it out, at the very least we would have some really pretty looking carrots.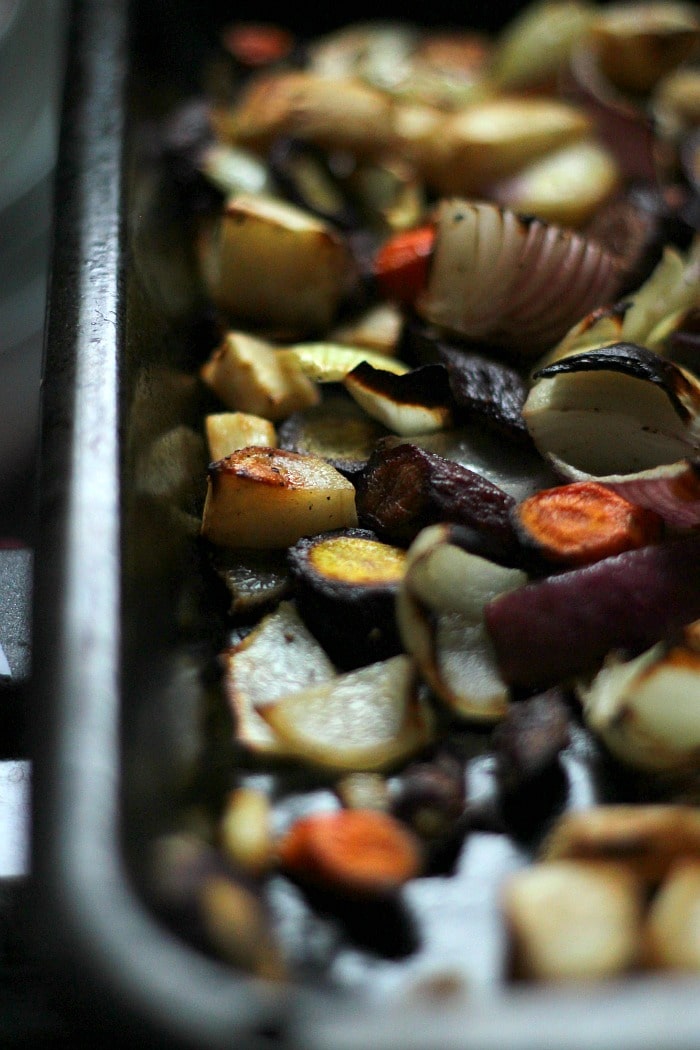 Unfortunately, this picture above does the veggies no justice.  They were unbelievably sweet, caramalized and so very tasty.  I stood over the pan and nibbled on the crunchy bits, not even noticing the hubs walking into the house.  He stood next to me and munched right alongside with me, silently…all the meanwhile the munchkin danced gleefully singing a song entirely comprised of the word, "sheeeeeeet".
I take my wins where I can.  And these oven roasted vegetables were a huge win.
Weeknight success.
Print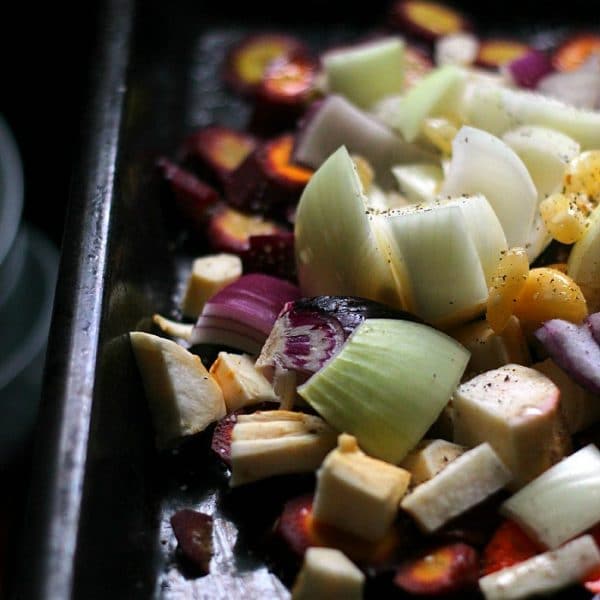 Oven Roasted Root Veggies
---
Author:

Total Time:

25 minutes

Yield:

4

1

x
Description
A gluten free and Paleo friendly combination of brightly colored root vegetables, roasted to perfection! Ideal for a quick addition to the weeknight meal.
---
3

large carrots (If you can find the multicolored ones, they look so much prettier)

2

parsnips

1

turnup

3

medium parsley roots

1

medium red onion

1

medium white onion

6

cloves of garlic
olive oil for drizzling
salt and pepper to taste
---
Instructions
Preheat oven to 425 degrees.
Cut up all the vegetables into large chunks.
Place onto sheet pan and toss with olive oil, salt and pepper.
Place into the oven and bake for 20 minutes. Toss the vegetables ten minutes into cooking time so they all caramelize evenly.
Notes
Please note, I have a convection oven so times may need to be adjusted.
Prep Time:

5 minutes

Cook Time:

20 minutes

Category:

Side Dish

Cuisine:

American Rustic
Want more weeknight wins?
Try my Rosemary Roasted Mushrooms
How about some Lemon Infused Cous Cous Pearls