Thomas Keller Roast Chicken
Prepare for the easiest, juiciest and most delicious tasting roast chicken you have ever laid eyes on.  This classic Thomas Keller roast chicken recipe is based off 3 ingredients and one pan!  Chicken was never this simple or this perfect!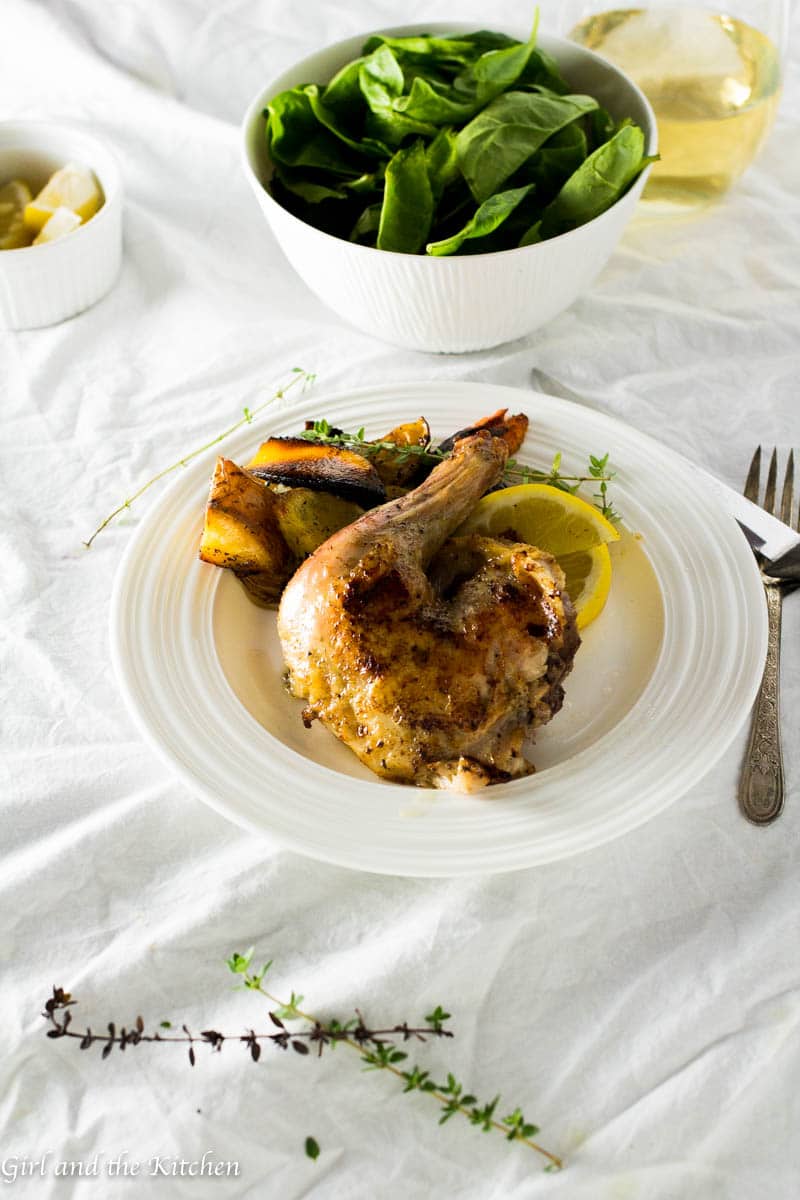 Growing up as an immigrant in this country, I always wanted to be "normal".  I wanted to be an American kid.  I wanted blond hair, blue eyes and long hair.  I instead was a Russian immigrant with brown hair, hazel eyes and a pixie cut.  A far cry from what I idealized as the ideal American child.
I also wanted to eat like the Americans did.  In my mind, America was still painted as the 1960's America.  Where families got together over a hot dinner and Johnny and Sally would smile at their loving parents and sip their milk.  Perhaps these ideas came from all the books I read in school that were still circa 1960's and painted nostalgia such as this.
My parents had left Russia along with our VERY comfortable life.  When coming to America my parents literally started from scratch with nothing but each other to lean on for comfort.  It's scary to think that my parents made such a huge life change at the same age that I am today.  Nonetheless, my parents set out to work from day 5 in this country and due to my dad's crazy work schedule, my brilliant idea of a close family dinner did not exist.
I frequently believed that the perfect family dinner was centered around a roast or better yet a perfect whole roast chicken.  I even clearly remember, when I wrote ANY narrative, up until the age of 12, most of my stories included a dinner being eaten that had roast chicken, rice and vegetables.  Even then…I was a simple foodie.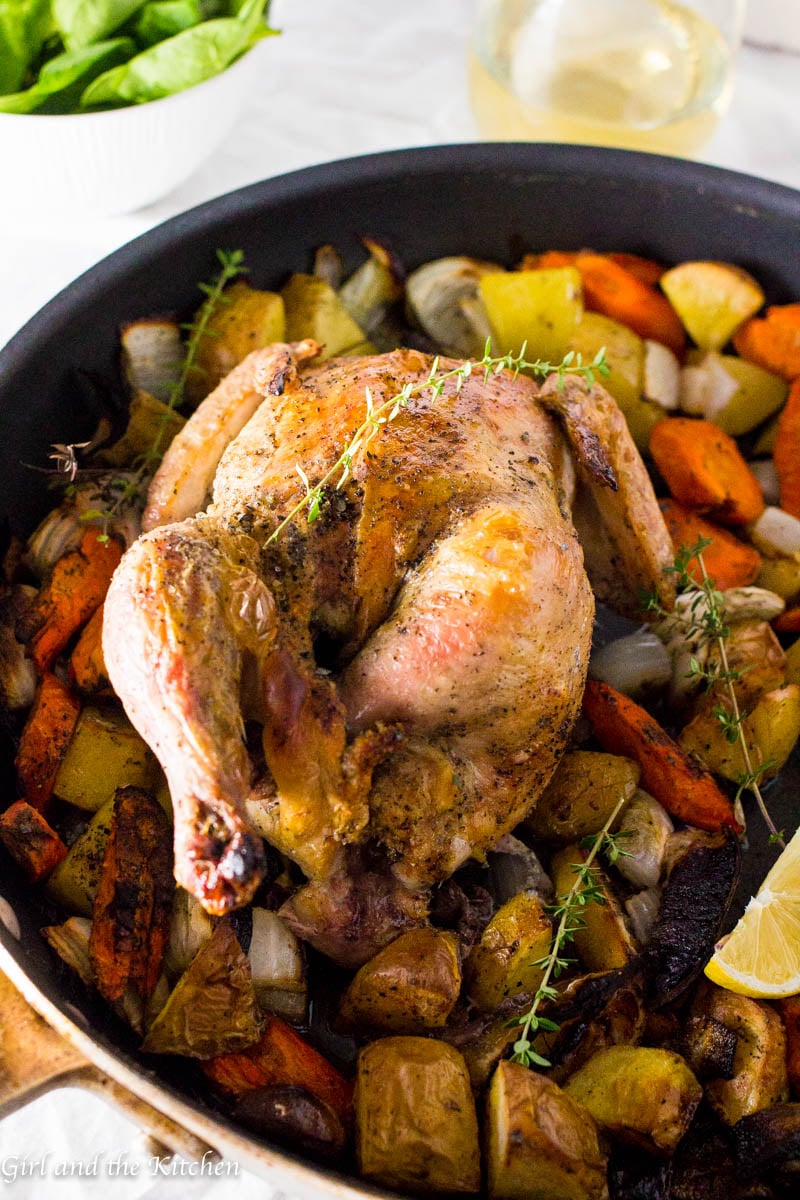 I remember practically aching for this.  Wanting it so badly that I could literally smell it cooking.  Gosh, I really was a strange little child.
When I grew up and got to play housewife in my own house, I made a promise to myself that roasted chicken would be on the menu each Friday.  Naturally, in the summer it was harder because we were constantly off and about.  But when the snowflakes started crowding the windowsills and the frost started nipping at our feet I made sure to have a chicken roasting along with some glorious vegetables just in time for the hubs arrival.
I had a pretty fantastic chicken recipe.  Full of citrus and herbs.  It filled the house with such amazing aromas.
But…when I was asked to create a "Back to Basics" cooking class and teach my students my favorite and simplest recipes, I decided to find the ULTIMATE roast chicken that was simple and perfect.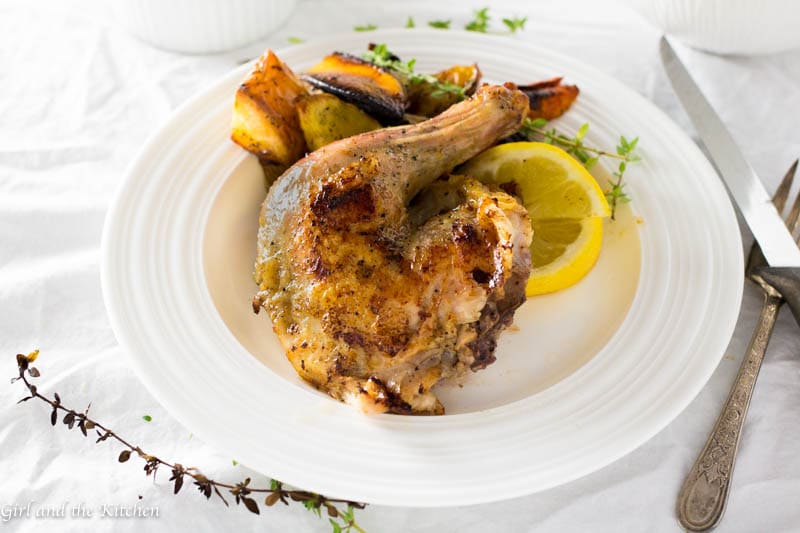 In my quest to find the ultimate roast chicken, I was anxious to have a roast chicken cookoff to find the BEST recipe…but then realized that Buzzfeed had already done it for me.
I found that there was only one winner to this very competitive tournament.  It was of course the Thomas Kellar Roast chicken.
If you are not aware who Thomas Keller is…he is only one of the most celebrated American chefs of our time.  His creations include restaurants such as French Laundry and Le Bouchon.  French Laundry has been open for almost 20 years and still has a 4 month waitlist.  This man is doing something right.  And something simple.  His food has been rehearsed so many times that even he himself says that the most important part of his technique is repetition.
The Chicken
When I looked at the recipe and noticed that it only had 3 ingredients and one pan I was blown away.  I made it exactly as he had and could not believe the simplicity and the incredible deliciousness that stood before me.  It was indeed perfect.
The chicken itself obviously plays a very crucial role in this dish (duh).  So it is crucial to get the best chicken you can.  This adorable little chicken I actually bought straight from a farm about 3 hours away from me.  They are so little but so incredibly delicious.  I would recommend going to your butcher and asking for a free range chicken.
The whole premise behind his chicken is the skin.  Thomas uses salt to dry out the skin and the insides so that there is no moisture when the chicken cooks.  Therefore it results in the crispiest skin imaginable with the most tender breast meat.  This chicken is also allowed to stand on the counter or in the fridge for an hour before cooking so the chicken dries out beautifully.
Do not stuff the chicken with lemons or herbs.  Just sprinkle it heavily with good sea or Kosher salt and black pepper.  TRUST me that's all you need.
I did one thing differently the first time I made the chicken.  I did not truss it.  Although if you are serving it to a crowd you want to blow away…the great Thomas Keller himself demonstrates how to properly truss this chicken right here.
I instead made little slits in the sides of the legs…and poked them through that way…it's the lazy man's truss.  And there is a really great tutorial here…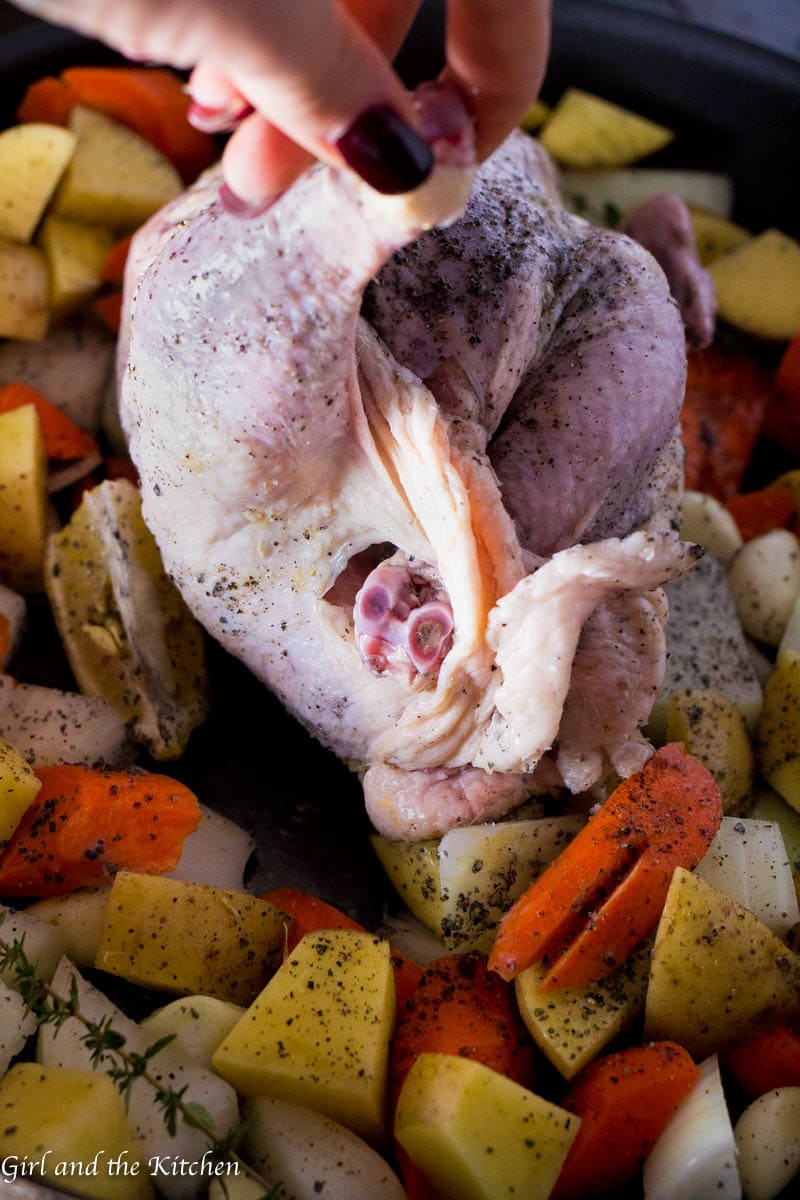 The Vegetables
In Thomas Keller's original roast chicken recipe there were no vegetables.  However, I knew that everyone NEEDED a one pan chicken in their life.  So I decided to take the largest frying pan I had, throw in potatoes with onions (because duh…that's the best food EVER), carrots, a few lemons, loads of fresh garlic cloves, some fresh thyme, olive oil and salt and pepper.
These vegetables end up cooking at right alongside the chicken…simultaneously being basted by the dripping juices of the chicken. They come out gloriously crispy, sweet and so freaking good!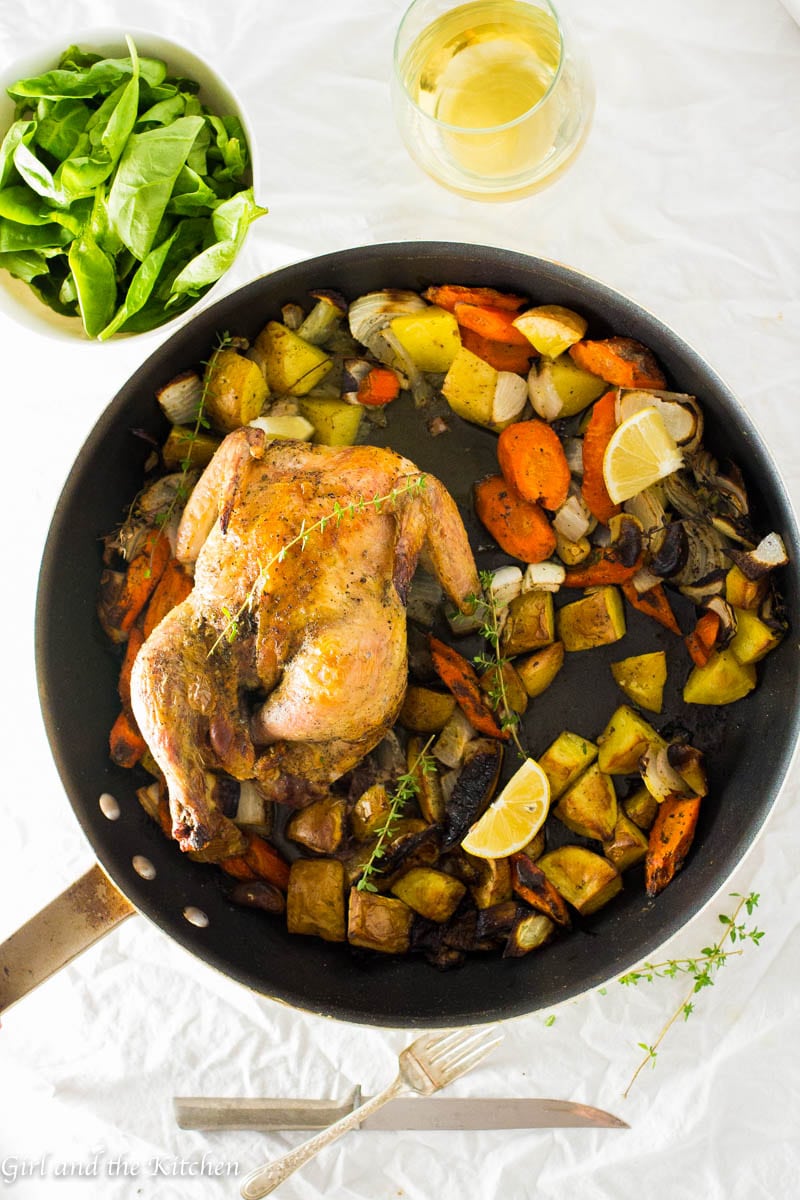 While I certainly do have a LOT to write about Thomas Keller's roast chicken it truly is simplicity at its core.  Fast. Delicious. Wholesome.  This chicken is everything I craved when I was a little girl.  The only thing missing is the family around it…so if you will excuse me, I have a munchkin who has been eyeing this chicken for a few minutes now.
Chef tip:  When you are done with your chicken and have all those bones left over.  Just stick them in a freezer ziplock and freeze!  This way you can add them next time you are making a chicken soup or chicken stock for boosted flavor!
Print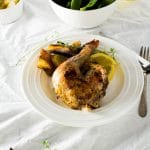 Thomas Keller Roast Chicken
---
Author:

Total Time:

55 minutes

Yield:

6

servings

1

x
Description
Prepare for the easiest, juiciest and most delicious tasting roast chicken you have ever laid eyes on. This classic Thomas Keller roast chicken recipe is based off 3 ingredients and one pan! Chicken was never this simple or this perfect!
---
One

4

to

4 1/2

pound chicken
Kosher salt and freshly ground black pepper

6

garlic cloves (peeled)

5

thyme sprigs

6

medium sized Yukon gold potatoes

2

medium-sized carrots (peeled and cut in 2-inch pieces)

1

yellow onion (peeled and cut into quarters)

1

lemon sliced into wedges
About

1/4 cup

olive oil
---
Instructions
Preheat oven to 475°F.
Generously season the cavity of the chicken with salt and pepper.
Truss the chicken. (See post for other truss options)
Place the vegetables and the thyme sprig into large roasting pan or frying panl. Add 1/4 cup of olive oil and toss with your hands until well coated. Season generously with salt and pepper.
Season your chicken thoroughly with salt and pepper.
Place chicken directly on top of the vegetables, breast side up.
Place the pan in the oven and roast the chicken until the thickest part of the thigh registers 160°F on a meat thermometer and the juices run clear. (About 50-60 min)
Transfer the chicken to a cutting board, cover with aluminum foil and let rest for 20 minutes before carving to serve. You can keep the vegetables warm by keeping them in the now-turned-off oven while the chicken is resting. Stir to coat the vegetables with the cooking juices before serving
Cut the chicken into serving pieces. Place vegetables on a serving platter with the chicken pieces arranged on top. Sprinkle with a few finishing sprinkles of salt.
Notes
The nutritional information is to be used for information purposes only.
Prep Time:

5 minutes

Cook Time:

50 minutes

Category:

Chicken

Cuisine:

American