Hash Brown Breakfast Tostada with Smoked Salmon
Keep things healthy, crispy and delicious with this hash brown breakfast tostada.  Topped with salty smoked salmon, a cucumber salsa and a runny fried egg, this is the perfect breakfast when classic breakfasts are a bore.
I am not a morning person.  At. All.  However, even knowing this…I still make grandious plans for myself every weekend. Typically Saturdays I go to sleep and fantasize about all the incredible items that I am going to make for breakfast for the fam.  And naturally these are all things that I want to share on the blog so a gorgeous photo session is included in this fantasy.
However, this is the farthest from the truth.  I literally delay getting out of bed until the last minute.  Even on the weekends, when the munchkin calls out for me… I grab her and put her into bed with me to cuddle and I try and get another few minutes of sleep.  My favorite moments are when we both cuddle up and then we pass out for another hour or so.  I know…mother of the year award right?
Last weekend was unique. It was an extremely long and emotionally draining week so I really needed to zone out and get my zzzzzz's.  My in-laws were kind enough to let the munchkin stay over Friday night so mama got to sleep.  For the first time in what felt like decades I had woken up to number 11:02 AM on the clock…and I felt glorious.  I groggily made my way down the stairs, grabbed my first cup of Nespresso and started skimming through my emails and Facebook feed…because isn't that what we all do to start our morning?
And something popped out to me…I went through my emails and stumbled upon my girl Kat's newsletter.  Kat…well Kathleen, has incredible fusion recipes.  Not to mention, her recipes are super simple and written in a way that ANYONE can make her dishes!
After reading her email blast I found myself scanning her site, entranced with all the glowing photos.  I stumbled upon one recipe that particularly caught my eye…it was a tostada but made with hash browns.  #genius.
I was never a fan of typical tostadas…but this….ahhh be still my grumbling tummy!
See…I told you her pictures were gorgeous.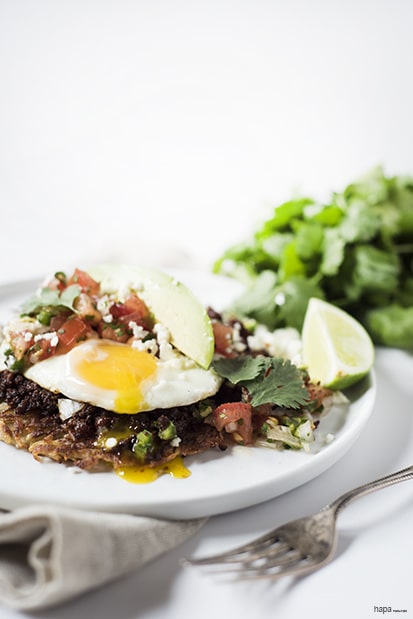 After commenting…drooling and finishing my coffee…I was ready to recreate my version of this fabulous dish!  Hubs had left to run a few errands for the parents and so I was left alone, in the kitchen to my own defenses.  And for the first time in months, I had my perfect morning.  I had plenty of time to putz around and INCREDIBLE lighting peeking through my kitchen window.  So I took advantage and pictures 🙂  I created my babushka's Lemon and Strawberry Jam   and took what felt like 100's of pictures of it.
Ahh can we talk about this lighting…#foodbloggerdreams!
While I had the jam cooking away I prepped my tostadas…which let's be frank here…they are just mini, individual little hash browns…that are as a bonus… SUPER CRISPY!  Which is my favorite thing for breakfast…EVER.
Here is your chef tip:  Make sure after grating the potatoes you squeeze out the water from them REALLY well.  This is what gives you perfectly crispy and not soggy hash browns.
Aren't these just the best?!
As "Brunch at Bobby's" came on the TV, I for once was feeling very connected to the fabulous Bobby Flay.  In fact, he was almost inspirational.  He was making some sort of smoked trout on his ridiculous back yard smoker and that's when it hit me…
smoked fish + hash browns=brunch heaven.
I whirled around the kitchen, grabbing all different sorts of ingredients for my fantasy brunch.  For me, smoked salmon is perfectly paired with cucumbers…so I opted for a super quick and easy cucumber and tomato relish.  It's basically a pico de gallo with tons of beautiful fresh cucumbers and scallions.
And of course the eggs.  The only eggs I feel right about eating in the house must be farm fresh eggs.  I am lucky that I get incredible farm fresh eggs from my local farm, Crestwood Family Farms.  (Psst read the whole review on them here.)
After carefully topping my tostada with a perfectly crispy fried egg  I prepared for one of the most rewarding photo shoots EVER.  Perfect lighting, perfect eggs and crispy hash browns.  Sometimes fantasies really do come true 🙂
Print
Hash Brown Breakfast Tostada with Smoked Salmon
---
Author:

Yield:

4

tostadas

1

x
Description
Keep things healthy, crispy and delicious with this hash brown breakfast tostada. Topped with salty smoked salmon, a cucumber salsa and a runny fried egg, this is the perfect breakfast when classic breakfasts are a bore.
---
2

ripe tomatoes (diced)

2

Persian cucumbers*

2

scallions (thinly sliced)

1/2

a jalapeno (finely diced)
juice one

1

lime

3 tbsp

finely chopped cilantro

2

potatoes (peeled and washed*)

3 tbsp

of minced dry onion flakes or onion powder*

4

eggs

8 oz

of smoked salmon

1

avocado (sliced)
cilantro to garnish
limes to garnish
sliced scallions for garnish
salt and pepper*

3 tbsp

of butter

2 tbsp

of olive oil for frying the eggs
---
Instructions
To make the cucumber salsa, combine the tomatoes, cucumbers, scallions, jalapeño, lime juice and cilantro. Taste and season with salt and pepper.
Grate the potatoes on a box grater. Once grated, wring out all the moisture by placing the potatoes into a kitchen towel or cheese cloth and squeeze.
Place the shredded potatoes into a bowl and add the onion powder or minced dry onion flakes. Season with salt and pepper. Remember the smoked salmon will be salty so ease up on the salt.
Working with two frying pans, pour olive oil into one non-stick pan and butter in another non-stick pan. Heat both to medium high heat.
In the pan with the olive oil, crack 4 eggs, make sure to use a pan large enough so the eggs stay separate. Season with salt and pepper. Cook until the edges are crispy and the white of the egg is set.
In the other pan, create 4 flat little pancakes out of the potatoes. Push them down with a spatula into the pan so they are nice and flat and evenly hitting the pan. Turn them over carefully after it has crisped up. Fry for 4-5 more minutes or until golden and crispy.
To assemble the tostada, place the hash brown tostada down first, add 2 oz of smoked salmon, a few avocado slices and the cucumber relish. Add the egg on top.
Garnish with cilantro and scallions.
Notes
1. I prefer Persian cucumbers over other cucumbers because they are sweeter than others. If you are unable to find Persian cucumbers, try the English cucumbers.
2. I used Yukon gold potatoes because I happened to have them on hand and they crisped up really beautifully. As long as you ring out the access water out of the potatoes before frying, you will be fine.
3. I did not use regular onion because I did want the extra moisture.
4. The smoked salmon will be salty so BE CAREFUL with salt.
Category:

Breakfast

Cuisine:

Fusion