Salted Caramel No Churn Ice Cream
I have NEVER had ice cream that was this incredible!!! Even fancy ice cream machines cannot compete with this deliciousness!  BUT there is NO need for an ice cream machine with this recipe!  This EPIC salted caramel no churn ice cream is everything summer dreams are made of!  This is creamy, delicate, sweet, salty and luxurious!!! It is sinfully delicious and worth every single bite.  I swear.
I have created a monster.  This will be a disaster.  A very delicious and sinfully glorious disaster.  And I am loving every second of it.
A week ago…I was commissioned by one of my best clients to come up with a Vitamix friendly dessert.    I was not about to tell her to throw a few frozen fruit into the blender and make a healthy sorbet!  Delicious and simple it may be but that is for amateurs…and it was not gonna cut it for this client.
I know what she wanted.  She wanted a sinful dessert that she could whip up with minimal work for her and her rambunctious 10 year old to nosh on while they cuddled in front of the tv or better yet reading their favorite books.
So I started thinking…and I thought ice cream.  And then I remembered one of our fellow linky-uppers to our weekly link-up party, #Foodie Fridays posted a NO CHURN ice cream… I knew that was my calling.
Annie from Annies Noms created a Peach and Raspberry No Churn Ice Cream.   Which is great… But not so great for the fall weather.
So I dug deeper. And the only answer?  Salted Caramel.  Because usually that's the best answer.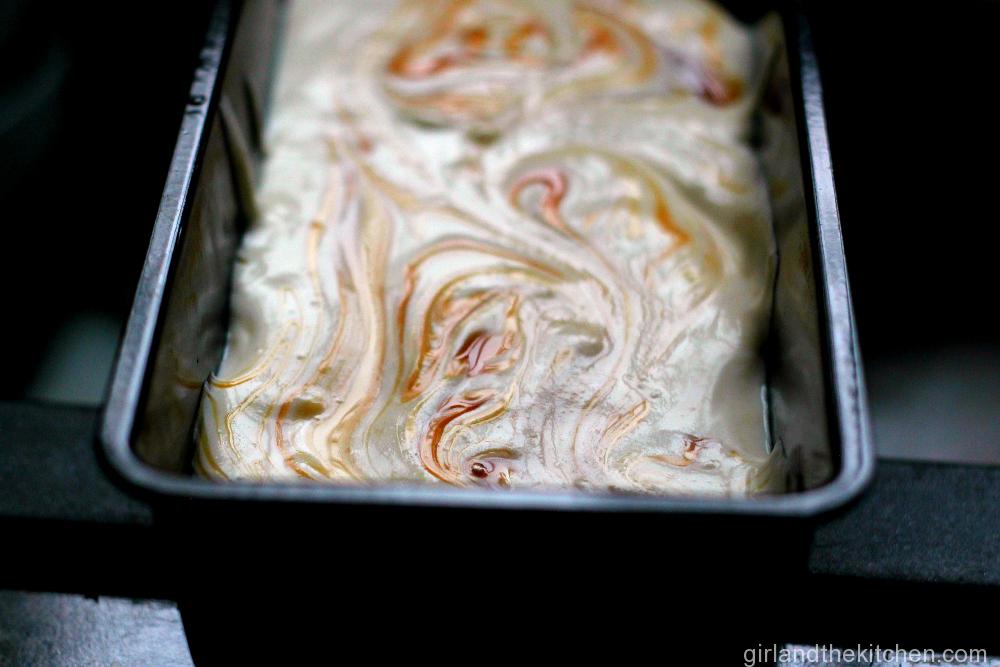 And did you know the Vitamix is one powerful sonofab*!@#$!  It can make hot soups, pulverize nuts and it can also whip up whipped cream. Yea…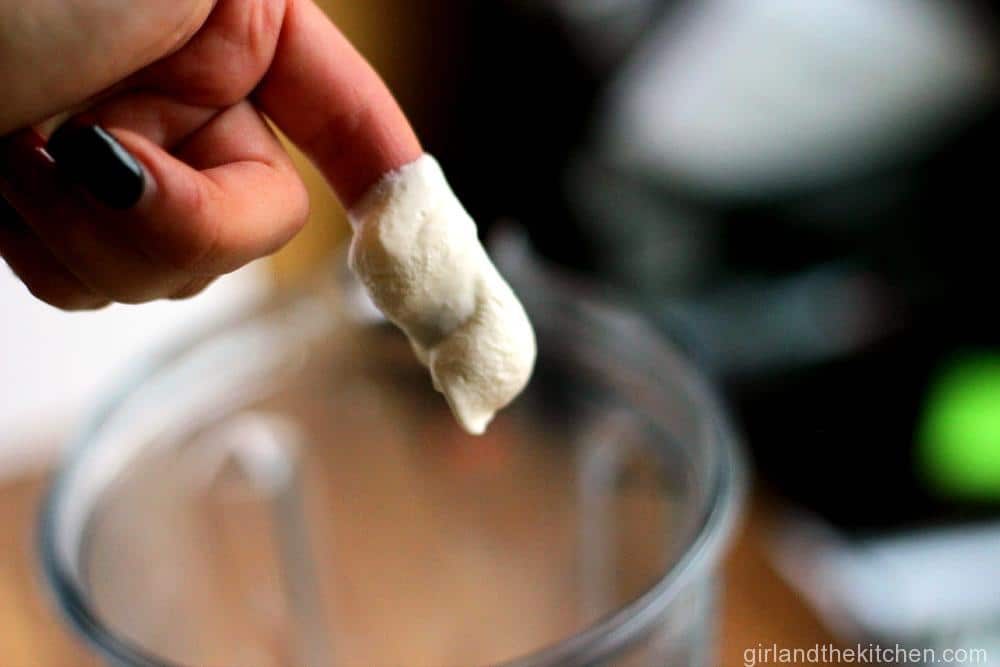 Now you see?  I created a monster.
And then once you have created the whipped cream (which by the way you can also whip up to stiff peaks in a mixer). All you need is some salt, store bought HIGH QUALITY caramel (feel free to make your own) and the secret ingredient sweetened condensed milk.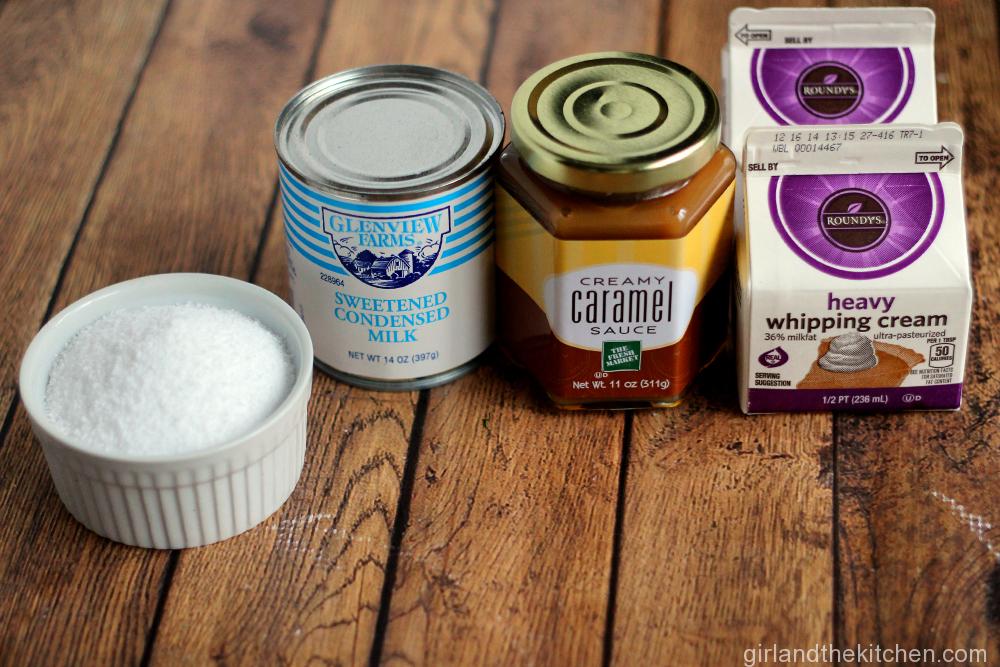 I'm gonna take a break here…and ask a very important question:  Have you ever had sweetened condensed milk?  I think almost every Russian that I know has at least one can stashed in their pantries.  For 1 of 2 reasons:
1.  It's a sad day…and all that will fix is a gigantic glop of creamy, sweet and oh so very delicious sweetened condensed milk.  This stuff is good with everything!  But it's best in a cake…
2. Which leads me to the #2 most important reason Russians have this in their pantries…and that is they are making the famous Russian Waffle Torte.  My babushka's recipe just happens to be the greatest 🙂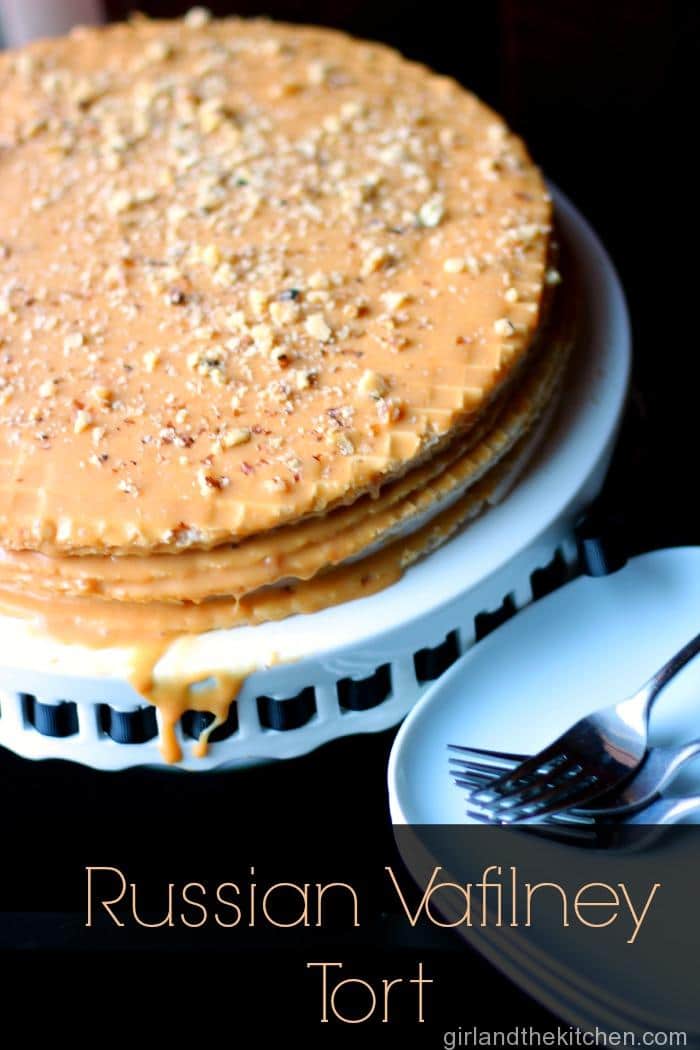 Anyhow…I happened to have a few cans in the house.  And so I went in for a test run before bringing the recipe to my client's house blindly.
I was pretty much blown away.  Honest.  This was better than ANY OTHER ice cream I have ever had…EVER. Period.  The end.  I win.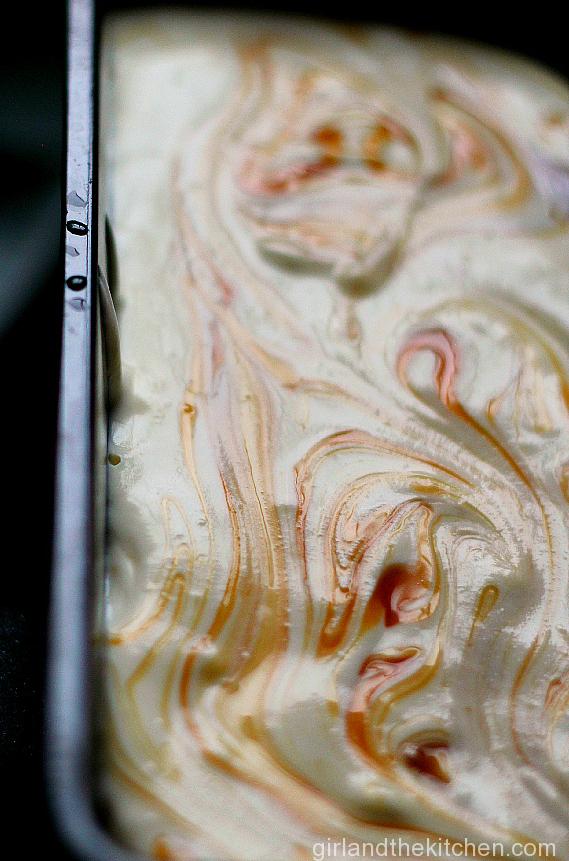 It was creamy, rich yet light and fluffy.  And it was sweet but deliciously so because the sweetness was balanced out with the saltiness of the salted caramel.  I prayed with all my heart to the food Gods and finally found the strength to restrain myself from shoveling another luscious spoonful of caramel swirls into my mouth…you would think the 95th brain freeze would have forced me to stop.
No.  it's just that good.
So in the end… my client and I made it.  And we both sat there looking at each other…completely surrendered to the sweet goodness in front of us.  Both in disbelief that we were not yet obese…but more importantly that this had come out of her kitchen.
SO!  First we start by pouring 1 pint of half and half into our Vitamix.
CLOSE THE LID.  Start on VARIABLE and then slowly increase the power.  You will hear it get louder.  Once at 10, change to high and let it go for 10 seconds.  There will be a VERY noticeable sound change.  It will become higher pitched and loud!
Turn off the Vitamix and check the consistency.  If it stays on your finger without falling off, congrats you have stiff peaks!  And have now successfully made homemade whipped cream!  You can add a whole slew of flavors to this and make a mouse out of it instead…nut not today 🙂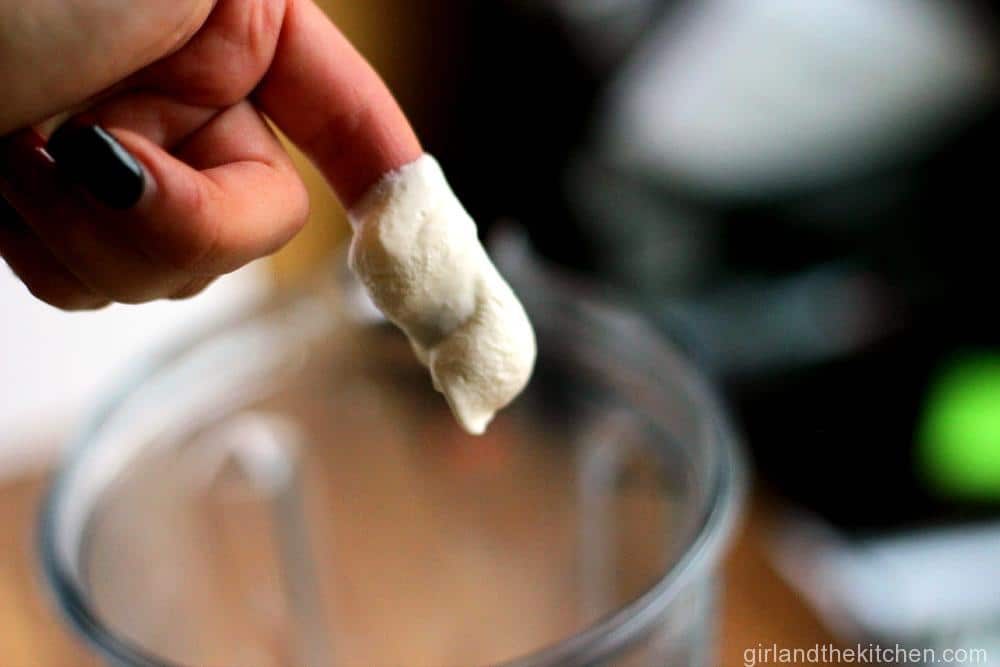 Pour the contents of a can of sweetened condensed milk into a bowl.  And slowly scrape the whipped cream into the condensed milk.  Fold it in gently so as to not remove any of the air built into the whipped cream.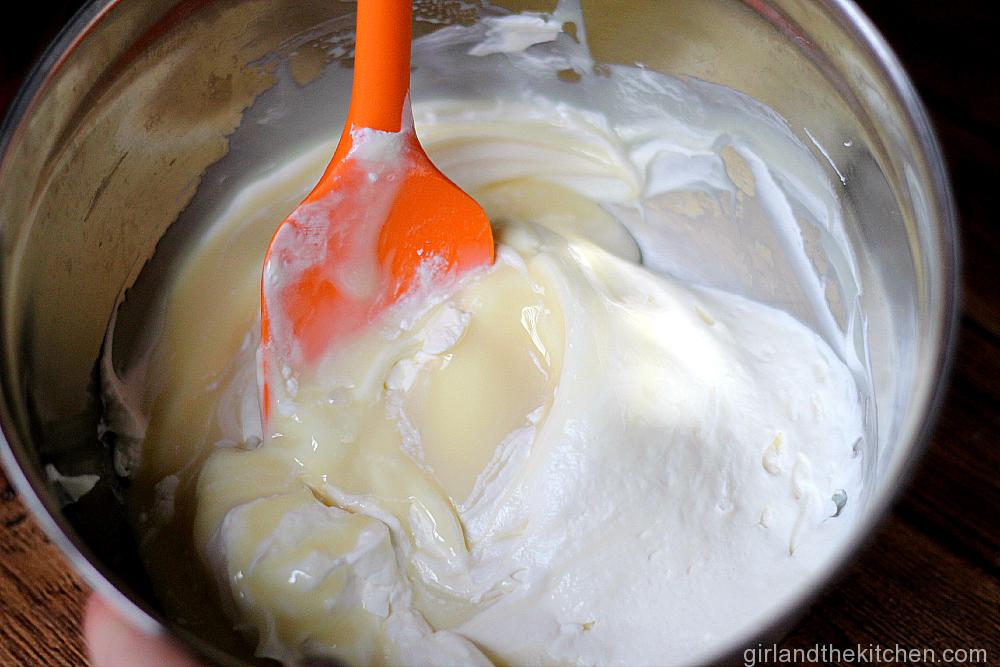 Then drizzle in about 3 tablespoons of already made caramel.  I warmed mine up in the microwave for about 10 seconds so that it was easier to pour.  Add in a tsp of Kosher salt.  And taste…this is a matter of personal preference… so just taste as you go.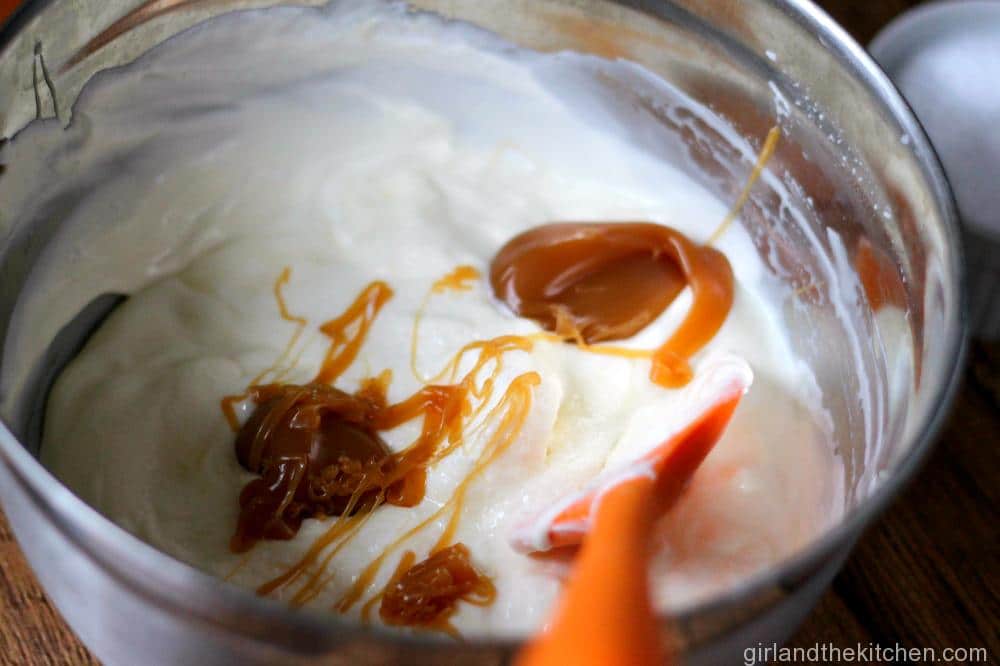 Fold in to combine.  Pour into a freezer safe dish (I like to use bread pans).
And drop a few more teaspoons of caramel on top, swirl it in with a spoon…or have your kiddos do it…cuz it is so darn fun!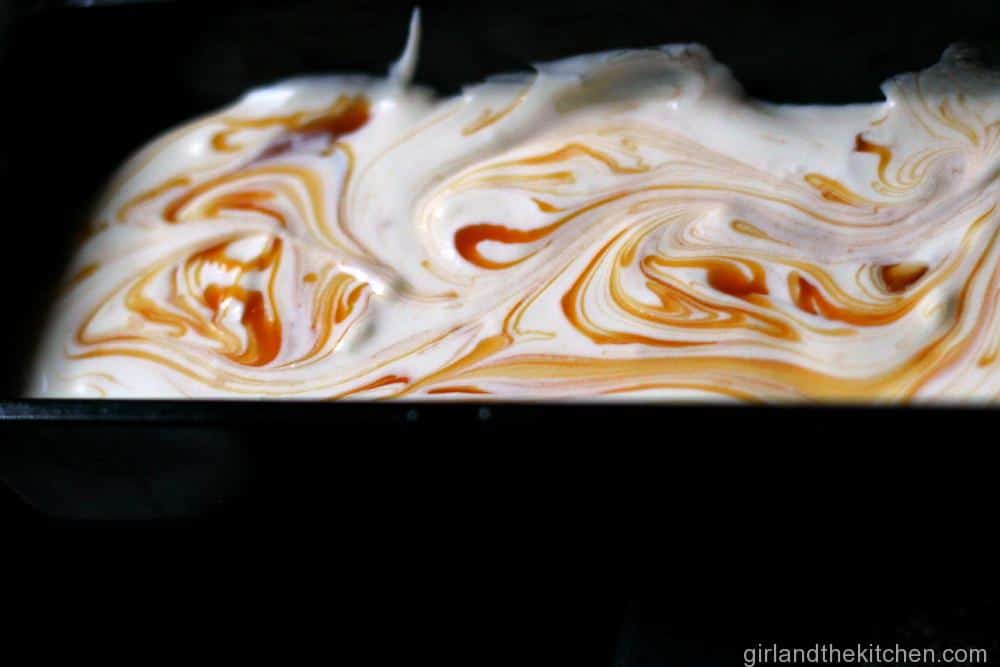 Then place it in the freezer for 4-6 hours or until it completely sets.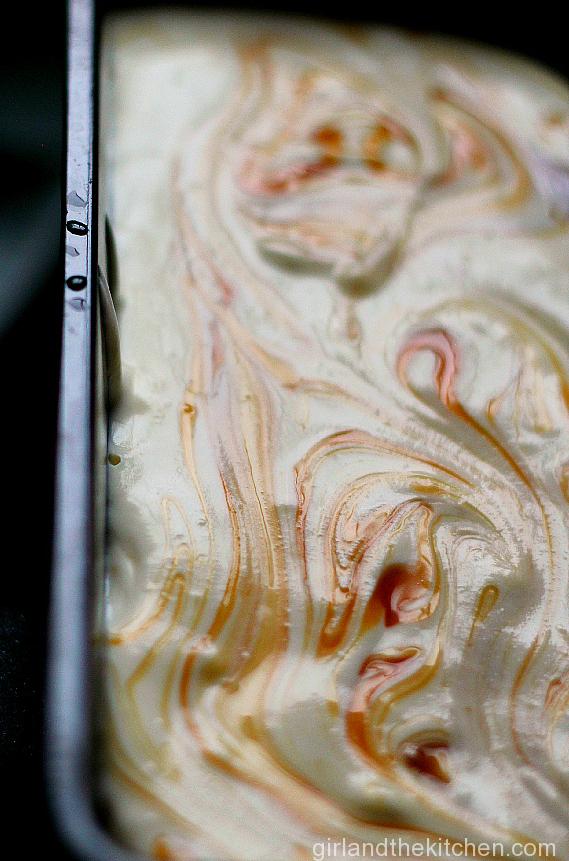 And get ready for your life to change…because now I am up all night thinking about ways to make this magnificence even better.


Print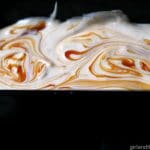 No Churn Salted Caramel Ice Cream
---
1 pint

heavy whipping cream

1

can of sweetened condensed milk (

14oz

)
store bought or homemade caramel (to taste)
Kosher or Sea Salt (to taste)
---
Instructions
Place whipping cream in a mixer and bring to stiff peaks. If using a mixer, whip on high until stiff peaks form.
If using a Vitamix. Start on VARIABLE and continue slowly increasing speed. Once you are at SPEED 10, flip the switch to 10 and let it run for NO MORE than 10 seconds. You will notice the motor sound change very drastically as the whipped cream reaches its desired state. Make sure it does not go too long as you will then have made butter!
Pour contents of 1 can of sweetened condensed milk and then pour in whipped cream into that. Fold carefully to combine.
Place a fwe tablespoons of caramel into the mix along with a pinch of salt. Combine and taste. Add in more salt or caramel if necessary.
Place into freezer safe pan and swirl in caramel. Freeze for 4-6 hours or until it's completely set.
Originally published November 18th 2014