Whiskey Soy Marinated Flank Steak
This incredibly tender marinated flank steak is the ultimate combination of sweet and tangy.  The whiskey and soy in the recipe is the perfect combination of east meets west!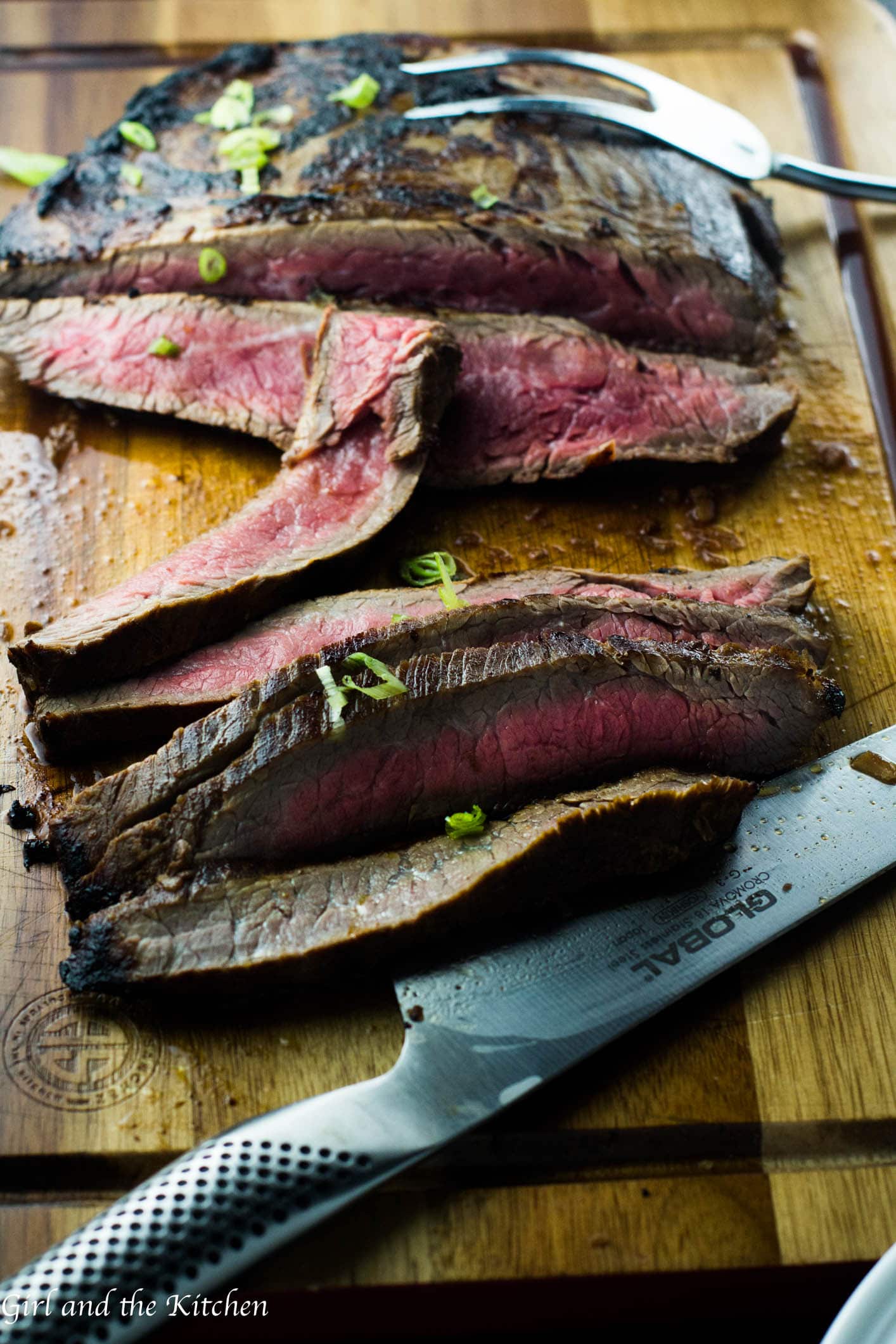 I am a full believer in buying the best possible meat and produce that I can afford and that can get my hands on.  It may be pricy but meat should be consumed in smaller amounts anyhow and personally I would rather have a small amount of something superb than a large platter of mediocre, antibiotics filled crud.  Sorry that is just my humble opinion.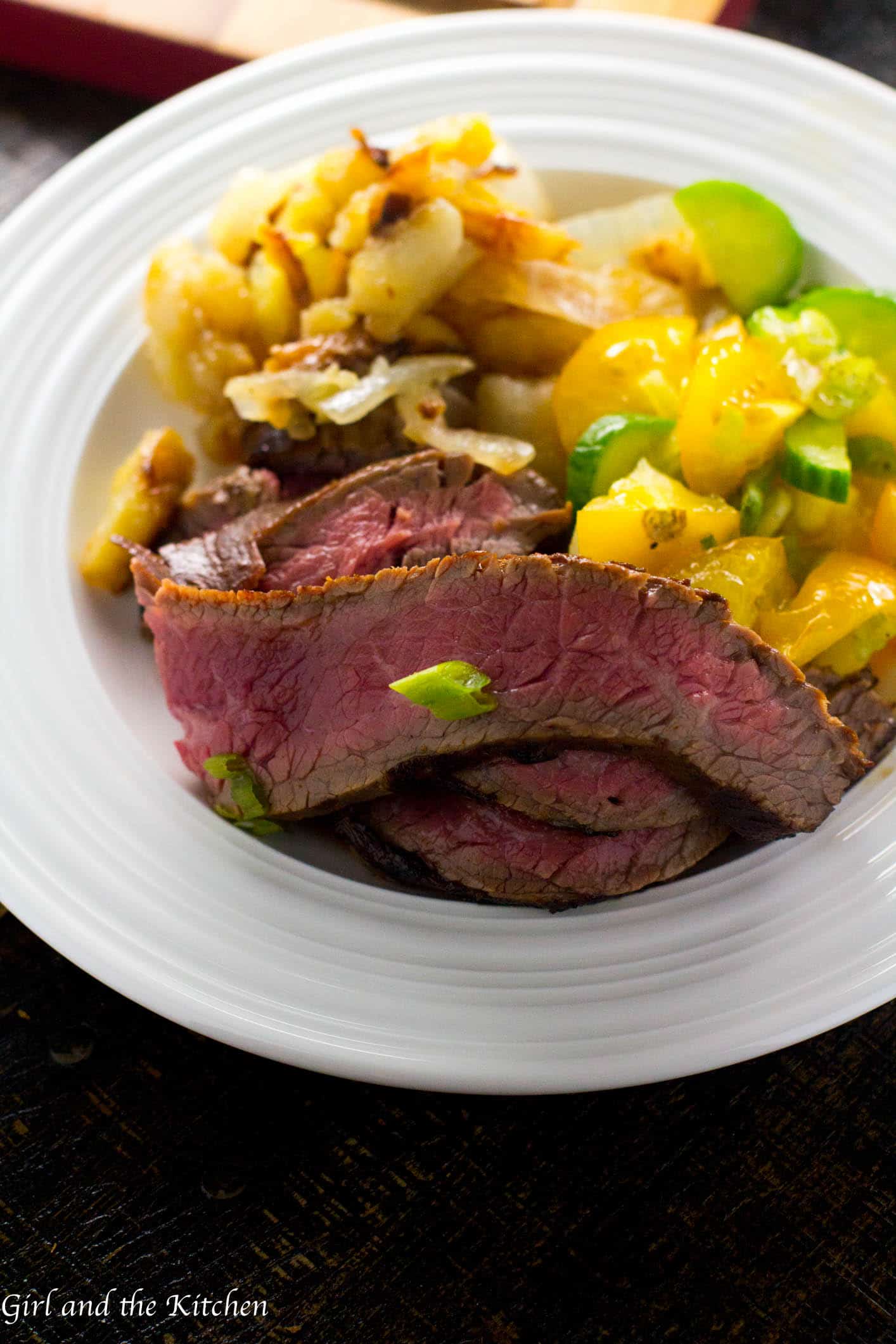 A few months ago my sister in law, Angela and I had a conversation about possibly buying a large amount of meat in bulk from a local farm and stashing it in a deep freeze.  This conversation really peeked her interest and without wasting a beat the next day she found a farm, ordered a deep freeze and got herself 1/2 of a cow.  Angela is a go getter, once she likes something you can consider that it will be done the next day.
She could not stop talking about the quality of the beef and to be quite frank I was keen on the idea of buying from a farm that let its cows graze its green acres and live out their lives peacefully at least.
She had made me a believer and so I contacted this farm, that seemed to be a bit too good to be true to my cynical mind.  I received a reply relatively quickly and was very happy to speak to Bill, the owner of Crestwood Family Farms. 
Bill was as excited as I was when we started chatting.  Crestwood seemed to stand for everything I believed in.  They were a fairly young operation and did everything according to their passion.  They believed in treating the animals right, in preserving their environment and working in an ecologically correct way to enrich the land for their animals and bees.  Their animals are raised on a grassfed diet as they graze acres and acres of land.  The best part is, they believe that the long term habitats of the animal are just as important as the profit margins.  In today's day and age when dollars and cents rule it's rare to find a company that believes in their animals' and ecological well being more than the profit and margin spreadsheets.  Bill and I virtually shook hands and closed the conversation.
A few short days later, I arrived home and had a beautiful basket of goodies from them!!!  Filled with grassfed beef products, natural bacon, natural sausage links and an assortment of sausages, raw honey and free range hen eggs.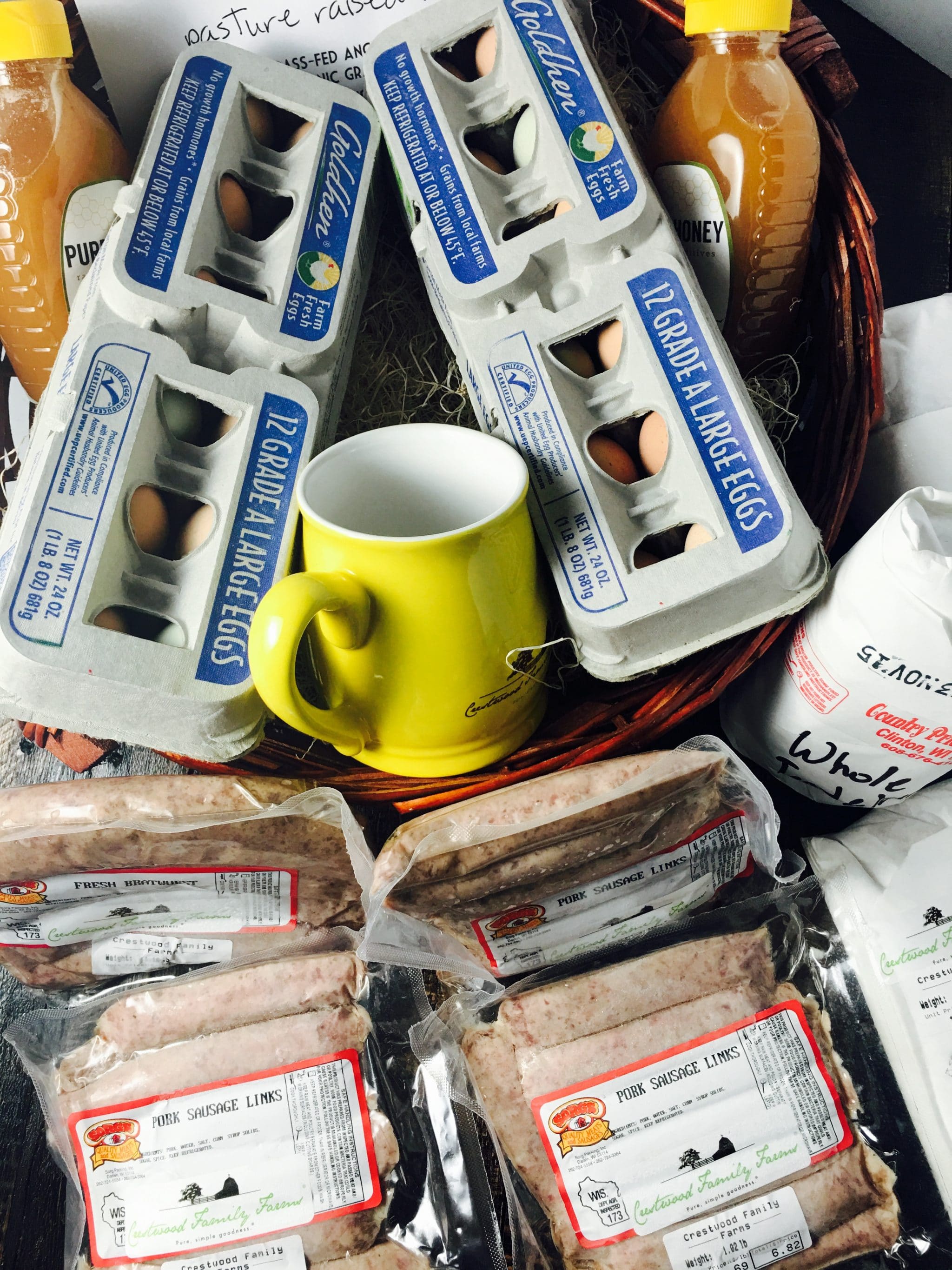 Hubs was pleased with this shipment.  I asked him what he wanted to eat first and with a bewildered look in his eyes he said, "Steak and whiskey… I want both."  The next few hours seemed like a blur.  I spun through my kitchen grabbing things from the pantry, the fridge, googling, searching for the perfect marinade until finally, like some evil marinading scientist I had found what I was looking for.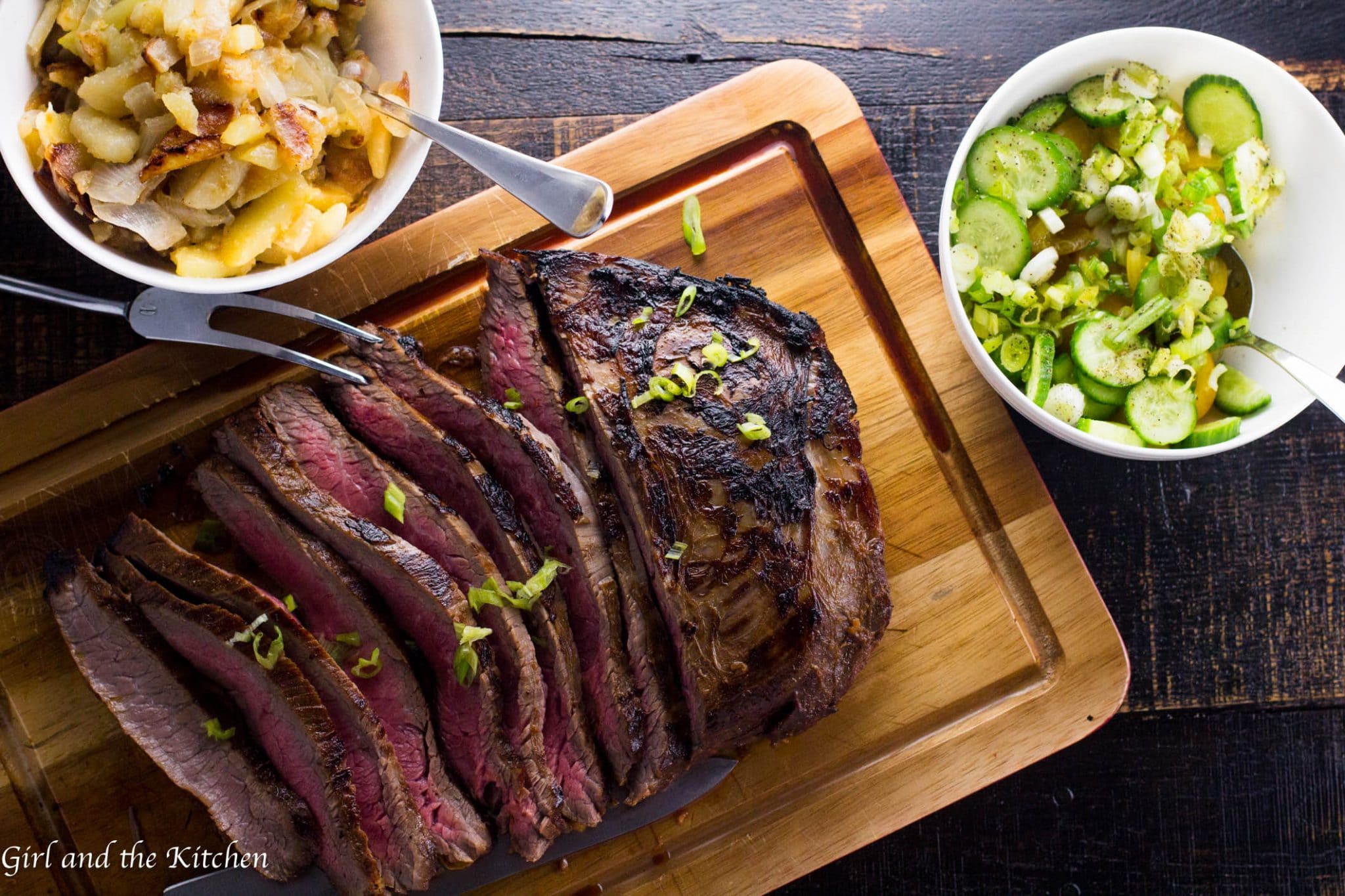 "Score!" I yelled from the kitchen after licking the 8th marinade off of my finger for what seemed to be the 100th time.  It was perfection.  Loosely based on my other flank steak marinade  I had added whiskey to a fabulous combination of soy and balsamic vinegar and it was divine.
I served it up with a really simple cucumber and tomato salad and some lovely Russian Home Fries, because that was to be my dinner 🙂 Hubs ate it up with much glee 🙂 And munchkin and I devoured the potatoes and salad hungrily.
"Babe this is soooo tender and juicy!!! And I can actually taste the whiskey! A+!"  The hubs announced with a grin on his face.  I looked at his plate and noticed the juices coming out of the steak…it was indeed juicy.
The key of course to a flank steak is cutting it the correct way.  I talk about it a bit more in my Asian Style Grilled Marinated Flank Steak.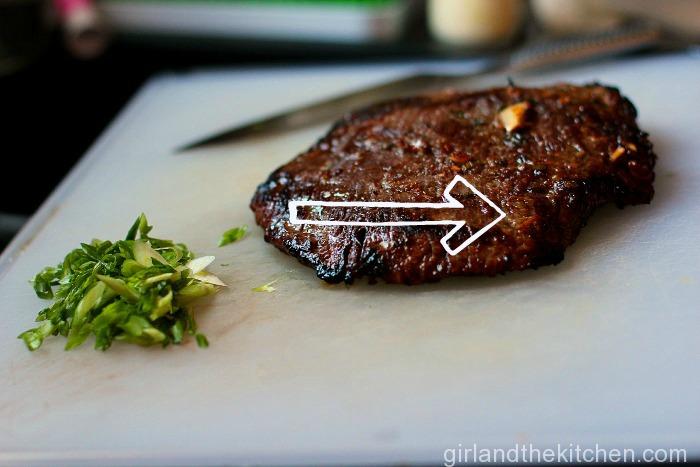 So Bill and the fine folks from Crestwood Family Farms, I would like to thank you for enriching my husbands' life with your wonderfully tender and flavorful products!  You have made my husband quite full and happy and have made a friend in me 🙂
Print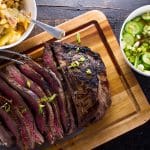 Whiskey Soy Marinated Flank Steak
---
Author:

Total Time:

30 minutes

Yield:

8

people

1

x
Description
This incredibly tender marinated flank steak is the ultimate combination of sweet and tangy. The whiskey and soy in the recipe is the perfect combination of east meets west!
---
3

pounds flank steak

1 cup

whiskey

¼ cup

vegetable oil or peanut oil

½ cup

LOW sodium soy sauce (I always use Kikkoman)

½ cup

balsamic vinegar

¼ cup

teriyaki sauce

¼ cup

honey
juice of

1

lime
a few squirts of siracha (depending on how spicy you like it)
Thumb sized piece of ginger (minced on a microplaner)

5

garlic cloves (minced on a microplane)

4

scallions (sliced thinly)
---
Instructions
Combine soy sauce, whiskey, balsamic vinegar (this is what gives that tangy, savory flavor) honey, teriyaki sauce, ginger, lime, garlic, a few squirts of siracha, vegetable oil and scallions into a bowl and mix to combine all the flavors.
Then throw all the ingredients in a zip lock bag along with the steak. Shake, shake, shake. Make sure it's all covered.
Place in the fridge for at least an hour and up to 24 hours.
If you live in the not so warm parts…like me… you can cheat a bit. Take a large oven proof frying pan (I prefer cast iron) and place it into a 500-degree oven for about 10 minutes. Or you can place it in there as the oven preheats.
Remove your steak out of the bag and place it on a paper towel, dabbing the moisture off of the steak.
Once the pan is heated, place the steak directly onto the pan. You will see it shrink up immediately from the high heat. Close the oven and allow to cook for 5 minutes then flip it and cook it for 2 minutes.
For me, this is the ultimate way to sear a steak nicely without clouding my house up with smoke.
Place the steak on a sheet pan and cover with foil. Let the meat rest for 10 minutes.
Slice into it on a bias, against the grain, as we previously discussed.
Sprinkle with scallions and grab some chop sticks! Dinner is served.
Prep Time:

10 minutes

Cook Time:

20 minutes

Category:

Main Course

Cuisine:

Asian/American