One Pot Super Creamy Mac and Cheese (Ready in 20 Minutes)
Super creamy mac and cheese made in one pot is only 20 minutes away!  Loaded with three different cheeses and made right on the stove top, this easy version of an American favorite will be your favorite dinner side dish!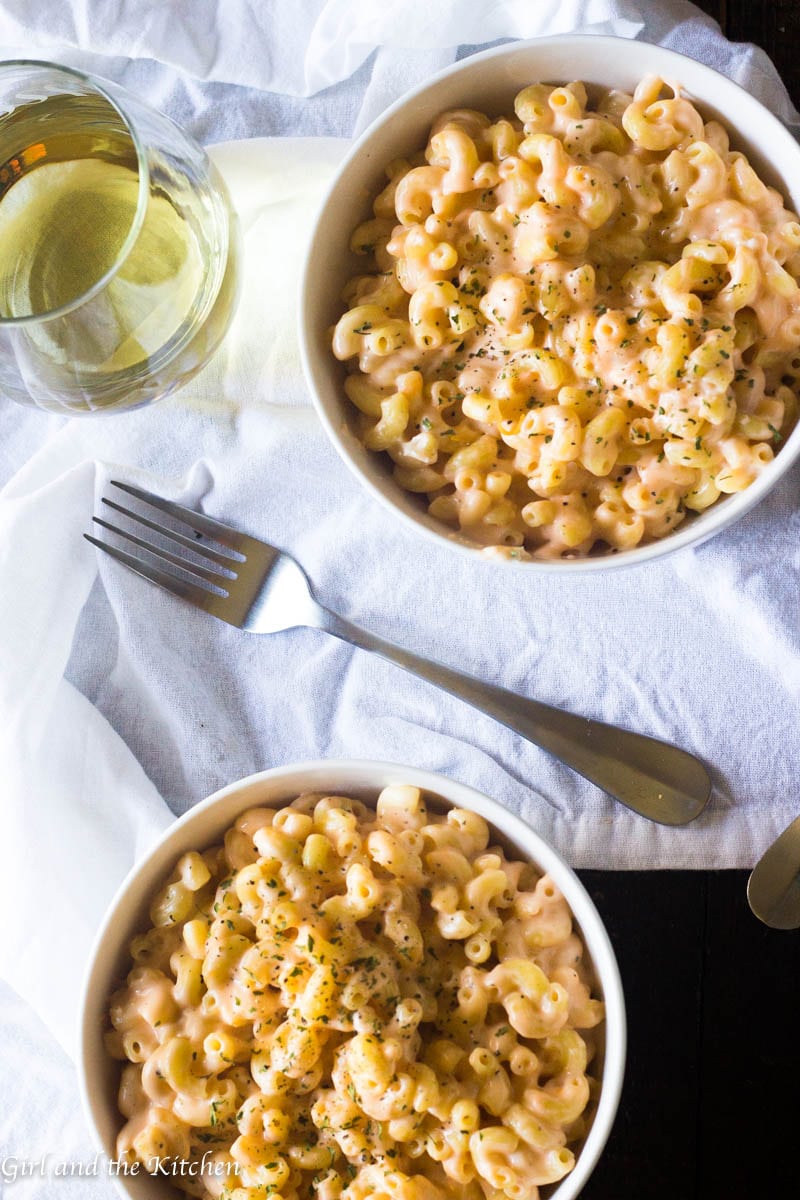 [wprm-recipe-jump]
I have what you would call an unhealthy obsession with mac and cheese.  Creamy mac and cheese to be precise…and uber cheesy.
My husband constantly makes fun of me because no matter what restaurant we go to…no matter which diet I am on…I will ALWAYS…at least taste their mac and cheese.  And I am saddened to say that most of the time I am severely and utterly disappointed.
Bad mac and cheese is like a disease that very few restaurants can escape.  It's either:
Too salty
Not creamy
Too creamy
Not cheesy
Too cheesy
Over cooked
Too clumpy
I can go on and on and on.  The possibilities for bad mac and cheese are endless.
But good mac and cheese…Good, perfect creamy mac and cheese is my favorite.  And sadly the only place that I have ever found was at one restaurant.  It was an overly fancy steak place downtown.  It happened to also be an overly expensive steak restaurant.  And this happened to be an overly fancy lobster mac and cheese with truffle oil.
And while I understand most of you have just started to salivate just from the sound of this, I on the other hand only heard creamy mac and cheese.  And like the insane person that I am asked for it without the lobster and truffle oil.  And yes the waiter and my husband stared at me precisely the same way you are staring at me now: as if I had lost my marbles.  Sue me… I am a simple girl.
When this simplified mac and cheese arrived… I was in heaven.  It was done JUST right.  Super creamy, cheesy and the pasta was marvelously al dente.  It was the ultimate creamy mac and cheese.  I had found the winner and it had to be replicated.
I knew the proper way to make a heavenly mac and cheese…it required a roux, two pots and most importantly time.  Time that I never seemed to have.  And when I decided that this year my ultimate mac and cheese would show its face on mine and my cousin's Thanksgiving extravaganza, I knew that I needed a way to make my ultimate creamy mac and cheese a simplified and shortened one pot meal.
My cousin's and mine 2016 Thanksgiving & Christmas Dinner Plan Extravaganza is faaaaabulous!  Make sure you check out all the other yums that go along with it!
Enter this gloriously cheesy, creamy, one pot 20 minute mac and cheese.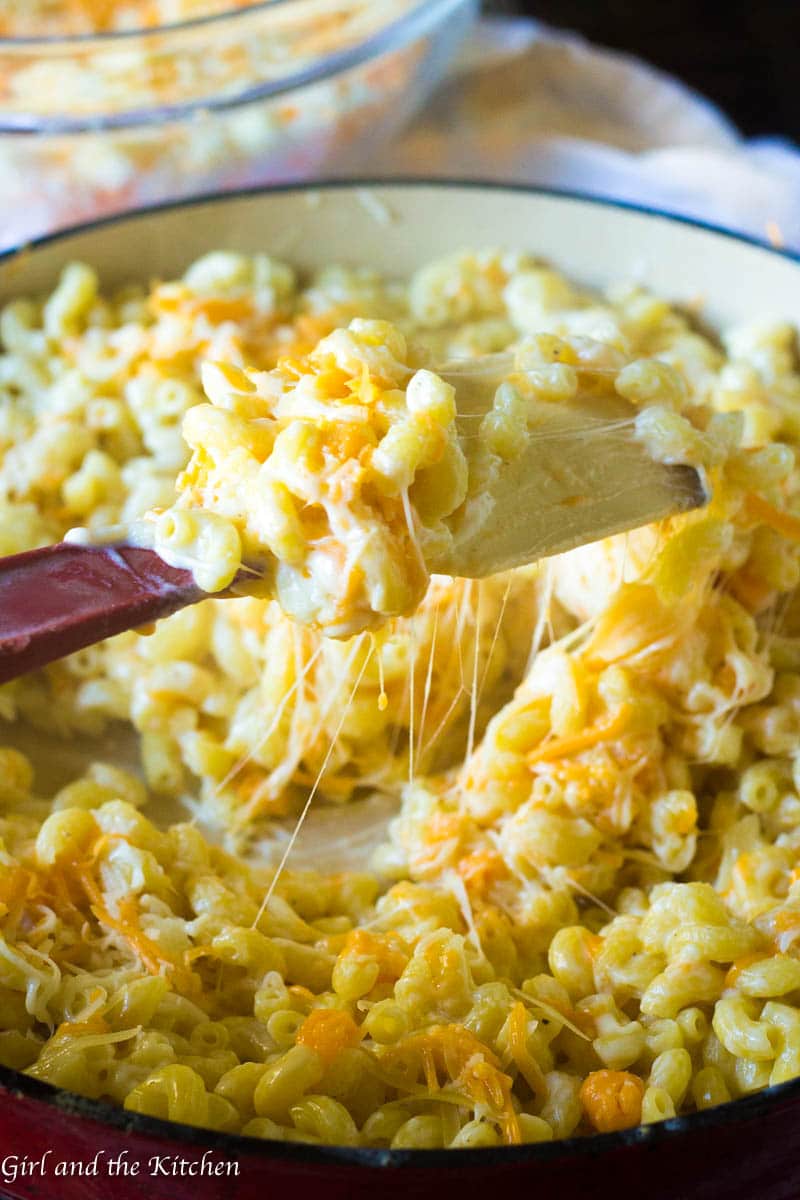 I first saw this in one of those short videos from Food Network on my Facebook feed.  Everything…pasta included was made in one pot.
My initial response to this idea was not a positive one.  I never jumped on that whole one pot pasta dish bandwagon because I never liked the results.  They were never JUSSSSSST right.
But against all inner protests I decided to go ahead and try it anyhow.
The Technique
AND. I was blown away by the results!  I naturally had to tweak it just a tad to guarantee perfection.  I had to play around with the proportions and also the steps that seemed to be missing from creating the ultimate creamy mac and cheese.  And my results were….EPIC.  They were (as Barney from How I met Your Mother would say) Legend……DAIRY!
There are a few VERY important tips to getting this one pot mac and cheese done in 20 minutes and in one pot and ensuring that it was just as creamy as the ones that require the pasta to be pre cooked.
Use NON pre-shredded cheeses.  The pre-shredded cheeses add in cornstarch to prevent them from clumping in the packages.  Which ironically cuz them to clump IN the mac and cheese.  Just buy the bulk and shred it on its own, it's way cheaper that way anyhow.  I used my food processor with the shredder attachment to shred because I was also shredding for a ton more recipes that day.  But you can also go ahead and use your box grater.
Do NOT boil the pasta.  Everything is simmered.  You want the pasta to be slowly simmer so that it does not over cook.  As soon as it is perfectly al dente the process is done and we add in our cheeses.
When the pasta is perfectly al dente there should be some milk left in the pot.  Do not dump that milk.  The milk has a ton of the starchiness from the pasta and this my dear friends will help emulsify your cheesiness without leaving behind any clumpiness.
In a traditional mac and cheese the cheese is added slowly to the cream sauce so that it gently combines without clumping.  That being said, at the very end I add in a bit of cream cheese to help cream everything out as well as a bit more milk.  This is done to help make the sauce become uber creamy without clumping.
OH… for an added bonus…I plopped some of the creamy mac and cheese into some ramekins added a bit more cheese and placed under the broiler.  I do not think I can explain the amount of creaminess and cheesiness I experienced.
In fact I placed the video on Snap Chat and everyone LOST THEIR DANG MINDS! (BTW if you aren't following me…my snap code is mile-furman.  I post tons of fun shenanigans in and out of the kitchen on there!  FOLLOW ME 🙂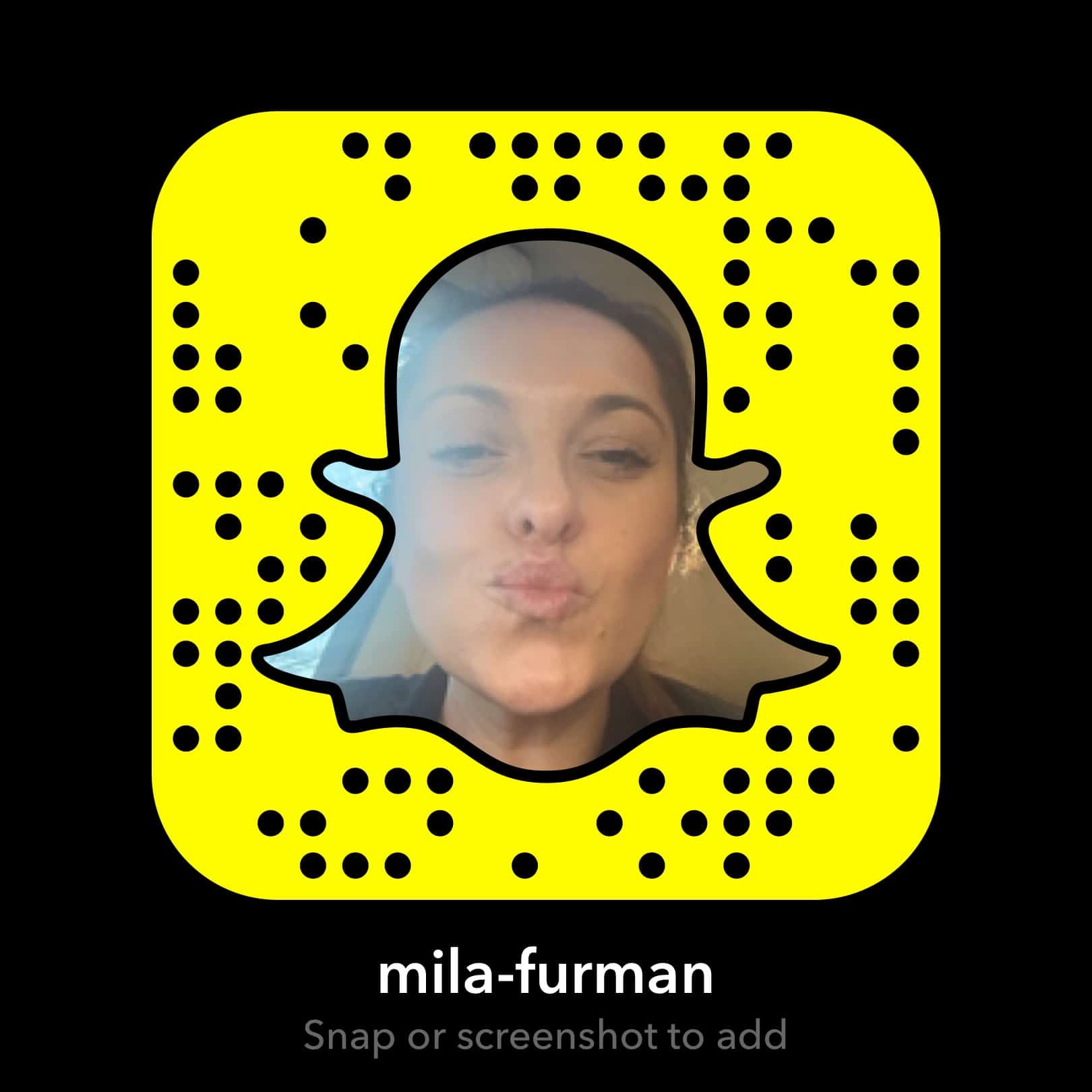 Print
One Pot Super Creamy Mac and Cheese (Ready in 20 Minutes)
---
Author:

Total Time:

20 minutes

Yield:

8

servings

1

x
Description
Super creamy mac and cheese made in one pot is only 20 minutes away! Loaded with three different cheeses and made right on the stove top, this easy version of an American favorite will be your favorite dinner side dish!
---
16 oz

box elbow macaroni with grooves

5 cups

milk

1/2 cup

shredded Parmesan

1/2 cup

Mozzarella

1 cup

shredded Sharp Cheddar Cheese (don't buy pre-shredded!)

1/4 cup

cream cheese
extra milk as necessary
salt and pepper as necessary
---
Instructions
Place the pasta and the 5 cups of milk into a large pot.
Over medium/medium low heat, bring up the mixture to a nice low simmer. Make sure to stir frequently so that the pasta does not stick.
Once simmering, simmer for about 8-10 minutes or until the pasta is perfectly al dente. Continue stirring so that it never comes up past a slow simmer. Adjust heat as necessary to ensure the heat from staying at a temperature where the pasta simmers.
Once the pasta is al dente, lower the heat to the lowest setting and stir in salt, pepper, three cheeses and cream cheese. There should still be a bit more liquor in the pot remaining. This pasta water will emulsify the sauce perfectly.
Stir until the cheese has completely melted. If the cheese is clumping up and the sauce is not creaming out, just add a 1/4 cup of milk at a time to smooth it out.
Taste, season and serve immediately.
Notes
1. You can reheat the mac and cheese without a problem. When reheating add in a bit of milk to smooth it out and make the sauce super creamy again.
2. The nutritional information is to be used for information purposes only.
Prep Time:

5 minutes

Cook Time:

15 minutes

Category:

Side Dish

Cuisine:

American