Vegetarian Baked Sweet and Sour "Chicken" with Roasted Vegetables
A super delicious and simple vegetarian baked sweet and sour chicken recipe that is sure to please even the biggest meat eaters!  Best of all it is loaded with tons of healthy and crunchy roasted vegetables and no frying is necessary! 

[wprm-recipe-jump]
Let's be honest…we all adore Chinese take out.  Whether it's store bought or it's direct delivery from your favorite Chinese take out joint, it always sounds, smells and tastes delicious but the after effect is always: indigestion.
Now as all our kiddos run off to school and kindergarten and life is once again insane…sometimes we reach for those nuggets or pizza rolls to give them something once they dash into the door from school.
The issue is that within our craziness we tend to forget these wonderful little things called veggies 🙂  and veggies are truly what make our munchkins feel good 🙂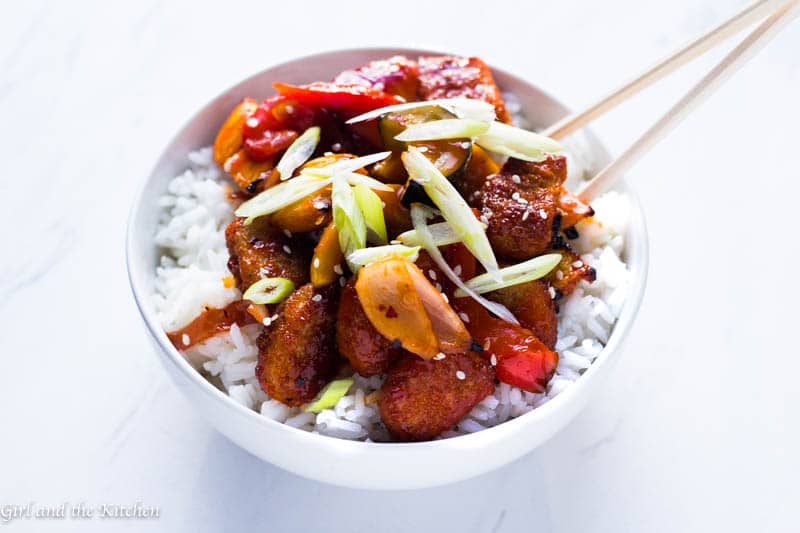 Back when I was plant based…it was super simple for me to declare veggies as the main part of the meal.  As a way to encourage my munchkin to eat the veggies along with some delicious crunchy bits, I frequently turned to Quorn Meatless Chicken Nuggets.  The munchkin and I are diehard nugget fans and when I decided to go plant based these delicious Quorn Meatless Nuggets were a frequent snack of mine.  I paired them with tons of different veggies and fruits but later I decided to do some fun experiments.  My favorite past time at that point was fooling my friends and family particularly those who said that they would always be able to tell when I gave them faux meat.
That was the beginning of this lovely Vegetarian Baked Sweet and Sour "Chicken" with Roasted Vegetables.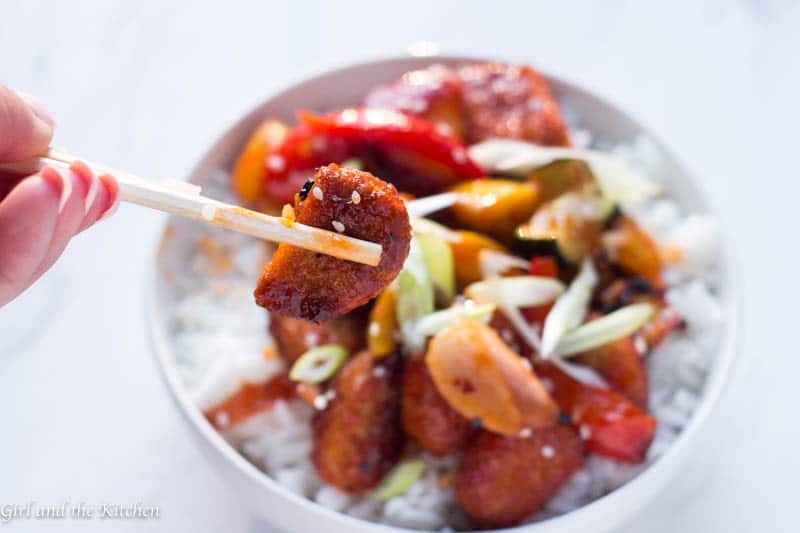 I already had a healthier version of Sweet and Sour Chicken that I created so that I could enjoy delicious veggies while my family enjoyed the sweet and sour chicken.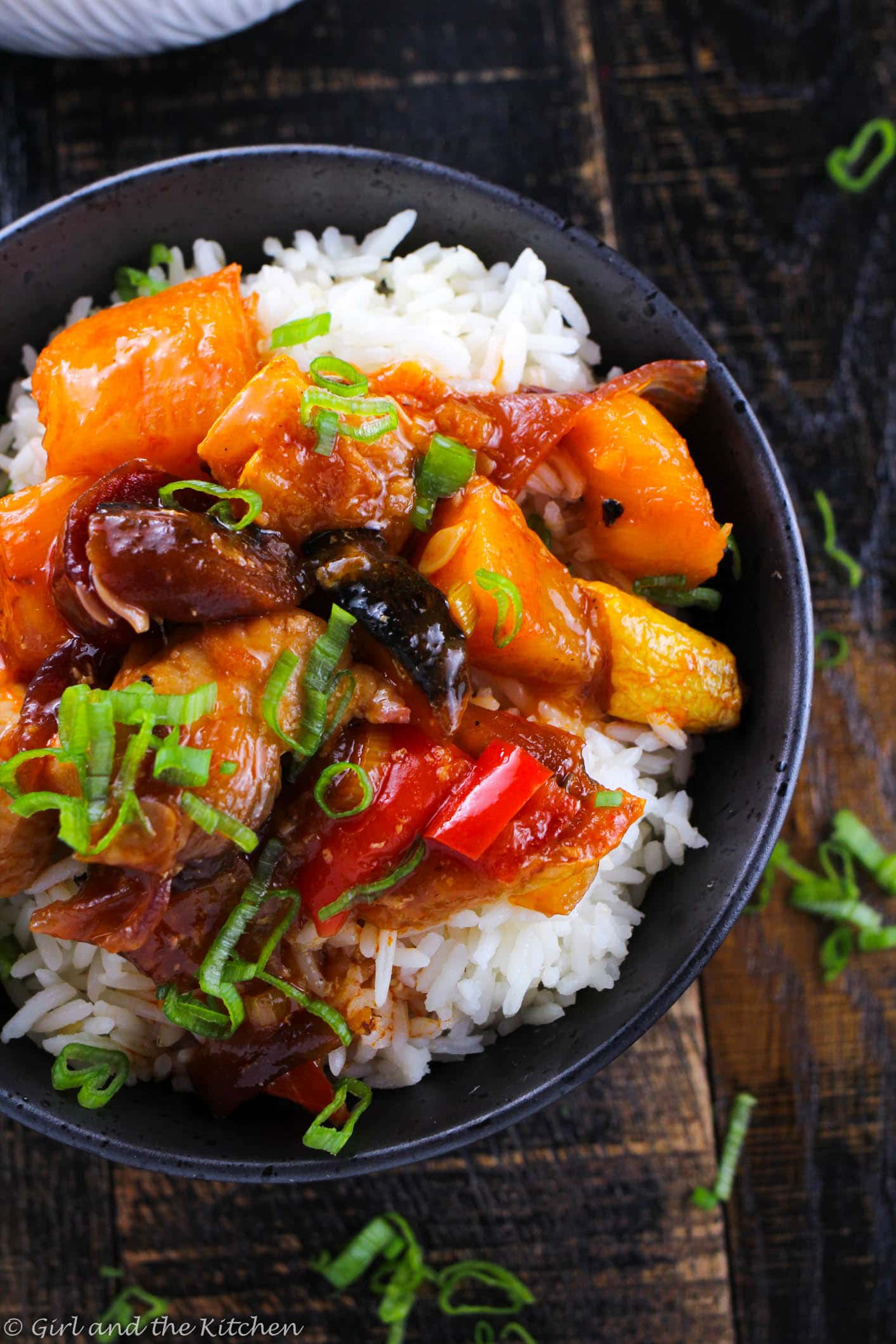 But this time around I thought it would be really fun to bake up my favorite Quorn Meatless Chicken Nuggets and pair them up with delicious vegetables and caramelized pineapple.  Best of all, despite the crispy goodness that these nuggets offer, this Vegetarian Baked Sweet and Sour "Chicken" with Roasted Vegetables is actually a ton healthier for you!  It is made mostly with vegetables and it is baked never fried.  All the veggies are roasted and there is actually a very small amount of the  sweet and sour sauce that delicately coats the veggies and Quorn Nuggets.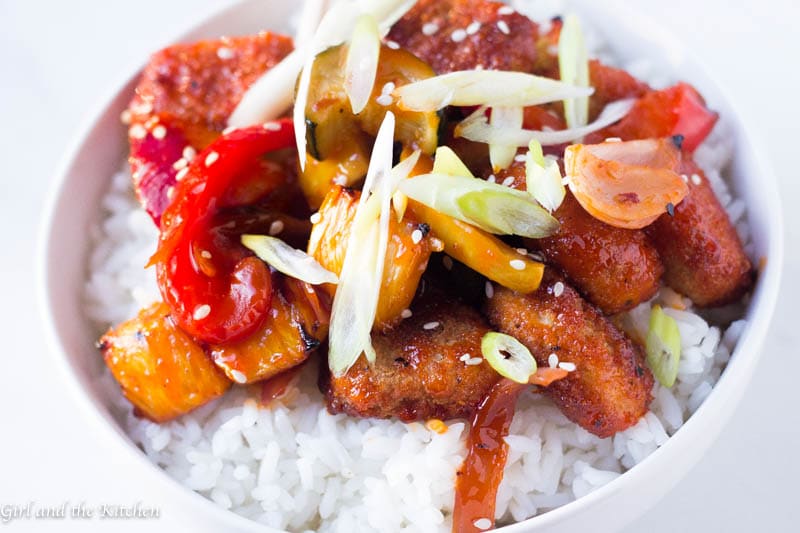 When we had Chinese take out one night, I decided to play things up a bit and serve my Vegetarian Baked Sweet and Sour "Chicken" with Roasted Vegetables to my friends.  The best part was they had NO idea it was NOT from the Chinese restaurant.  Children and adults gobbled it up and I sat and watched all of them giggling to myself.
When I informed everyone that they had just eaten a totally faux chicken meal they went back to start tasting the nuggets and looked at me with severe confusion on their faces.
I had fooled them once again 🙂  Mission complete.
Print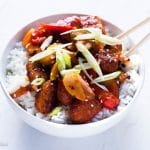 Vegetarian Baked Sweet and Sour "Chicken" with Roasted Vegetables
---
Author:

Total Time:

35 minutes

Yield:

4

people

1

x
Description
A super delicious and simple vegetarian baked sweet and sour chicken recipe that is sure to please even the biggest meat eaters! Best of all it is loaded with tons of healthy and crunchy roasted vegetables and no frying is necessary!
---
1

package Quorn Meatless Nuggets

1 cup

Fresh Pineapple (Diced)

1

Turnip (Diced)

1

Yellow Squash (Diced)

1

Zucchini (Large Dice)

1

small Red Onion (Large Dice)

1

Red Bell Pepper (Large Dice)

1

inch Ginger (Minced on Microplane)

1/2

jar Kame Sweet and Sour Sauce. (Note 2)

3

Garlic Cloves (Minced on Microplane)

1

pinch red pepper chili flakes

3 tbsp

soy sauce

1/4 cup

pineapple juice

1/2

lemon (juiced and zested)
olive oil
salt and pepper (to taste)

3

scallions (sliced to garnish)
---
Instructions
Preheat the oven to 450-degrees
Combine, turnips, squash, zucchini, carrots and onions on a sheet pan and toss with olive oil and plenty of salt and pepper.
Place into the oven for 20 minutes occasionally flipping them on the sheet pan so that they get even coverage.
While the vegetables are cooking, place the diced pineapple, red peppers and the Quorn Meatless Chicken Nuggets onto a pan lined with foil and roast for 10-12 minutes.
While the veggies are roasting, add oil to a pan over medium heat.
Add ginger, garlic and chili flakes. Allow to cook for 2 minutes over low heat, ensuring not to brown.
Add soy sauce, sesame oil, pineapple juice, lemon juice and sweet and sour sauce. Bring to a boil.
Once the nuggets are crispy and golden brown, remove and cut each nugget in half.
Add roasted vegetables, Quorn Meatless Chicken Nuggets and stir-fry everything together so it is nicely coated with the sauce.
Serve over rice and sprinkle with scallions.
Prep Time:

10 minutes

Cook Time:

25 minutes

Category:

asian, dinner

Cuisine:

Asian, Asian/American, vegetarian