Crispy roasted potatoes baked with classic Mexican spices and tossed together with a zesty pico de gallo!  Great served warm or as a healthy alternative to a potato salad! 
Look I think by now we all know that I am a potato loving girl.  In fact, my whole family is…actually the entire nation of Russia is, along with all the republics attached to it.  We loooooove our potatoes! And all the different ways to make them!
On Sunday mornings when I am feeling all nostalgic and stuff, I will make my Russian Home Fries with onions and garlic that fly off the table in absolutely no time.
Those always get a huge applause from the munchkin, hubs and myself.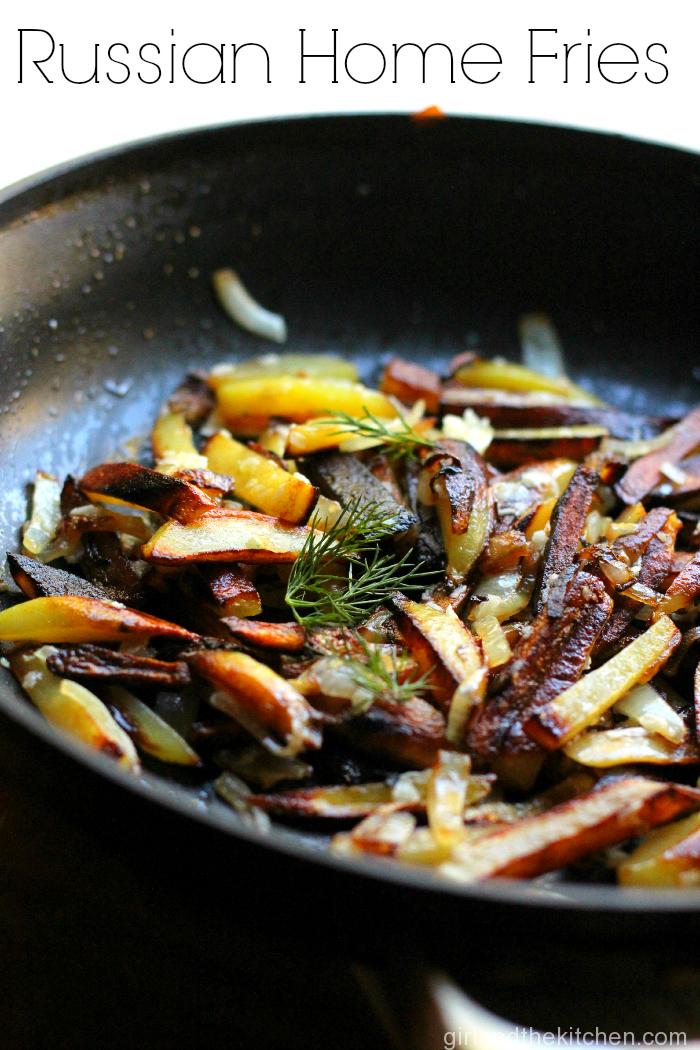 For dinners, I always have potatoes on my weekly menu.  I can use them as sides, throw them in omelettes or just eat them cold like a hungry little raccoon in the middle of the night when those hunger pangs hit!
Yukon Golds
Whether I am roasting or smashing my potatoes I always prefer to use Yukon golds…baby Yukon golds if I can get them 🙂  They are incredibly tender, stunningly yellow and a bit sweeter.  The hubs has even gotten spoiled and last week when I made red potatoes instead of the Yukon golds he said, "Mila these are not the same.  I prefer the gold variety."  Quite the foodie he has become 🙂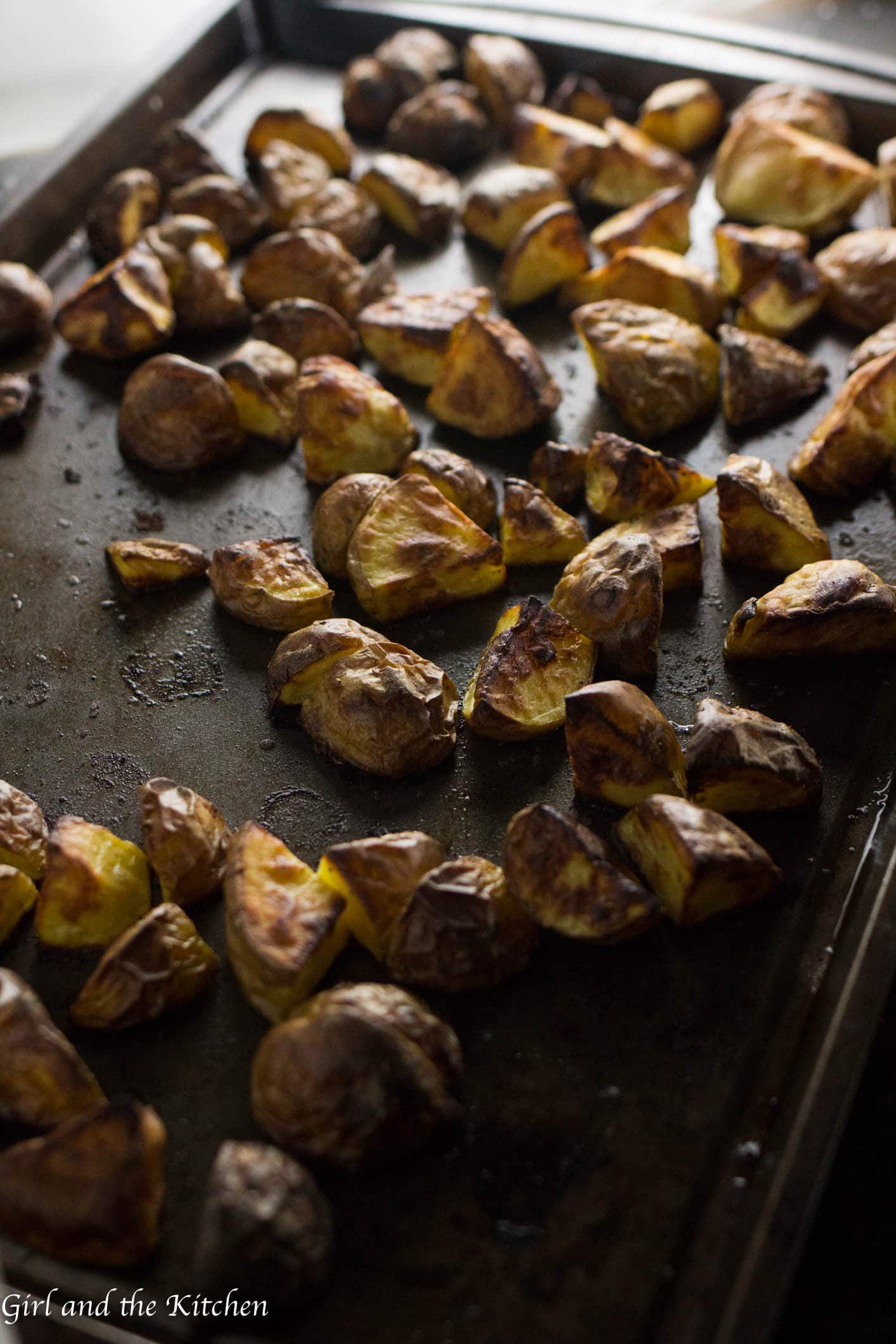 See how gorgeous and yellow they are even after the bake?  That's why I love them so much!  Beautifully yellow and wonderfully tender!
And you know what goes well with wonderfully sweet?  Spicy and tangy!  That goes with it REALLY well.
Because I make taters every week…sometimes I need a bit of excitement to go along with it.  And a super fresh pico de gallo adds a nice bit of excitement!
Isn't that just glorious!?  I swear I made this one night and while I sat and photographed this small bowl in my dining room,the hubs and the munchkin had inhaled half of the sheet pan on their own.  And then asked for more.  No one can call them poor eaters 🙂
I coupled these potatoes with a good squeeze of lime and several wedges of avocado and called it a meal from heaven!  Feel free to add some black beans as well if you are missing the protein.
But when I have potatoes I hardly ever miss anything 🙂
Oh and the best part?!? In the summers this makes the ultimate potato salad!  Healthy, easy and mayo free!  And let me tell you this tasted delicious the very next day cold out of the fridge!
Enjoy my fellow diners!!! Eat well!
Print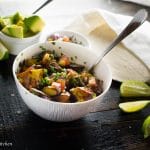 Mexican Roasted Potatoes
---
Author:

Total Time:

40 minutes

Yield:

4

people

1

x
Description
Crispy roasted potatoes baked with classic Mexican spices and tossed together with a zesty pico de gallo! Great served warm or as a healthy alternative to a potato salad!
---
2

pounds Yukon Gold potatoes (cut into quarters or eighths if the potatoes are large)

2 tbsp

olive oil

1 tbsp

garlic powder

1 tsp

chipotle powder

1 tsp

smoked paprika

1 tbsp

onion powder

1

large tomato (small diced)

2

green onions/scallions (finely sliced)

1/2

a small red onion (finely diced)

4 tbsp

cilantro (finely diced)

1

jalapeno finely diced (optional)

2

garlic cloves (minced)
juice of

one

lemon
salt and pepper to taste
sliced avocado optional
---
Instructions
Preheat oven to 450 degrees.
Combine quartered potatoes with olive oil, garlic powder, onion powder, smoked paprika and chipotle powder. Toss together so everything is nicely coated.
Place in the oven and roast for 15 minutes. After 15 minutes, rotate the pan and toss the potatoes by shaking the pan. This will ensure even cooking. Allow to cook for another 10 minutes.
In the meantime make the pico de gallo: combine tomatoes, onions, scallions, jalapeño, cilantro, garlic and lime juice. Season to taste with salt and pepper.
Remove potatoes out of the oven and allow to cool for 5 minutes. Toss with pico de gallo and serve.
Notes
Nutritional information is to be used as a guideline only.
Prep Time:

10 minutes

Cook Time:

30 minutes

Category:

Side Dish, Vegan

Cuisine:

Mexican