Spicy Vegetarian Meatballs
These gorgeous vegetarian meatballs are full of veggies and protein!  Plus they are very easily converted into a vegan meal!  Who knew roasted eggplant can be such a perfect meat substitute!  Crunchy on the outside and super tender on the inside!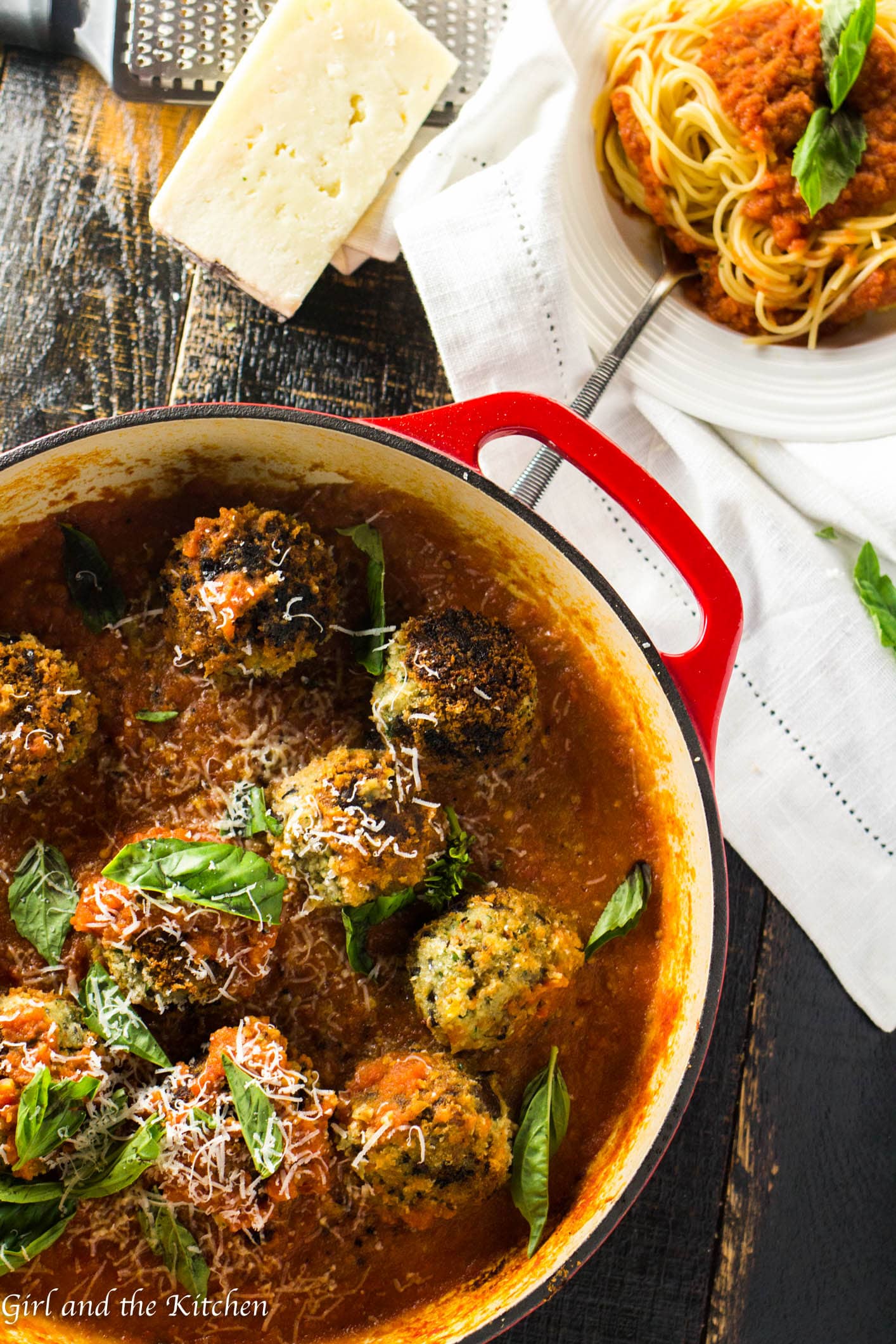 Lately, I have been on a mission.  A mission to make my husband eat more vegetarian food than conventional animal protein.  I must say, I am blessed.  He always tries my food, with an open mind and an open palate and has YET to complain…He's the bestest!
A few weeks ago he asked me to see if I could make some of my healthy meatballs.
I said, "I am actually working on a new faux meatball that I think you will love! "
"Oh no…you are going to turn me into one of them vegetarians aren't you?" He shook his head side to side and proceeded to walk to the living room to join munchkin in watching their favorite cartoon, "How to Train Your Dragon 2".  He made sure to turn around from the couch and flashed me an encouraging smile, "I am sure whatever you make will be delicious…now come on!  Whip them veganarian balls up!"  (He calls me a veganarian.  I think I like that 🙂 )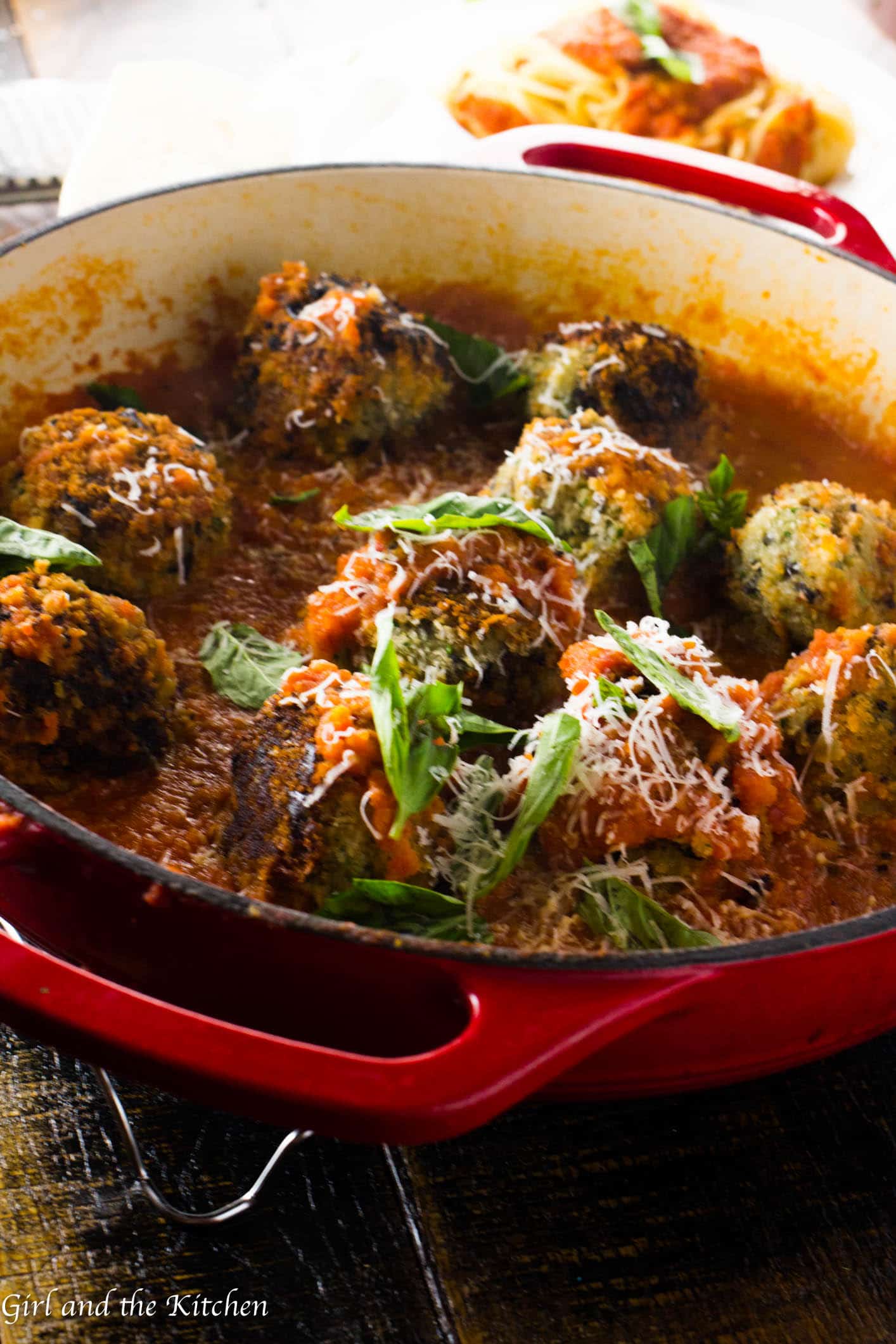 Several months ago, a co-worker of mine let me try the vegan meatballs she had whipped up.  And they were DELICIOUS!!! Tender and surprisingly…"meaty".  She had used eggplant and said it was the easiest thing ever to whip up!  I was on board.
I did feel that despite the many vitamins that the eggplant has, I needed to incorporate some protein.  So I added in cannellini beans for much needed protein and texture.
The eggplant, herbs, garlic, onions, bread crumbs, Parmesan cheese, plenty of red pepper flakes and beans were all combined quickly in a food processor…dipped into bread crumbs and pan fried with a bit of olive oil.  And it was a flipping success.
When I asked the hubs to help me photograph, the munchkin came right over and decided to help me slurp up the noodles…Isn't she the best?!
Look at those little hands…Those little hands are just perfect for sneaking aways noodles when I am not watching!
I gave the hubs a plate of 4 vegetarian "meatballs" and some pasta with my homemade marinara sauce.  He chowed down and then finally said, " Seriously, Mila I could eat this and not even miss the meat.  There is so much texture.  And the CRUNCHINESS! And the spiciness!  It just comes together for the perfect bite!  But DO NOT tell anyone I said that!  No one needs to know our business…" (AKA no one needs to know that he is actually alright with the idea of giving up meat)
Oops… Good thing his friends do not read my blog…
Hubs proceeded to tell me how light he felt despite consuming so much heavy pasta.  To me that's the best part about eating meat free meals.  I do not know about you, but I would rather scarf down on pasta and save the calories on the "meatballs".
But I am a carboholic and if I can get away with eating a plateful of pasta and not feeling heavy…then count me in!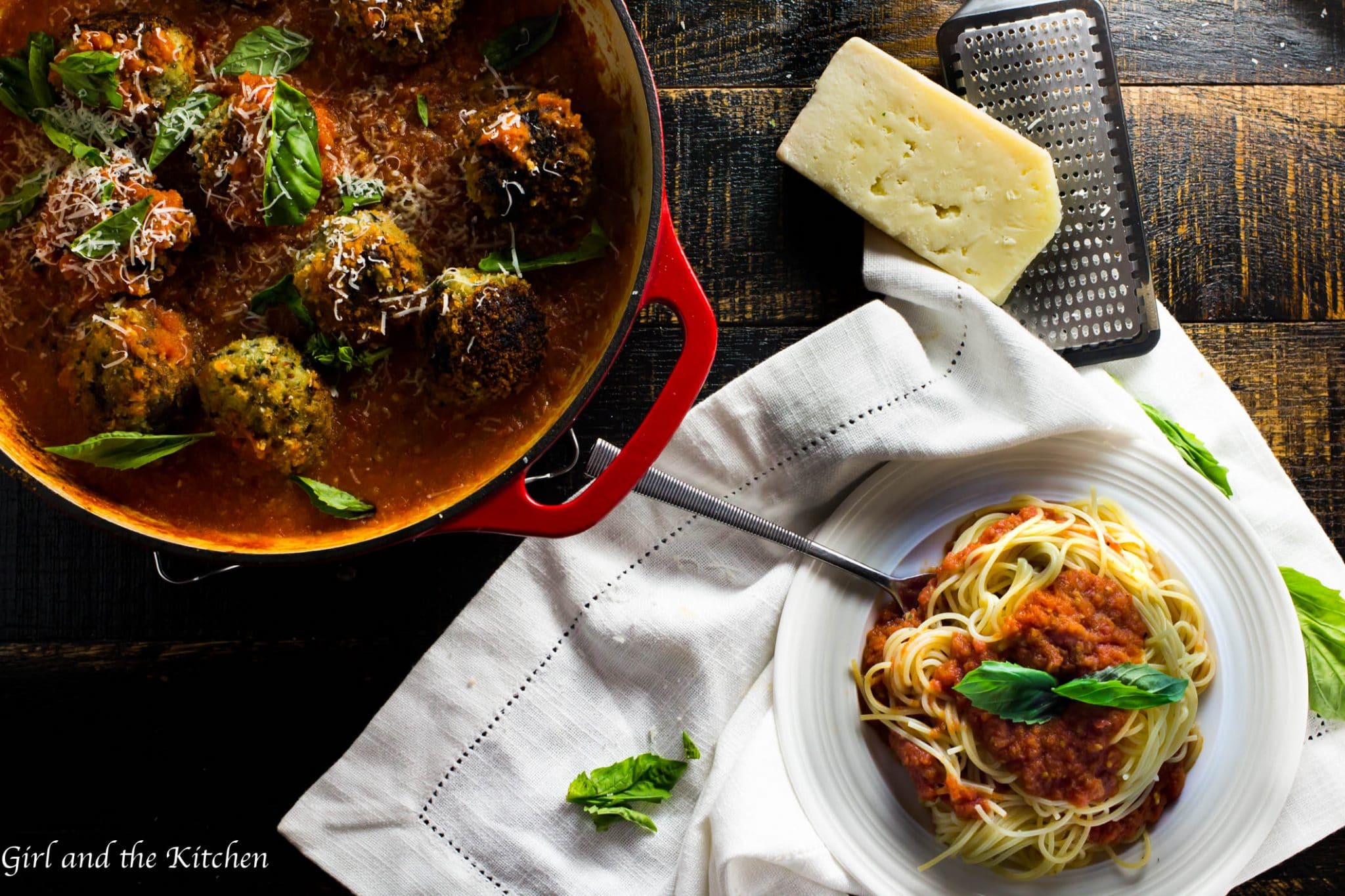 Print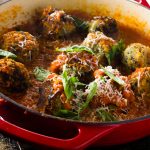 Spicy Vegetarian Meatballs
---
Author:

Total Time:

45 minutes

Yield:

4

people

1

x
Description
Who knew roasted eggplant can be such a perfect meat substitute! Crunchy on the outside and super tender on the inside! These gorgeous vegetarian meatballs are full of veggies and protein!
---
2

baby or Chinese eggplants (about

2

–

2.5

pounds *see notes)

1

can of cannellini beans (drained and washed)

3

garlic cloves

1

medium onion cut into large chunks

1/2 cup

flat leaf parsley *see notes

3/4 cup

Parmesan cheese (shredded on a microplane plus more for garnishing *see notes)

1 tsp

red pepper flakes

1.5 cups

panko bread crumbs plus 3 tablespoons

10

–

12

basil leaves

4 cups

homemade marinara

1

pound spaghetti pasta
olive oil (for pan frying)
salt and pepper to taste
---
Instructions
Preheat oven to 400-degrees.
Wash each eggplant well and cut up into 1-1.5 inch cubes. Place onto a sheet pan and drizzle with olive oil, salt and pepper. Roast for 15-20 minutes until tender and golden brown. Allow to cool.
While the eggplant cooks, bring your marinara up to a boil and bring up a pot of water to boil for the pasta.
Place beans, onion, garlic and red chili flakes into food processor. Pulse until chopped well.
Add beans and 3 tablespoons bread crumbs, pulse 4-5 times until the mixture is smooth and combined but not runny.
Add the eggplant and pulse until smooth. Taste and add in salt, pepper and red pepper as you see fit.
Place the panko bread crumbs into a deep dish so that it will be easy to dip the "meatballs".
Heat up about 2 tbsp of olive oil over medium high heat in a large pan.
Using a medium sized ice cream scooper, scoop the mixture and roll into a ball. * see notes
Add the balls to the pan and turn every 4 minutes until all sides are beautifully browned. *see notes
In the meantime, add in your pasta to the boiling SALTED water. Drain once it is al dente, about 10-12 minutes. Drain.
Serve the meatballs immediately in the marinara sauce with basil leaves torn on top. Shred some extra cheese on top for good measure. Serve over pasta.
Notes
1. I prefer to use baby eggplants or Chinese eggplants because I feel they have more flavor. But feel free to use regular eggplant if that's what you have available to you.
2. Flat leaf parsley has a great deal more flavor than curly parsley.
3. If you were to make this vegan, you can remove the cheese and substitute it with vegan cheese.
4. If for some reason your mixture is too runny or does not have enough texture, just work in some bread crumbs one tablespoon at a time.
5. Feel free to do this in an oven as well. Just make sure to spray down the pan with olive oil spray as well as the tops of the "meatballs". That way they will still crisp up for you.
6.  Nutritional information should only be used as a guideline.
Prep Time:

15 minutes

Cook Time:

30 minutes

Category:

Main Course, Vegetarian

Cuisine:

Italian