Low Carb Cheesecake Pancakes (Syrniki)
These creamy and fluffy Ukrainian cheesecake pancakes are the perfect start to any morning!  Full of probiotics and good for you fats, these babies are the ultimate low carb treat for any child, parent or any picky eater!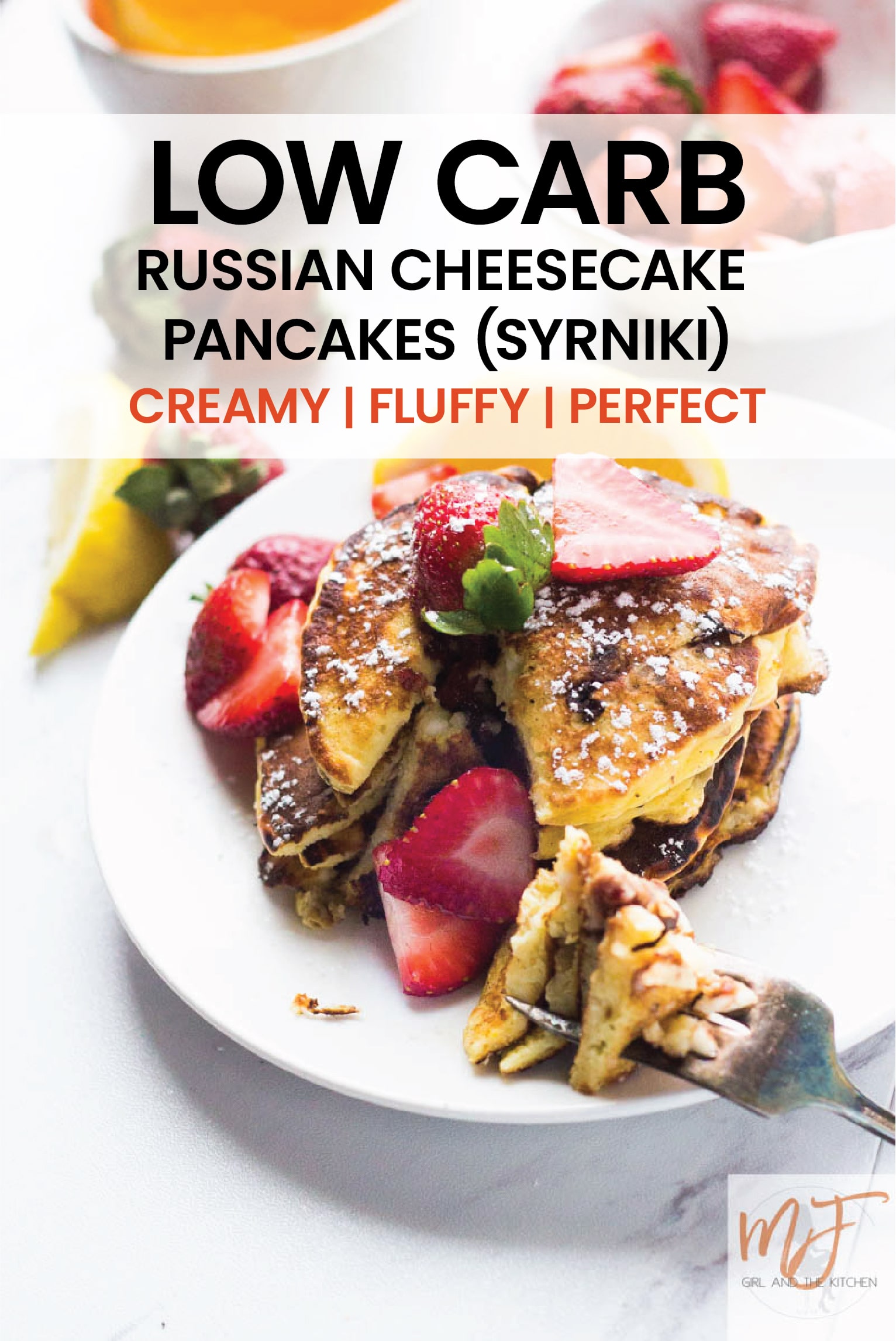 These cheesecake pancakes…they are nothing to feel bad about.  They have saved me many a morning when I had nothing to feed the fam…these babies came to the rescue.
When my first was born, I frequently enticed her with a similar version to these cheesecake pancakes that we call "syrniki" in Russian. This version was made with full fat ricotta and some buttery apples.  Needless to say these delicious beauties were gobbled up in minutes by the munchkin and the hubby alike.
I mean who wouldn't want this gorgeousness for breakfast…or lunch…or even dinner?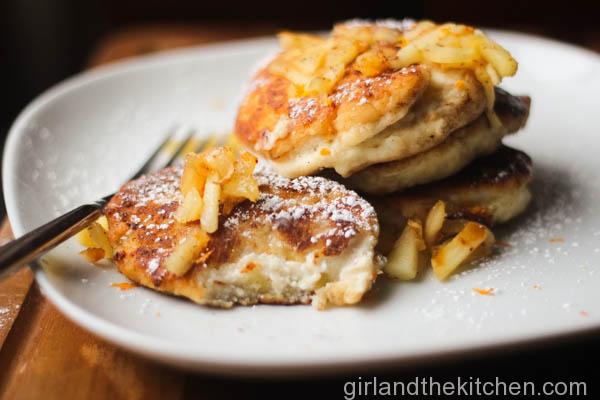 Recently, I have adopted a lower carb lifestyle and have encouraged my family to do so as well.  Clearly since I am the one who cooks for them…I am leaving them no choice but to eat how I feel they should eat!
The best part of eating low carb is that I get to eat full fat…super delicious and creamy cheeses, heavy cream in my coffee, fluffy whipped cream with berries, copious amount of avocados…the list goes on and on.  One of my favorite treats growing up was "tvorog" or loosely translated Farmer Cheese.  In Russia, we ate tvorog for breakfast, as a snack or in delicious cheesecake pancakes such as these little babies.  I even use it to make my now famous "zapekanka" essentially the simplest Ukrainian/Russian style cheesecake you will ever make!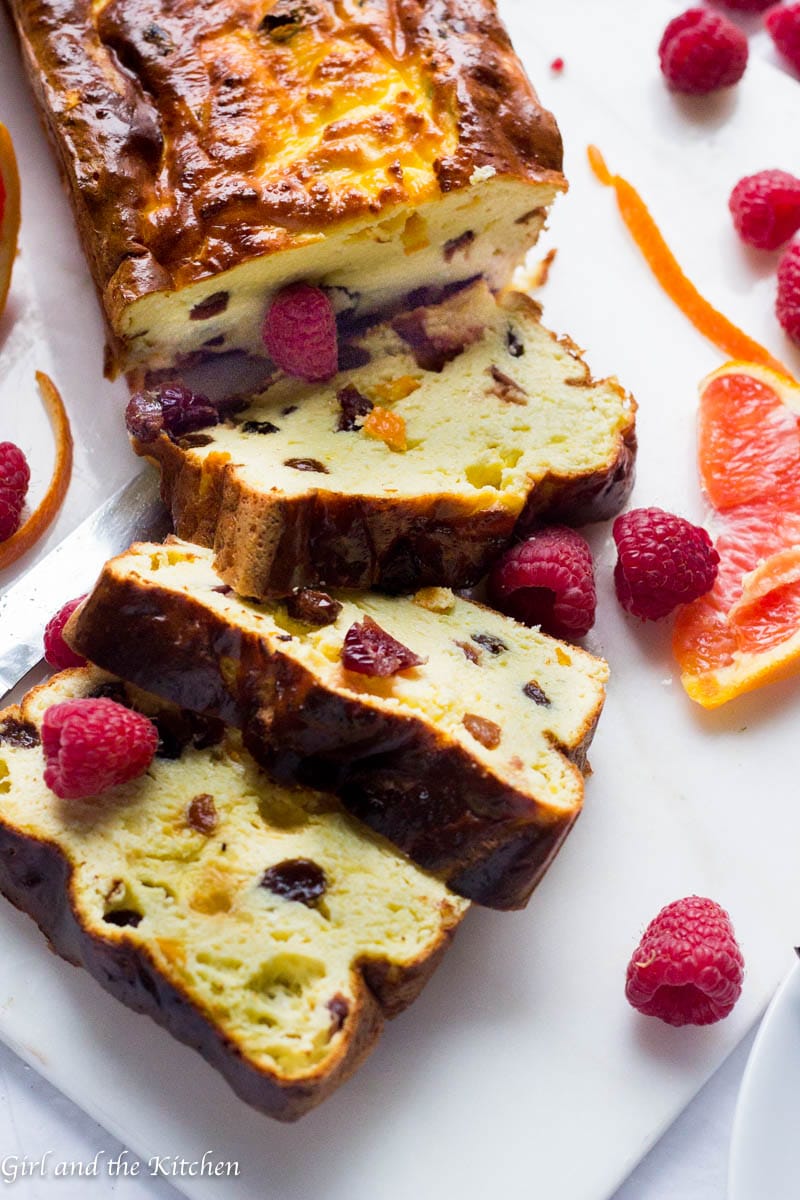 The tvorog is usually full fat and it comes super creamy or like dry curds.  The best part is it has a little bit of a tang to it because it is filled with all sorts of belly healing probiotics.When we moved to the states from the motherland…my mom could not find tvorog anywhere in the stores.  We always resorted to making our own (which is quite easy) but in a pinch it would have been nice to run out to the store an be able to grab a package of t'vorog.
Sure enough before we knew it…a product such as this did exist.  The now famous company, Lifeway started its what would be empire with one very important product prior to releasing my very favorite tvorog.  That product is Kefir.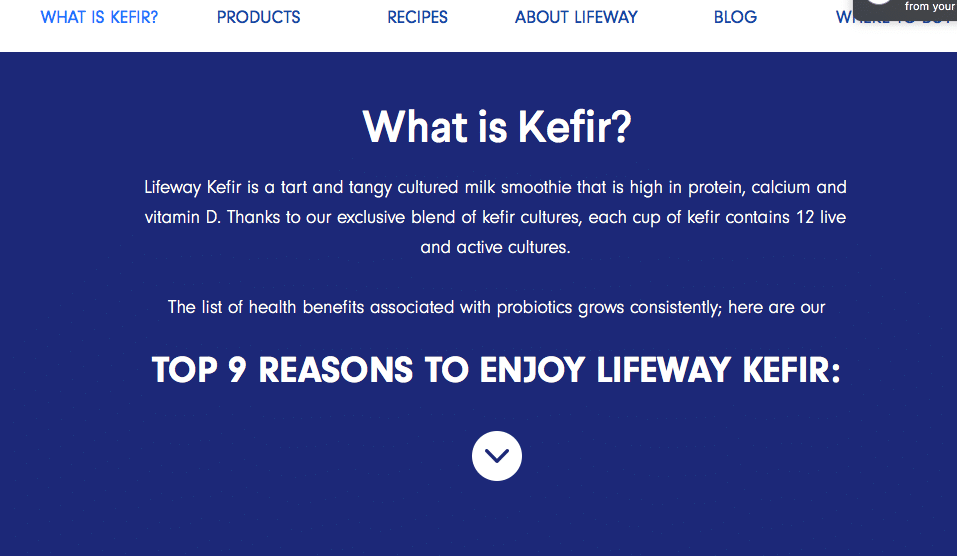 While my babushka always insisted to make her own tvorog at home, my mom figured it was easier and just as delicious to buy it.  I obviously did not know the difference and was just as happy eating either by the bowls, loaded to the brim with berries and whipped cream.
On the weekends, when we had tvorog left over, my babushka would whip up these delicious little cheesecake pancakes or syrniki as we call them.  They were just a tad sweet and absurdly melt in your mouth tender!!! The perfect combination with my berries and whipped cream.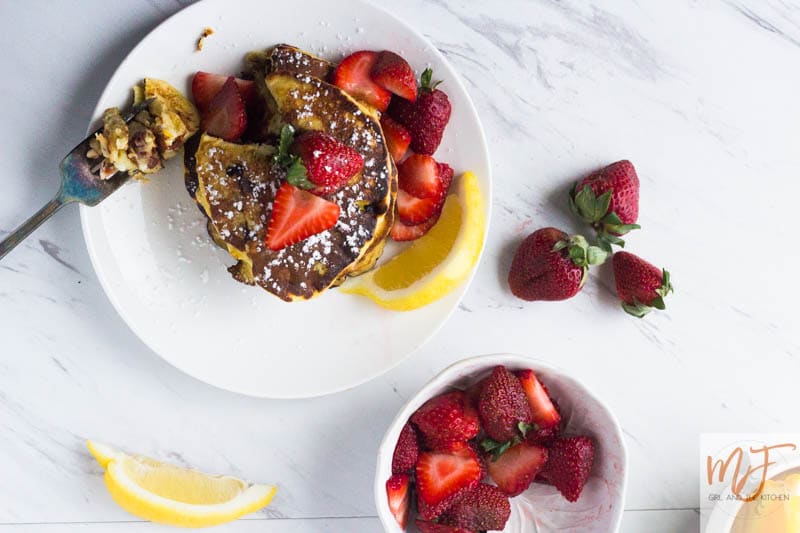 Several decades later, I use the same Lifeway Tvorog when I whip up these delicious syrniki for my family.  Each week that I made them, I would play around with the recipe…constantly changing up flavors and ingredients and as of recent removing the flour and replacing it with coconut flour.  The family did not see a difference but I was happy to finally be able to enjoy my beloved syrniki because I had successfully made them low carb.
The Technique 
The Farmer's Cheese:

Your goal is to buy the fattiest farmer's cheese product you can find by Lifeway.  When low-carbing, fat is good.  So the higher the fat content and the lower the carbohydrates, the better.  Look for the farmer's cheese in your grocer's area where all the yogurts are.  Substitution: There really is no perfect substitute for this product, but if you must go for a really nice full fat ricotta.  

With this batter I actually used raisins which is totally a great option as long as you are not low carbing.

Sweetner:  

Traditionally my babushka just added a bit of sugar.  Prior to going low carb I used a coconut sugar which has a lower glycemic index or I use products such as Xylitol or Swerve.  But most of the time I just leave it plain.
Fruit or no Fruit:  I have found that I have had more success with my kiddos eating these guys when I throw in some fruit into the batter.  I use to throw in dried raisins, but in an attempt to reduce the sugar I know throw indried tart cherries (which are low on the glycemic index) or dried berries.  In my house the dried cherries always win!  They add a tad of sweetness and some tartness which is the perfect combination!
The Binder:  My babushka used to always use flour as the binder.  But being that I stay away from flour, I decided to use coconut flour instead.  I love the little coconut sweetness that it gives the batter and it binds it nicely.  Prior to frying these little cheesecake pancakes, I also dip them in the coconut flour so that it gives them a little brown crust. Cassava flour also works wonderfully as well although it does have a bit more carbs.  But if you are having issues with them binding you may what to try cassava.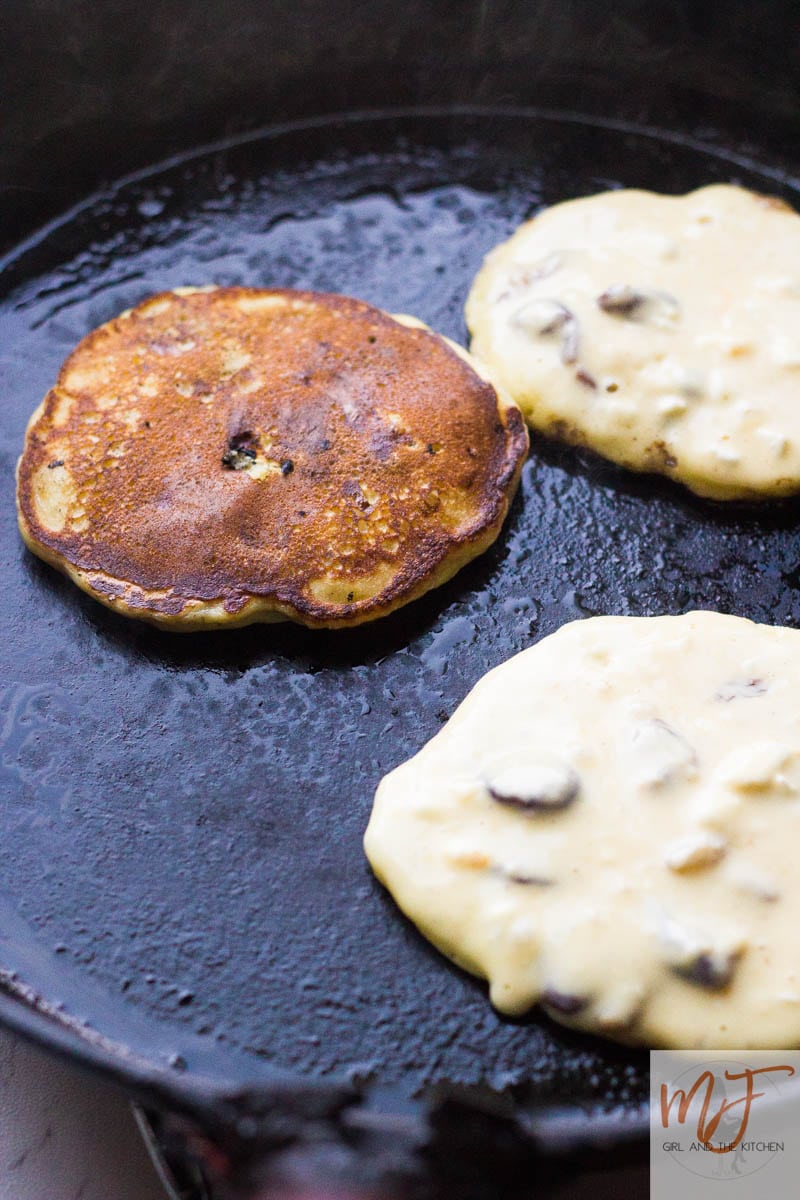 My favorite part about these cheesecake pancakes is that I can throw them in the car and even eat them cold when I am on the run all day in my car.  My munchkin will sometimes take them to school as a yummy little snack (when she lets me pack her a lunch of course.)
But most importantly they are extremely simple to make , which makes them an absolute must for any brunch, quick breakfast or even dinner.  As we speak, I am about to close the laptop, run to pick up the munchkin from her bus stop and make her a batch of these delicious little syrniki…who said breakfast can't be dinner?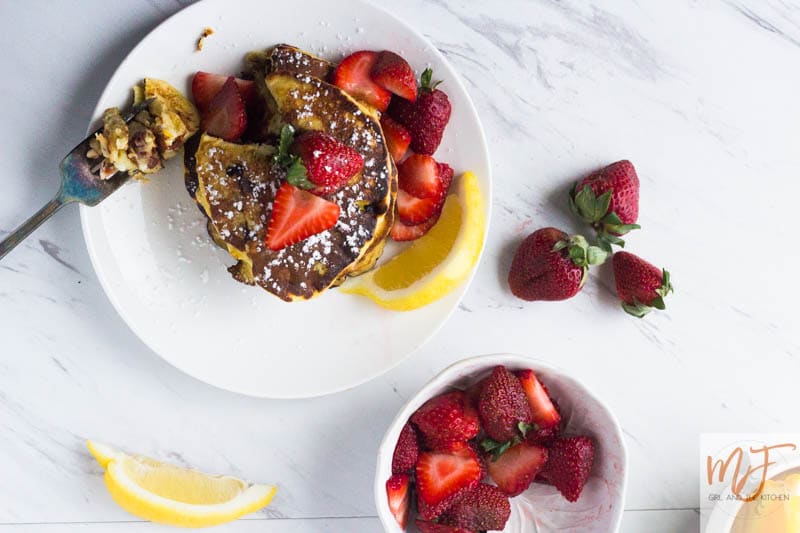 Print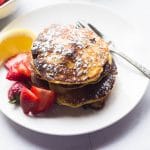 Low Carb Cheesecake Pancakes (Syrniki)
---
Total Time:

20 minutes

Yield:

4

people

1

x
Description
These creamy and fluffy cheesecake pancakes are the perfect start to any morning!  Full of probiotics and good for you fats, these babies are the ultimate low carb treat for any child, parent or any picky eater!
---
1

package Lifeway Farmer's Cheese

2

whole eggs

3/4 cup

cassava, coconut or almond flour (plus more for dredging)

2 tbsp

Swerve or any other sweetener of choice

1

whole orange zest (zested)

1/2 tsp

ground cinnamon

1/2 tsp

baking powder

5

each strawberries or dry berries
Butter or coconut oil for frying
---
Instructions
Add in your Lifeway farmers cheese 2 eggs, berries, zest of an orange, sweetner, 1 tsp baking powder and 3/4 cup coconut flour into a mixing bowl fitted with the paddle attachment.
Mix until JUST combined.
Place about 1/2 a cup of flour into a plate and get out an ice cream scoop. Scoop a nice ball of batter into the coconut flour.  Cover it all with the flour. Now that the flour will no longer stick to your hands go ahead and shape it into a patty.
Warm up about 2 tbsp of butter in a pan and fry each syrnik until golden brown over medium heat, about 4 minutes per side.
Remove from pan and drain on a few paper towels to remove any access fat. Serve with the sauteed apples and a few more sprinkles of cinnamon and orange zest.
Notes
The berries can be replaced with any fresh or dry fruit.  When doing dry fruit I prefer either berries or tart cherries because they are the lowest on the glycemic index.
Prep Time:

5 minutes

Cook Time:

15 minutes

Category:

Breakfast

Cuisine:

Russian
Pin For Later

SaveSave