Meet an exciting twist on an ordinary vegetable, these Honey Soy Glazed Green Beans are packed with flavor and tossed in a gorgeous honey glaze that sticks to every delicious side!  The addition of woodsy shiitake mushrooms only adds to the deliciousness of this side!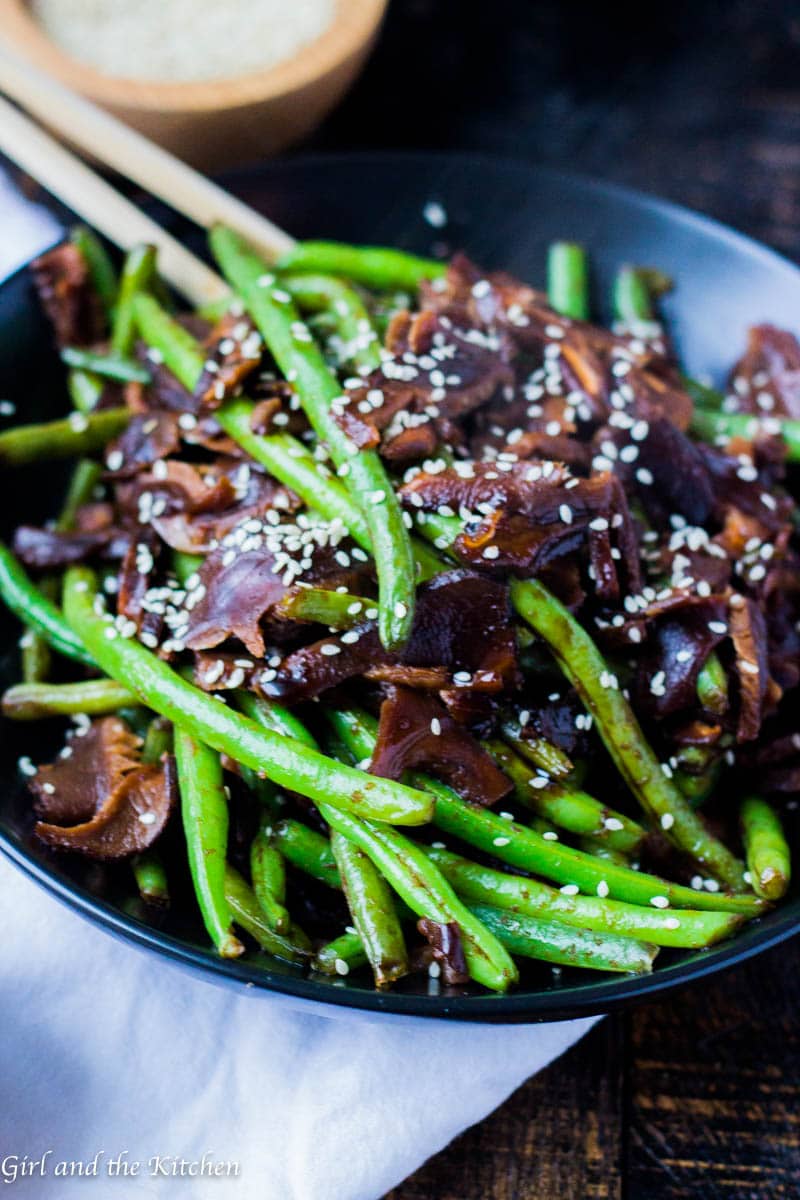 Jump to Recipe
Spring is literally around the corner.  I mean it is March 1st and all.  And as I gaze outside my window at the rain soaked side walks I realize with spring comes two very important things:  Easter and Passover.  Easter bunnies, Easter eggs, a repeat of the Ten Commandments and most importantly really tremendously delicious food.
Being a blogger, one of the most important part of my job is for me to come up with glorious and yummy food ideas for my loyal readers.  It also happens to be one of my FAVORITE things to do because I get to make all the delicious bites I dream of in a very short period of time to accomplish my holiday round-ups!  It's a very messy weekend in my house typically during that time and I usually send everyone out of the house so I can run around in my madness. Despite the chaos, there is no time better spent than rallying up all these recipes and getting excited over ALL the possibilities of deliciousness!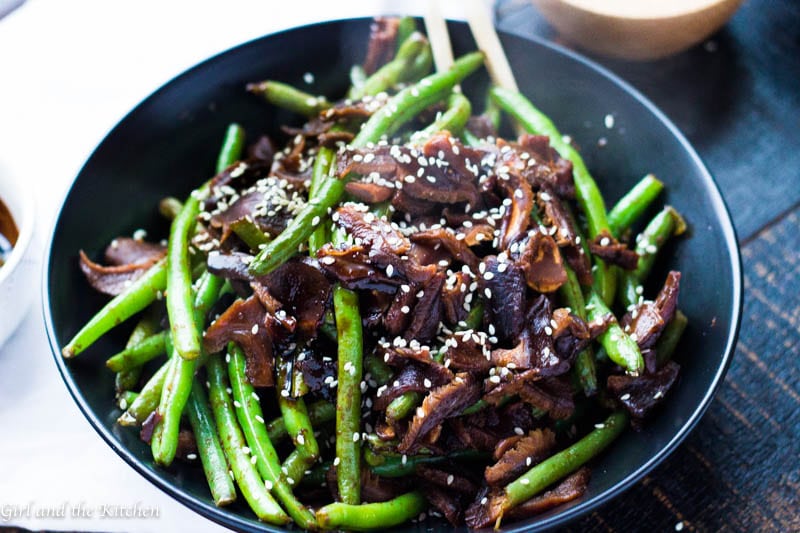 These glazed green beans, like so very many of my dishes were born out of laziness and purely by accident.  I was trying to create a quick side dish for hubby's arrival home.  For some odd reason, my side dishes are always a last minute thought.  I'll come up with 5 entree's to make for the week and then suddenly I realize I do not have a single side dish to go with it. I anxiously weeded through my freezer hoping to find a glimmer of hope.  Alas, frozen veggies to the rescue!  I always happen to have a good stash of frozen veggies in my freezer to get me through nights like this.  Trader Joe's happens to have incredible frozen French green beans aka Haricots Verts.  They are thin, crisp and most importantly pre-trimmed!  Less work is the ideal pre-requisite for a busy weeknight.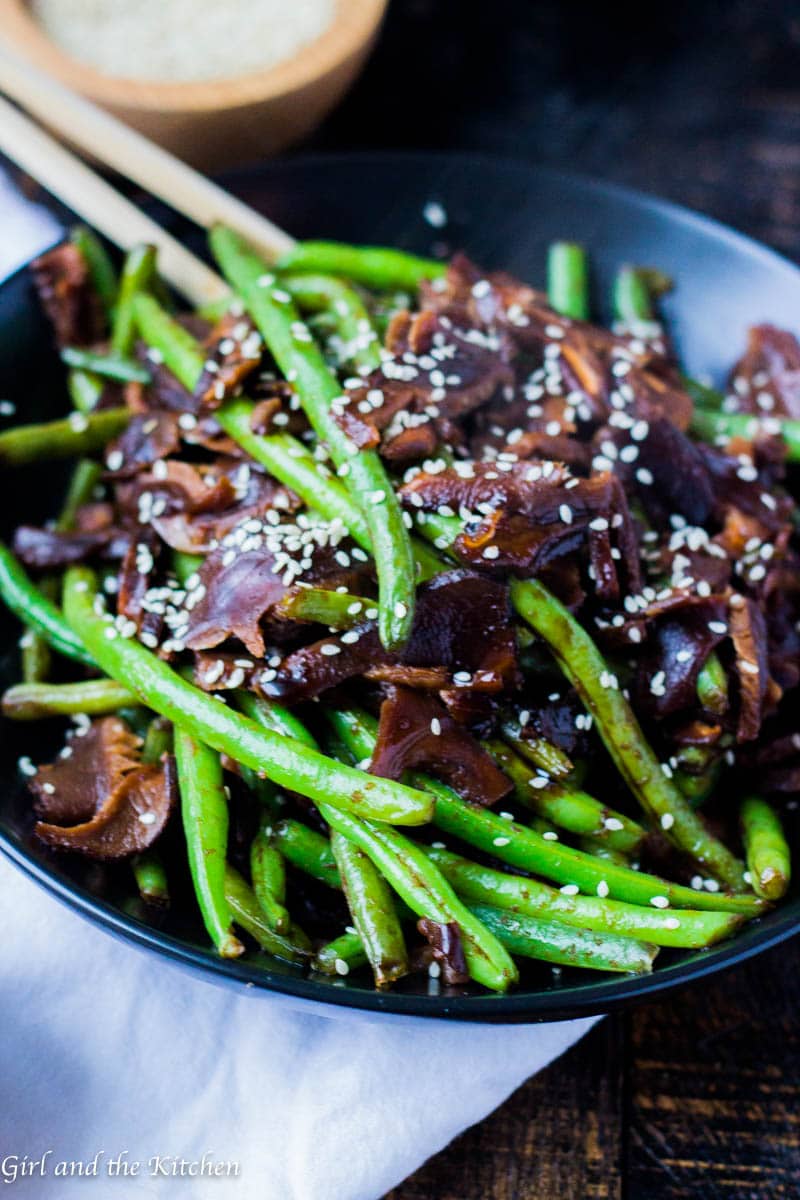 I had some shiitake mushrooms chilling in my fridge because hubby decided to buy them without asking me if I had any plans for them- I didn't.  But, I did now.  I knew that their woodsiness would lend beautifully to these colorful and glazed green beans.  And what better way to enhance this gorgeous dish than to pair it with an incredibly dreamy and sticky Asian style glaze?
The Technique
I am a huge fan of creating glazes for veggies.  It is a great way to add boku flavor and color to veggies without adding in too many calories.  Plus they ALWAYS come out so glorious and shiny, just aching to be eaten.  I did a honey glazed beet for the holidays last year and everyone was raving all about them!  Of course as I said before, the best part is how completely effortless this dish is there are just a few important steps that I do ensure to do so that the flavor really stands out.
Sautéing the Mushrooms: The flavor not only comes from the glaze but also from sautéing up the mushrooms and getting all that beautiful umami flavor out of it.  Shiitake happen to have a really deep flavor and a LOT of umami flavor which is that very savory "can't quite put my finger on it" taste.  They are actually frequently used in vegan cooking to achieve that meaty and savory flavor.
Sweating the Aromatics:  I add shallots, Thai chillies, garlic and ginger into this dish to really make it shine.  But prior to doing anything else, I make sure that I let them sweat.  Sweat is a technique that you will notice I use quite often.  It was the very first technique I learned in culinary school because it is JUST that important.  When you sweat veggies or aromatics you are encouraging their flavors to come out by cooking them in some fat over medium heat.  You are never browning.  You are just slowly letting the flavors come out of them simply nudging them along with some salt in the mix to encourage their liquids to come out.
The Glaze:  The glaze is so ridiculously simple in this dish it sometimes makes me wonder why I waited so long to create this dish.  Glazing is simply using any sort of ingredient with sugar in it.  Honey, molasses, maple syrup, sugar, balsamic vinegar, all of those can be used to glaze.  In this particular case I used honey because I love the combination of soy and honey.  In addition I added in soy sauce, sesame oil and some lime juice to cut the salty sweetness of the glaze. (If you want to make this a completely vegan recipe, just use agave or molasses instead of the honey)
The Green Beans:  Whether green beans are fresh or frozen they take no time to steam up.  Once all of our ingredients are in the pan, I simply add the green beans, cover with a lid for 5 minutes and let them come to a perfect al dente.  Then I remove the lid and after 2 minutes you have a gorgeous glaze that is a perfect pair to our green beans.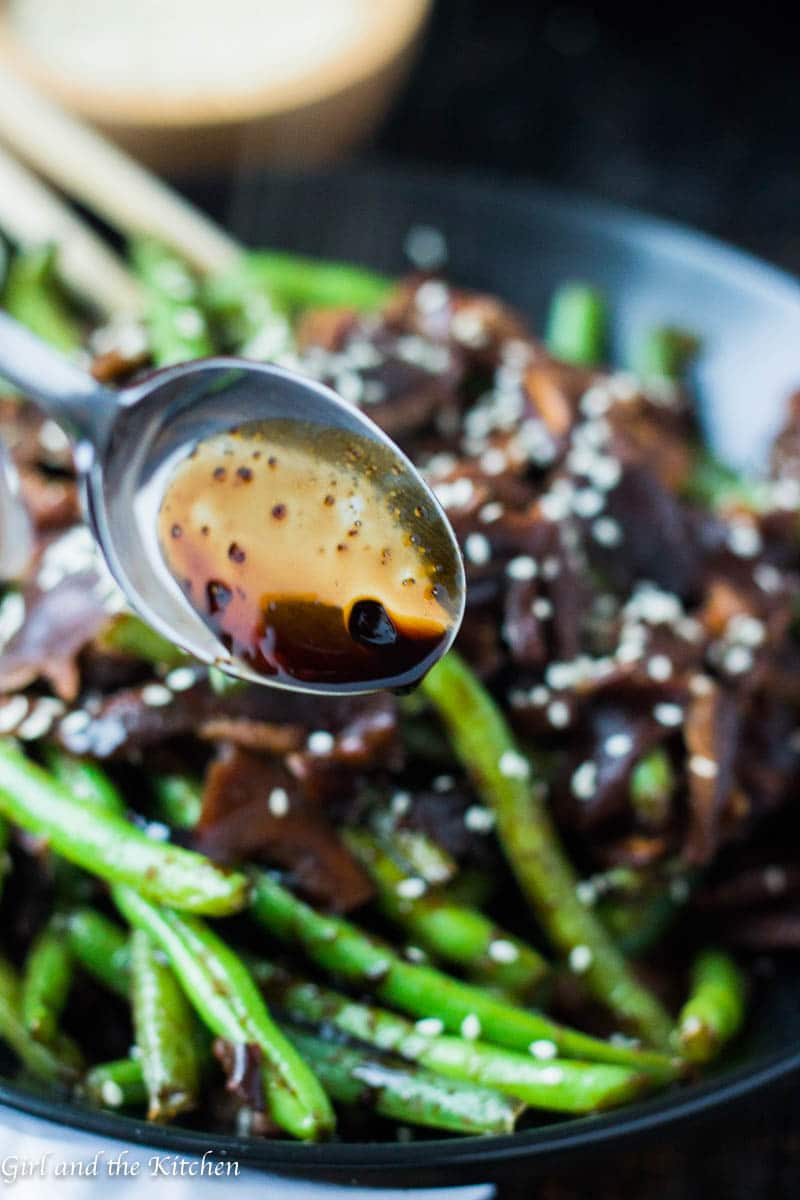 I finished the dish off with a quick sprinkle of white sesame seeds and served it alongside the 8 different entrees I had made for hubby.  He was pleased.  I was pleased.  And my side dish only rendered one dish that needed to be washed.  Excellent 🙂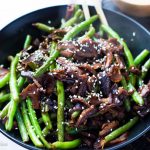 Honey Soy Glazed Green Beans with Shitake Mushrooms
Meet an exciting twist on an ordinary vegetable. These Honey Soy Glazed Green Beans are packed with flavor and tossed in a gorgeous honey glaze that sticks to every delicious side! The addition of woodsy shiitake mushrooms only adds to the deliciousness of this side!
Print Recipe
Ingredients
2

cups

of shiitake mushrooms and cut in half

stems removed

1

pound

of frozen green beans feel free to use fresh if you have them as well

2

tbsp

of olive oil

divided

3

garlic cloves

minced on a microplane

1

inch

knob of ginger

minced on a microplane

1

shallot

sliced finely or minced on a microplane

1

Thai chili

thinly sliced

2

scallions thinly sliced

1/2

cup

soy sauce

juice of one lime

2

tablespoons

honey

1

tablespoon

toasted sesame oil

1/2

a cup water

white sesame seeds to garnish
Instructions
Over high heat, add in 1 tbsp of olive oil and all the mushrooms. Sauté for 5-7 minutes until golden.

Reduce heat to medium, add in remaining olive oil and shallots, garlic, ginger and chillies. Place lid on top and allow to sweat for 5 minutes.

Add in green beans, soy sauce, lime juice, water and honey. Toss everything together and cover with a lid. Allow to cook for 5 minutes.

Remove lid and allow any access water to evaporate.

Add in scallions and sesame oil.

Sprinkle with sesame seeds and serve immediately.
Notes
1. The stems on shiitake mushrooms tend to be very tough. They are alright if you use them in stocks or anything of that sort where you are extracting the flavor over a long period of time. But otherwise the texture is very woodsy and practically un-chewable.
2. If you want to make this a completely vegan recipe, just use agave or molasses instead of the honey.
3. Depending on how spicy you like it, feel free to remove the seeds of the Thai chili or keep them in. Regardless, make sure it is sliced super thin so that no one bite gets a huge slice of chili. 4. The nutritional information should be used for informational purposes only.
Nutrition
Calories:
180
kcal
|
Carbohydrates:
28
g
|
Protein:
10
g
|
Fat:
5
g
|
Cholesterol:
6
mg
|
Sodium:
1932
mg
|
Potassium:
717
mg
|
Fiber:
6
g
|
Sugar:
16
g
|
Vitamin A:
15.7
%
|
Vitamin C:
20.4
%
|
Calcium:
7
%
|
Iron:
15.4
%