Ukrainian Meatball Soup – Суп с фрикадельками
This is one of those super simple soups that tastes like it has been cooking all day but comes together in less than an hour. My Ukrainian Meatball Soup is loaded with beautiful and tender chicken meatballs floating in a warm and comforting broth. It's an ultimate sniffle soother!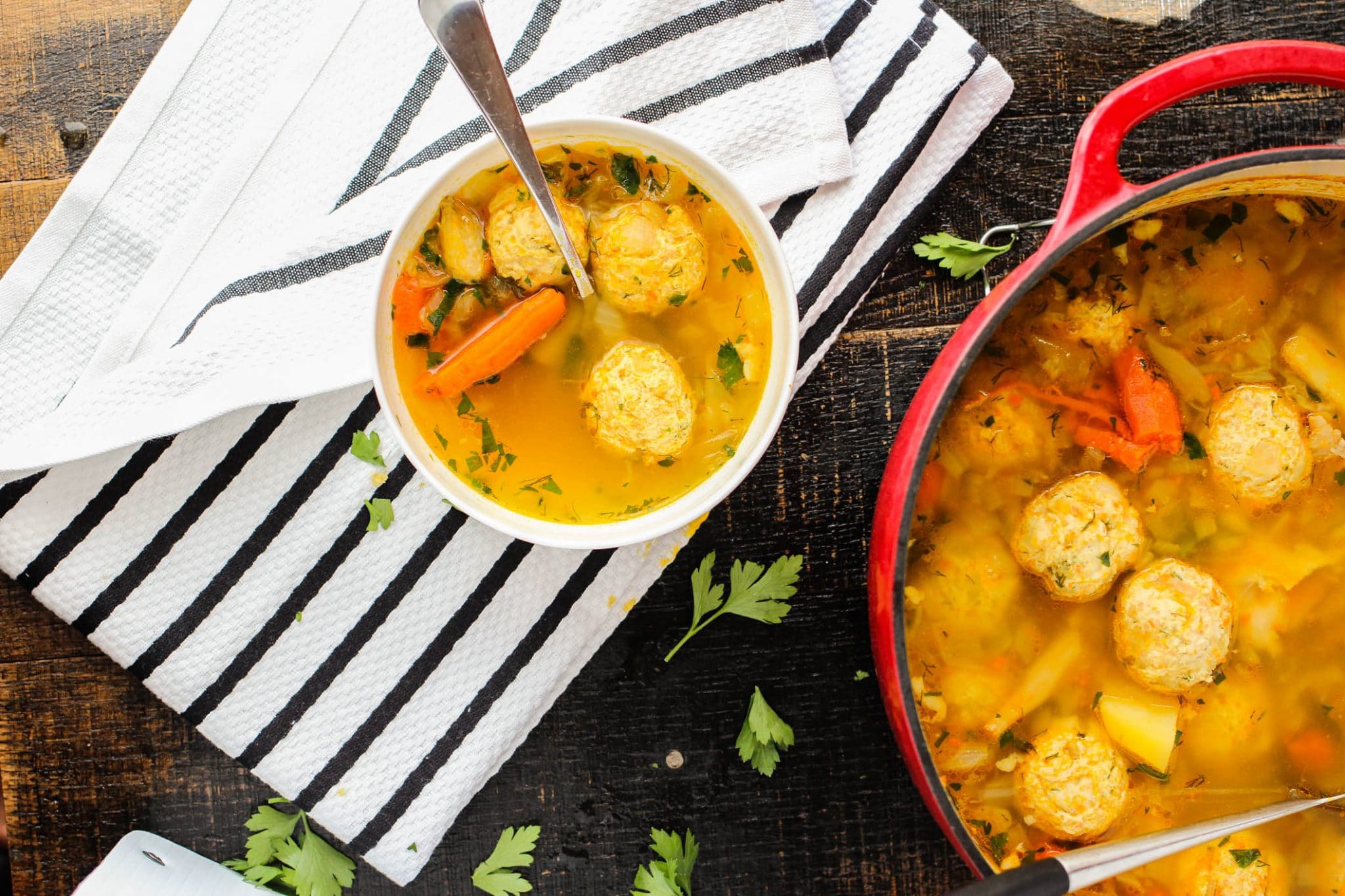 Several weeks ago…the munchkin and I had a cold. And it was awful.
What's the one thing that is worse than a sick munchkin? A sick mom. A sneezing, body-aching, dizzy, headache ridden, complaining mom.
That was me. Hubs had to go to work and I was left to fend for myself with a sad, sniffly toddler who decided her sole source of nourishment for the day would be fruit snacks. I didn't blame her. My sole source of nutrition was rice cakes.
My munchkin and I both cuddled on the couch sipping tea as our eye glazed over at another enthralling episode of Princess Sophia. By 11 am…I realized that our sad little couch picnic was coming to an end when the little munchkin looked at me with her big doll eyes and said, "Mama, nyam nyam. Nyam nyam," as she rubbed her adorable belly. Translation : "Feed me lazy ass."
I opened the fridge…and there stood my answer. A giant pot of my Chicken Soup that I had made a few nights before. But I was out of matzo balls. And I used the boiled chicken for pulled chicken tacos the night before (Reminder…must blog.). So all I had was broth. Great for the sinuses, but I had to fill the little munchkin up with something more than liquid. And come to think of it, my belly was saying, "Feed me lazy ass." Et tu?
Behind the pot of chicken soup lay some defrosted chicken breasts that I was planning on marinading and grilling. PLANNING being the operative word here. Big plans…little action.
Over worked and stressed from my refrigerator scavenger hunt…I grabbed the Iphone and started scrolling through Facebook.
And I stopped when I saw a question posted in one of my favorite cooking groups. A girl was inquiring about a very famous Ukrainian soup with meatballs. Think Italian Wedding Soup…but done Ukrainian style. My Ukrainian in-laws made this soup frequently and ALL of us loved it.
And I just knew I had to make it. I was motivated to post an awesome recipe. Sniffles and sneezes aside. I was making soup.
Fortunately for me, there was a riveting episode of Mickey Mouse Club on that munchkin could watch while I scrambled to make this soup. I did not have ground chicken but I had a Vitamix…and that thing can do annnnnything. Yup. I use the Vitamix to grind up my chicken. It comes out more chopped that ground but I like that texture…and even if I didn't I was not really going to be picky here.
As I dashed around my kitchen, chopping dill, grinding carrots, cubing potatoes…a smell filled the air that made me feel…whole. A feeling that you only get when the smell of golden goblets of chicken fat fill up your sinuses. It reminded me of childhood. When my mom made me chicken soups when I was sick. For the first time that day…I felt like my mom must have when she made me soup. And I found myself smiling at the happy feeling growing from deep inside of me. Then I sneezed. Daydreams over…
After the final sprinkling of dill and a sexy photo shoot later…I brought a bowl of soup to the munchkin. I received an applause…a standing ovation actually. Filled with giggles and huge toothy grins. Munchkin slurped up the soup and after each slurp said "Mama nyam nyam…mmmmmmmmmmmmmmmmm." Translation: "Delicious, lazy ass."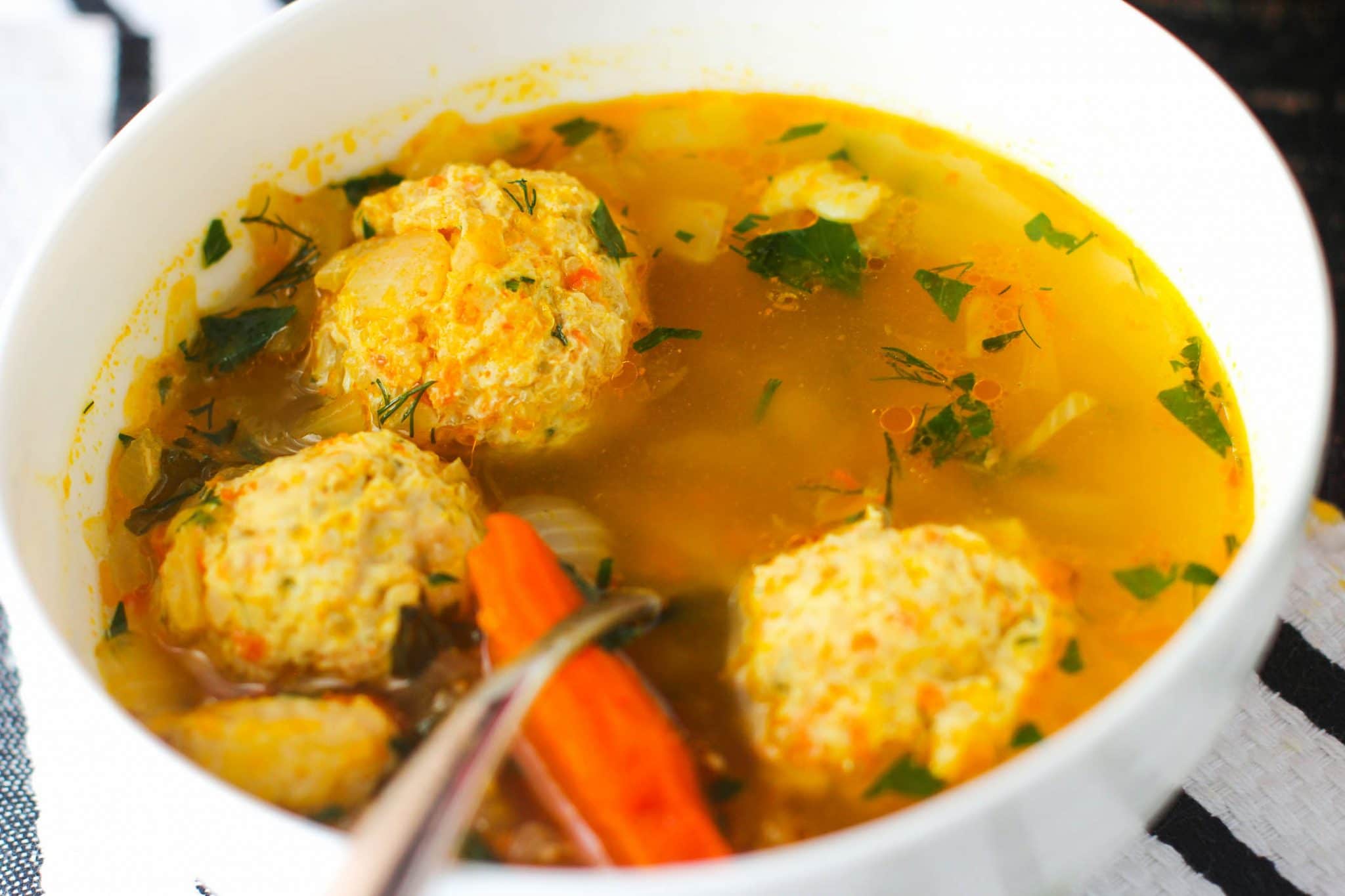 In between each of her spoonfuls of soup, I took one of my own. Two bowls later, we were happy. Munchkin happily went down for a much needed 2 hour nap and I vegged out on the couch catching up on my "Real Housewives of New Jersey." The best part was…I felt better. And not for one second did I feel guilty about my meal.
Clean eating guys…it does not just mean brown rice and chicken breast. It means feeding your body and your soul. I gave my body good fats, veggies, proteins and carbs. And I did so all while using non-processed food. Clean eating…it's a no brainer. Just good food. Your body will thank you.
We start this recipe with the veggies. You will need 3 beautiful carrots, cleaned and shredded. Try and get the ones with the stems still on them. They tend to taste a bit better. You will also need 2 onions shredded.
Pour a bit of avocado oil or olive oil onto the bottom of a soup pot and sweat your onions and carrots with a bit of salt and pepper. You do not want any color on them.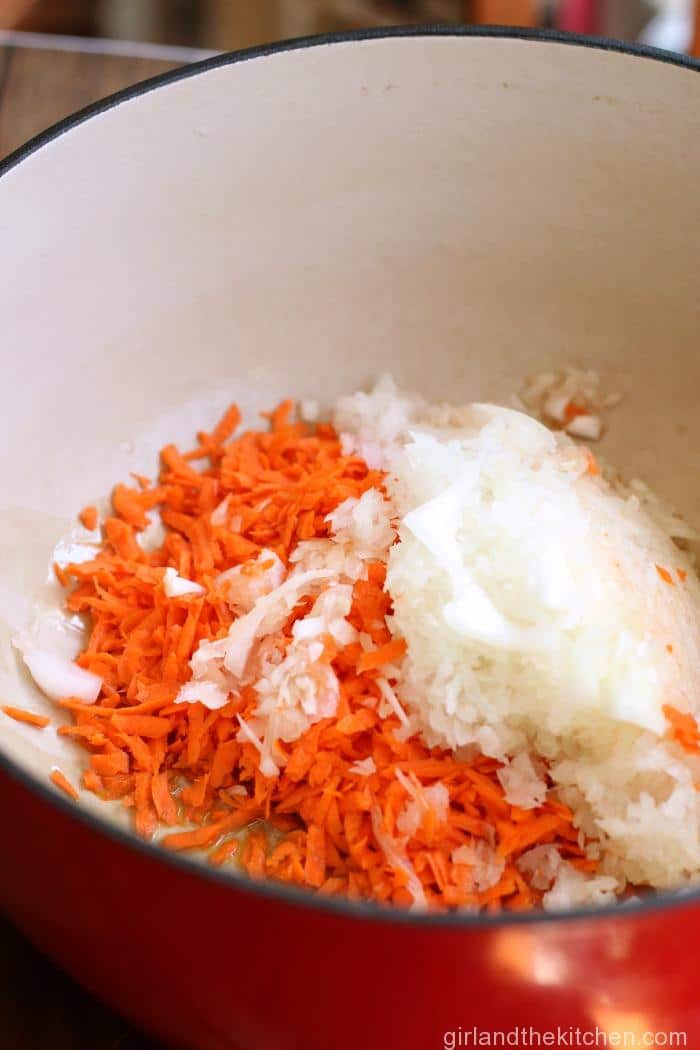 While that's all cooking up, we are going to make our meatballs. Take your ground chicken, 1/2 a cup of rice, some chopped dill and salt and pepper. Set to the side. Chop up 3 medium sized potatoes into bite size cubes.
Those look about right.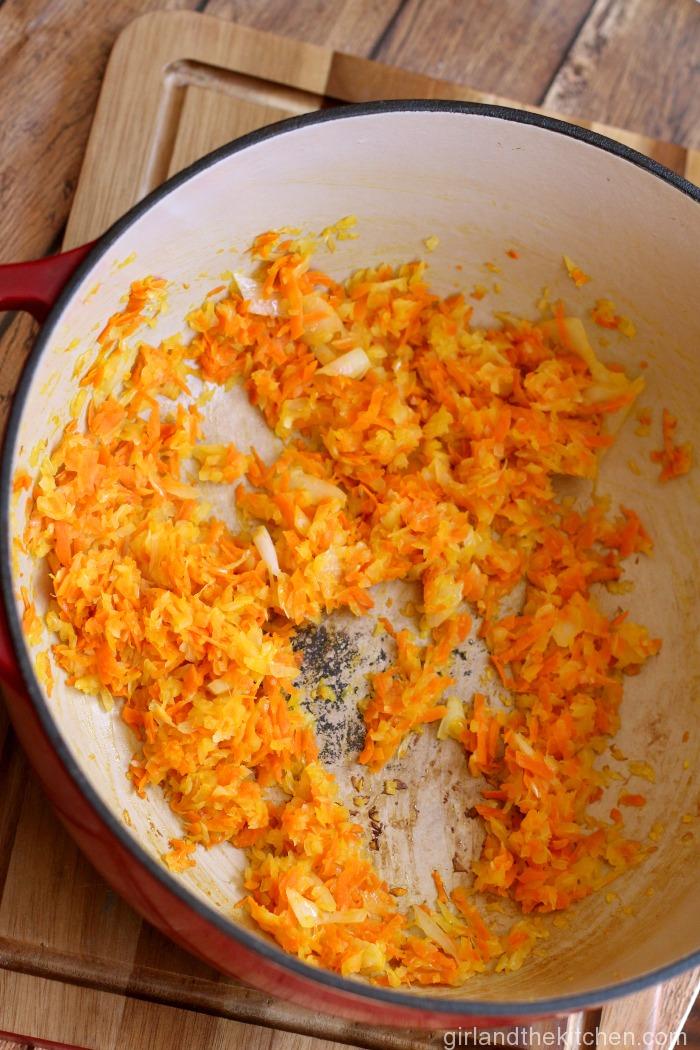 Once our veggies are nice and tender you are going to take 1/4 of the mixture and place it on top of the meatball mixture.
Mix it all up with your hands and grab a small ice cream scooper. Make your meatballs and set them aside in a plate.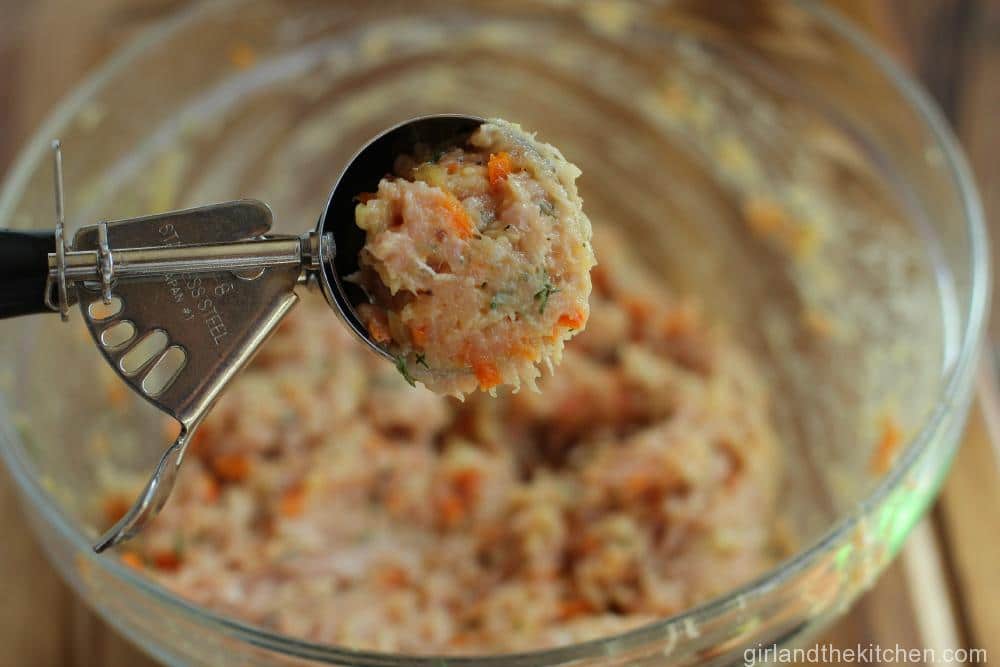 Pour in about 10-12 cups of chicken broth or chicken stock into your pot with the remaining carrots and onions. See that gorgeous orange color…that's not turmeric, that's the color from those yummy carrots. Bring the mixture up to a boil.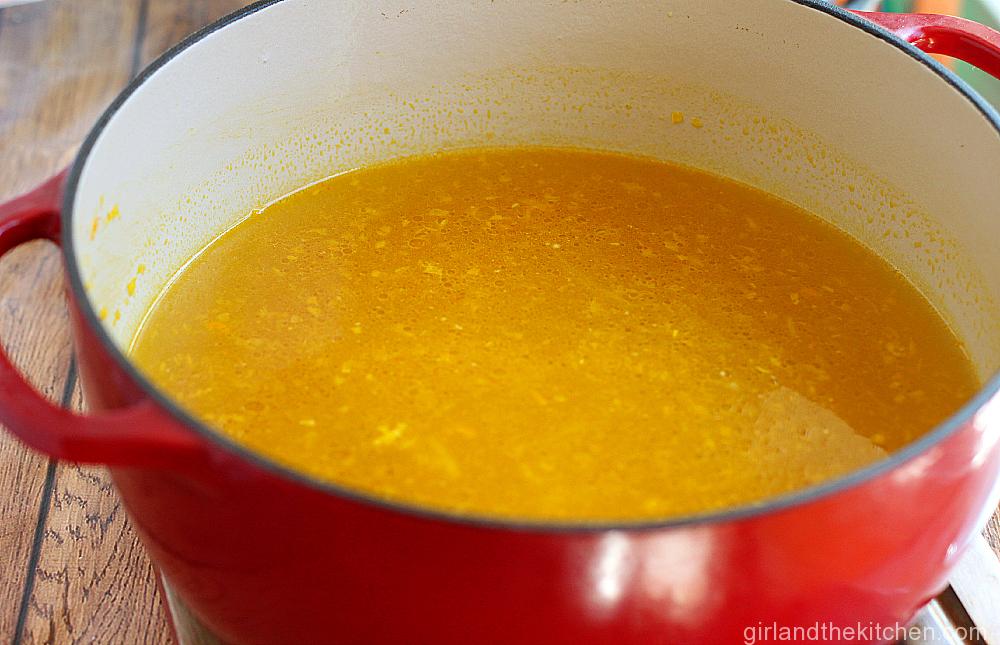 Once the mixture reaches a boil, drop in your potatoes and meatballs and let it simmer for about 15 minutes or until the potatoes are soft.
Taste for salt and pepper. Sprinkle in some dill. And Enjoy!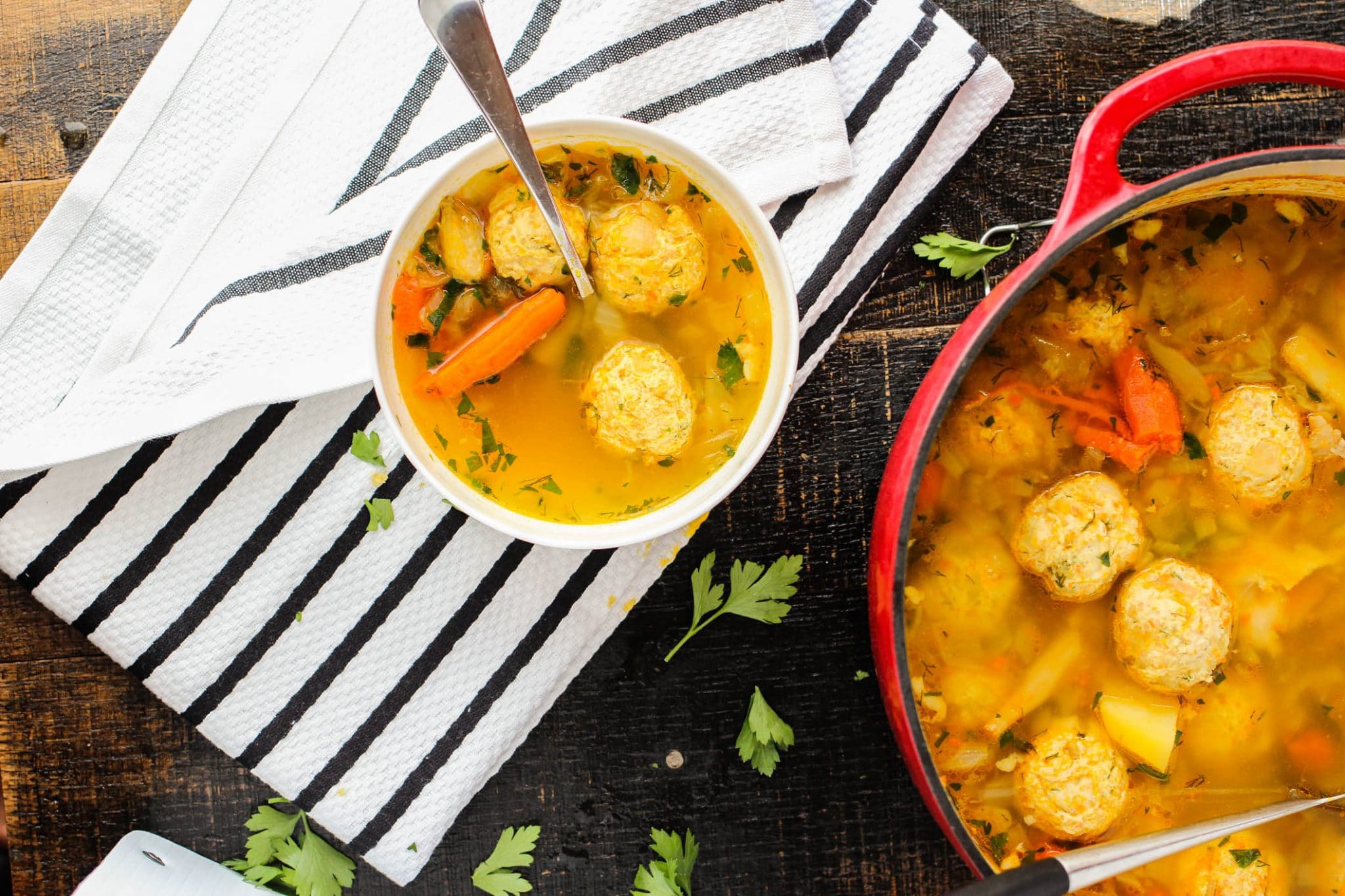 *Chef tip: Divide into little bags and freeze. Particularly helpful for those days when the munchkin has the sniffles and I need a soup stat!