Copycat Lofthouse Cookies
These copycat lofthouse cookies are the softest and fluffiest sugar cookies ever!  They are the copycat recipe of all those store-bought cookies, only without preservatives and incredibly more delicious!
Print
I am not much of a baker.  I have hoped to be.  I have hoped to be that mom who has perfect cookies and delicate sprinkles on top.
But alas I am not.  Baking for me is usually an afterthought.  And by the time I bust out my stand mixer and grab all the ingredients out of my overly stuffed pantry, I am pooped and have lost all desire to bake.
But…having a munchkin has changed all that.  She loves dough.  She has been pulling up chairs next to me and standing on them alongside me as I whisked and whipped since she could walk.  So I quickly realized…mommy needs to suck it up and bake.
See…it's not like I am completely hopeless.  I CAN bake.  I CHOOSE not to.  Very different things.
But my sweet munchkin deserves to bake alongside mommy.  She deserves to make adorable cookies with copious amounts of frosting.  She deserves to have flour kissed eyelashes and sticky dough hands.
And on a cold Saturday, I figured there was no better way to spend a Saturday afternoon cozied up inside with the munchkin baking cookies.  But not just any cookies.  No.  These copycat lofthouse cookies.  These were soft, moist, sweet, melt in your mouth, perfect, buttery cookies.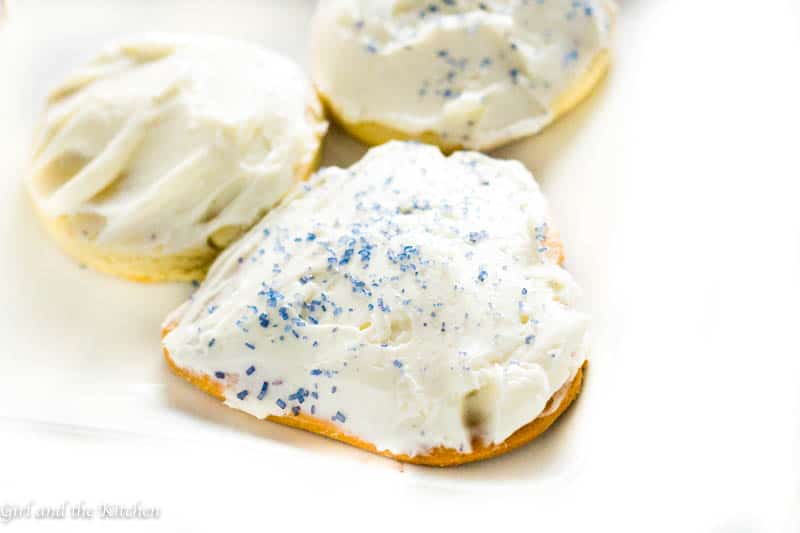 You know those incredible soft cookies that you always see at the grocery stores…but rarely buy them because you are not quite sure how long they have been sitting out?  Yea THOSE cookies…but these are homemade and absurdly addictive.
I had my nieces and nephews come over later that night and they made a meal out of ALL the cookies, conveniently littering my living room rug with delicate crumbs.
The Technique
The technique here is quite simple.  It is the cookie technique and it is ALWAYS the same for cookies.  I always asked my French pastry and bread chefs, "How do you remember baking recipes, it's all formulas!?"
To which they always responded…"No it's techniques and just like making a soup, if you know how to make one cookie you know how to make a thousand."
So that being said the cookie method goes like this:
Cream the sugar and the ROOM TEMPERATURE (crucial information here) butter until beautifully fluffy.
Add wet ingredients (eggs, vanilla etc)
Add dry ingredients (flour, baking powder, salt etc)
That's it . There is your cookie!  And the best part… you can totes do this with a hand mixer and leave the KitchenAid stand mixer in the cupboard for another more intense baking day.
But it was worth it to see their glee filled faces light up…and then they immediately fall into a food coma.
Just an FYI…these cookies are PERFECTION for cutouts!  Meaning they roll beyond easily and they cut out wonderfully for all sorts of shapes and such.  However, if you are just making circles feel free to do so with a melon ball and then just squishing it down with your hand.
See just like that. It was therapeutic.
Print
Copycat Lofthouse Cookies
---
Author:

Total Time:

26 minutes

Yield:

5

dozen

1

x
Description
These copycat lofthouse cookies are the softest and fluffiest sugar cookies ever! They are the copycat recipe of all those store-bought cookies, only without preservatives and incredibly more delicious!
---
Cookies
2 cups

sugar

1 cup

butter (softened to room temp, cut into cubes)

4

eggs

1

8 oz package cream cheese

3 teaspoons

vanilla extract

6 cups

all purpose flour

3 teaspoons

baking powder

1 teaspoon

baking soda

1 teaspoon

salt
Frosting
1

8 oz package of cream cheese

2 cups

confectioners or castor sugar

2 tsp

vanilla extract

2 tsp

lemon juice
food coloring (optional)
---
Instructions
Preheat oven to 350 degrees.
Cream together butter and sugar in a mixer with a paddle attachment. Mix for a couple of minutes until light and smooth.
Add in cream cheese, eggs, and vanilla and mix well.
Meanwhile, in a seperate bowl sift together flour, baking powder, baking soda, and salt. Slowly add the dry ingredients into the wet and mix well.
Take a ball of dough about the size of a baseball and roll into a smooth ball.
Sprinkle some flour on a flat surface and roll out the dough with a rolling pin to about 1/4 inch thick.
Cut out desired shapes and place on a cookie sheet lined with parchment paper, leave about 1 inch in between each cookie. Continue to use the dough until it is all done.
You can also just use a 1 inch ice cream scooper and then smoosh the cookies with the back of your hand as I do above.
Bake for 10-11 minutes, then immediately remove from the oven. The cookies will appear under-baked a bit but this is what you want.
Transfer the cookies to a cooling rack and repeat the process until all of the dough is gone.
Frosting
Beat cream cheese with a mixer for about 30 seconds, then add in powdered sugar, one cup at a time. Add in vanilla. food coloring, lemon juice and 1-2 tablespoons of milk and mix until light and fluffy. Use a knife to slather each cookie with frosting.
Top with sprinkles.
Notes
1. Make sure you watch the cookies when they are baking! Make the first batch a smaller batch so that you can test the time needed. For instance in my house the cookies were done at exactly 10 minutes. At my friends house I had to remove them at 9 because after that they started browning.
Prep Time:

15 minutes

Cook Time:

11 minutes

Category:

Cookies

Cuisine:

American