How To Make Porcupine Meatballs
Learn how to make porcupine meatballs, the most tender and savory meatballs I have made yet! They are full of delicious fresh herbs and cooked in a savory and creamy tomato sauce that can be licked with a spoon!

Most importantly, these meatballs are perfect for any crazy weeknight because they can be made with ingredients you probably have on hand in your house right now in only 30 minutes! Plus learn the very fun reason why they are called "porcupine" meatballs!
A New Twist on a Meatball
By far one of the most frequent visitors to my menu plans is the all mighty meatball! Meatballs can come in ANY flavor and are a great way to use up leftover herbs and pantry staples!
I learned how to make porcupine meatballs while whizzing by a fellow Russian food blogger's site. Julia from Vikalinka first caught my attention ages ago when I stumbled upon this recipe by a random search on google for meatballs. Her photos are everything nostalgia is made of and her Soviet inspired recipes bring me back to my childhood. I had bookmarked her porcupine recipe but had never quite gotten to it…until one day when one of my clients asked me to make them "tefteli" aka Russian stewed/baked meatballs. This was when Julia's recipe suddenly came back to me.
Why Are They Called Porcupine Meatballs?
This very particular name comes from the Russian word "yozhik" which actually translates to hedgehog… hedgehog or porcupine it's all the same 🙂 It alludes to the fact that when the rice cooks inside the meatballs it starts to poke out of the meatballs a tad which resembles a spiky porcupine or hedgehog. This story alone made my daughter want to gobble them up immediately! Which makes these porcupine meatballs the perfect dinner for kids of all ages!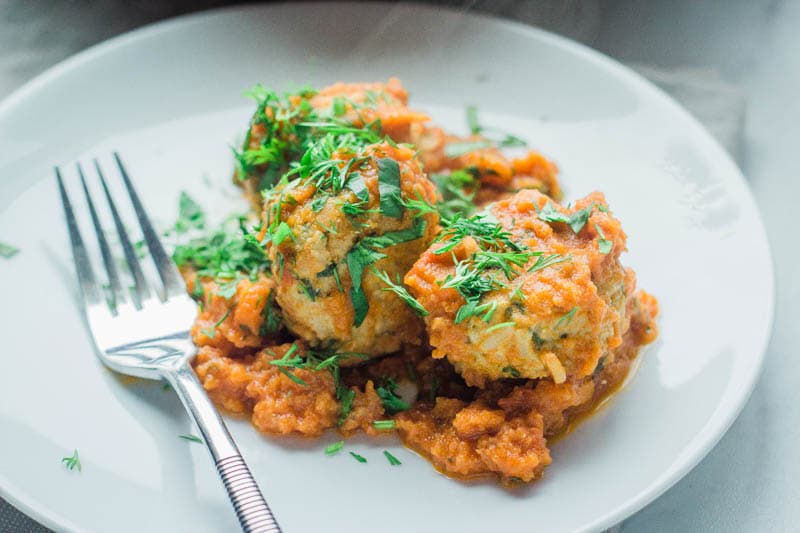 How to Make Porcupine Meatballs
Truth be told… I never made porcupine meatballs before this client requested them. Naturally, the first step was to try them out at home first and see how they went over with my family and most importantly with me, who takes the judgment on all food, especially Soviet food very seriously.
I stayed true to most of what Julia did in her recipe with just a few tweaks and additions.
As all of my recipes I always offer lots of fun substitutions! I have made these low carb many times by either subsituting cauliflower rice or leaving the rice out all together. If you look at the actual nutritional information…you will see there are 2g of sugar per serving, so even as is it is not THAT awful 🙂 But feel free to substitute the rice or leave it if necessary.
The Technique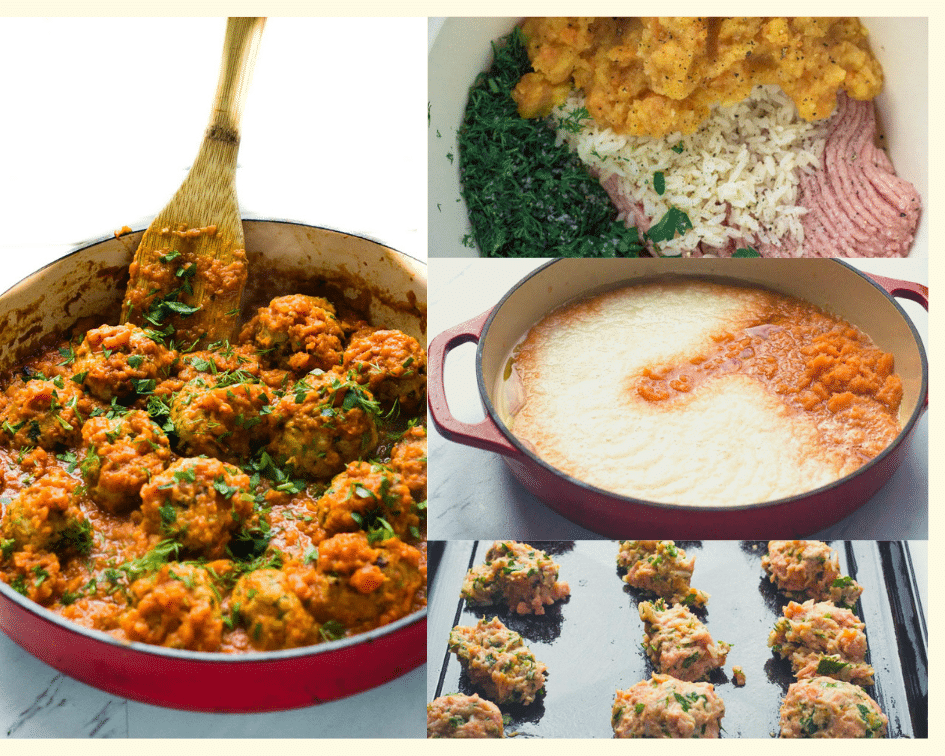 The Meat: One of the best things about this porcupine meatball recipe is the substitution factor of it. I have used ground pork, ground chicken, ground turkey and ground beef with this recipe with great results! My personal favorite was the combination of pork and chicken. But truly all of it was great! Just make sure it is not too lean because then your meatballs may end up a bit crumbly rather than super tender.
The Aromatics: I went with traditional Russian aromatics here: onions and carrots. These are sweated out in a few tablespoons of butter. This mix is incorporated into the meatball mixture and is the basis of our sauce as well! The meatballs have a sweet/savory flavor because of this classic carrot and onion combination! I also added parsley and dill to both the meatballs as well as the sauce. The herb combination is classic to Soviet recipes. They can be left out if someone is not a fan of the fresh herbs, but I highly recommend you try it!
The rice: I use partially cooked rice in this recipe. I have used uncooked rice before, but I was not as pleased with it because it took much longer to cook it. Instead I use partially cooked rice. I use my super simple method to cook the rice that takes zero measuring! It's the pasta method of cooking rice and it's absolutely genius! I cook the rice for my porcupine meatballs about 3 minutes less than I ordinarily would to make it a bit al dente. If you have already cooked rice in the fridge…JUST USE THAT! The only difference it will make is the rice may not stick out as much of the meatballs… but that's just aesthetics 🙂 The flavor and texture will still be there!
Pureeing the Aromatics: Because I am a busy mom and am always trying to find shortcuts without sacrificing flavor…I choose to use my food processor or Vitamix to chop everything up nicely! This saves so much time and incorporates into the meatball and sauce beautifully without any chunks (which kids hate!)
Sweating: When we sweat veggies essentially we are dong exactly what our bodies do when we sweat…we force the veggies to release their moisture over a medium heat. Adding some salt to the veggies also helps some of the juices come out.
Broiling: Technically speaking, you can sear the meatballs then make the sauce in there after. But again…I do like my shortcuts. And this shortcut proved to be way better! Instead of pan searing the meatballs, I broil them. While the sauce is coming together I broil the meatballs quickly to get a nice sear on the outside. This is NOT done to cook them all the way through but instead to get them seared on the outside so they do not fall apart while they are slowly baking in the oven. This is a huge time saver as well because the meatballs get a head start on cooking WHILE the sauce comes together! Certainly you can sear them first…but to me it is a tad more work than I need to put in. Besides since the meatballs do not cook all the way through in the oven, they still release their juices into the sauce while they cook. Thereby flavoring the sauce with minimum effort. Boom.
The Sauce: This is the best part of the meatballs. This creamy tomato sauce is what all Slavic meatballs sauces are made of. Why is it so awesome? Because the creamy part comes from creamy sour cream! It adds a silky mouth feel and an incredibly savory flavor to the sauce. However, make sure when adding the sour cream to the tomato and onion/carrot mixture, you do so when the heat is OFF, otherwise the sauce can break. Not necessarily the worst thing in the world, the flavor will still be there just may look a little separated. If this does happen…have no fear…just add plenty of freshly chopped parsley and dill!
What to Serve the Porcupine Meatballs With
So seriously I ate these meatballs on their own. With nothing else on the side. I ate 6 of them…and then quickly ate 2 more. But I did serve them to the family with my Creamy Mashed Potatoes ! And if you are going low carb you can serve them with my Creamy Cauliflower Puree.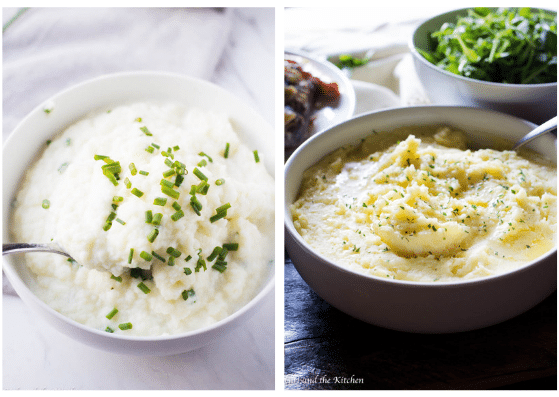 Tools to Help With This Recipe
Ice Cream Scoops: To measure your meatballs so they come out as the same size.
Over the Sink Strainer: This strainer is awesome for straining your rice
Vitamix: This is great to puree the vegetables for our sauce.
Cast Iron Casserole Dish : This dish will not only cook your meatballs evenly but it is so beautiful (and affordable) that it can go from oven straight to serving table!
Sheet Pans: These sheet pans are great to broil the meatballs.
Rubber Spatulas: These are great to use when cooking the meatballs or to scrape up all of the last bits of the meatball mixture from the bowl.
Mixing Bowls: These are great to use when mixing up your meatball mixture. I love that they have a no slip grip material on the bottom so they are not sliding all over the place!
Check out my shop for more things to help you in the kitchen!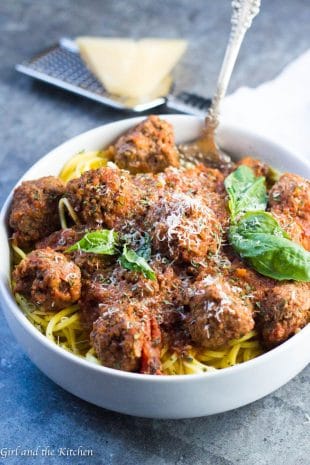 Print
How to Make Porcupine Meatballs
---
Author:

Total Time:

1 hour 10 minutes

Yield:

0

people

1

x
Description
Learn how to make porcupine meatballs, the most tender and savory meatballs I have made yet! They are full of delicious fresh herbs and cooked in a savory and creamy tomato sauce that can be licked with a spoon!
---
The Meatballs
1

lb ground chicken

1

lb ground pork

1/2 cup

cooked rice

1

large onion

1

large carrot

2 tbsp

butter or olive oil

1

tbsp fresh dill (chopped)

1 tbsp

fresh parsley (chopped)

2 tsp

Kosher or Sea salt
Creamy Tomato Sauce
2 tbsp

butter or olive oil

1

large onion

1

large carrot

2

garlic cloves

1

14 oz can tomato puree

1 tbsp

fresh dill (chopped)

1

tbsp fresh parsley (chopped)

1/4 cup

sour cream
---
Instructions
Preheat oven to broil on high.
Add all the onions and carrots to a Vitamix or blender. And puree until smooth. You can also grate the veggetables but I find this is much easier and faster!
In a deep pot or casserole pan, heat butter or olive oil. Cook onions and carrots over low heat for 10 minutes until tender.
Take 1/3 of the mixture aside and place into a large bowl. Allow the rest of the onions and carrots to keep cooking.
Add the ground meat, rice,dill, parsley, salt and pepper to the bowl with the carrots and onions. Mix until well combined.
Heat up a small pan with some olive oil or butter and place a tablespoon of the meat and rice mixture into the pan. This is your taster. It allows you to taste for seasoning.
Adjust seasonings as necessary.
Line a sheet pan with parchment paper. Using an ice cream scoop, place meatballs on the parchment. There is no need to roll them and make them perfect. The best part is that they will look imperfect and make them look even more like porcupines!
Place meatballs in the oven for 8-10 minutes or until gloriously brown. Depending on how strong your broiler is, you may want to place the meatballs on the second rack. Once your meatballs are done, change the oven temperature. Set it to 300°F.
In the meantime, continue working on your sauce. Add garlic to the mixture and continue cooking over low heat for at least 15 minutes until tender and super aromatic. Add dill, parsley, pureed tomatoes and if needed to thin it out, add a bit of water, ½ a cup at a time. Turn the heat up and bring to a boil.
Take off the heat and stir in sour cream. This is important because otherwise your sour cream will break! Add the meatballs back to the pan and spoon the sauce over them. The sauce should nearly cover them. If it doesn't, add a little more water to thin it out.
Cover with a tight fitting lid and place into the preheated 300°F oven. Again, DO NOT increase the heat, because you will run the risk of the cream seperating! Cook for 35-40 minutes until super tender.
Finish with more dill and parsley if desired and ENJOY!
Notes
For optimal and easiest results, cook the rice according to my super simple pasta method!
Always fry up a sample first!!! That way you can see if you need to adjust the seasoning!
If you are making this a Keto or Lowcarb recipe… feel free to leave out the rice!  The flavor will still be FANTASTIC! 
Nutritional values are to be used as a guide.
Prep Time:

25 minutes

Cook Time:

45 minutes

Category:

Main Entree

Cuisine:

Russian