Oladushki…Easy Ukrainian Pancakes
Oladushki are puffy and fluffy, classic Ukrainian pancakes that come together in minutes and are made with only 6 ingredients! This breakfast treat is perfect for both kids and adults for any breakfast, brunch or even as a dinner dessert!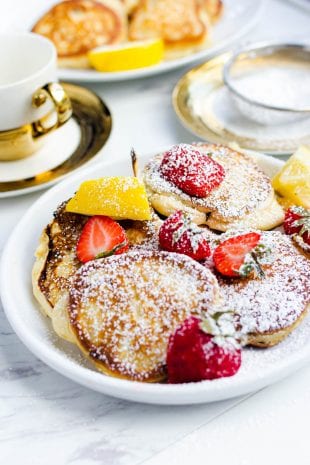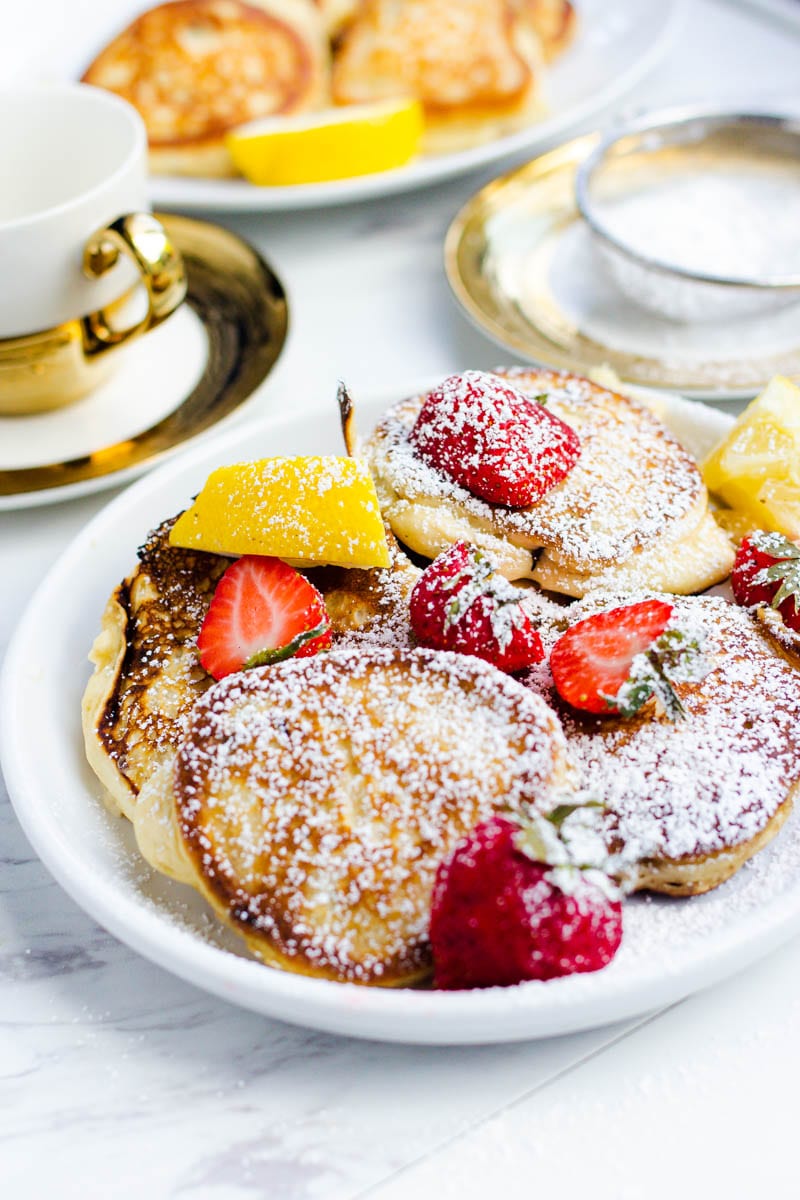 Here's the deal. Every Ukrainian (or Russian or Belarussian or any housewife from the former USSR) has a few recipes under her belt
I am proud to say that I have perfected all the above recipes and lived to tell about them. However, Oladushki, that recipe was not yet discovered.
What are Oladushki?
Russian pancakes Oladushki are puffy and fluffy little pancakes that are made with Kefir. Kefir is a staple in the Ukrainian/Russian culture. It is a probiotic packed dairy beverage that can be drank or used in recipes. They are similar to a fritter but taste like a pancake!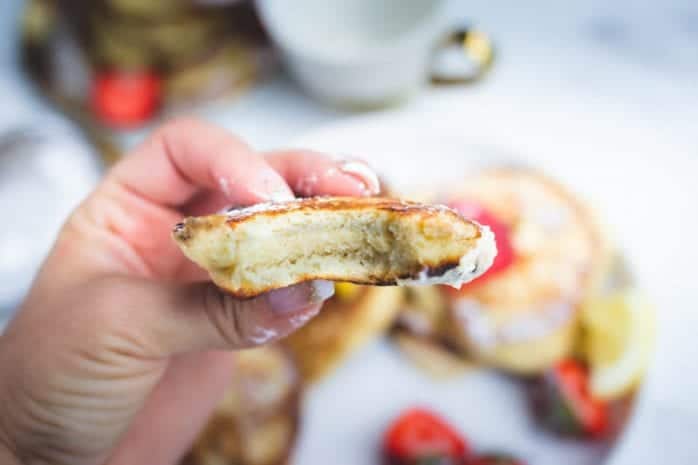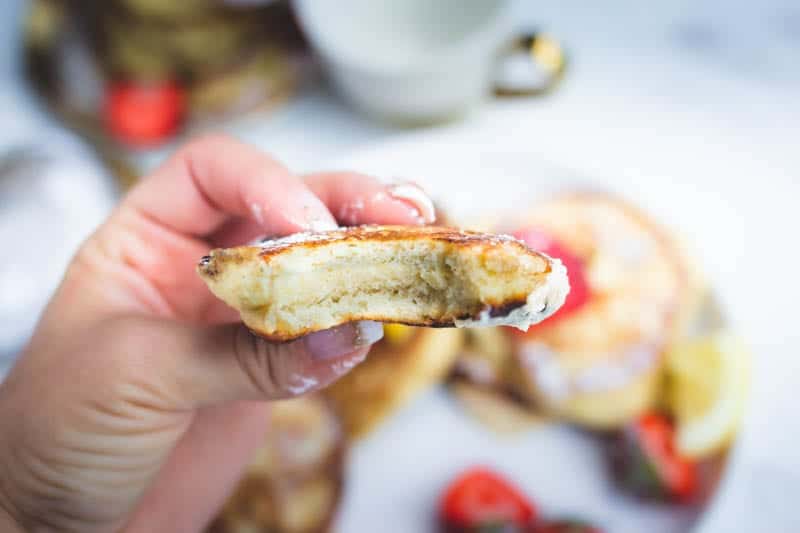 So if they are so perfect why has it taken me so long to make them? Because the recipe that I knew of was made with yeast and let's be frank…no one wants to deal with yeast in the morning.
Allegedly, one very tired and brilliant mother was just as against making yeast pancakes as I am and she made the genius decision to swap out yeast with yet another rising additive, Kefir. And thus the simpler oladushki or oladi recipe was born. And I thank her for it each weekend. I also thank my fellow comrade (I had to) and one of my fave bloggers Julia from Vikalinka for posting her Oladi recipe one fateful Saturday morning on Instagram. This was the moment that I decided I would have my Oladi make their morning debut.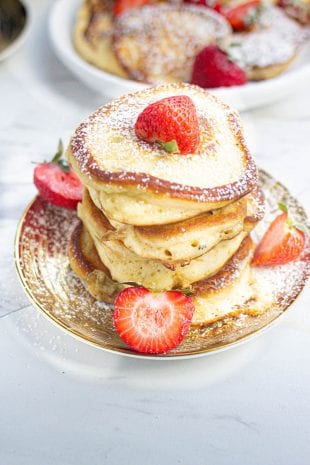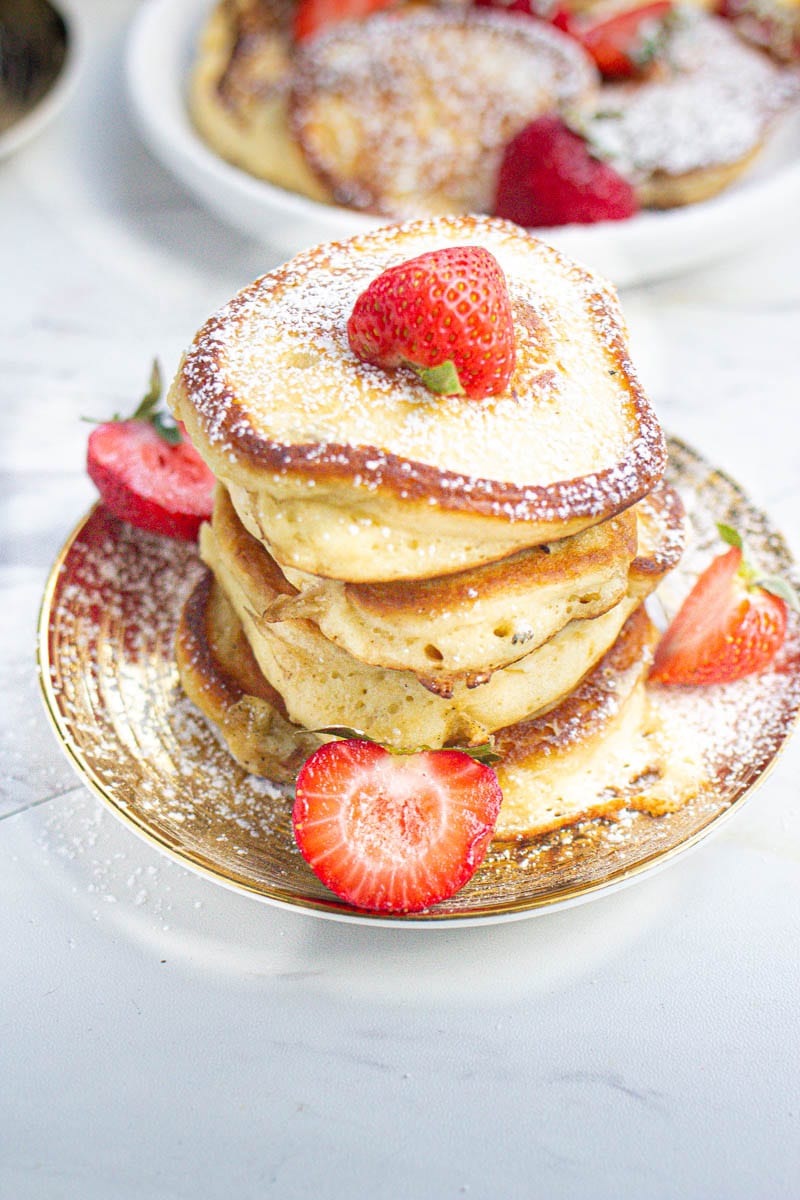 The Technique
The Two Bowl Method

: It may be a bit cumbersome but I find that it is actually easier to prep the wet ingredients from the dry in two separate bowls. It keep me more organized and actually allows me to let the kids help out without making too big of a mess…usually. In the case of Oladi, we prep the Kefir, eggs, sugar, lemon zest (I mean duh…you know I put zest in everything) and salt in one bowl. In the second bowl we prep the flour and baking soda.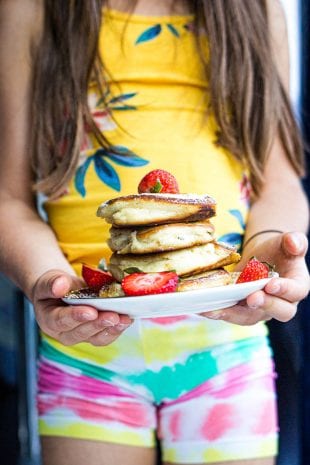 The Rise:

These pancakes are ALIVE! The batter will actually look like a thick "active" batter. Once all the ingredients are combined, let it stand for 15 minutes and allow the magic to happen. Once you look at the batter you will notice little bubbles start to develop and it will thicken. This is a GOOD THING!!! This ensures that your oladushki will rise and be fluffy.

Oil or Butter

: I love the flavor of butter but it does burn very quickly due to the milk solids. You can use ghee if you have it or do what I do and use combination of butter and a neutral oil like avocado oil. You can also use coconut oil which will give the pancakes a little bit of a coconut flavor. You cannot go wrong here, just try to have a neutral oil that is not overly processed. Avoid grapeseed, canola, palm and vegetable oils.

Oven or No Oven:

Because these gorgeous fluffy pancakes get so thick, they require a bit more time to cook than the regular pancakes. These glorious oladushki can be cooked over medium heat. But when you are making a ton for a crowd, I like cooking them halfway in a pan frying them on medium heat until both sides are golden brown then finishing them in a 400 degree oven for 7-10 minutes.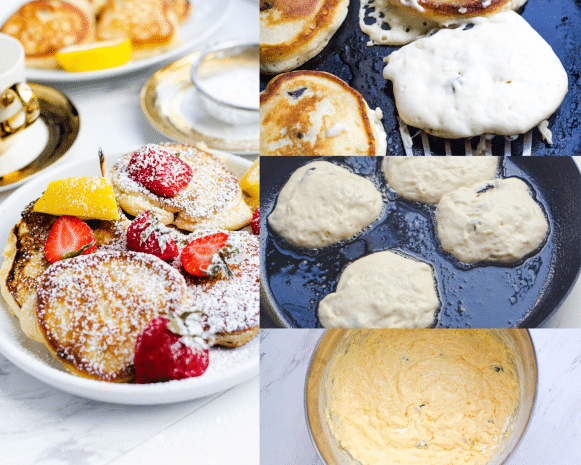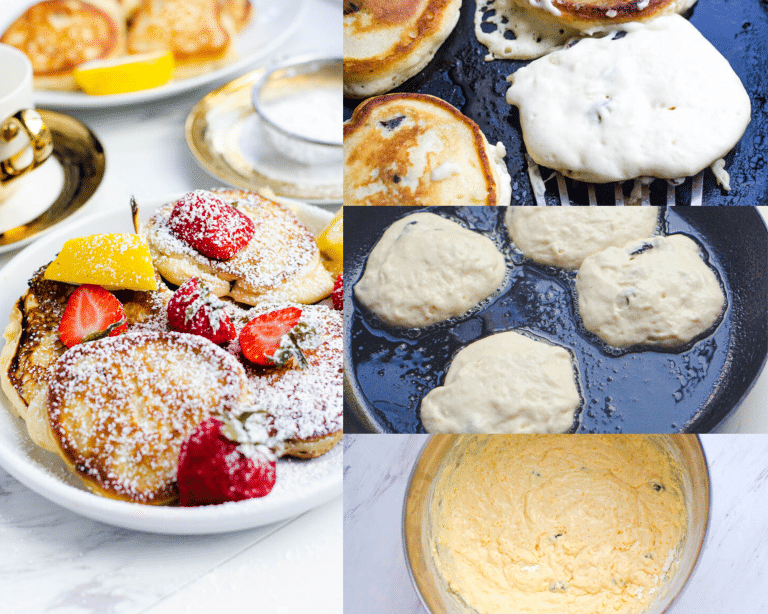 Garnishes and Add-In's for Russian Pancakes
Fresh Berries and Powdered Sugar:

Traditionally I really love a simple touch of fresh berries and powdered sugar. I love the minimalistic approach to letting these oladushki shine! I really love making my macerated berry salad as a topper. They are juicy enough that you do not need any syrup. And the last minute touch of powdered sugar is just perfection. Plus these pancakes barely have any sugar in it so a little added sweetness is just perfect!

Syrup or Honey:

Sometimes my kids need a little something sweet as a topper. I don't mind adding a few drizzles of a really good maple syrup. When using the good natural syrup you do not need much and the maple flavor pairs nicely with the oladushki. Honey can also be used of course. But the natural raw stuff is a little hard to drizzle 🙂

Whipped Cream, Craime Fraiche and Sour Cream

: Classically, us Russians/Ukrainians/Belarussians love to add sour cream to everything. ESPECIALLY the gorgeous little pancakes. My kids love it too! But honestly…when I want to go fancier…I love using craime fraiche. It just makes me feel a little fancy. Most of the time…I just use homemade whipped cream. (Recipe coming!) It takes close to no time to put it together and just works so gloriously on these little puffy pancakes.

Add In's

: Truthfully my favorite things to add in are dried fruit. Dried cherries, dried cranberries, raisens any of these work! I also love adding in fresh berries and apples! My mother in law always makes it with apples and I love it!!! I like it when the apples are a little tart, they pair so beautifully with the oladushki.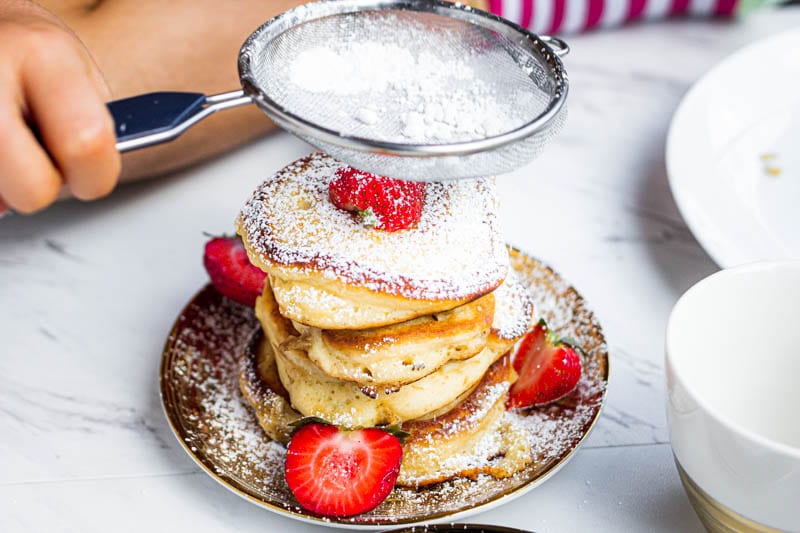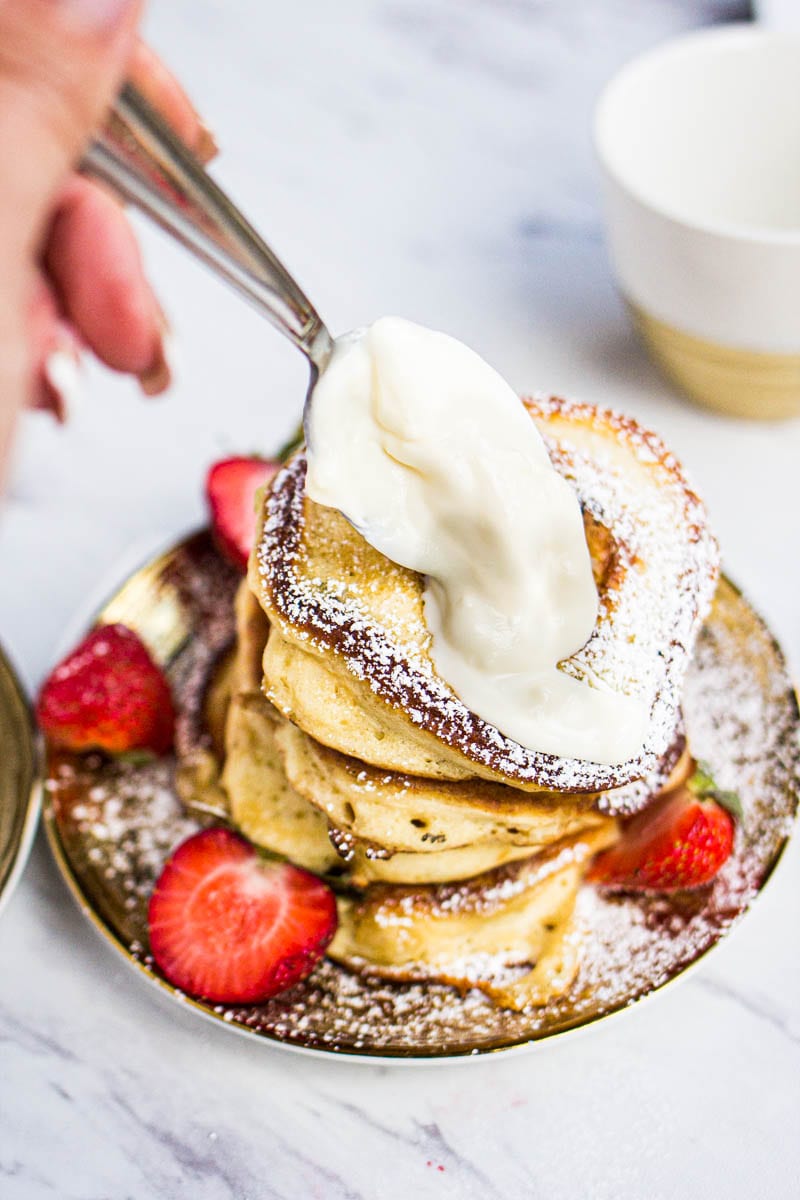 LOW CARB Substitutions
We all know that I live a mostly low carb lifestyle and try and use healthier flours in my meals. That being said, I have had a really hard time using almond flour (the most popular of flours in low carb cooking) because my daughter has a nut allergy. However, she is perfectly fine with coconut flour! I have experimented with coconut flour with oladushki. While it is not ideal IT WORKS!!!! I am working on this and will have more notes for you! In the meantime, IF you are able to use almond flour, this mix has been absolutely incredible as a substitute! I only use it when my daughter isn't eating them but trust me if I did not need to adapt a nut free version…this would be the only flour I would use!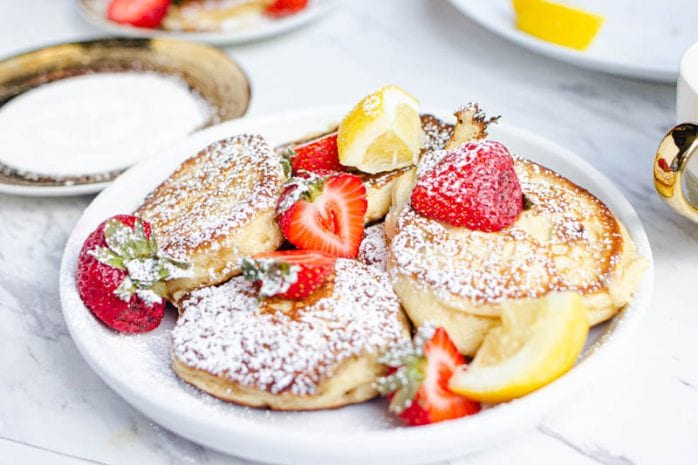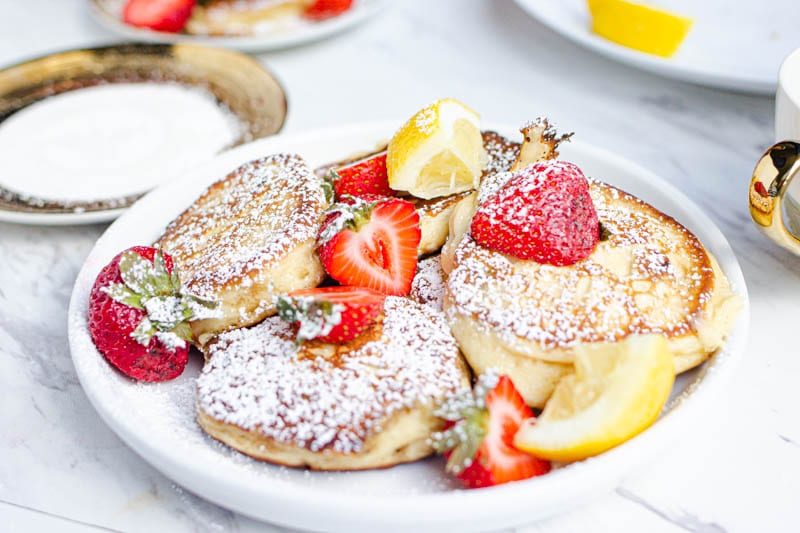 Tools to make your job easier!
Print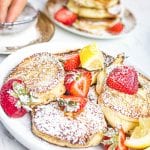 Easy Ukraininan Pancakes Oladushki
---
Author:

Yield:

4

people

1

x
Description
Traditional Ukrainian pancakes Oladushki, that come together in minutes and are made with only 6 ingredients!
---
2 cups

Kefir (Plain)

1

egg

2 tbsp

sugar

½ tsp

cinnamon

½

lemon (zested)

2¼ cup

all purpose flour

½ tsp

baking soda

¼ cup

raisens, dried tart cherries or dried cranberries
powedered sugar for garnish
mixed berries for garnishing
butter (for frying)
neutral oil (for frying)
---
Instructions
In a large bowl mix kefir, an egg, lemon zest, sugar and salt with a whisk.
In a separate bowl mix flour, cinnamon and baking soda. Add the dry ingredients to the wet. Whisk carefully until just combined. Add in the dried fruit. The batter will be thick.
Allow the mixture to stand for 15 minutes until it rises.
Heat a non-stick pan with enough oil and butter to cover the bottom of the pan. Drop batter with a large spoon or a small ice-cream scoop into hot oil and fry on medium heat on one side until golden and the batter is cooked halfway through, then flip carefully. This is when the fish spatula comes in handy. The pancakes will puff up as soon as you flip them over. Maintain medium heat to ensure each pancake is cooked all the way through as they are going to be tall. (Add oil throughout the frying process as needed.)
Serve with powdered sugar, sour cream, whipped cream, berries or all of the above!!
Notes
If you want to make these ahead of time, just fry them until golden brown on one side then flip and fry for just one minute.  Place into an oven proof dish and heat up at 375 degrees for 15 minutes until warmed through.  
Category:

Breakfast

Cuisine:

Russian