Sparkling Crinkle Chocolate Nutella Cookies
Meet the one bowl Chocolate Nutella Cookies that is a cinch to make but dazzles everyone!  It is the ultimate holiday cookie filled with chocolate and Nutella.  Gorgeous sparkles and delicate crinkles make this cookie a show stopper for any holiday that needs a bit of dazzle.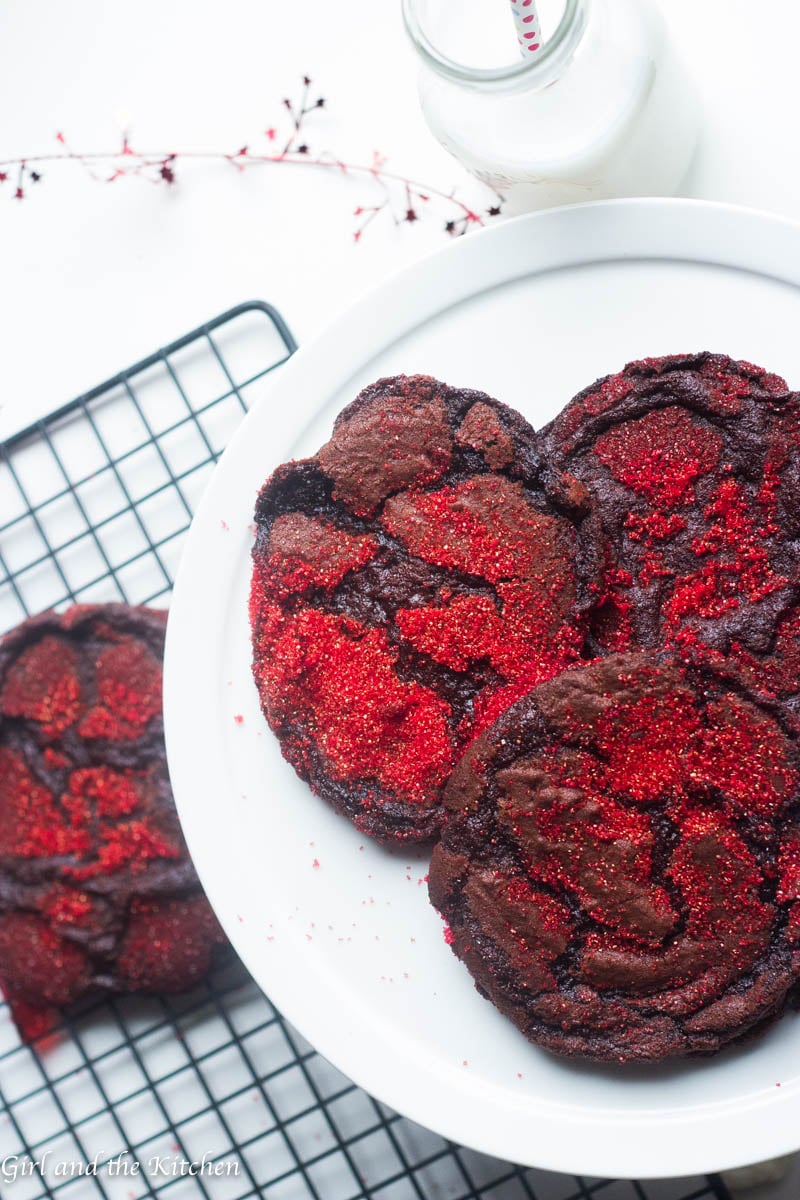 [wprm-recipe-jump]
Tell me these cookies aren't some of the most gorgeously fancy cookies you have EVER seen?!  Doesn't it look like I have been working on these cookies for hours?  Like they are intricate gorgeous little sparkly bites that I spent countless hours perfecting?
Well I have a surprise…these cookies were a complete and total screw-up.  Yes. I screwed up a perfect recipe and then instead I ended up with these, gorgeous Sparkly Crinkle Chocolate Nutella Cookies.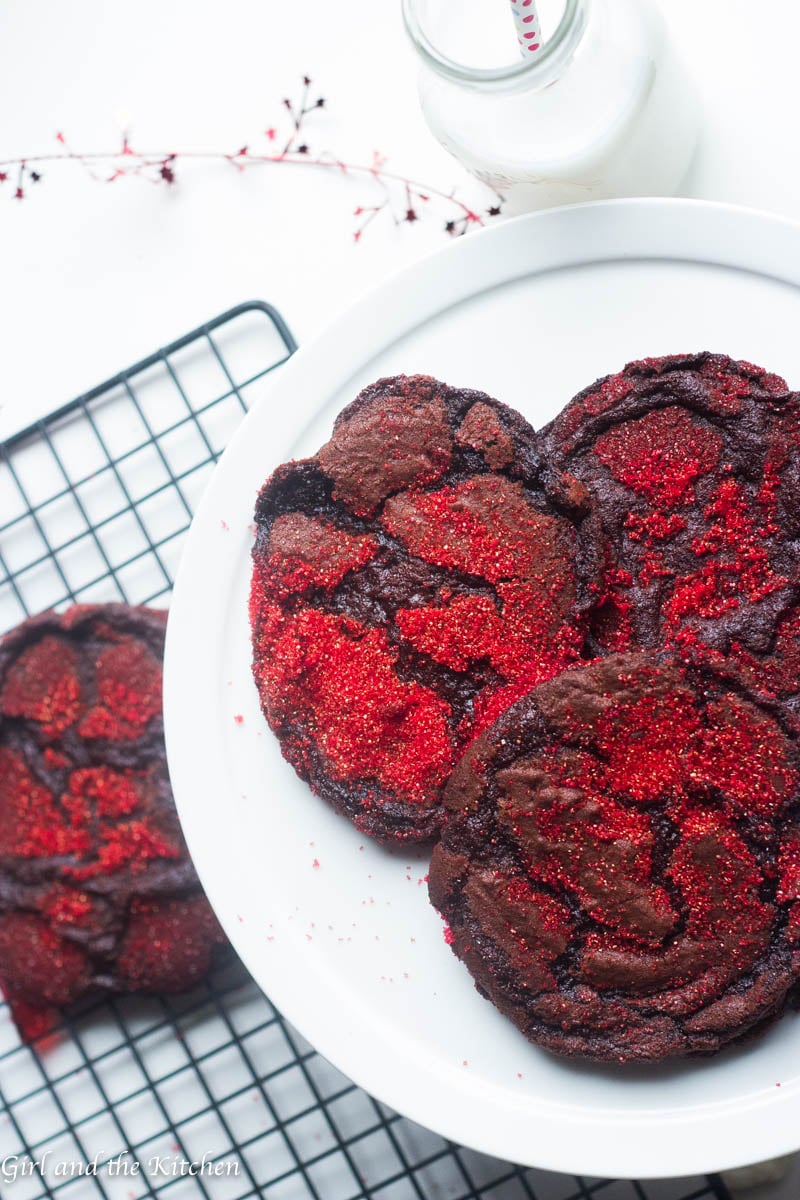 You see I have been trying to make these gorgeous cookies from the ever so talented Amanda of I Am Baker, for YEARS.  3 years to be precise.  I saw her beautiful Red Velvet Peanut Butter Blossoms  on Pinterest almost 3 years ago and I vowed to make them.
I saw these gorgeous cookies and I just was not brave enough to make them.  They were too perfect…I was too scared to screw them up due to my less than average baking skills.  I bought the gorgeous sanding sugar  from Amazon and prepared to make it one night.  But alas, I did not because I was intimidated.
It took me just under 3 years to grasp enough courage to make these cookies.
And that occurred last weekend.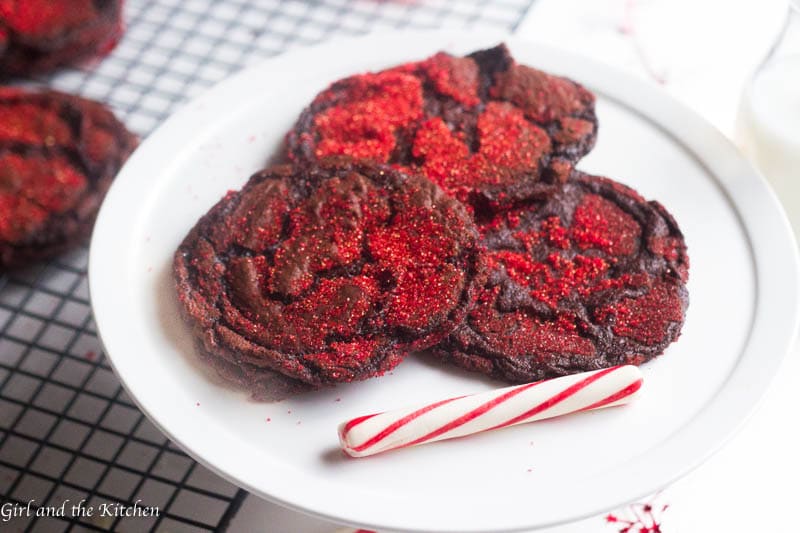 Munchkin and I were on our holiday rush and baking up a storm in the kitchen.  We made my Salted Caramel and Nutella Stuffed Cookies and of course my 3 Ingredient Christmas Bark .  And when I showed munchkin the red sparkly sanding sugar she lost it and did all but make the cookies herself.
The Technique
I followed Amanda's recipe to a T:
Munchkin and I made the dough simply enough in ONE BOWL and with a hand mixer.   Lately I have been using the hand mixer rather than my big KitchenAid and I have been loving it!  It is much less clean-up and it is perfect for those small mixing jobs like cookies and crepes or pancakes.
 This cookie uses the classic cookie technique: meaning creaming the butters and sugar together first before adding in all the  other liquid ingredients.
Amanda made the recipe with peanut butter and I decided to swap it out for Nutella.  Because duh..if peanut butter is good then of course Nutella is better.  This was where I made a COLOSSAL mistake.  As it turns out, in baking you cannot just swap out one ingredient for another.  This clearly was not something I was willing to accept. And so munchkin and I made batches and batches of these stunning red cookies…rolling them in the stunning red sanding sugar…not knowing what awaited us in the oven.
When I removed the Chocolate Nutella Cookies cookies out of the oven, they did not look anything like Amanda's. With Nutella the cookies spread too much because there is a higher sugar content.  So instead of having gorgeous little blossom cookies I had gorgeous flat crinkle cookies.
Munchkin and I both scratched our heads and went in for the kill and bit into them.  OMG these Chocolate Nutella Cookies were fantastic!  Ridiculously, deliciously, Nutellaciously FABULOUS.
Munchkin adored them, munching on them and getting red sanding sugar all over her lips.
But I could not help but wonder what the heck happened to my cookies!  How could such a simple recipe go so wrong.  SoI picked up the phone and message Amanda.
"Wow Mila!  Those are gorgeous!"
"Amanda those are supposed to be your Red Velvet Peanut Butter Blossoms."
"Oh, well that's odd.  I have never seen them do anything like that…Mila, they look VERY chocolaty, did you put something else in there?"
"Yes, I subbed out the peanut butter and replaced it with Nutella because the munchkin has a peanut allergy."
"AHHHH yes…that's the problem, I am pretty sure Nutella is not an even substitute for peanut butter.  But…Mila you created a whole NEW recipe.  Great job!"
Leave it to Amanda to make me feel better about completely butchering her recipe.
So Amanda, while creating your classic Red Velvet Peanut Butter Blossoms was an epic fail on my part, at least I have now created my very own recipe for the munchkin and I to enjoy baking.  Perfect for tiny little hands to grab and bite 🙂
Plus can you imagine how impressive and gorgeous these cookies would look at a party?  Trust me they are not just for the kiddos adults would go crazy for these beautiful cookies as well.  Because I know this adult certainly did.
Print
Sparkling Crinkle Nutella Cookies
---
Author:

Total Time:

17 minutes

Yield:

15

cookies

1

x
Description
Meet the one bowl Chocolate Nutella Cookies that is a cinch to make but dazzles everyone! It is the ultimate holiday cookie filled with chocolate and Nutella. Gorgeous sparkles and delicate crinkles make this cookie a show stopper for any holiday that needs a bit of dazzle.
---
1 1/3 cups

sugar

3/4 cup

Nutella

1/2 cup

butter (

1

stick, room temperature)

1 teaspoon

baking soda

1 1/2 cups

all purpose flour

3 tablespoons

unsweetened cocoa

1 teaspoon

red food coloring

2 teaspoons

vanilla

2 tablespoons

milk

1

egg

1/4 cup

red sanding sugar
pinch salt
---
Instructions
Heat oven to 375 and prepare cookie sheets by covering them in parchment paper.
Beat sugar, butter and Nutella with a hand mixer or a stand mixer for about 2 minutes on medium speed until mixture is light and fluffy.
Turn the mixer to low and add in the egg, milk, vanilla, and red food coloring. Mix on low just enough to incorporate, then increase heat to medium high and blend until light and fluffy.
Add in cocoa, flour, baking soda and salt. With mixer on slow add flour mixture to sugar mixture and beat until just combined.
Shape dough into 1 inch balls by using your hands or an ice cream scooper.
Pour the red sanding sugar onto small plate or bowl. Roll dough ball in sanding sugar and place on prepared cookie sheet about 3 inches apart. These babies spread like crazy, so make sure you give them room so they do not collide with each other.
Bake for EXACTLY 7 minutes. They will be soft, but this is exactly what you want.
Allow cookies to cool on a cooling rack.
Notes
The nutritional information for this recipe should be used for guidance purposes only.
Prep Time:

10 minutes

Cook Time:

7 minutes

Category:

Dessert

Cuisine:

American